On July 22nd , the Intercontinental Exchange (ICE) begun testing the long-awaited Bakkt Bitcoin Futures platform, first announced by the project's COO, Adam White, in June, and confirmed in an official tweet on Monday.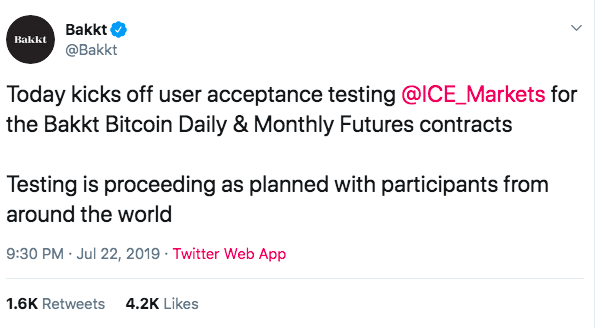 Testing has now official commenced on Bakkt's "user acceptance" mechanisms, which is encouraging for those that believe that it will allow huge amounts of institutional investment to flow into cryptocurrency markets.
The project has been hampered by delays until now, but progress over the past few days represent the first tangible steps towards the launch of what could become a regulated superhighway for investment from funds and major financial institutions to flow into traditionally-unregulated crypto-asset markets.
What exactly will the impact of the launch of Bakkt be, when is Bakkt likely to begin operations, and how does this development mesh with predictions that a bull run in 2020/2021 could reach a new Bitcoin all time high of $100,000?
What is Bakkt?
Bakkt is a Bitcoin futures platform being built by ICE, who operate 12 regulated exchanges and marketplaces including the ICE exchanges in the U.S. and Canada, the Liffe futures exchanges in Europe, and perhaps their most well-known marketplace, the New York Stock Exchange (NYSE).
Bakkt is envisioned as a U.S.-based digital-assets futures exchange and also as a clearinghouse, with single-day physically delivered Bitcoin contracts, combined with physical warehousing services. Bakkt's clearinghouse will be backed by a Bakkt-supplied guarantee fund.
Essentially the platform is designed to be a single entry-point for retail, institutional and merchant interaction with digital asset markets, in a way that provides previously unavailable levels of security, efficiency and compliance.
Broad confidence in the project can be seen based on its initial list of partners, that includes crypto-asset heavyweights such as Pantera Capital, Fortress Investment Group, Eagle Seven, Galaxy Digital, Protocol Ventures, Susquehanna International Group, and Horizons Ventures. Starbucks is even partnering with Bakkt as the first major mainstream merchant to do so, stating that they will be using the platform to "convert their digital assets into U.S. dollars for use at Starbucks".
What is the Timeline for the Project?
According to a tweet published July 19th by Fundstrat Global Advisors Managing Director, Sam Doctor, Bakkt is likely to launch during this current quarter.
Doctor continues on to state that "There is a great deal of institutional anticipation around the planned full launch of the service".
This comes as many, both from the cryptocurrency sector and traditional financial markets, are attempting to understand where the project is currently at after a number of delays to launch so far, and also, what the impact on the marketcaps of major crypto-assets like Bitcoin will be following the introduction of institutional investment that is magnitudes larger than the current size of the cryptocurrency market.
Will the Next Bull Run be Sparked by Bakkt and Soar to $100,000 per Bitcoin?
The first half of 2019 has already shown promising signs for a strong recovery from the relentless bear market of 2018. Since lows of around $3,000 at the end of 2018, Bitcoin's surged throughout much of 2019 so far.
If Bakkt does launch within this quarter, prices may already still be at around the $10,000 mark when the platform begins operating. Already, Bitcoin trading volumes for 2019 have eclipsed that of even the high point of the 2018 pump and the subsequent crash.

The magnitude of potential buy-action and the sheer volume of investment that may enter cryptocurrency markets gives credibility to predictions that the next bull run will be like nothing we have seen before.
In an analysis by PlanB, covered by PrimeXBT, a model with 99.5% confidence throughout the price history of Bitcoin predicts that the next bull run will begin during 2019, conclude at the end of 2021, and will reach a dizzying new peak price of $100,000 per Bitcoin.
Without the introduction of institutional money into crypto-asset markets, it would be hard to imagine existing demand being able to push prices this high. However, when we look at PlanB's model through the filter of events such as the launch of Bakkt this quarter and launch of the Swiss exchange Six's Bitcoin cryptocurrency exchange-traded product (ETP), this scenario then becomes a distinct possibility.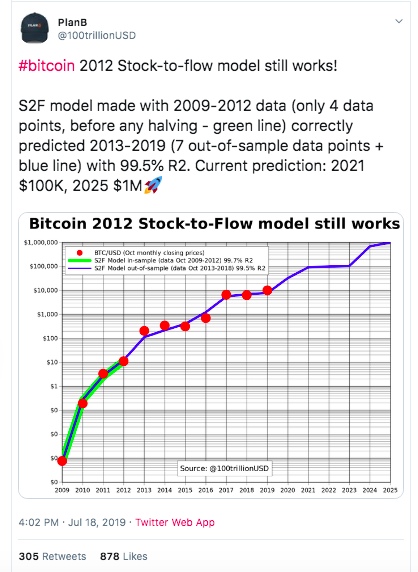 Bakkt May Pave the Way for a New Chapter in Cryptocurrency
The implications of the launch of Bakkt are hard to predict. One thing is for sure however, with institutional investors such as hedge funds, mutual funds and commercial banks poised to flood into crypto-asset markets, the effect that the launch of the platform will have on cryptocurrency marketcaps and prices will have to be significant.
If Bitcoin's price reaches $100,000 any time soon it will be as a result, for the most part, from an influx of hundreds of billions of dollars in mainstream investment money.
When Bitcoin almost reached $20,000 per coin in 2018, traders who were used to seeing prices in the hundreds or low thousands were stunned by the unprecedented new highs being reached each day. If PlanB is right in his prediction for the next two years, we're set to see institutional investment forever change the face of global cryptocurrency markets.
Risk Disclaimer
Investing in or trading gold or other metals can be risky and lead to a complete loss of capital. This guide should not be considered investment advice, and investing in gold CFDs is done at your own risk.
The information provided does not constitute, in any way, a solicitation or inducement to buy or sell cryptocurrencies, derivatives, foreign exchange products, CFDs, securities, and similar products. Comments and analysis reflect the views of different external and internal analysts at any given time and are subject to change at any time. Moreover, they can not constitute a commitment or guarantee on the part of PrimeXBT. The recipient acknowledges and agrees that by their very nature any investment in a financial instrument is of a random nature and therefore any such investment constitutes a risky investment for which the recipient is solely responsible. It is specified that the past performance of a financial product does not prejudge in any way their future performance. The foreign exchange market and derivatives such as CFDs (Contracts for Difference), Non-Deliverable Bitcoin Settled Products and Short-Term Bitcoin Settled Contracts involve a high degree of risk. They require a good level of financial knowledge and experience. PrimeXBT recommends the consultation of a financial professional who would have a perfect knowledge of the financial and patrimonial situation of the recipient of this message and would be able to verify that the financial products mentioned are adapted to the said situation and the financial objectives pursued.