Months ago, the Covesting module beta made its debut on our award-winning Bitcoin-based trading platform. Since then, the tool has drawn interest from traders from all over the world.
We are thrilled to have received such support so quickly and are truly grateful for all of the valuable feedback the community has provided thus. This critical feedback about the service has helped us make important decisions regarding future development, keeping the community in mind.
In addition to users providing a thorough test of the module through the beta phase, the PrimeXBT team has discovered several inefficiencies highlighted by the community that can be improved upon. We aim to build complete products that are highly efficient and provide the ultimate user experience, therefore, over the last month in partnership with Covesting, we have been working to reshape the product.
As always, we pay careful attention to our client's feedback, as it is the most important indicator as to whether or not product development and business strategy match user's expectations and needs.
Say Goodbye To Fund Management and Hello to Strategy Following
In the world of big wealth and investment management, lockup periods, rollovers, and other holding phases are commonplace. For example, it is not unusual for hedge funds to require between 30-to-90 days notice in order to withdraw any of your investment. After the notice is given, it could take a month or more to have your money returned. ROI will vary during this time.
While the initial design more closely followed that of the asset management niche of the finance industry, we have decided to offer more flexibility to Covesting platform users and have completed changed up the concept from "Investing" to "Following".
Among the first immediately noticeable changes to the Covesting module structure, we have changed Investments to Followings. Fund Managers and their accounts will move over to Strategy Managers. These accounts will remain segregated from the Strategy Follower account.
Doing away with lengthy rollover periods, you can now stop following a Strategy immediately, providing full control over your money. There is no longer a need to wait for a rollover period to finish to move funds to another strategy or make a withdrawal.
If you are unhappy with a strategy's performance, you can move on much faster, and if you are satisfied with a strategy and have earned enough and want to withdraw, you can now do so without having to wait.
Even Strategy Managers will have full control, allowing them to now close out their Strategy at any time they wish. No more rollover is required to completely close out and settle with all Followers.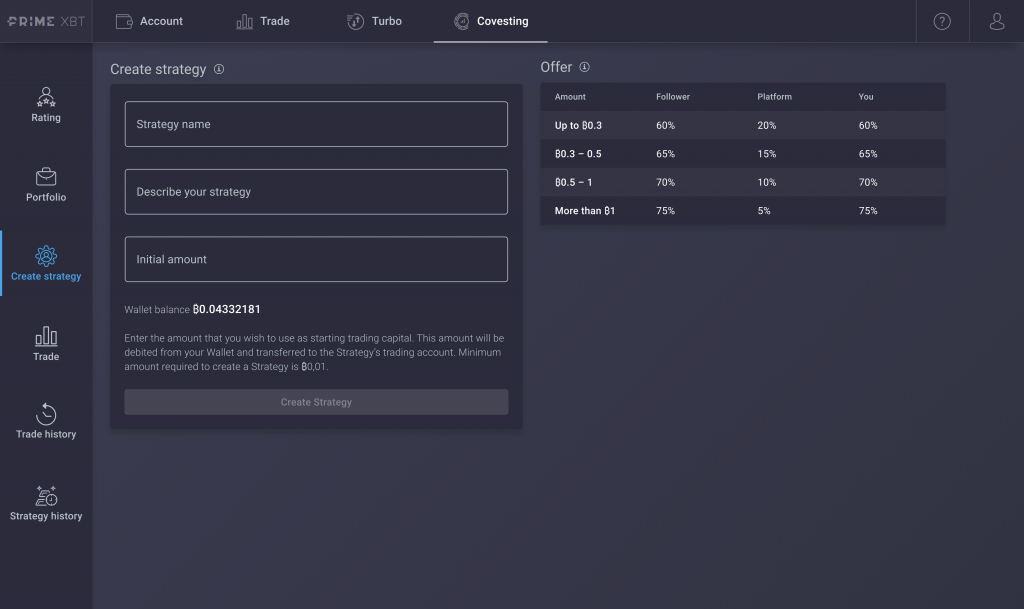 Additional Tools, Transparency Metrics, and More on the Way
Moving forward, Covesting users will be able to manage their Strategy and Strategy Following the same way they would manage their regular trading positions. This level of control offered to both Strategy Managers and Followers will avoid unnecessary disputes and potential drawdowns.
To give users even more control over risk, in the future the development team will add stop losses and max drawdown ratios to be added at the time each new strategy following is made. Added transparency will be provided through new metrics across each Strategy. These metrics include average margin utilization ratio, max drawdown, win-loss ratio, and more.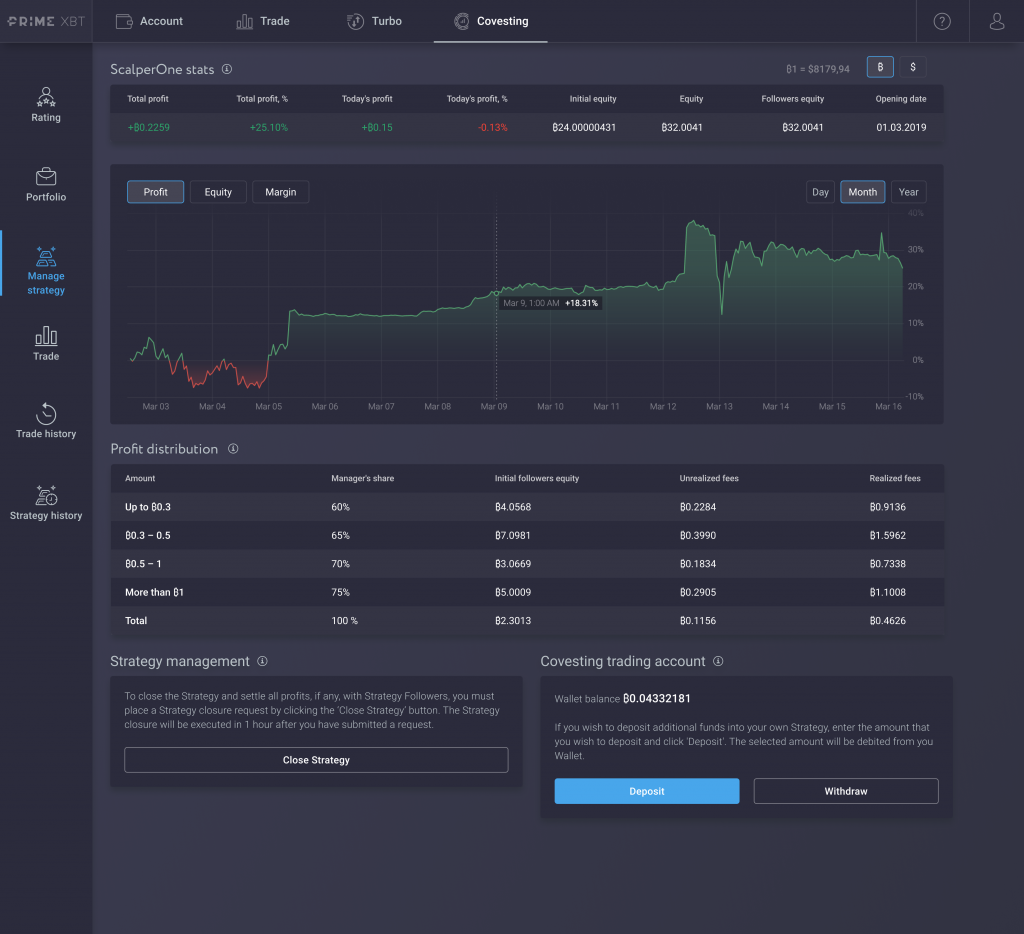 Together with the Covesting team, PrimeXBT will be jam-packing the Covesting module with exciting new tools, features, and metrics to ensure it ultimately becomes one of the most desired tools in the finance industry.
Once new version of Covesting module is released, the beta will continue for another three-to-four weeks of testing to make certain that all aspects of the module are working as expected and is ready to scale further.
We once again look forward to gathering additional feedback from the community after the latest updated module is rolled out. As soon as we are satisfied with the results of the beta test and performance of the product, the public launch will begin.
We understand there is much anticipation for the launch of this innovative feature, which is why it is critical to not rush development and instead focus on quality and user experience. This way we can guarantee that the final product is ready for the rest of the world.
Further Development Before Phase 2 Focus on COV Token Utility Begins
After the development team finalizes the release of the new change and are confident the new Strategy Manager and Follower mechanism is efficient enough to scale the product further, we will then begin Phase 2.
Phase 2 focuses on the Covesting token integration and building utility around it. We are currently considering several unique incentives that the COV token will offer users through the Covesting module. As we near closer to the Phase 2 launch, we will be sure to keep the community informed about the possible incentives and what they entail.
Be sure to check back here at the official blog for future updates as the Covesting platform further develops. We look forward to seeing you all in the updated Covesting module beta, and receiving more of your valuable feedback!
Risk Disclaimer
Investing in or trading gold or other metals can be risky and lead to a complete loss of capital. This guide should not be considered investment advice, and investing in gold CFDs is done at your own risk.
The information provided does not constitute, in any way, a solicitation or inducement to buy or sell cryptocurrencies, derivatives, foreign exchange products, CFDs, securities, and similar products. Comments and analysis reflect the views of different external and internal analysts at any given time and are subject to change at any time. Moreover, they can not constitute a commitment or guarantee on the part of PrimeXBT. The recipient acknowledges and agrees that by their very nature any investment in a financial instrument is of a random nature and therefore any such investment constitutes a risky investment for which the recipient is solely responsible. It is specified that the past performance of a financial product does not prejudge in any way their future performance. The foreign exchange market and derivatives such as CFDs (Contracts for Difference), Non-Deliverable Bitcoin Settled Products and Short-Term Bitcoin Settled Contracts involve a high degree of risk. They require a good level of financial knowledge and experience. PrimeXBT recommends the consultation of a financial professional who would have a perfect knowledge of the financial and patrimonial situation of the recipient of this message and would be able to verify that the financial products mentioned are adapted to the said situation and the financial objectives pursued.