The Covesting copy trading platform has now been available on PrimeXBT for over a month following an extended beta phase. Between the beta and the ongoing battle between our community's most skilled traders, we've witnessed a wide range of strategies – some risky, some sound, and some simply bizarre.
Whatever methods are used, the results vary significantly. Sometimes new traders come out swinging when they make their debut on the leaderboard, rising the list to the top with enormous ROI. But in no time at all, Covesting's fully transparent risk and success metrics will shed light on if these aggressive traders were just lucky, or if they have the skills to show steady, long-term success.
Others show consistency and proper risk management, only to lose their cool and go on a brutal losing streak after one big market shake-up – proving even the best traders make mistakes.
As a technology provider, PrimeXBT is not in the position to judge or recommend any individual strategy over another, however, we wanted to provide a variety of basic tips and guidelines which could help all Covesting platform users in choosing the right strategy to suit their risk appetite, profit targets, and needs, all while reducing overall risk associated with the platform.
Follow these essential tips to select the ideal strategy for you.
Slow And Steady Wins The Race For Stable ROI
Traders new to the Covesting platform are often eager to get started making a name for themselves and rise the ranks of the global leaderboard and five-star rating system.
Occasionally, they begin their trading career and strategy off too aggressively. Sometimes this works in their favor, driving up total and daily profit quickly and attracting the attention of followers who catch wind of the rapid rise to the top.

However, like most traders who have been in markets for some time know, some of the most significant losses come just after a big win. Traders are only human, and after a substantial victory, it is difficult not to become overconfident and let performance slip.
Look out for slow, steady, and consistent profit growth for long-term ROI. Even the example above demonstrates a strategy with regular gains booked. However, the trader had a big win towards the end, followed almost immediately by having much of those profits wiped out in a loss. Still, the mean trajectory of the strategy's growth signals the proper use of risk management and patience. The example also does a great job of proving that even the most skilled can take a wrong turn.
Monitor Margin Metrics For Risk Aversion And Capital Protection
Metrics provided by Covesting's dashboard on PrimeXBT should be the fuel in which all decisions are made by. This data is provided to ensure traders can properly research any strategy deeply in advance of investing any equity and monitor every individual aspect of performance to decide if the strategy is acceptable.
For those with a low risk appetite or those who just want to protect their capital, it is wise to watch margin usage closely. When positions go against a trader, the platform utilizes any available margin until the unrealized loss of a position exceeds the remaining margin. The closer margin allocation gets to zero, the more risk the trader is taking that liquidation may occur.

Simply put, avoid traders who utilize the largest share of their margin, as it implies a risk-taker bound to have a massive loss sooner or later. It also suggests that the strategy manager doesn't take their follower's capital seriously and should be skipped at all costs.
Additional Performance Data To Consider For The Best Results
As you can plainly see, finding the ideal strategy for you takes sifting through data with a fine-tooth comb and paying close attention to key metrics. Margin and profits are among the most important, but they aren't the only data points to consider.
In addition to how much risk a trader is taking on and how much success they're having, it is essential to look closely at how long they've been trading for on Covesting, how much equity they're trading with, and how many followers they have.

The longer they've been trading on Covesting and able to stay well-placed on the global leaderboards, the more likely they know what they are doing, and are more likely to be worthy of a follow. The more followers they have – think of it as more and more satisfied customers who keep coming back for another slice of the profit pie. Well-rounded metrics and a long track record are hallmarks of a skilled trader.
Finding Diamonds In The Rough With The Five-Star Rating System
Not all of the best traders make it to the top of the leaderboard, but the fully-transparent leaderboard also offers five-star ratings that ensure its visually clear which strategies are worth a follower's equity.
The five-star rating system checks off certain boxes that are a telltale sign that strategy is a decent choice. This includes:
Strategies in which the manager holds a minimum of 0.5 BTC in equity are awarded one star. The 0.5 BTC in equity can be deposited by the strategy manager or earned via trading. This ensures that any strategy is seriously committed to the capital at stake and isn't painlessly risking a small sum.

Another star is awarded for having traded a minimum of 30 out of the last 60 trading days, offered to only the most active traders. As soon as activity falls below the minimum, the dynamic five-star system will automatically remove the star, so followers always have up-to-date information available to them.

The third star is provided to traders that keep margin allocation to 60% or higher. Falling below will trigger the star's removal, making it a vital risk barometer to pay close attention to.

A fourth star is awarded for any traders able to maintain a win-loss ratio of 70:30. Traders must successfully close 7 out of 10 trades in profit without being stopped out to achieve this star. Only upper echelon traders are able to accomplish this star, making the metric an important stand out to watch.

The fifth and final star is offered to traders with at least 50 BTC trading turnover. Falling below this turnover rate will prompt the star's removal, and is a crucial statistic to maintain. Traders who regularly have at least 50 BTC turnover exhibit consistent and steady trading activity.
All of these critical factors should be given additional weight when considering any strategy. But even more importantly, is watching them closely and checking back regularly. Because the Covesting module's five-star rating system is updated dynamically every ten minutes, any sudden fluctuations in a strategy's profitability or risk management can immediately be recognized.
No trader, even those with a five-star rating, is perfect 100% of the time, so followers must also be responsible for managing their own risk by paying close attention to the fully transparent metrics.
While it is often alluring to jump into the highest-ranked strategies, there are plenty of diamonds in the rough just waiting to be tapped into if you only scroll further down the ranks.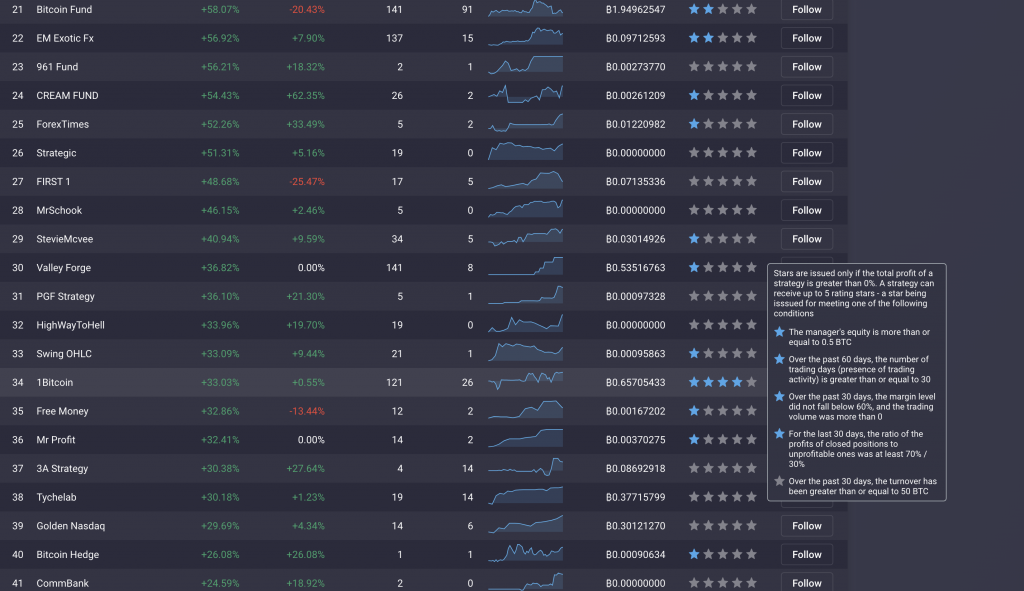 Sitting On the Sidelines Sometimes Is The Best Strategy To Follow
Still unsure as to which strategy is right for you? There's no harm in sitting on the sidelines and watching the players play the game. Once you take note of who regularly performs, how much they're risking, and how much you're comfortable with putting on the line, then you can consider following a strategy.
Due to regular updates to the Covesting global leaderboard, any wrong decisions are immediately added to performance metrics, so traders know exactly what they are getting if they consider following any of the strategies rising the ranks on PrimeXBT.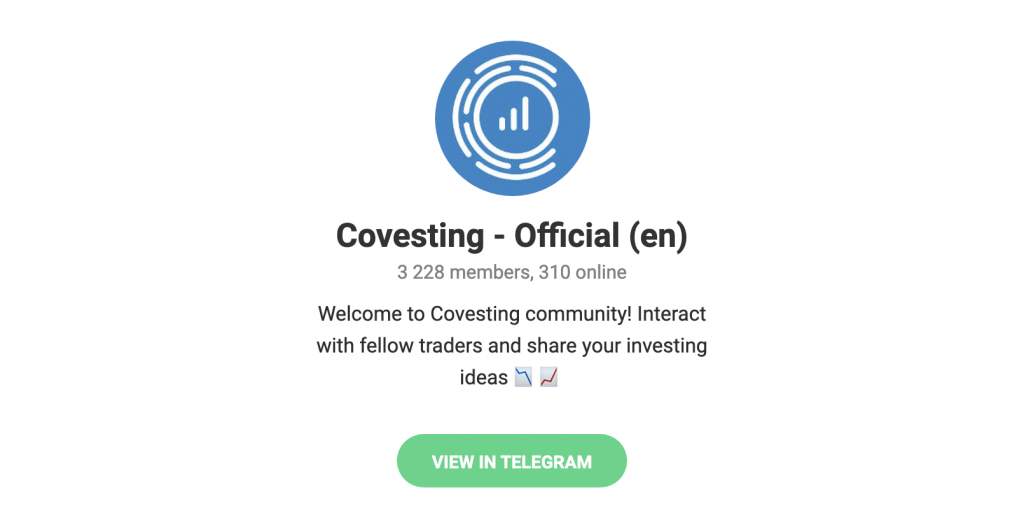 For a glimpse into what traders may be currently thinking, it is useful to join the discussion in the Covesting Telegram community. There's plenty of friendly and competitive banter, and it could mean a world of difference in feeling comfortable following a strategy knowing there's a genuine human being behind the username.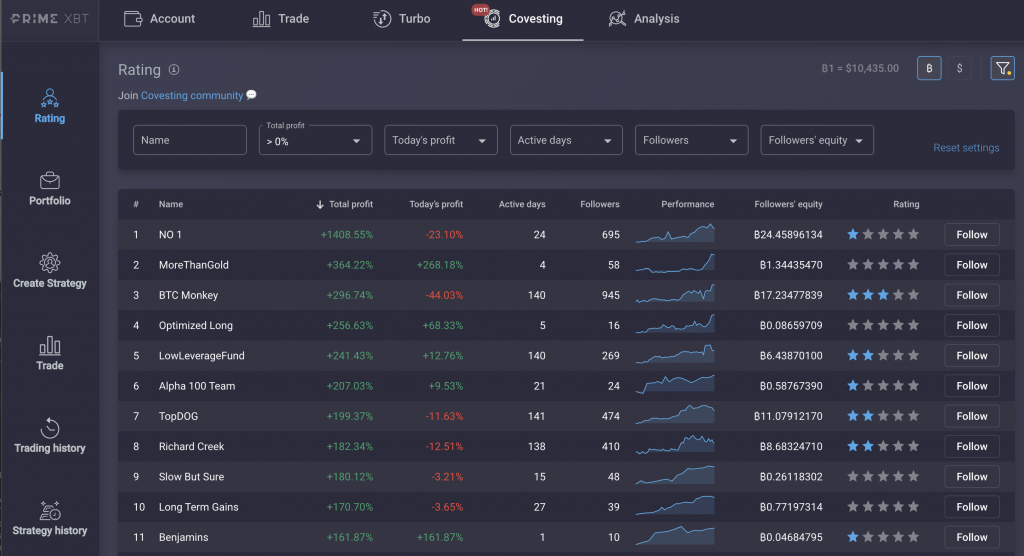 Find The Right Strategy, Click Follow – And The Debut Of A New Filter Feature
A new highly requested filter feature was also added for users to cut out the noise further and see the exact data that they want to see while taking it all in from the sidelines.
When you are finally ready and have found the right strategy for you, click that follow button and begin profiting alongside the rest of the skilled traders and followers on the Covesting platform now live on PrimeXBT!
Risk Disclaimer
Investing in or trading gold or other metals can be risky and lead to a complete loss of capital. This guide should not be considered investment advice, and investing in gold CFDs is done at your own risk.
The information provided does not constitute, in any way, a solicitation or inducement to buy or sell cryptocurrencies, derivatives, foreign exchange products, CFDs, securities, and similar products. Comments and analysis reflect the views of different external and internal analysts at any given time and are subject to change at any time. Moreover, they can not constitute a commitment or guarantee on the part of PrimeXBT. The recipient acknowledges and agrees that by their very nature any investment in a financial instrument is of a random nature and therefore any such investment constitutes a risky investment for which the recipient is solely responsible. It is specified that the past performance of a financial product does not prejudge in any way their future performance. The foreign exchange market and derivatives such as CFDs (Contracts for Difference), Non-Deliverable Bitcoin Settled Products and Short-Term Bitcoin Settled Contracts involve a high degree of risk. They require a good level of financial knowledge and experience. PrimeXBT recommends the consultation of a financial professional who would have a perfect knowledge of the financial and patrimonial situation of the recipient of this message and would be able to verify that the financial products mentioned are adapted to the said situation and the financial objectives pursued.