At the start of April, PrimeXBT, in partnership with Europe-based financial software provider Covesting, launched the highly anticipated Covesting Fund Management Module beta.
The tool connects traders in such a way that both benefit from one another, profiting from each other's activity on the platform.
Using the Covesting Fund Management Module beta, traders from around the world can become fund managers, and market themselves, their strategies, and even their win rates to the trading community at large.
Investors can inject their own capital into these funds, profiting from the positions taken by the professional trader, earning the investors a return on investment without ever having to make a trade of their own. However, it is important to note that historical performance is never a guarantee for future successful results. Volatility combined with leverage can lead to both substantial profits as well as complete capital loss, so investors must never invest more money then they can comfortably afford to lose.
And while these fund managers do earn a revenue share from any success fees generated by the investor's capital, it is investors who truly benefit by making the most successful traders across the globe work for them thanks to Covesting Fund Management Module.
Performance Improvement: Separating Personal Accounts From Fund Accounts
On April 24, PrimeXBT released an improvement update platform's infrastructure, separating Personal trading accounts from Fund Management trading accounts.
This enables every PrimeXBT platform user to be able to create a fund and manage it through a dedicated trading terminal, while keeping the personal trading terminal separate, complete with all the incentives, bonus schemes, and fee discounts, while remaining under the same account.
Previously, this required two separate accounts to be created and maintained. This inconvenience has now been removed.
We have provided early access to the Covesting Fund Management Module beta to only very few PrimeXBT platform users in order to detect and fix any issues, and make any structural changes or internal improvements that could impact stats ahead of a full release.
Gradually, as we make improvements and further stabilize performance, additional users will be provided with access.
PrimeXBT and Covesting thank all who have participated in the beta thus far. Your assistance in eliminating any potential bugs or performance degradation prior to scaling and marketing the module to the masses, is greatly appreciated.
Early Access Traders Battle For Supremacy on PrimeXBT
It is clear that fund managers have plenty to gain by making a name for themselves, earning a portion of the profits from each trade made with investor's money.
Each day, the ranks of these top traders changes in real-time within the Rating section of the Covesting Fund Management Module.
Unfortunately, the recent upgrade required all traders to re-create all the funds from scratch.
An inspiring tweet from a PrimeXBT client encouraged Covesting users to take the clean slate as an opportunity to prove their track record of success once again.
The comment on Twitter not only shows how the fierce competition on the platform is eager to maintain their rankings, but it also shows that traders everywhere are taking note, and following those with early access to the Covesting Fund Management Module on social media, potentially to see who they may invest in when the full release rolls out.
This list will only expand and grow as traders are provided with access to the module and more top traders around the world catch wind about the tool through word of mouth.
The platform picking up traction so quickly and competition already heating up, is a positive sign for the future of the Covesting Fund Management Module, which will eventually attract the world's best traders and fund managers.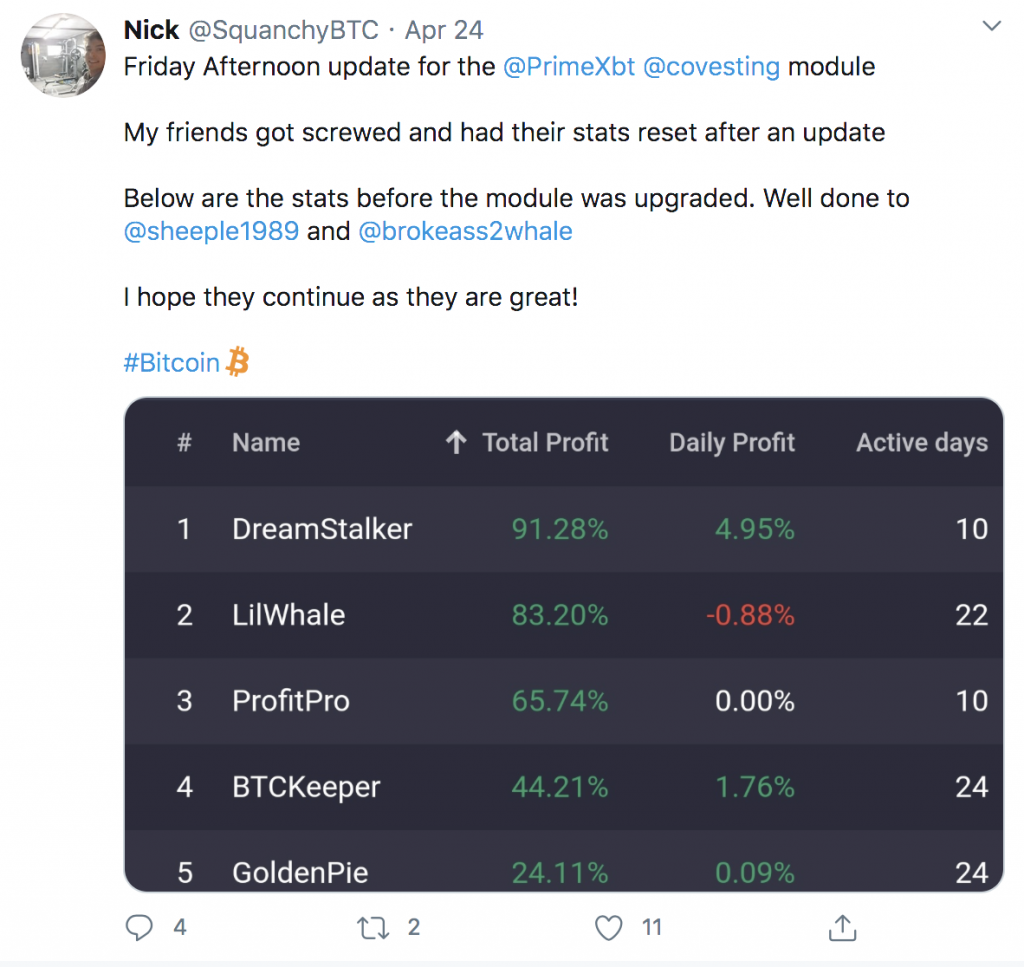 Working Towards the Full Launch of the Covesting Module
In cooperation with Covesting, the PrimeXBT team continues to improve features, perform Q&A testing, and work to stabilize performance. Currently, the beta is limited only to creating a Fund, managing positions and other features related to the Fund ecosystem.
Once the full platform is launched, the Investing feature will also go live, and then users will be able to invest capital into one or several of the Funds on the Covesting Fund Management Module. Investors can start paying close attention now to the strategies these top traders use, then later use the information to select the best performing funds.
Stop stressing night and day over which positions to take, or spending hours performing technical analysis – let others do it for you, with the Covesting Fund Management Module. Once again, even though the platform provides great transparency to all users – it cannot guarantee even the highest-ranked fund manager can't have a bad day, week, or month, and suffer losses that lower their ranking and win rates.
The Covesting Fund Management Module beta is available exclusively here at PrimeXBT.