As we seek additional ways to offer our users and clients unrivaled value and exciting new features, PrimeXBT is proud to reveal the debut of an innovative new Telegram bot, designed to provide traders up-to-the-minute data on all of the asset markets offered on PrimeXBT, including stock indices, forex, commodities, and cryptocurrencies, as well as the status of a trader's account from everything to orders, to open positions, account balance and much more.
A first-of-its-kind new feature, PrimeXBT's new Telegram bot will give traders an enhanced layer of accessibility designed for simplicity and speed.
Telegram Bot Provides Fastest Access to Market Insights And Account Data
Rather than logging into the PrimeXBT website and trading platform seeking quick info on open orders, positions, and more, traders may simply and more easily interact with the PrimeXBT Telegram bot right from within the popular social networking app itself.
The Telegram bot allows traders to request information using predefined commands on the status of any open positions, including unrealized profit and loss, used and available margin, current Bitcoin account balance available for trading, and information on all pending orders, limit or stop, long or short.
While the Telegram bot isn't ideal for all situations, it can provide access to the most vital account and market metrics, and do so even faster than logging into the platform itself, or can provide a smoother experience during times with poor internet connectivity or mobile service.
Statistics, Safety, Security, and Service All Included
Continuing our commitment to client safety and security, the Telegram bot was designed with two-factor authentication in mind, so you can rest assured that using the bot on Telegram is completely safe, and no third-parties will ever be able to gain access your sensitive user data or trading account. Two-factor authentication is not required to use the Telegram bot, however, it is recommended for the highest level of safety and security.
The Telegram bot will also allow us to continue to improve upon our excellent customer service experience. Users can easily be connected with customer support via the Telegram bot to make requests or raise concerns, and a friendly PrimeXBT support representative will reach out shortly thereafter via Telegram's private messaging service to assist with any inquiries or issues.
How To Take Advantage of The PrimeXBT Telegram Bot
Here is a step-by-step guide on how to take full advantage of the all-new, PrimeXBT Telegram bot:
Connect the Telegram Trading Bot to PrimeXBT Platform
Once the PrimeXBT Telegram bot is officially launched, users will be required to first make a connection between their PrimeXBT account and the Telegram bot within the PrimeXBT account dashboard.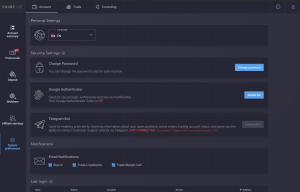 For the highest level of account security and safety, it is recommended that users enable two-factor authentication before making a connection between PrimeXBT and Telegram.
To enable two-factor authentication, first, download and install the Google Authenticator app on your smartphone device. Then return to the PrimeXBT account dashboard and select "enable GA."
A unique code and scannable QR image will be displayed. Be sure to take note of the code and save it in a secure location to back up access to the account. Enter the code within the Google Authenticator app.
This will prompt users at each login to open the app and enter the random code that is generated for an added layer of security.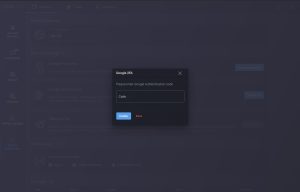 Once GA has been enabled, next is making the connection between PrimeXBT and the Telegram bot.
Find the Telegram Bot and Enter Secret Code
After Google Authenticator two-factor authentication has been enabled, click "Connect Bot" within the PrimeXBT account dashboard.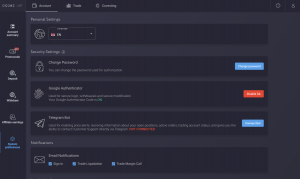 Instructions will appear, asking users to open their Telegram messenger application and search for MyPrimeXBTBot in the search bar.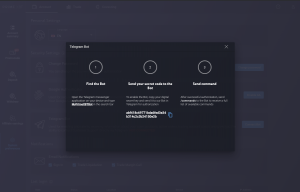 Copy the unique secret code within the instructions, and send the code to the bot via message in Telegram.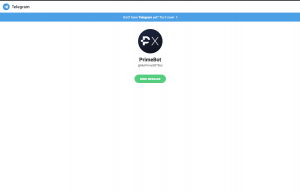 Note: Do not share your unique secret code with anyone but the bot.
To confirm successful authorization, send the message "/commands" to the bot to receive a full list of commands the bot is capable of.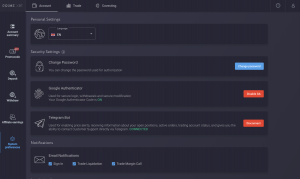 Enter The Many Commands Into the Bot To Receive Market and Position Data
To see the full list of commands the bot is capable of, send the message "/commands" to the bot in Telegram.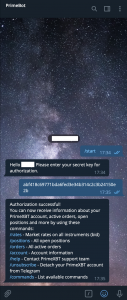 The list of commands are as follows:
/rates – users will receive a message containing the current price data of every trading pair offered by PrimeXBT, across crypto, commodities, stock indices, and forex.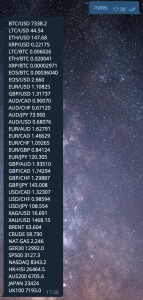 /positions – users will get an update with details on all currently open trading positions, across both short and long orders, and all available assets. Data on the position ID, asset symbol, position size, open, and unrealized PnL is included.
/orders – users will be notified with all pending orders in the system, including the order ID, asset symbol, sell or buy, type of order, size, and price the order is set for.

/account – a full detailed breakdown of the PrimeXBT account is displayed, including the account number, balance, equity, rewards, unrealized PnL, used and available margin, open positions, and open orders. All this data is available in just a click.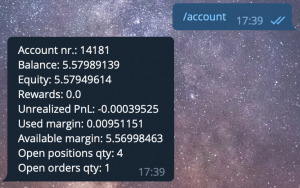 /help – to streamline the support process and offer additional ways for PrimeXBT clients to contact our friendly customer service staff, we've added a shortcut to the PrimeXBT_Support_Bot. Typing /help will start a new conversation with the bot to help connect users to support staff and receive assistance.

What's Next for PrimeXBT's Telegram Bot?
As always, we are exploring additional features to bring to the Telegram bot in future updates, such as the ability to potentially manage trades from the bot itself. For now, please enjoy the current slate of enabled features and stay tuned to the PrimeXBT Medium for additional updates as they're available.
The all-new Telegram bot joins PrimeXBT's growing array of innovative, cutting-edge features, such as 1000x leverage, the ability to take long and short positions, or the Covesting asset management module. No other trading platform offers this many breakthrough features, along with an ultra-fast, reliable order engine and the most advanced trading tools across the industry.