It has been a long time coming, but Bitcoin finally managed to break its long-standing all-time high and climb to $67,000 per coin. This was off the back of positive news around the launch of a Bitcoin ETF in the US after the SEC finally approved it. Since then, Bitcoin has seen its price fall back to just over $60,000 — although it is slowly rising again.
However, this is not the end of the general cryptocurrency rally as the rest of the altcoins, in a little bit of a lag, have managed to start climbing while the major coins take a small breather.
One such example is SOL, which has broken out from consolidation to lead the altcoin market with a 60% rise to break its previous ATH of $216 before retreating back lower. While altcoins are climbing higher, there are a number of metrics that point to an extended Bitcoin bull run developing.
From social media sentiment to the MVRV Z-score, which is entering a territory that traditionally sees BTC rallying significantly, many feel that the new ATH set by Bitcoin could soon be eclipsed again. And if this does happen, it is likely that the rest of the cryptocurrency market could rally as well.
In the traditional markets, all three US major stock indices finished the week higher for the third straight week of gains, with the Dow Jones Industrial Average rising to a record close.
The Dow climbed nearly 74 points, or 0.2%, to 35,677.02, breaking its ATH made on Aug 16. The S&P inched lower by 0.1% to 4,544.90 a day after it closed at a record. The Nasdaq was the underperformer, shedding 0.8% to 15,090.20. Investors rotated out of tech stocks after Intel and Snap reported worse-than-expected earnings.
Overall sentiment remained bullish after China Evergrande remitted the funds for a key interest payment that was due Sept. 23 on Friday — ahead of a 30-day grace period that would have ended on Saturday, according to Chinese state media Securities Times. The news sparked optimism which led the China stock market up more than 1% on Friday. Further to that, the "re-emergence" of Jack Ma caused the shares of Alibaba to surge around 7%, pulling the Hang Seng Index up on the 2nd positive week on the HSI after a spate of selling since July.
Silver managed to climb back above $24 in a week that saw the shiny metal carve out gains of over 5%, while Gold also had a good week, inching nearer to $1,800. All these happened due to some profit-taking on the USD as the DXY slid to 93.50.
Oil continues its meteoric rise and is trading above $84 as a result of the supply crunch.
More action has been on the cryptocurrency market as the first BTC ETF started trading last Tuesday.
The first day of trading on the first US BTC ETF started with a bang. The ProShares BTC ETF with ticker symbol BITO saw around $1 billion value traded, the second-highest in NYSE history in terms of first-day transaction value. This signals intense interest from traditional investors to gain exposure to BTC.
Amid the strong interest, the SEC approved another two Futures-based ETF – Van Eck and Valkrie. Valkyrie has listed on Friday to little fanfare, however, falling around 2.8% on its debut. Van Eck is expected to start trading today.
In anticipation of BTC Futures ETF listing, the BTC Futures Open Interest grew more than 50% in a month. This suggests that traders could be actively taking positions in the BTC Futures Market.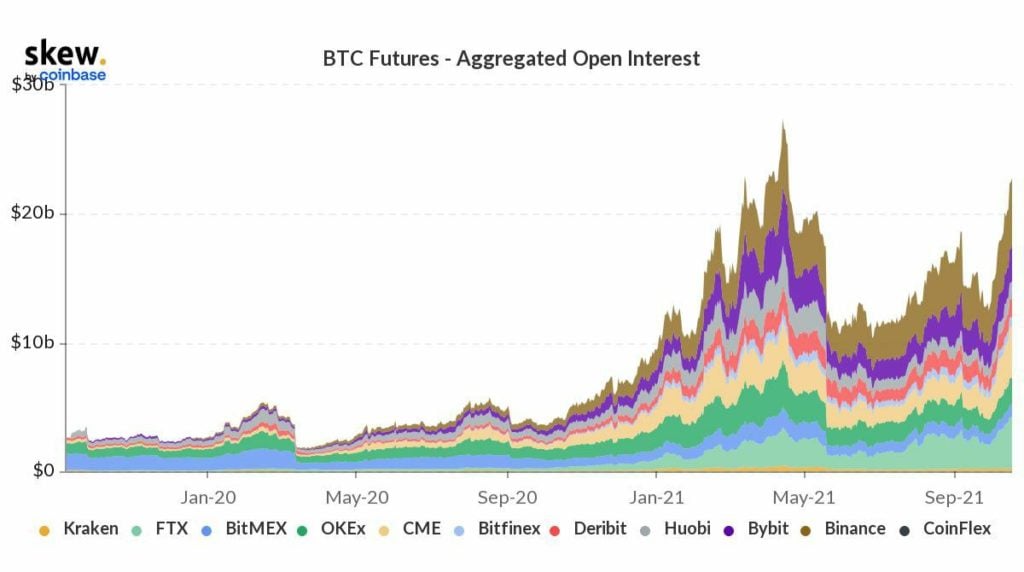 With a sudden surge in open interest, funding rates were beginning to go up and while still not as high as that seen in April, the abrupt surge in open interest led to a sharp increase in funding rates across all exchanges. This resulted in a futures-led market sell-off on Thursday, which saw around $450 million of liquidations, the highest amount in recent times. Such regular pullbacks as the price of BTC breaks higher is good for the continued growth in BTC price since it routinely removes overleveraged froth from the market.
Various Metrics Suggest BTC Rally May Have Legs
While aggressive traders are piling in on the BTC craze, retail investors don't seem too bullish on the ability of BTC to continue rising higher as social sentiment on BTC on various social media has fallen into the negative territory, a sign of skepticism. This, however, is usually a counter indication as retail investors are always late to the game, hence this could mean that the price of BTC has steam to continue moving higher since these retail investors would eventually jump onto the bandwagon as the price of BTC continues heading higher.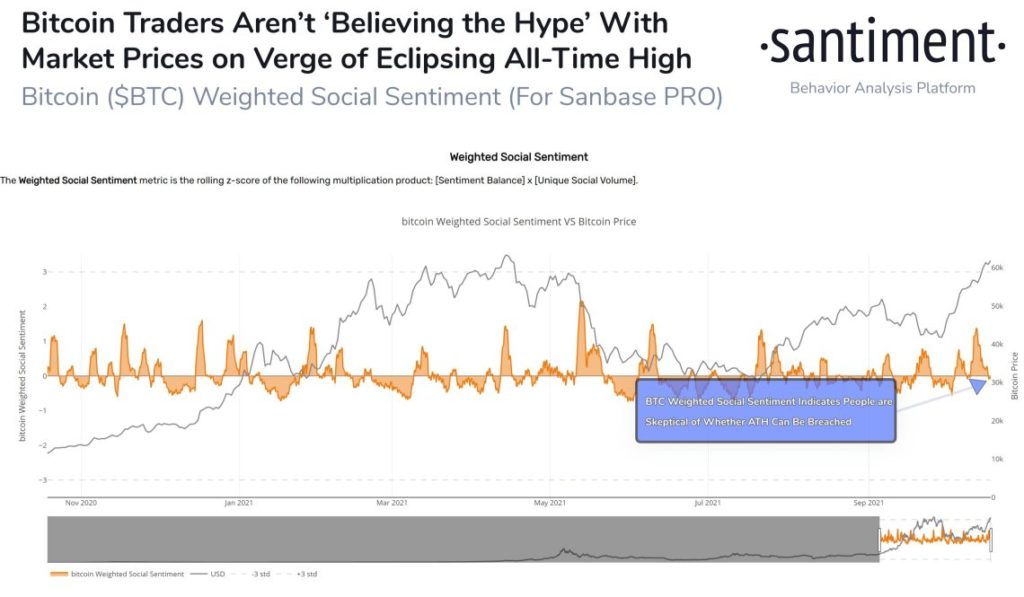 Another metric that points to possible higher prices for BTC ahead is the MVRV Z-score, which is entering a territory that traditionally sees BTC rallying significantly. This Market Value to Realized Value (MVRV) indicator is used to measure if BTC's price is at under or over value, and it has reached 3.0.
In 2013 and 2017, as the chart below indicates, BTC's price reached its all-time high prices in the coming months after the metric entered its current levels.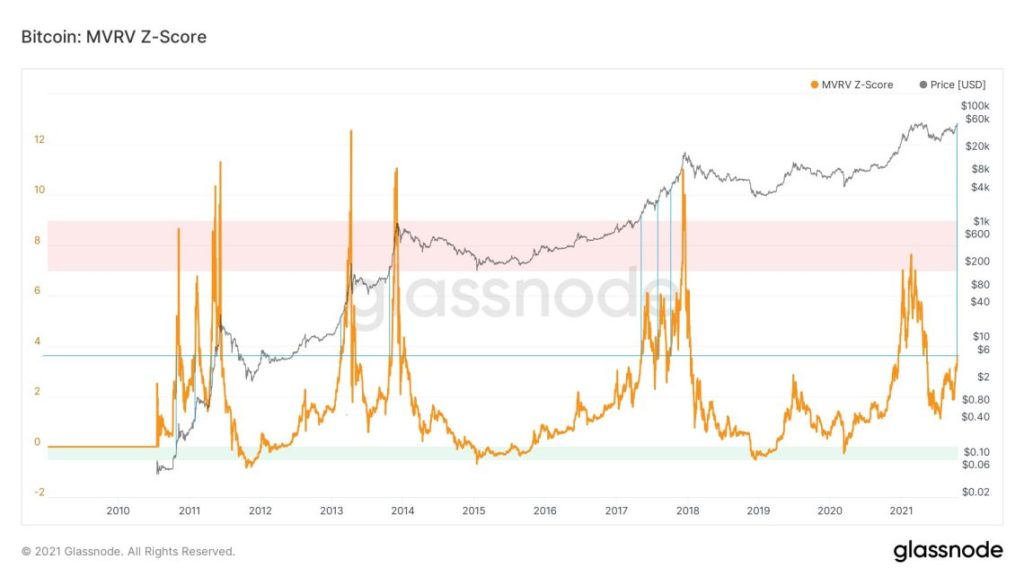 BTC on-chain transaction volume has also surged 700% when BTC revisits $64,000 now compared with that in April, which means that the current break of ATH is supported by actual transactions instead of merely being led by the derivatives market. This could mean that levels above $60,000 could be more sustainable this time.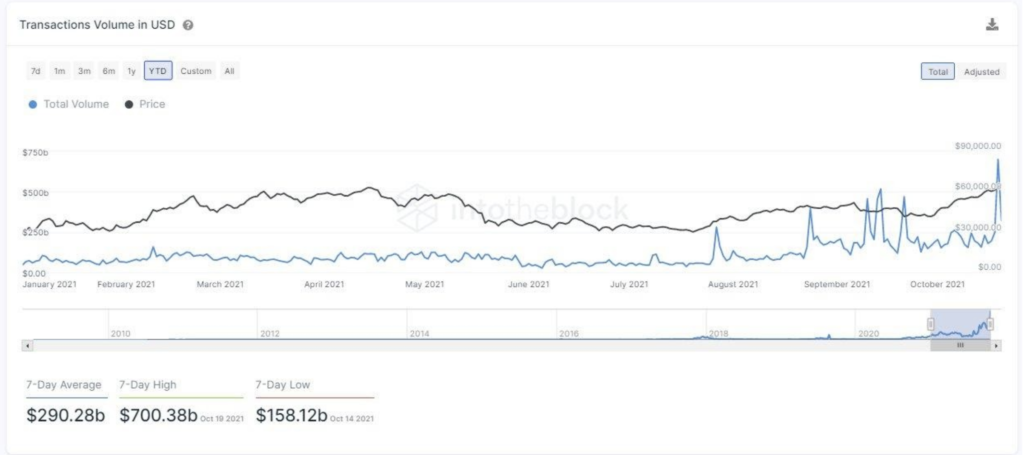 The surge in BTC transactions has led to the balance of BTC on exchanges to fall sharply again after having tapered in September. This goes to show that the supply crunch is continuing to get worse, which will eventually reflect in higher prices since the demand for BTC is growing from institutional investors.
Options Market Eyes $15,000 ETH While Data Predicts $300,00 BTC
Post the listing of the first BTC ETF, investors are getting bullish about the prospects of an ETH ETF for early next year and are beginning to pile into ETH. There is a large demand for long-dated ETH call options, with the March 25 expiry option at a strike price of $15,000 the most popular. This could mean that investors are bullish on the price of ETH for the next 6 months, with most of them seeing ETH hitting $15,000 by the end of March next year.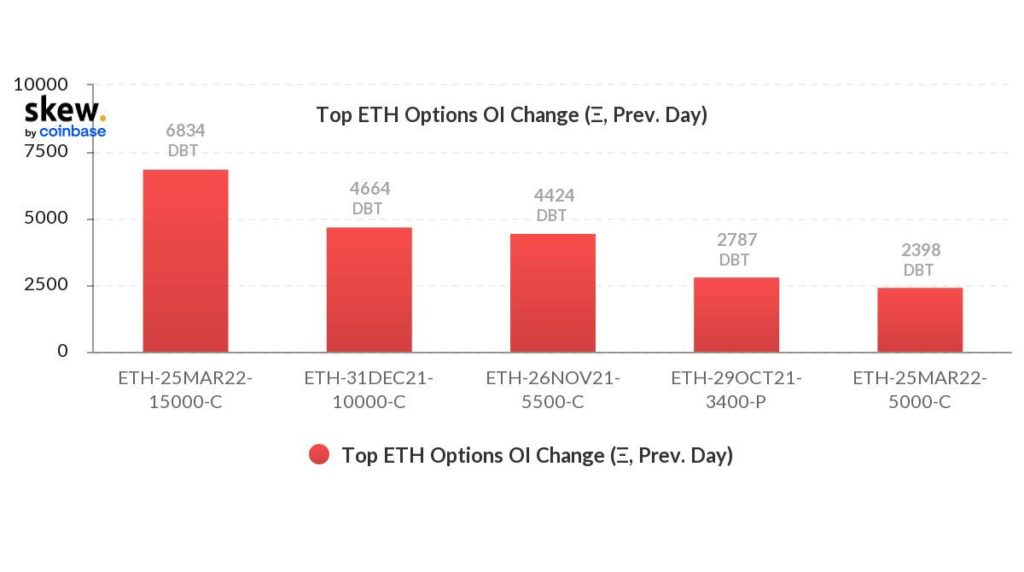 According to Glassnode, tabulating the Fibonacci Multiplier for BTC in the past cycle peaks gives a projected $233,000-$357,000 cycle peak price for BTC in this cycle. If this projection plays out, BTC could rise another 400-600% before it reaches its peak price and this should be seen in the coming few months.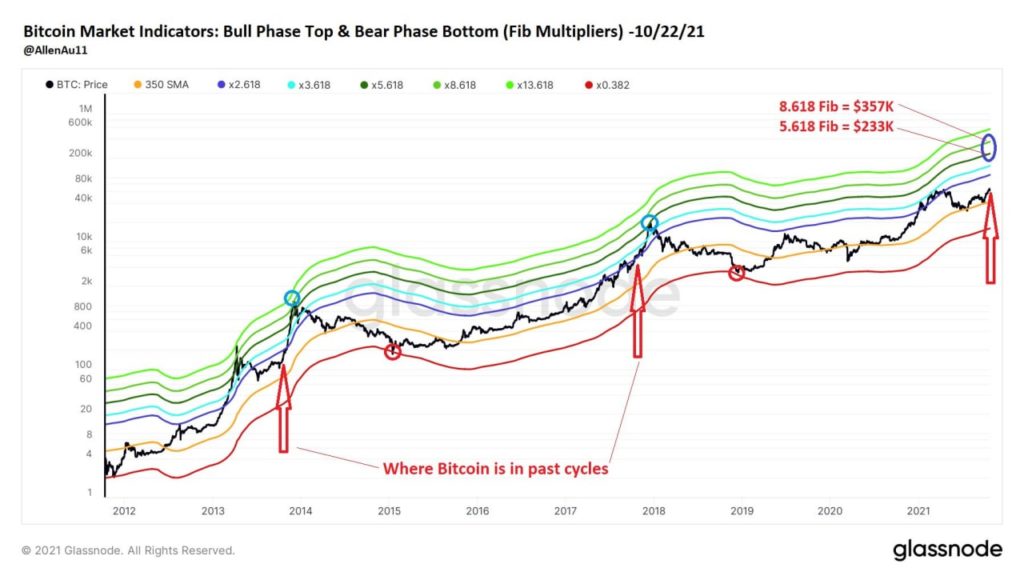 Positive Crypto News That Could Take BTC Higher
As Russia continues pushing de-dollarization, the Ministry of Foreign Affairs (MFA Russia) is reportedly considering replacing the United States dollar with not only traditional fiat currencies but also digital currencies.
PIMCO, the world's largest bond fund with AUM of around $2.2 trillion, says it will be investing in cryptocurrencies.
Pop icon Mariah Carey is the latest celebrity to embrace BTC in another sign that digital assets are becoming mainstream as she mentioned that she had purchased BTC.
Meanwhile, Walmart has quietly begun hosting BTC ATMs at 200 of its Coinstar kiosks in a tie-up with crypto ATM firm Coinme. This would make purchasing BTC a breeze for the average Joe, taking adoption to a greater level.
Sign of Alt Season As Altcoins Take Turn To Break ATH
As BTC and ETH are taking a breather, some altcoins are showing renewed strength and are resuming their previous ascent after a period of consolidation. One such example is SOL, which has broken out from consolidation to lead the altcoin market with a 60% rise to break its previous ATH of $216 before retreating back lower.
DOT is also attempting to break a new ATH as the confirmation of its parachain slot auction on Nov 11 has started a buying-spree from investors keen to participate in the DOT crowd loans. DOT's founder, Gavin Wood, also announced a $774 million incentive fund to advance the use of DOT in DeFi. DOT has been inching towards its ATH of $49 and could retest the level very soon.
Other altcoins are taking turns to break ATH as well. The likes of FTM, which is having a conference this week, and ONE have also broken ATH. It seems that the altcoin market is beginning to spring to life and rotational plays on altcoins look set to continue this week.
DOGE is also witnessing a fresh bout of buying after Elon Musk tweeted support for the meme token once again late yesterday. The token last changed hands at $0.275 and could be poised for higher levels ahead unless there is a huge pullback in the market.
About Kim Chua, PrimeXBT Market Analyst: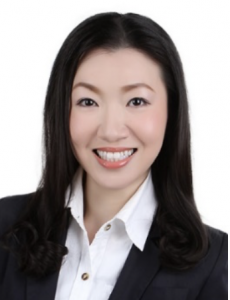 Kim Chua is an institutional trading specialist with a track record of success that extends across leading banks including Deutsche Bank, China Merchants Bank, and more. Chua later launched a hedge fund that consistently achieved triple-digit returns for seven years. Chua is also an educator at heart who developed her own proprietary trading curriculum to pass her knowledge down to a new generation of analysts. Kim Chua actively follows both traditional and cryptocurrency markets closely and is eager to find future investment and trading opportunities as the two vastly different asset classes begin to converge.
Risk Disclaimer
Investing in or trading gold or other metals can be risky and lead to a complete loss of capital. This guide should not be considered investment advice, and investing in gold CFDs is done at your own risk.
The information provided does not constitute, in any way, a solicitation or inducement to buy or sell cryptocurrencies, derivatives, foreign exchange products, CFDs, securities, and similar products. Comments and analysis reflect the views of different external and internal analysts at any given time and are subject to change at any time. Moreover, they can not constitute a commitment or guarantee on the part of PrimeXBT. The recipient acknowledges and agrees that by their very nature any investment in a financial instrument is of a random nature and therefore any such investment constitutes a risky investment for which the recipient is solely responsible. It is specified that the past performance of a financial product does not prejudge in any way their future performance. The foreign exchange market and derivatives such as CFDs (Contracts for Difference), Non-Deliverable Bitcoin Settled Products and Short-Term Bitcoin Settled Contracts involve a high degree of risk. They require a good level of financial knowledge and experience. PrimeXBT recommends the consultation of a financial professional who would have a perfect knowledge of the financial and patrimonial situation of the recipient of this message and would be able to verify that the financial products mentioned are adapted to the said situation and the financial objectives pursued.