Bitcoin has again stayed relatively range bound through the last week and with this often comes a surge for altcoins. Leading the pack has been Ethereum which managed to break through the $2,000 barrier for the first time and also helped set off a number of other coins to push higher.
Still, even though Bitcoin has stayed in the upper reaches of the $50,000 mark, it has managed to bounce back from a slump off the news of big interest from Visa and PayPal, two payments companies ramping up their adoption of cryptocurrencies.
In the traditional markets, there is good news as the US is implementing a new infrastructure plan which has hit the right notes with the stock markets, but this has also had an impact on the worth of the US Dollar.
Stocks On The Rise
Stocks moved up strongly last week after US President Biden unveiled his $2.2 trillion infrastructure plan, and gained upward momentum after a series of better-than-expected economic data fuelled optimism. Non-farm payrolls in particular rose way more than expected to 916,000 vs consensus expectation of 650,000 in the third straight month of increase.
The unemployment rate also fell to 6% from 6.2%, further proof that employment in the USA has picked up. The Friday released numbers sent the S&P piercing the 4,000 mark for the first time, closing at ATH of 4,030. Nasdaq rose around 5% for the week, while the Dow spent the week hovering at ATH.
As expected after the unveiling of Biden's massive infrastructure plan, the USD retreated, while yields stabilised at below 1.7%. With a weaker USD, Gold and Silver rebounded, with gold back to $1,730 and Silver closed the week back at $25.
Gold price could be bottoming out as a double-bottom reversal pattern can be seen. The coming week or two may determine if the pattern manages to reverse Gold from its fall this year, or if it is merely a respite.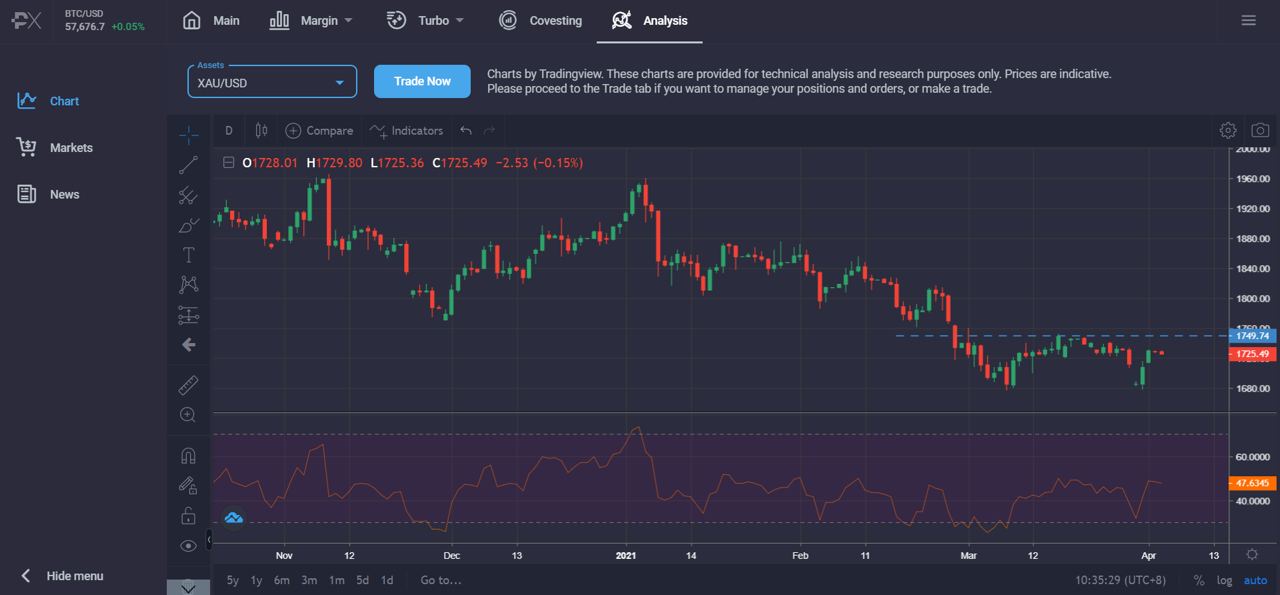 On Oil, instead of maintaining quotas in May as expected, OPEC+ is planning to start raising production gradually from next month and into the summer. Despite the news, Oil prices did not react negatively, even with news of a worsening COVID situation in Europe and USA, and managed to stay above $60.
BTC Rebounds On Visa and PayPal Adoption
BTC price rebounded early last week after 2 adoption news made the headlines. First, payments giant Visa said it was integrating the USDC stablecoin onto its network. This opens up the possibility for other cryptocurrencies to be added in future and is a boost to the inevitable adoption of cryptocurrencies by major financial institutions.
Secondly, Paypal, Visa's competitor, also announced that it has started allowing consumers from the USA to use cryptocurrency to pay at the 37 million merchants that it supports.
In addition, the potential influx of more USD supply gave further reason for BTC to move up after US President Biden unveiled his $2.2 trillion infrastructure plan.
These developments led BTC to add to its strength from the week before to continue on its upward trajectory, inching up around 10% for the week.
Most experts think the $60,000 hurdle, which has seen persistent selling, to be broken soon, as on-chain data suggests that BTC is in a prime position to rally more.
Institutional investors are still accumulating as Coinbase continues to see outflows into early April. 1St April saw yet another 12,000 BTC withdrawn from Coinbase Pro.
XRP Rips, Sets Bull Market Higher High
Following several weeks of struggles due to the ongoing legal battle between Ripple executives and the United States Securities and Exchange Commision, XRP has exploded to its first major "higher high" since the crypto bull market began.
By definition, an uptrend is a series of higher lows and higher highs, suggesting that this is only the start for the wounded but clearly not out altcoin. XRP once held the top three position right behind Ethereum and Bitcoin, but has since fallen out of favor as US investors were forced to sell their XRP.
The SEC's move has now caused those investors to sorely miss out on gains they otherwise might have been celebrating right now. If the current resistance level is broken, a massive rounded bottom formation would have a measured target of around $3 per XRP.
Stablecoin Supply Indicates More Cryptocurrency Upside Ahead
Some important indicators that point to more upside ahead are stablecoin growth and the amount of stablecoins relative to BTC that is held at exchanges.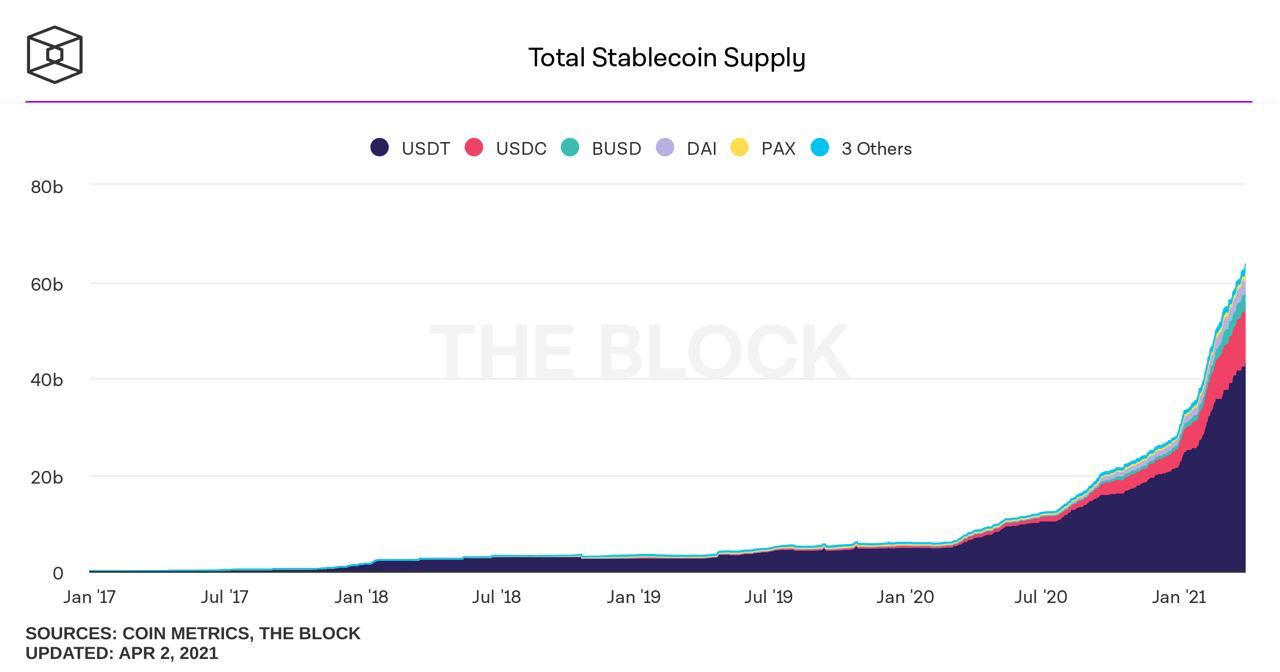 The amount of stablecoins have picked up sharply since that start of this year to north of $60b currently, resulting in the amount of stablecoins on standby at exchanges to be at ATHs.
Relatively speaking, there is a lot more stablecoin at exchanges as compared with BTC.
BTC holdings in USD divided by stablecoins holdings in all exchanges is falling, suggesting that selling pressure is weakening. There is now a lot more stablecoin relative to BTC at all exchanges.
This suggests that there could be a lot of buyers waiting to enter into positions anytime, which could propel the price of BTC and other crypto assets higher than they already are now.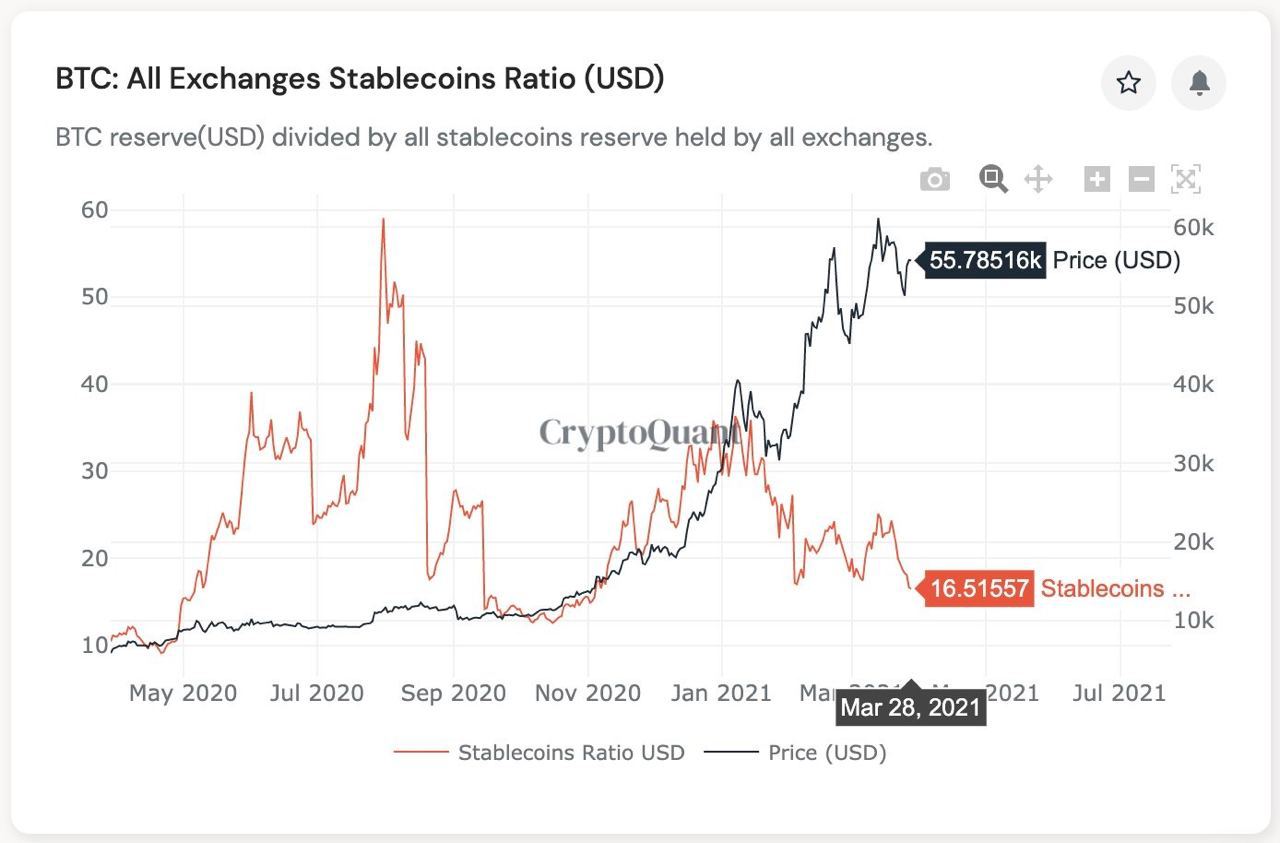 This year also sees a change in investor behaviour. In previous years, most long-term investors had a tendency to sell their BTC as price was advancing to new thresholds. However, this year, the long-term buyers seem to be less inclined to sell, even after the price doubled from $30,000 to $60,000 between Jan and now.
As can be seen from the below diagram, old investors were selling into the rally from Nov last year to Jan this year. However, the trend has reversed since mid-Jan and old hands have been hodling.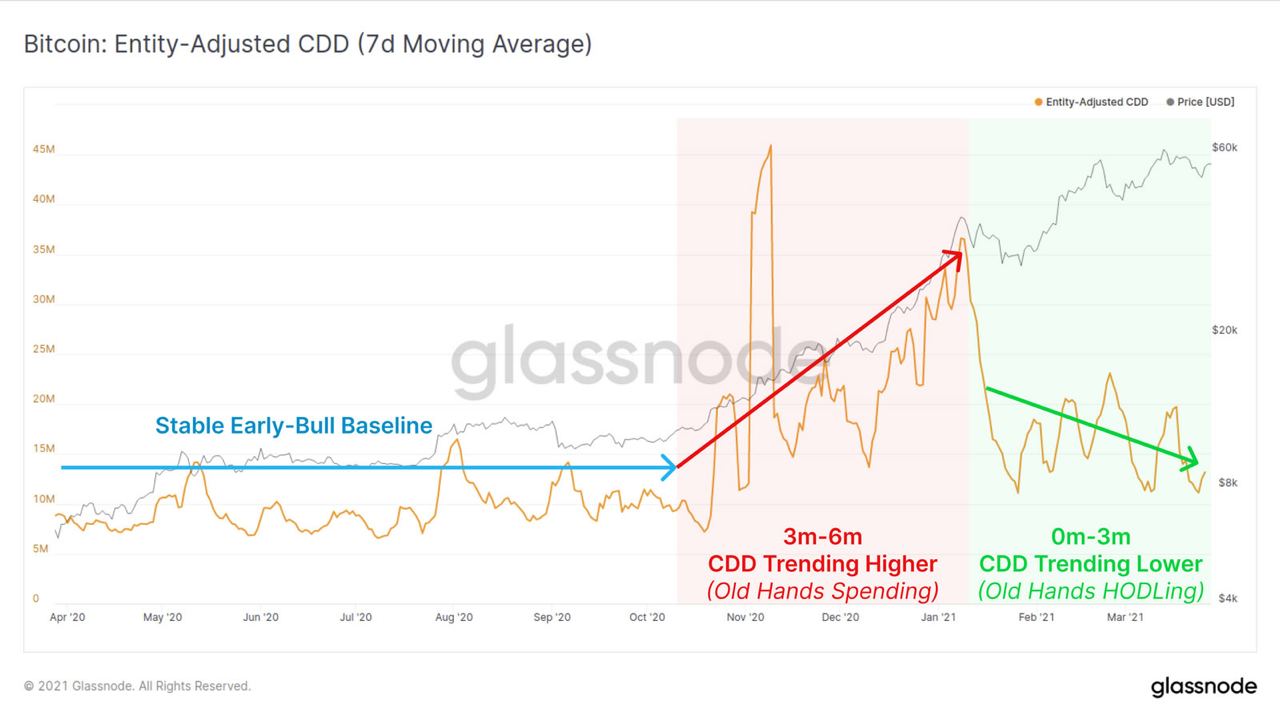 Miners have also stopped selling and instead, turned buyers since the end of March. The Net Miner Position Change has turned positive, which means that miners have started to accumulate BTC after they had been selling since the start of the year.
With the price of BTC chalking up 6 consecutive months of gains even with miners selling aggressively in Jan, the near future could be interesting since miners have turned buyers.
The last time miners were buyers in Dec, the price of BTC broke $20,000 and started an explosive move to $30,000, which subsequently rallied on to $40,000.
Even new buyers are not taking profits yet. The first BTC ETF that was launched in Canada, the Purpose BTC ETF, has not seen a day of outflow since inception, which is rather impressive.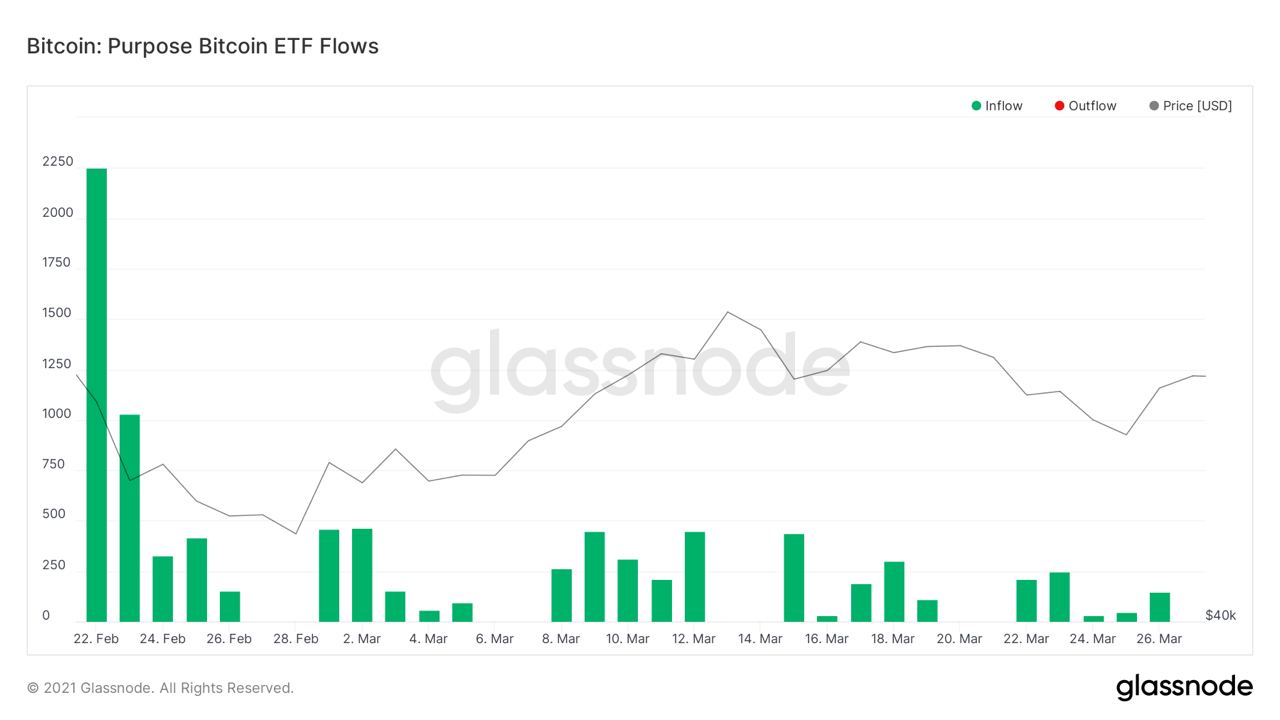 BTC Hashrate Suggests No Overheating Price Action
BTC health is also improving at the same time, with BTC hashrate making ATH again, implying that fundamentals are also improving in tandem with the increase in price. This means price has not moved ahead of fundamentals, and could mean that the increase in price is justified and likely sustainable.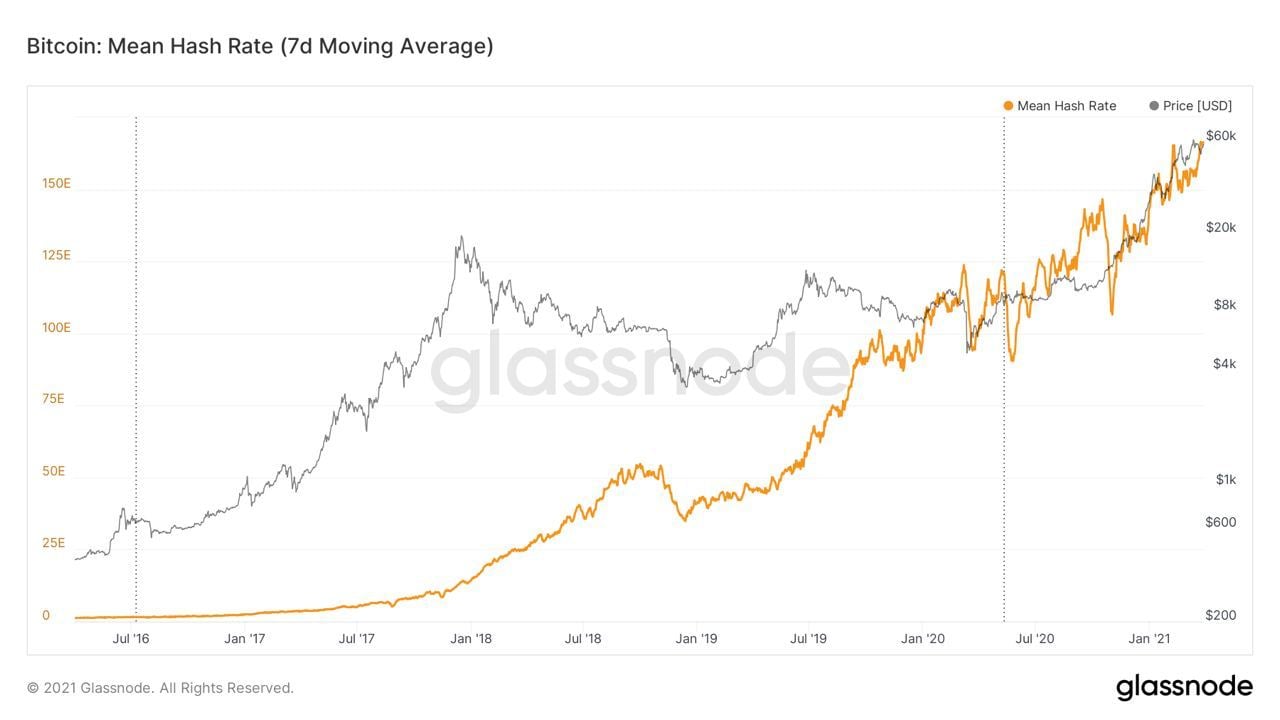 For the record, the last time the price of BTC made 6 consecutive months of gain was in 2013, where it continued to rally 700% from $140 to $1,000 in the subsequent 6 months after making a retracement of 30% over 2 months.
ETH Finally Breaks $2,000, Could Outperform BTC
Last week also finally saw the sustained move above $2,000 for the 2nd largest crypto, ETH. This time around, ETH is finally able to close above $2,000 for the first time, and sets a new ATH of $2,156 in the weekend.
This move has been long overdue, as on-chain fundamentals for ETH have been improving for some time. The quick up move came on the back of the ETH/BTC pair showing a breakout and double bottom on the daily chart, which is a powerful bottoming formation.
This phenomenon implies that ETH may outperform BTC in the near-term as BTC struggles to break $60,000, while ETH has been consolidating for some time before this large up move.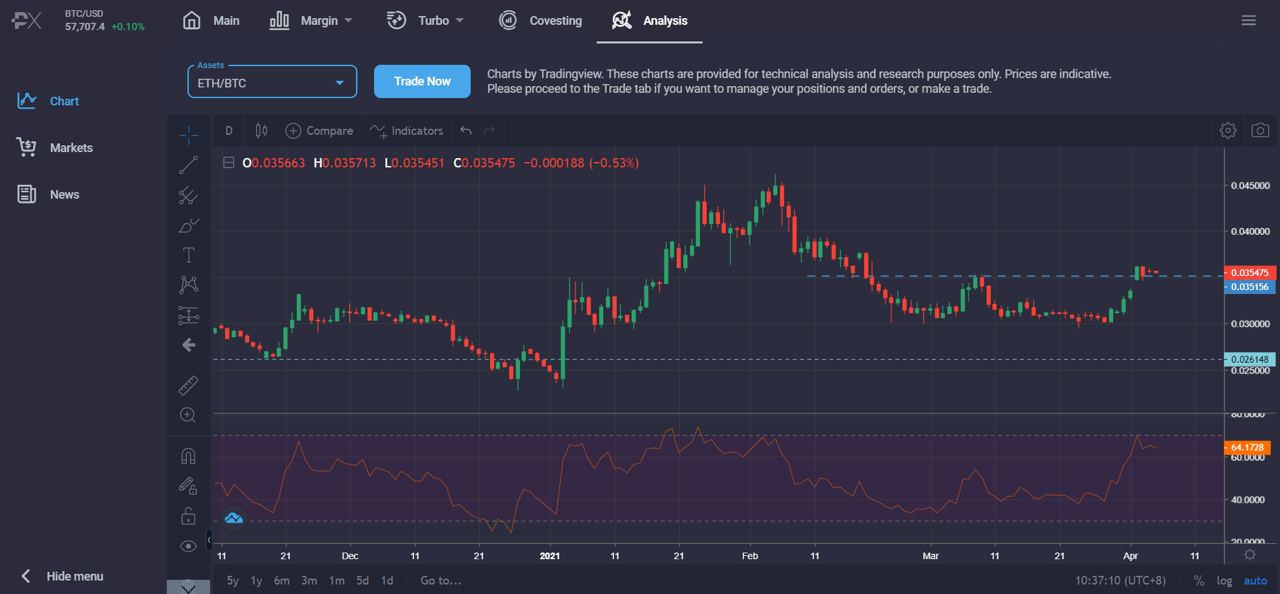 Token Burn Upgrade Key Catalyst for ETH Price
As we move closer to the token burn upgrade, the price of ETH could rally further. The current strength could also be attributed to a strong-buy call for ETH from one trusted crypto analyst, Teeka Tiwali, of Palm Beach Research.
Teeka told his followers that ETH could hit a $1 trillion market cap this year because of the token burn upgrade, and suggested investors buy ETH as soon as they can before the July upgrade. With ETH's current market cap of $245 billion, a $1 trillion market cap would give buyers a 400% upside.
As the price of ETH surged, Interest in ETH Futures and Options also spiked, with Open Interest in both derivatives climbing.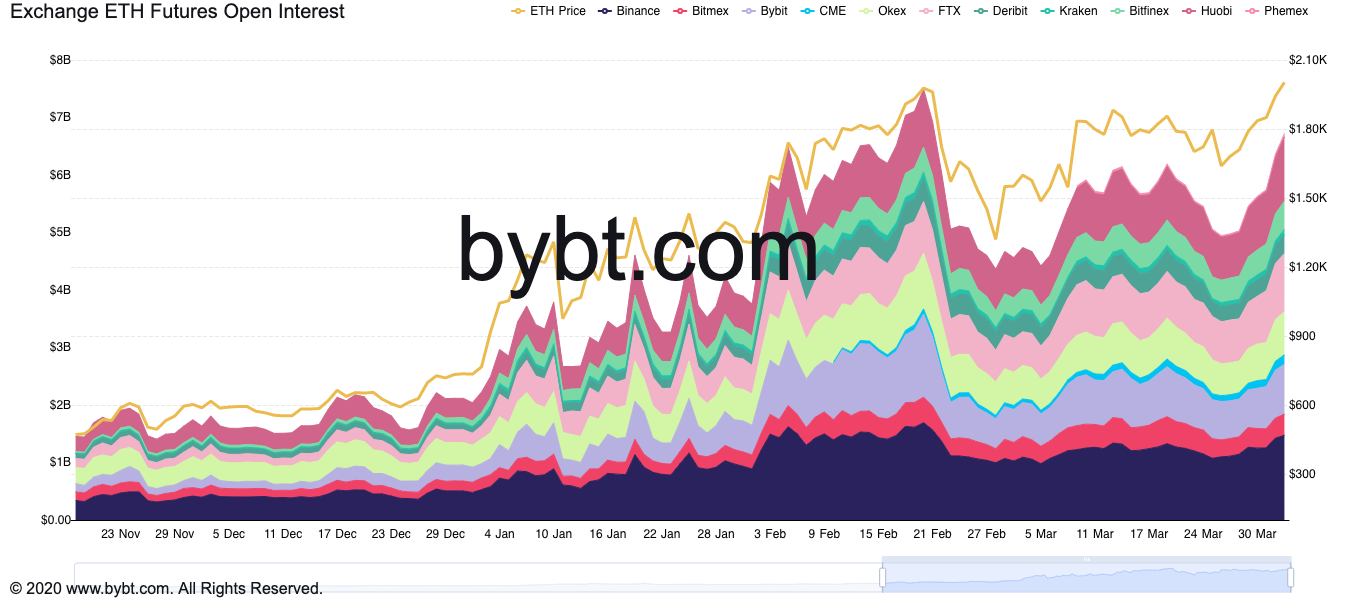 According to data, the ETH options market shows big bets heading into the June expiry, with the highest open interest for an ETH call option with a strike price of $3,200. Although this does not necessarily mean that ETH price will certainly hit $3,200 by end June, it certainly indicates that there is significant interest at that price level.
ETH Leads Protocol and DeFi-related Tokens Rebounding
It wasn't just ETH that shone however, as action on the altcoin market was fiery hot. Rotation into altcoins continued into other protocol tokens after ETH started moving. Among the larger cap protocol tokens, DOT did exceptionally well, rising everyday last week after announcing a string of collaborations that brought its price smashing to a new ATH of $46.80.
Other blockchain projects like BNB, SOL, RUNE, and even TRX, also benefited from the positive sentiment, rising double digit percentages.
DeFi project tokens also started to recover in price, as TVL on all projects combined has grown to a record $90b. AAVE and COMP made significant rebounds after consolidating for most of March. TVL on DeFi projects are beginning to rebound after consolidating in Feb, with an average increase of around 20%.
Interestingly, DeFi projects built on the Binance Smart Chain (BSC) saw more significant increases in TVL compared with those on the ETH network. CAKE and XVS, two projects built on the BSC, saw the biggest increase in TVL of over 30% each, landing both projects now firmly in the DeFi top 10, a space previously 100% dominated by ETH-based projects.
Old Favourites Back on Rally Mode
Not to be left behind by new projects, the usual old crowd favourite tokens also rallied, with DOGE surging 35% in one day to $0.071 after Elon Musk tweeted that he would "put a literal Dogecoin on the literal moon". Price subsequently retreated but is still trading higher for the week at around $0.057.
XRP also continues the momentum it found the week before and surged higher to above $0.70 on the back of improving investor optimism towards the outcome of the SEC lawsuit. EOS also sees a 50% gain from $4.20 to $6.40 although no new development has been reported yet, a sign that market action is getting a little frothy.
With the broad market now undergoing a healthy pullback to remove some of the froth, the next leg up, when it happens, may be more sustainable. When the time comes for BTC to cross the $60,000 resistance eventually, the altcoin market will then be in a healthier position to be able to maintain prices at higher levels. Meanwhile, BTC is continuing to find $60,000 a little hard to break.
About Kim Chua, PrimeXBT Market Analyst: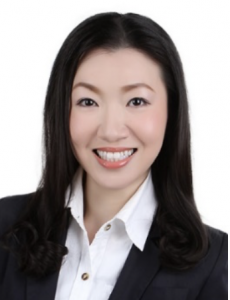 Kim Chua is an institutional trading specialist with a track record of success that extends across leading banks including Deutsche Bank, China Merchants Bank, and more. Chua later launched a hedge fund that consistently achieved triple-digit returns for seven years. Chua is also an educator at heart who developed her own proprietary trading curriculum to pass her knowledge down to a new generation of analysts. Kim Chua actively follows both traditional and cryptocurrency markets closely and is eager to find future investment and trading opportunities as the two vastly different asset classes begin to converge.
The information provided does not constitute, in any way, a solicitation or inducement to buy or sell cryptocurrencies, derivatives, foreign exchange products, CFDs, securities and similar products. Comments and analysis reflect the views of different external and internal analysts at any given time and are subject to change at any time. Moreover, they can not constitute a commitment or guarantee on the part of PrimeXBT. The recipient acknowledges and agrees that by their very nature any investment in a financial instrument is of a random nature and therefore any such investment constitutes a risky investment for which the recipient is solely responsible. It is specified that the past performance of a financial product does not prejudge in any way their future performance. The foreign exchange market and derivatives such as CFDs (Contracts for Difference), Non-Deliverable Bitcoin Settled Products and Short-Term Bitcoin Settled Contracts involve a high degree of risk. They require a good level of financial knowledge and experience. PrimeXBT recommends the consultation of a financial professional who would have a perfect knowledge of the financial and patrimonial situation of the recipient of this message and would be able to verify that the financial products mentioned are adapted to the said situation and the financial objectives pursued.