PrimeXBT is excited to unveil a new service coming to the platform through our already highly successful software development partner – Covesting. We will be launching Covesting Yield Accounts in Q3 of this year which will allow users to generate passive income through any idle crypto assets stored in PrimeXBT accounts through staking.
There has been a recent surge in the demand for yield-generating products in the cryptocurrency space due in part to the boom of Decentralized Financial (DeFi). We are looking forward to meeting this demand with a service that makes staking and generating APY interest on crypto, incredibly simple.
Due to the success of Covesting's copy trading module, we feel they are well placed to offer more services for users while also noting that the original module will continue to be improved upon and polished as expressed in the roadmap.
In this blog, we will spend some time explaining the key advantages and features of this new exciting service coming to PrimeXBT.
In the meantime, we have created a waiting list for users who want to take part in this service as soon as it is live. If you join the waiting list, we will add an extra 1% on top of the standard APY
All you have to do is:
Sign up here
Go to Covesting tab > Yield Accounts
Hit Join wait list!
We'll notify customers when the service is ready for launch. During the one-month introductory launch phase, the +1% bonus will be automatically applied to the APY of top crypto assets on PrimeXBT.
Earn Easy Interest On Your Crypto
Many cryptocurrency users will know that holding onto your coins can often lead to gains through upwards market movements. But, these gains can be easily increased with the right staking opportunities. Staking means putting your crypto into an account and watching it grow with interest; this is crypto working for you with very little effort.
The new Covesting Yield Accounts will allow you to connect to several DeFi yield generating applications to offer the highest possible returns on your staked crypto.
It is important to note that, differently from traditional banking products, APY (interest) is never fixed because rates vary on a daily basis depending on demand and supply, as well as other market related factors such as volatility, lending or trading volumes etc.
We will provide all the information about current estimated yield on a real-time basis so you can track and make new deposits or withdraw from yield accounts. The goal is to find the best return for the lowest risk, and offer some of the best staking available in the market.
Important! This new service allows users to participate in certain DeFi products, obtain and distribute realized earnings, and helps insert users into DeFi products with a single click. DeFi is still an investment space that comes with its own risks, and users need to be aware of these risks. Neither Covesting or PrimeXBT assume liability for any losses incurred due to project on-chain contract security issues.
Why Use The Covesting Yield Account?
The DeFi space, with its staking and yield-generating products, is still quite new and not that easy to understand for all. We have actively sought to make it easy to learn, and easy to start. There is no need to research how DeFi works, simply choose the asset, choose the amount, and click a button to start earning!
Our Covesting Yield Accounts do all the hard work of searching for staking opportunities so you don't have to. This means there is no need for a technical background in the space — and you can get started with as little as $100. You will also receive your interest daily.
We want this service to be simple, as well as flexible, so you can withdraw your staking amount with interest at any time. There is no lock up period and funds can be withdrawn once per day meaning after the withdrawal request you will get the full amount plus accrued interest the following day.
Redemptions are actioned at the end of the 24-hour payout period, and can take a few hours to be processed.
How To Start Earning
Below you will find our simple guide that will give you a better feeling of the upcoming product which is expected to be launched later this year.
Log into your PrimeXBT account.
Go to the Covesting page -> Yield accounts. Here you will see the dashboard with current market rates. To give you a bigger picture, we have provided charts where you can also check historical yields on a selected currency.
We provide you a calculator to calculate estimated yield depending on the staking term, the asset you have in mind, and the amount. Keep in mind that Yield (APY%) is an estimated number which varies on a daily basis depending on supply and demand, and other market factors. APY% rates are updated real time and can go up and down – so it's up to you to periodically check current estimated yields and decide if it is viable.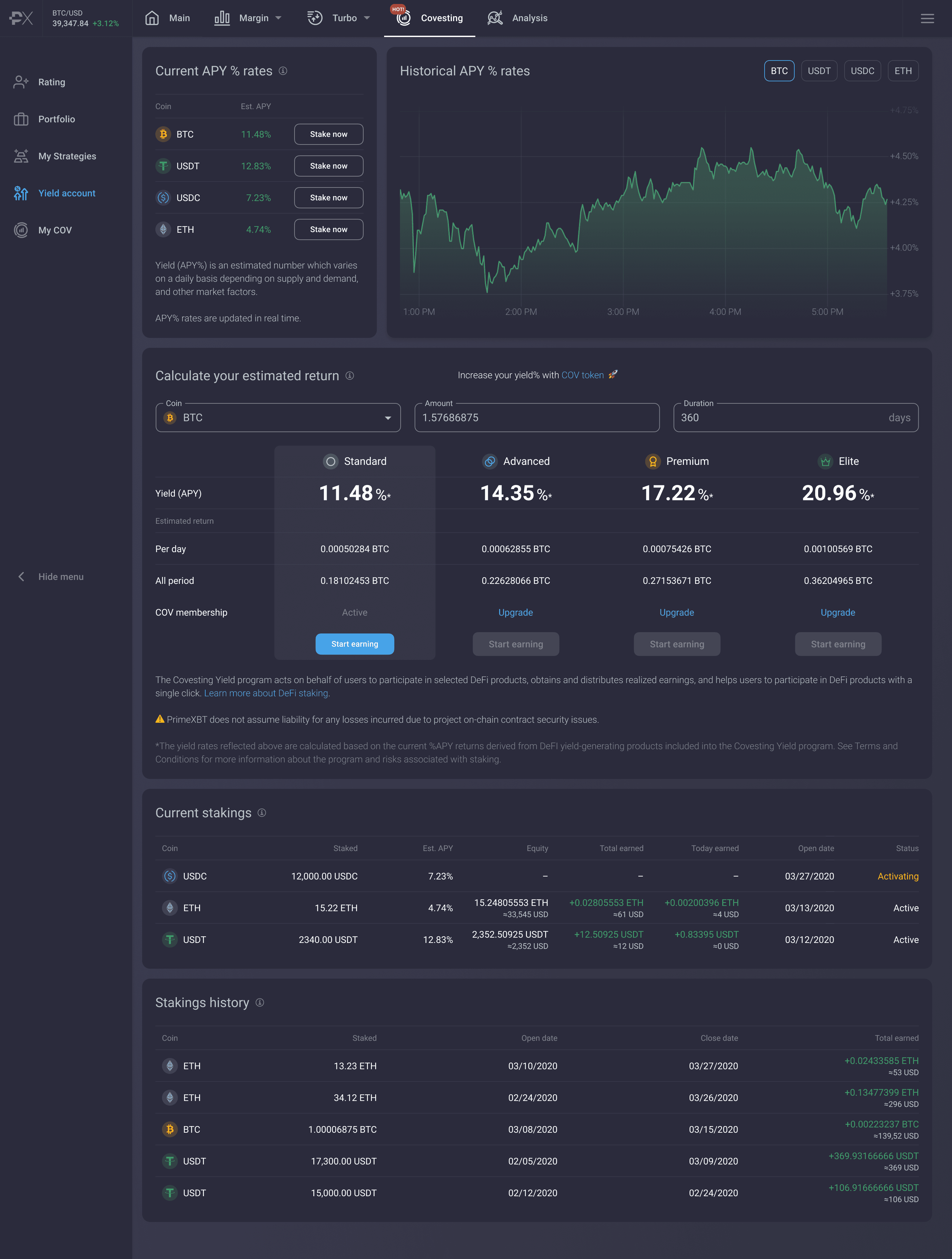 Once you have staked a selected coin it will appear in the Current Stakings tab where you will easily be able to see how much interest has already been earned.
You will also be able to find out more information about a selected stake, such as the historical chart of APY applied to this specific staking, equity curve, and other relevant metrics.
You can also, from this situation, terminate the staking and request to withdraw the amount with accrued interest.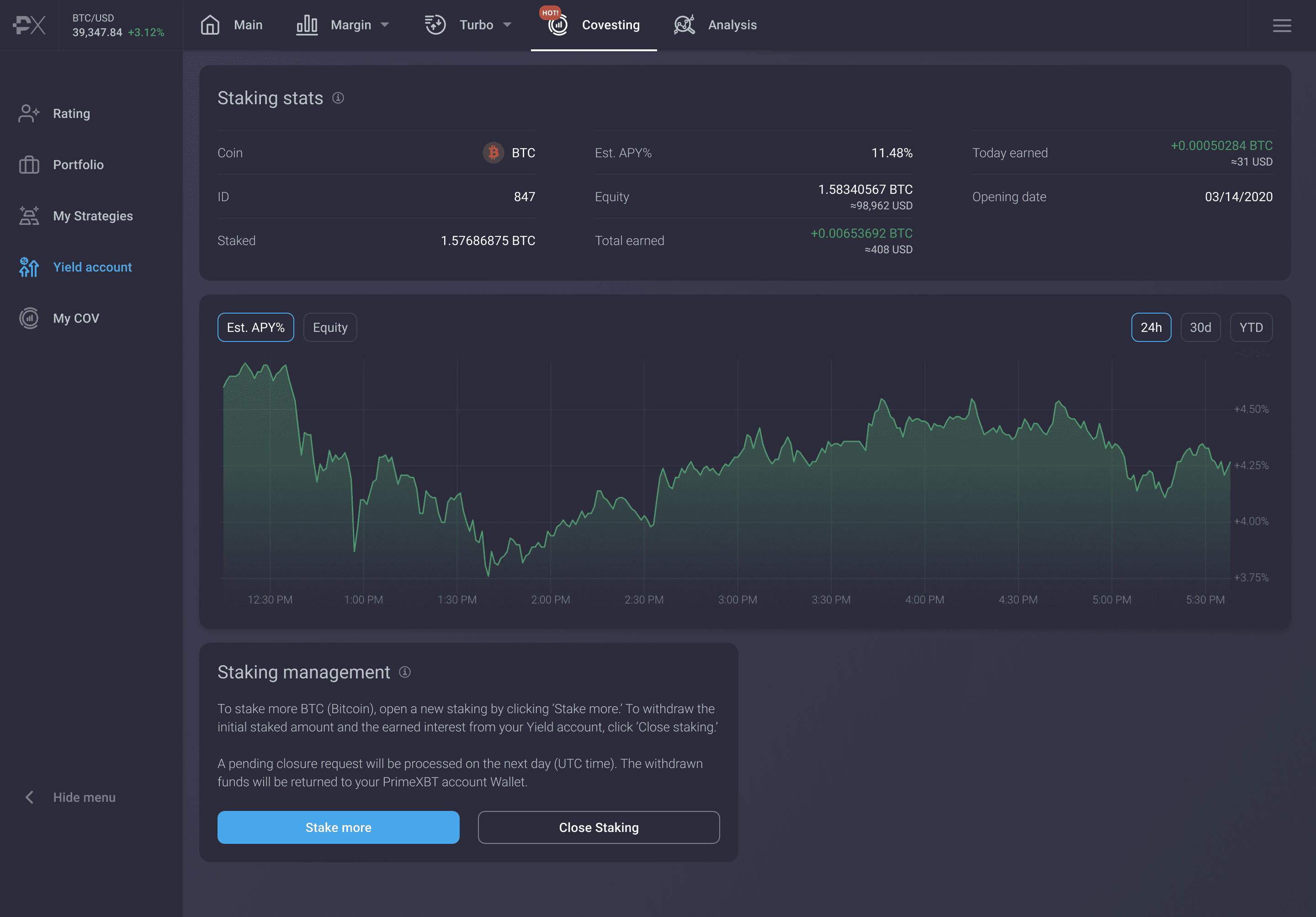 Stake. Earn. Repeat
It should be clear from this simple guide how easy it is to start earning interest on your staked coins with PrimeXBT and Covesting.
We believe that technology has to change the world for the better, but we want this technology and the good it brings to be available to all and simple to use — even when it comes to earnings. By launching Covesting Yield Accounts we want to allow users with little technical knowledge benefit from yield generating instruments that have become so popular in recent times.
Join the waiting list of the Covesting Yield product and Stay tuned for more information about the upcoming launch day!
Risk Disclaimer
Investing in or trading gold or other metals can be risky and lead to a complete loss of capital. This guide should not be considered investment advice, and investing in gold CFDs is done at your own risk.
The information provided does not constitute, in any way, a solicitation or inducement to buy or sell cryptocurrencies, derivatives, foreign exchange products, CFDs, securities, and similar products. Comments and analysis reflect the views of different external and internal analysts at any given time and are subject to change at any time. Moreover, they can not constitute a commitment or guarantee on the part of PrimeXBT. The recipient acknowledges and agrees that by their very nature any investment in a financial instrument is of a random nature and therefore any such investment constitutes a risky investment for which the recipient is solely responsible. It is specified that the past performance of a financial product does not prejudge in any way their future performance. The foreign exchange market and derivatives such as CFDs (Contracts for Difference), Non-Deliverable Bitcoin Settled Products and Short-Term Bitcoin Settled Contracts involve a high degree of risk. They require a good level of financial knowledge and experience. PrimeXBT recommends the consultation of a financial professional who would have a perfect knowledge of the financial and patrimonial situation of the recipient of this message and would be able to verify that the financial products mentioned are adapted to the said situation and the financial objectives pursued.