When considering a Shiba Inu price prediction, it is a bit difficult as SHIB has seen so much in the way of its "meme coin" status starting to fail it. After all, it was hyped for some time, but now that a lot of the froth has come out of the crypto markets, a smaller coin such as Shiba Inu has paid the price. 
Recently, Ethereum has completed "The Merge," making the Ethereum network much quicker and more efficient. As Shiba Inu sits on top of that network, this could have implications for the coin going forward. The true believers in Shiba Inu have a long way to go before we see a potential resolution to current issues, but those who believe in the ecosystem of the longer-term seam on phase.
In this Shiba Inu price prediction forecast, we will look at several different sources and see what experts have to say about the Shiba Inu future price. The market can be unforgiving, but it's worth noting that many developers are working in this ecosystem, so if any of the "meme coins" have a real shot at accomplishing something, it might be Shiba Inu. Will Shiba Inu go up? Let's find out!
SHIB Overview
Today (1 October 2023) SHIB (SHIB/USD) is trading at $0.000008 per SHIB, with a market cap of $4432019176 USD. 24-hour trading volume is $81430702 USD. SHIB price has changed by 2.9% in the last 24h. Circulating supply is 589346914631298 SHIB.
Everything To Know About SHIB price movements in 2021-2022
Shiba Inu has been hammered for most of the last couple of years. Still, it did have an initial spike late in 2021, reaching $0.00008922, before plummeting. This was during the hype of Elon Musk tweeting about the currency and the massive bubble gripping the crypto markets. SHIB's price went parabolic along with everything else in the crypto world.
However, this is not a realistic outlook for SHIB's price. It simply serves no real purpose yet, and the fact that it has a limit of one quadrillion tokens means that scarcity will never be an issue. As the rest of the crypto markets fell, Shiba Inu went down. For the long term, it seems that the Shiba Inu future price will rely heavily on the overall outlook for crypto. Bitcoin will be the leader, followed by Ethereum, and then you start to look towards some of these smaller coins.
Social media hype could cause an upward trend in Shiba Inu price movements. Looking back at the end of 2021, it wasn't just Shiba Inu in a bubble; it was everything. When you see things like "meme coins" take off, you recognize that you are at the end of a massive credit cycle and asset bubble. This has always been the case in financial markets, with one example being the tech bubble that burst a couple of decades ago when unprofitable companies were all of the rage in the stock market.
Simply put, Shiba Inu's value projection will be significantly influenced by external pressures, not necessarily anything within the ecosystem. However, if Shiba Inu decides to take on a more serious role with smart contracts, it may have more stability. Shiba Inu price prediction is challenging because one does not necessarily know when the next wave of "hype" will appear.
Shiba Inu Price Predictions by Experts
There are plenty of experts out there that are willing to chime in on their Shiba Inu price predictions. The Shiba Inu market is tough to grasp because most of the drivers in this market are based on the latest meme or viral Tweets. In other words, you never know when it can jump in value or when it will fall back down. With that being the background, the experts below have forecasts, but you should be cautious about blindly following without doing your due diligence.
Cryptonewz
Cryptonewz believes that the price of Shiba Inu should rise over time but in a volatile manner. The experts on the site believe that SHIB will reach as high as $0.000165 by 2030. This isn't necessarily going to be an easy move, but they think the hype will return to the crypto world sooner or later; Shiba Inu should get some attention before it is all said and done. It is also worth noting that they do not think that SHIB will rise yearly. However, by 2027, they expect the price to appreciate in a much more explicit manner.
Coincodex
Coincodex also believes in its Shiba Inu price prediction that it should continue attracting attention and increasing value yearly. The experts at Coincodex measure potential prices via Internet Growth, Google Growth, Facebook Growth, and Mobile Growth as it pertains to SHIB. The most bullish indicator is growth in the realm of Facebook, with a potential high of $0.000131 in 2025.
Coinpedia
The people at Coinpedia also have a bullish outlook for Shiba Inu, as the decentralized cryptocurrency may catch fire again with a recovery in crypto overall. Keep in mind that Shiba Inu is very far out on the risk spectrum, so they assume that, eventually, the mania could return.
They believe that the price of SHIB can reach as high as $0.00002962 in 2023 due to various initiatives such as the DAO, the Shiba Inu game, and NFTs. They also pivot to the other possibility – that the crypto markets will all fall, taking SHIB down. In that case, the price could fall to $0.00001520 by the end of 2023.
Coin Price Forecast
Coin Price Forecast has a choppy Shiba Inu price prediction for the next several years but believes it will ultimately rise as well. The markets will have up and down years along the way, but the highest price is $0.00002813 in 2034. It is difficult to predict the price of anything that far out, let alone meme coins.
Shiba Inu Price Technical Analysis and Price Predictions
Technical analysis
The technical analysis for Shiba Inu suggests that it has a long way to go before momentum picks back up. There's the genuine possibility that it goes to zero. If this is going to be the case, then trading Shiba Inu on the CFD market makes perfect sense. This is because you can short the market without having to take custody. You are simply betting on the price going lower.
To show signs of life again, Shiba Inu must stay above its all-time low at $0.00000716, which is extraordinarily low, to begin with. Anything below there almost certainly sends this coin into the dustbin of history. This is a genuine threat, as crypto has had far too many random coins enter the fray as people try to chase hot money.
The first sign of true strength would be clearing the $0.00001000 level, breaking the market above the 50-Day EMA. If and when that happens, a move to the $0.00001200 level is possible. However, with the minor coins, you need to see Bitcoin and other larger markets start to move to the upside to drag them along.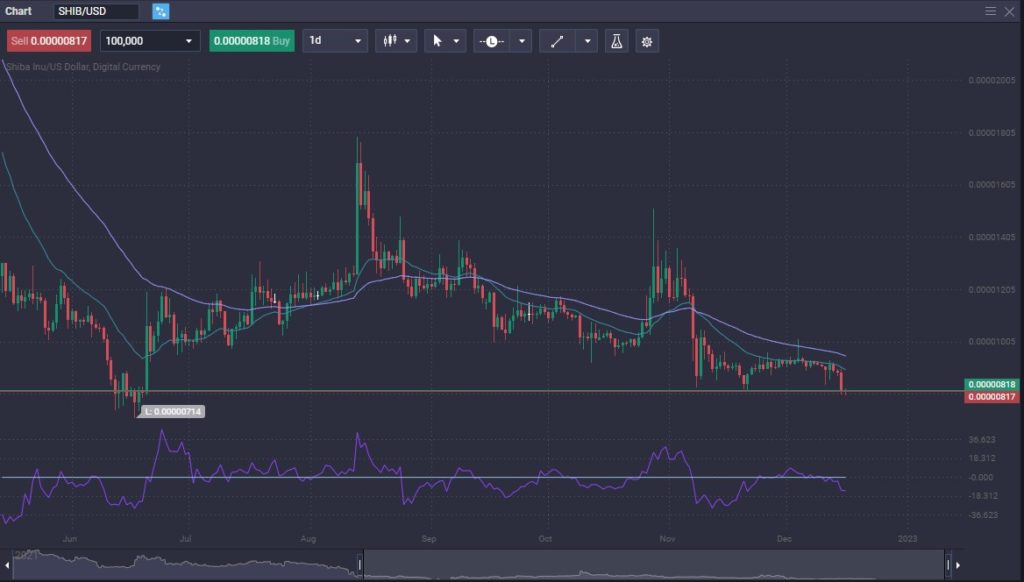 SHIB/USD on the PrimeXBT platform.
Shiba Inu Price Prediction 2023
Shiba Inu is likely to be extraordinarily volatile yet again during 2023, with the primary question being whether or not it will be possible to make a Shiba Inu price prediction forecast with any type of clarity. While many experts believe it should generally pick up some interest as time passes, the Shiba Inu price in the future may take longer than Some traders would prefer.
SHIB forecast 2023 by months
According to some of the professionals we have mentioned, the following table gives you an idea of the variability of SHIB price prediction for 2023.
| | | | |
| --- | --- | --- | --- |
| MONTH | MINIMUM PRICE | AVERAGE PRICE | MAXIMUM PRICE |
| January 2023 | $0.000013 | $0.000015 | $0.000015 |
| February 2023 | $0.000015 | $0.000015 | $0.000016 |
| March 2023 | $0.000015 | $0.000016 | $0.000017 |
| April 2023 | $0.000016 | $0.000016 | $0.000018 |
| May 2023 | $0.000016 | $0.000016 | $0.000019 |
| June 2023 | $0.000016 | $0.000017 | $0.00002 |
| July 2023 | $0.000017 | $0.000018 | $0.00002 |
| August 2023 | $0.000018 | $0.000018 | $0.000021 |
| September 2023 | $0.000018 | $0.000019 | $0.000022 |
| October 2023 | $0.000018 | $0.00002 | $0.000023 |
| November 2023 | $0.000019 | $0.00002 | $0.000024 |
| December 2023 | $0.000019 | $0.000021 | $0.000024 |
Shiba Inu Price Prediction 2024
The Shiba Inu price prediction In 2024 also starts to see a little bit of upward trajectory. Still, it should be noted that AnyShiba Inu Price prediction forecast Also has to make a lot of assumptions. While it is easier to make a short-term Shiba Inu price prediction, the reality is that a lot can change in 2 years. Adoption and general risk appetite will have a major part to play.
SHIB forecast 2024 by months
Using the same experts, this table will show you a month-by-month breakdown of what they expect Shiba Inu to do during 2024.
| | | | |
| --- | --- | --- | --- |
| MONTH | MINIMUM PRICE | AVERAGE PRICE | MAXIMUM PRICE |
| January 2023 | $0.000013 | $0.000015 | $0.000015 |
| February 2023 | $0.000015 | $0.000015 | $0.000016 |
| March 2023 | $0.000015 | $0.000016 | $0.000017 |
| April 2023 | $0.000016 | $0.000016 | $0.000018 |
| May 2023 | $0.000016 | $0.000016 | $0.000019 |
| June 2023 | $0.000016 | $0.000017 | $0.00002 |
| July 2023 | $0.000017 | $0.000018 | $0.00002 |
| August 2023 | $0.000018 | $0.000018 | $0.000021 |
| September 2023 | $0.000018 | $0.000019 | $0.000022 |
| October 2023 | $0.000018 | $0.00002 | $0.000023 |
| November 2023 | $0.000019 | $0.00002 | $0.000024 |
| December 2023 | $0.000019 | $0.000021 | $0.000024 |
Shiba Inu Price Prediction 2025-2030
The following table is a breakdown of potential returns between 2025 and 2030. However, projecting prices this far into the future presents many problems, and this is, at best, an estimate by various experts. Keep in mind that a short-term Shiba Inu price prediction will be much more accurate, and as time goes on, we could see massive swings in adoption. Shiba Inu growth will be necessary, both in use and in the network, which will be crucial for sustained gains.
| | | | |
| --- | --- | --- | --- |
| MONTH | MINIMUM PRICE | AVERAGE PRICE | MAXIMUM PRICE |
| 2025 | $0.000036 | $0.000039 | $0.000041 |
| 2026 | $0.000045 | $0.000047 | $0.00005 |
| 2027 | $0.000053 | $0.000056 | $0.000058 |
| 2028 | $0.000062 | $0.000064 | $0.000067 |
| 2029 | $0.00007 | $0.000073 | $0.000075 |
| 2030 | $0.000079 | $0.000081 | $0.000084 |
What news may impact the future Shiba Inu coin (SHIB) price?
Fundamentals do not necessarily drive Shiba Inu. Because of this, the price movement in the future is going to be more likely than not to be dependent on social media hype. Elon Musk could send out a Tweet to drive the price, and TikTok could suddenly see a push higher or something like that. The noise around this market is substantial, so there is no real reason to think anything will change anytime soon.
However, the Shiba Inu coin sits on top of the Ethereum network, so there is the possibility of adoption as it can support smart contracts. This is a possibility; however, it does not guarantee anything good will happen.
Conclusion: Is Shiba Inu a Good Investment, and How Much Will SHIB Be Worth?
In the future, it won't be easy to grasp what Shiba Inu can do fully. Shiba Inu is basically for speculation at this point, as it doesn't necessarily have a real-world use yet. It can carry smart contracts on the Ethereum network, sitting on top of it. That gives it some hope, but unfortunately, it is yet another coin in the ocean of crypto that is out there.
While Shiba Inu could end up panning out, the reality is that it should be thought of as a very speculative part of any crypto portfolio. It is not a significant investment for serious traders, but it could sometimes provide massive returns. It also has to be something you should be comfortable losing your entire investment with because quite far unproven.
In the future, Shiba Inu will desperately need some type of "hype" surrounding it. This is true with most "meme coins," not just Shiba Inu. Until the entire crypto market turns around, it's doubtful that Shiba Inu will hold on to gains.
Disclaimer: "*This price prediction is based on the data collected from various sources. This should not be considered an investing parameter; users should do their own research before investing. PrimeXBT is not endorsing these predictions but presenting them for educational purposes only."
FAQ: Frequently Asked Questions
How much will Shiba be worth in 2023?
As crypto continues to struggle with fraud and Ponzi schemes, it's doubtful that Shiba Inu will gain much value over the next year.
What will Shiba be worth in 2025?
Shiba Inu may continue to climb, perhaps reaching as high as $0.0000300, if history is believed and money starts flowing back into crypto.
What will Shiba be worth by 2030?
At this point, Shiba Inu is so speculative that it's hard to tell if it will even exist in 2030. This will come down to building the network and getting some real-world use-case scenarios going. That's the biggest problem with most crypto.
Is it a good time to buy Shiba Inu Coin?
Shiba Inu will follow along with the rest of the crypto markets, meaning that we will need to see a complete turnaround in the crypto markets before some of the more speculative coins, such as Shiba Inu, come back into favor. However, some traders keep a bit in their portfolio in small amounts because of the upside potential.
Will Shiba Inu reach $10?
No. For Shiba Inu to reach $10, the entire market cap would have to be ten quadrillion dollars. That is far more than the whole global economy.
Does Shiba Inu have a future?
It's possible, but it will probably not have a massive future. It will more likely than not continue to be more of a fringe token at best. Doing a SHIB price prediction is very difficult as the crypto world in general is going through a lot of "growing pains" currently.
Risk Disclaimer
Investing in or trading gold or other metals can be risky and lead to a complete loss of capital. This guide should not be considered investment advice, and investing in gold CFDs is done at your own risk.
The information provided does not constitute, in any way, a solicitation or inducement to buy or sell cryptocurrencies, derivatives, foreign exchange products, CFDs, securities, and similar products. Comments and analysis reflect the views of different external and internal analysts at any given time and are subject to change at any time. Moreover, they can not constitute a commitment or guarantee on the part of PrimeXBT. The recipient acknowledges and agrees that by their very nature any investment in a financial instrument is of a random nature and therefore any such investment constitutes a risky investment for which the recipient is solely responsible. It is specified that the past performance of a financial product does not prejudge in any way their future performance. The foreign exchange market and derivatives such as CFDs (Contracts for Difference), Non-Deliverable Bitcoin Settled Products and Short-Term Bitcoin Settled Contracts involve a high degree of risk. They require a good level of financial knowledge and experience. PrimeXBT recommends the consultation of a financial professional who would have a perfect knowledge of the financial and patrimonial situation of the recipient of this message and would be able to verify that the financial products mentioned are adapted to the said situation and the financial objectives pursued.