The Covesting copy trading module has been available on PrimeXBT for some time now, and in the middle of all the online chatter and buzz on social media, we've seen a variety of questions come up time and time again.
Some of the questions may seem obvious to some, while others require a detailed response that is best provided straight from the horse's mouth. Covesting was designed to cater to a diverse range of investors and traders from varying experience levels, so no question is too complicated or straightforward when it comes to providing clarity around the peer-to-peer copy trading experience.
As such, we've prepared a list of the most commonly asked questions regarding some of the most vital topics related to the Covesting copy trading module.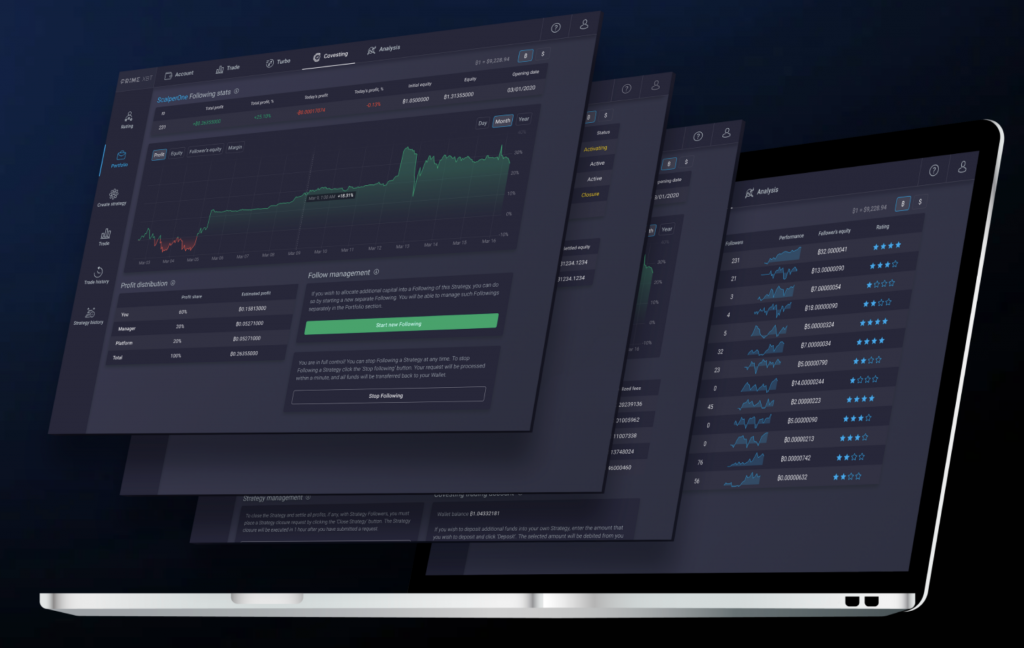 What Is Covesting?
Covesting is a one-of-a-kind peer-to-peer copy trading module that connects new traders or inexperienced investors that wouldn't otherwise trade with skilled traders and professional strategy managers from around the global trading community. Covesting is available exclusively on PrimeXBT currently, developed in partnership with a Europe-based, licensed financial software provider by the same name.
How Does Copy Trading Work On Covesting?
Covesting enables users to "Follow" any of the available "Strategies" listed on the global rating system. Followers select a safe and profitable strategy to follow and add equity in just a few clicks. The platform lets followers follow several strategies at once to build a profit-generating portfolio of professional traders. Strategy managers trade with the power of their own equity, combined with the added equity invested by followers, bolstering ROI synergistically.
How Do You Access The Covesting Module?
The Covesting copy trading module is available for free on PrimeXBT to all users, by visiting the Covesting tab within the internal account dashboard. Alternatively, users can visit PrimeXBT.com/Covesting to learn more.
What Is In It For Followers?
Followers have the most to gain from the Covesting platform. Followers need to only invest capital, with very little time involved compared to experienced traders. The latter spend hours scouring price charts, taking notes in a trading journal, and strategizing about the next big move. Followers can bypass the need for technical analysis and instead pay attention to easy to read and fully transparent success and risk metrics in the Covesting rating system.
What Data Is Available For Followers To Find The Right Strategy To Follow?
Several critical data points are updated every ten minutes for reliability in data accuracy. Users will immediately be drawn to the top-ranking users in the global leaderboard, which is ranked by total profit starting from the time the strategy was created. However, it is critical to also pay attention to daily profits, days active, total follower count, performance, margin allocation, and how much follower equity or equity of their own each strategy has. There's also a five-star rating system that helps pick out shining stars that follow a strict set of safety parameters.
For more advice on how to select the right strategy to suit any trader's needs, please visit our blog post on the subject: Five Tips To Choosing The Right Strategy For You On Covesting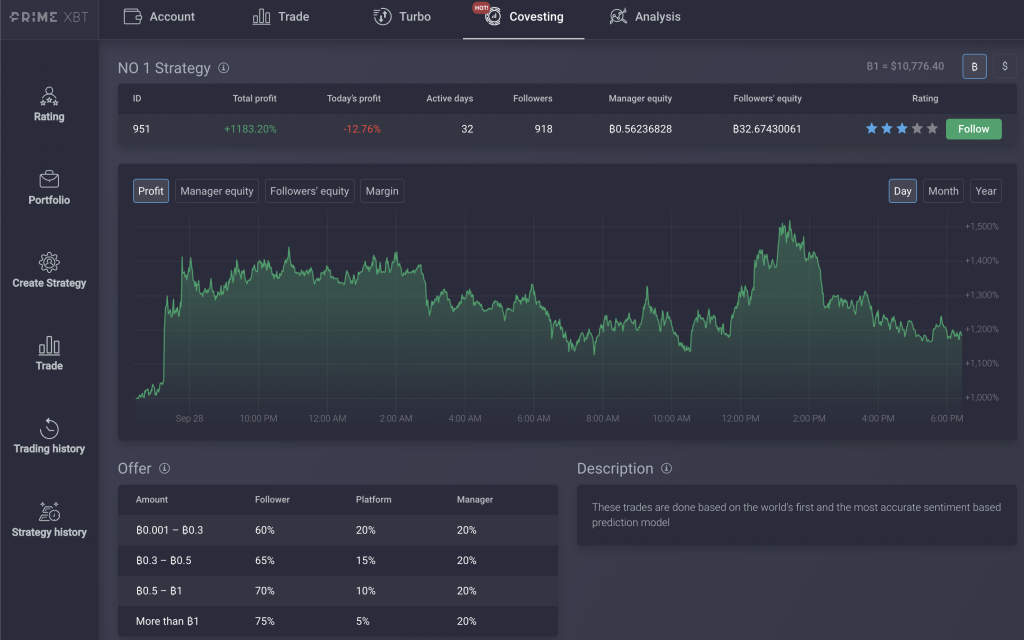 What Portfolio Data Is Available For Performance Tracking?
In addition to tracking each individual strategy using various statistics provided, the portfolio section also provides detailed performance information on any current strategies followed and the historical performance from past strategies. Metrics include total profit, initial equity, opening, and closing dates, settled equity, commissions, and more.
Is There A Minimum Deposit For Followers?
Making a deposit on Covesting is the same for any minimum deposit on the PrimeXBT platform: a low minimum of just 0.001 BTC. Because that is the minimum deposit required to access PrimeXBT, we decided to keep the minimum for Covesting low to encourage users to take full advantage of the platform.
Why Would Traders Want To Become Strategy Managers?
Strategy managers who rise the ranks of the Covesting platform get to enjoy fame and fortune. By building up their follower count, strategy managers can further boost earnings and profitability far beyond what regular trading can provide alone. In addition, reputation builds much more quickly when all trades are fully transparent for the world to see.
What Is The Initial Deposit Required To Create A Strategy?
Strategy managers are required to deposit 0.01 BTC to start a strategy. Because followers will be adding their capital to the fund, we set this requirement to ensure any strategy managers are serious about trading and are using a decent sum of money to get started. It also ensures followers will be interested in a strategy as too low of equity isn't very enticing for earnings potential.
Are There Any Other Requirements To Create A Strategy?
In addition to the 0.01 BTC deposit required, strategy managers must also come up with a catchy and appealing strategy name, a description for their trading strategy, and of course, skills to actually rise the ranks of the global Covesting leaderboard.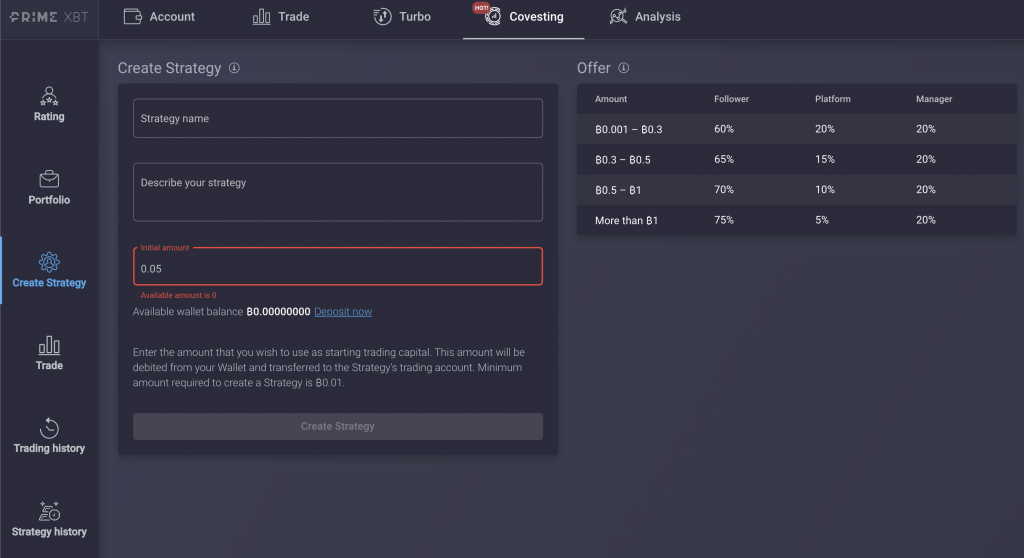 How Do You Become A Five-Star Covesting Trader?
Becoming a five-star Covesting trader is the key to standing out from the crowd. Specific attention was paid to encouraging safe trading strategies and regular risk management.
The first of five stars is awarded to any strategy manager that either deposits or earns 0.5 BTC trading. This value is ten times the minimum deposit and is awarded to only the most serious traders with serious equity on the line. The second star is provided for keeping a high level of trading activity, trading at least 30 out of 60 days. And if during the last 30 days, a strategy keeps margin allocation from falling below 60%, a third star is awarded for risk aversion. A fourth star is given for maintaining a 70:30 win:loss ratio – which is a lot more challenging than it sounds. Finally, the fifth star is achieved when trading turnover reaches over 50 BTC within a 30 day time period.
How Does The COV Token Fit Into The Covesting Copy Trading Module?
The COV token unlocks the full potential of the Covesting copy trading platform and vice versa. The COV token will provide users with utility by improving the follower's profit share of the current offer, or allow a larger follower count for strategy managers. Together, the COV token enables even greater ROI for followers and strategy managers alike.
How Can Followers Increase Earnings?
Followers can increase earnings, first and foremost, by following the right strategy. From there, as comfort builds, and they become more familiar with the Covesting platform, profits can grow faster by following more than one strategy. Jumping around from strategy to strategy can also be a profitable strategy, so long as each new strategy followed is as successful as the previous. Followers can also eventually stake COV tokens to improve the profit share generated from winning trades.
How Can Strategy Managers Increase Earnings?
Strategy managers can increase earnings by bolstering their skillset, spending more time strategizing, or growing their follower count through promotion and staking COV tokens.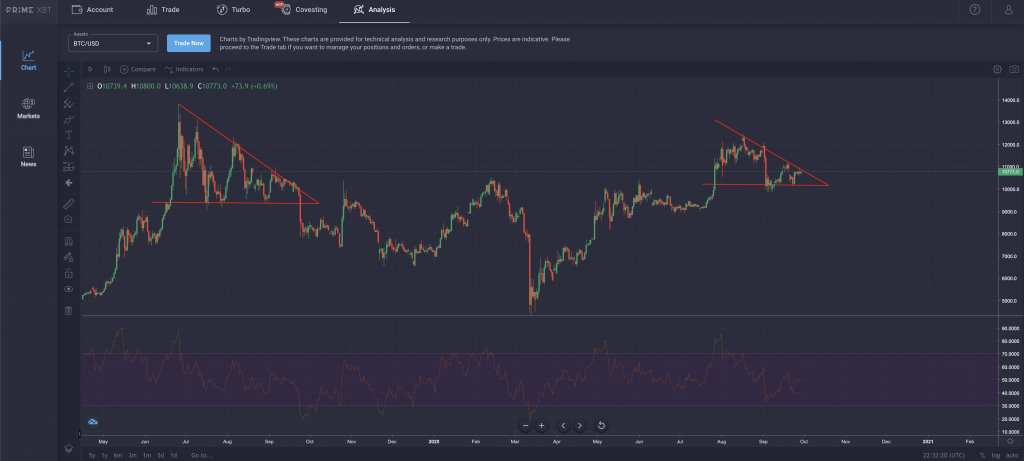 How Can Strategy Managers Increase Their Followings?
COV tokens, as stated, will eventually unlock higher follower counts, but that's only helpful if you have the audience to market the strategy to. Strategy managers can take to social media, online forums, and other trading communities to share screenshots of their PnL and where they rank in the global Covesting leaderboards. By attracting followers to the strategy and new users to the platform, follower count can grow exponentially.
Is There Any Risk Associated With Covesting?
All trading carries risk, therefore you should be careful to never invest more than you can afford to comfortably lose. Even five-star traders or those at the top of the ranks can suffer severe losing streaks and watch capital disappear. Odds of losses decrease with higher-ranked traders or those with clear track records of success, but anything is possible and markets can get the best of even the greatest traders.
What Trading Instruments Are Available Through Covesting On PrimeXBT?
Covesting brings many favorable features to PrimeXBT, but have you ever wondered why Covesting partnered with PrimeXBT? Long and short positions make for more complex strategies, for one, but it is also due to how diverse the lineup of trading instruments are under one roof. PrimeXBT offers CFDs on most popular forex currencies, the hottest crypto tokens, commodities like gold, silver, oil, and gas, and the world's most extensive global stock indices like the Dow Jones, S&P 500, FTSE, and more.
What Else Is Coming To Covesting?
Covesting, in partnership with PrimeXBT, also has a pipeline of updates coming in the future, including COV token integration, the ability to edit strategy descriptions after creation, various added risk and success metrics, and much more. We also just introduced a new filter system to help clear out some noise and select strategies based on the metrics most important to you.
Where Can Covesting Community Members Go To Discuss Strategies And More?
The more discussion surrounding Covesting – the better. We encourage you to talk freely about the experience with other community members through social media, trading communities, and various Discord channels. And of course, be sure to join the official Covesting Telegram, where actual members of Covesting are interacting with the team behind the curtain, along with the PrimeXBT team and community members.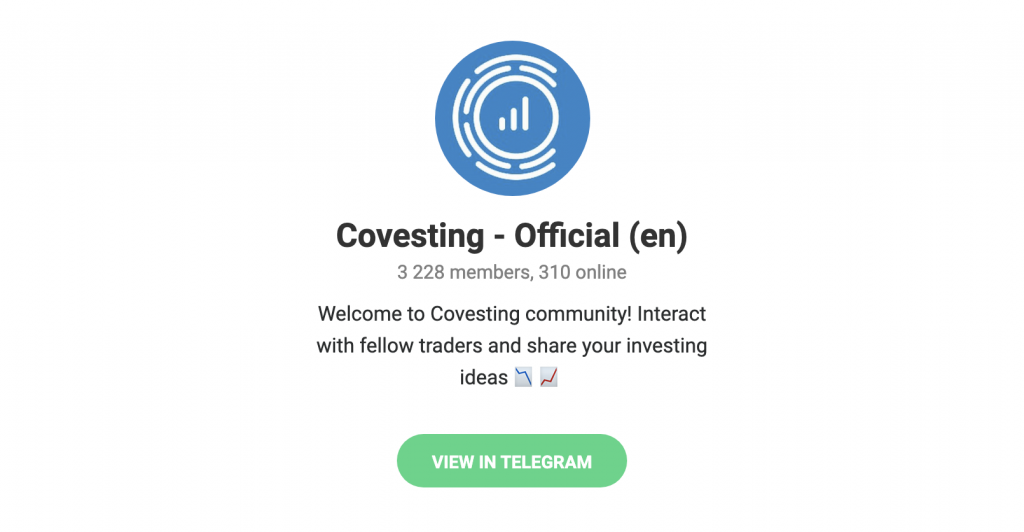 What Are You Waiting For?
Last but not least, what are you waiting for? Try Covesting on PrimeXBT today, if you already haven't. Some of the most skilled traders are already generating up to 1200% total profit and have attracted more than a quarter-million USD worth of BTC in follower equity in a single fund.
And these are just the early days of Covesting. As other peer-to-peer networks have shown, that over time and through word of mouth, as long as the product is solid, growth is exponential, and therefore, so is the opportunity for PrimeXBT and Covesting users.
Risk Disclaimer:
Investing in or trading gold or other metals can be risky and lead to a complete loss of capital. This guide should not be considered investment advice, and investing in gold CFDs is done at your own risk.
The information provided does not constitute, in any way, a solicitation or inducement to buy or sell cryptocurrencies, derivatives, foreign exchange products, CFDs, securities, and similar products. Comments and analysis reflect the views of different external and internal analysts at any given time and are subject to change at any time. Moreover, they can not constitute a commitment or guarantee on the part of PrimeXBT. The recipient acknowledges and agrees that by their very nature any investment in a financial instrument is of a random nature and therefore any such investment constitutes a risky investment for which the recipient is solely responsible. It is specified that the past performance of a financial product does not prejudge in any way their future performance. The foreign exchange market and derivatives such as CFDs (Contracts for Difference), Non-Deliverable Bitcoin Settled Products and Short-Term Bitcoin Settled Contracts involve a high degree of risk. They require a good level of financial knowledge and experience. PrimeXBT recommends the consultation of a financial professional who would have a perfect knowledge of the financial and patrimonial situation of the recipient of this message and would be able to verify that the financial products mentioned are adapted to the said situation and the financial objectives pursued.