Litecoin is often coined as digital silver, next to Bitcoin as digital gold. Like Bitcoin, the cryptocurrency has a scarce supply and can act as a store of value or means of transacting across cyberspace cryptographically.
Those who were able to invest in Litecoin early made a fortune as early adopters, but over the years, the volatile cryptocurrency has struggled as an investment and has been an asset better suited for trading. Those that trade Litecoin instead make more money consistently from the crypto market over the last two years.
However, LTC trading for USD and other cryptocurrencies like BTC isn't easy and takes some skill, education, and patience. Using this guide, we'll explain how to get started trading Litecoin on the award-winning CFD trading broker PrimeXBT and provide profitable Litecoin trading strategies that have been backtested for success.
How Does Litecoin Work? Digital Silver Mimics Bitcoin's Blockchain And Code
Litecoin is one of the earliest cryptocurrencies, built on Bitcoin's code. Because it closely mimics Bitcoin, is considered one of the more robust blockchain networks, and is regularly used as a testbed for new second-layer Bitcoin code.
Unlike fiat currencies that can be printed at a whim, Litecoin is hard-capped. There are only 84 million LTC compared to Bitcoin's 21 million. Litecoin also shares similar economics and the same block reward halving mechanism taking place approximately every four years. For those that use Litecoin instead of hodling, it is much faster to send compared to Bitcoin.
Because Litecoin's price being small relative to the larger supply compared to its big brother Bitcoin makes Litecoin easier to swallow for new investors getting into crypto who want to own a full coin and see BTC as too expensive. This could benefit Litecoin in the next bull market, now that it was the cheapest coin included in the list of assets that PayPal would be supporting in the future.
HODL or Trade LTC? Which Is Better Solution For Crypto Investors?
Litecoin has survived a long time in the crypto market and remained one of the top-ranked altcoins by market cap. Because of the coin's longevity, holding Litecoin has long proven profitable. But over the last several years, as a bear market took over crypto, Litecoin trading has proven more profitable.
Becoming a Litecoin trader instead of an investor involves strategizing to buy and sell Litecoin at higher and lower prices and profit from the fluctuations in between or place bets on whether its price will increase or decrease.
Investors who bought LTC in late 2017 without considering any market analysis or price movements were left hodling Litecoin while its value shrunk by over 90%.
Meanwhile, Litecoin traders were able to make money from the powerful price movements that took place in Litecoin markets over the last two years.
The Different Ways To Trade Litecoin And What's Best For You
There are two primary ways to trade Litecoin and other cryptocurrencies: on a spot exchange that offers buy and sell orders of an underlying asset or through derivatives like CFD trading that lets traders long or short contracts instead and profit whichever ways markets turn.
On a spot exchange, you can only buy low and sell high to turn a profit, while short and long positions on a trading platform like PrimeXBT combined with careful market analysis can be much more profitable by finding opportunities in both directions.
Steps To Trading Litecoin: Getting Started With A LTC Trading Platform
Trading Litecoin offers more opportunities than investing or hodling alone, but some are confused about how to get started. Here is a Litecoin tutorial to get you started in setting up your first LTC trade from start to finish.
Open An Account
Finding a trading platform that offers Litecoin alongside other assets like forex, commodities, stock indices, and more under one roof is a difficult task. We've cut out some of that work for you and have provided a detailed tutorial on how to get started on the award-winning Bitcoin-based margin trading platform PrimeXBT.
First, register for a free account. Registration can be completed in just a few clicks and in less than a minute or two. Minimum deposits are only 0.001 BTC to get started with funding a trading account. After a deposit is made to secure, BTC wallet address located within the account dashboard or a purchase of Bitcoin is made from an internal third-party widget, trading can begin.
Develop A Trading Plan
Using PrimeXBT's professional technical analysis software, traders of all skill levels can draw support and resistance lines, utilize indicators and oscillators like the MACD, Bollinger Bands, RSI, and much more to put together a strategy that considers risk and reward before entering a position.
Place A Trade And Profit
After critical levels have been identified, users can market long or short, or set a limit order to wait for the ideal entry, and begin profiting from whichever way they expect the market to turn. Traders will want to be careful where stop-loss levels are placed to avoid getting stopped out while also ensuring capital is protected.
Stop loss orders or take profit levels can be added to orders at the time they are placed or afterward and can be amended in case any mistakes are made or conditions change. Traders can also manage these positions on the go, thanks to PrimeXBT's free mobile app for Android and iOS smart devices.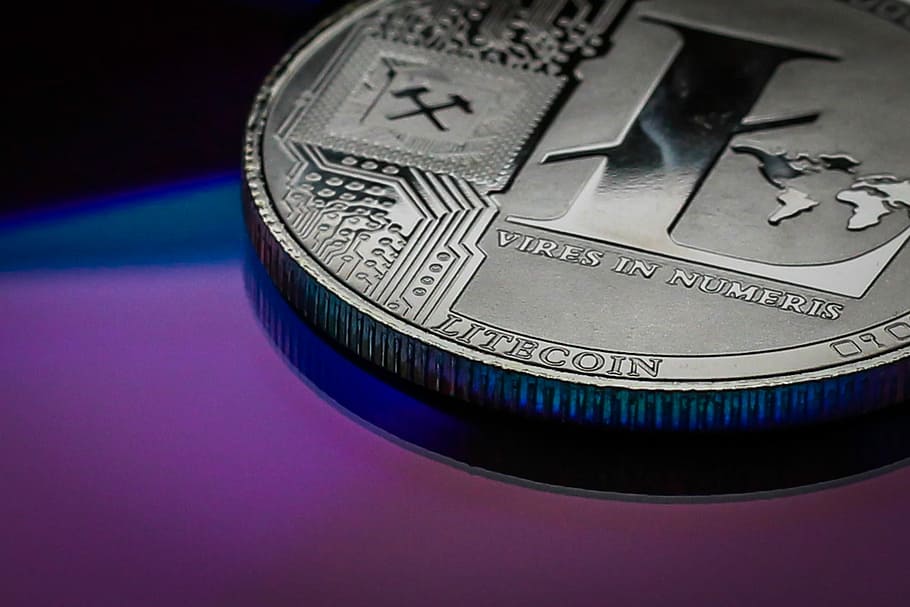 What Are Litecoin's Trading Hours? All About The Always On Crypto Market
Litecoin, like other cryptocurrencies, trade every single day of the year, whether it is a holiday, weekend, or otherwise. The crypto market never sleeps and is always on and trading 24/7, 365 days per day.
This makes investing or hodling that much more stressful and trading even more lucrative over traditional markets. Sleeping overnight in a position is never recommended unless you can stand to lose all capital, but by day trading Litecoin instead with PrimeXBT, traders can hop in and out of positions with long or shorts and close out each day when they are ready to rest their head down at night and sleep comfortably.
What Moves Litecoin's Price? Supply And Demand For Digital Silver
Litecoin has a very limited supply of just 84 million LTC with even less circulating. As the monetary supply increases and inflation runs out of control, the LTC supply never will. For example, Litecoin was just announced as one of four cryptocurrencies that PayPal will offer its 346 million customers in the near future. If every PayPal customer wanted to own Litecoin, there would only be 0.24 to go around equally, and as wealth distribution has shown in the past, there is no such thing as equality.
When demand rises for the digitally scarce asset, much like the precious metal silver and its scarce supply, prices surge. Silver is climbing again now under the recent economic distress, and Litecoin jumped 20% at the PayPal news. Is it Litecoin's time to shine once again?
Litecoin Trading Strategies
For those that are tired of hodling Litecoin and being on the losing side of markets for too long, consider trading Litecoin instead using one of these effective Litecoin trading strategies. These tools can be used to trade any asset, but examples of LTC pairs are included to demonstrate how this works for Litecoin, specifically.
Bollinger Bands Litecoin Trading Strategy
The Bollinger Bands expand and contact to indicate volatility across price action, but it can also be used as a reliable long or short signal when price passes through and closed above or below the middle-BB line.
The middle line is a moving average of price action and can indicate when a trend change is about to pick up in steam. If the move above the middle line arrives after a contraction, and the outer bands begin to expand, a large move will result.
In the example below, Litecoin was a short and a long each time the asset passed through the middle BB.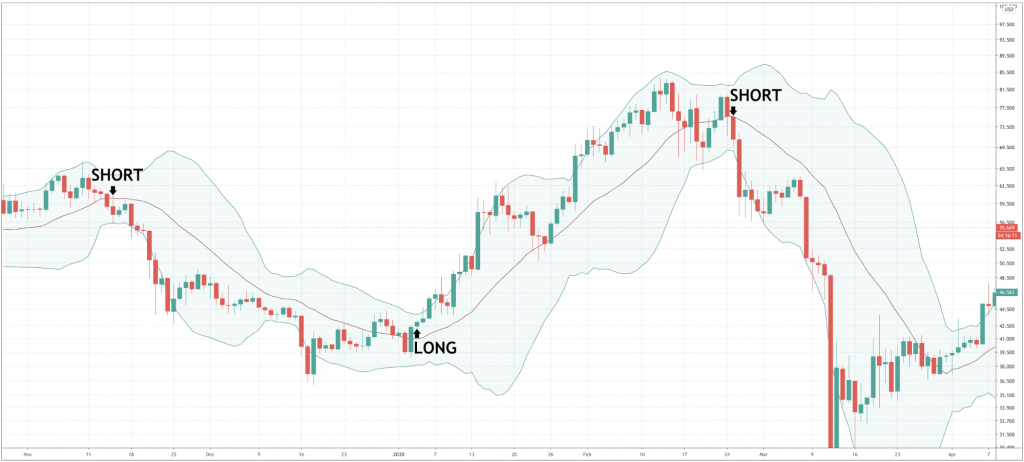 Ichimoku Litecoin Trading Strategies
The Ichimoku indicator is a very busy screen to look at, with so much going on. There are clouds, lines everywhere, and a lot of confusion. But in the mess there are plenty of signals explaining whats going on in the market.
The most standard and obvious of signals, is a simple crossover of the tenkan sen and kinjun sen lines (red and blue). When the two cross above or below one another, it is either bearish or bullish, and issues a signal to short or long an asset, as is demonstrated in the LTC chart below.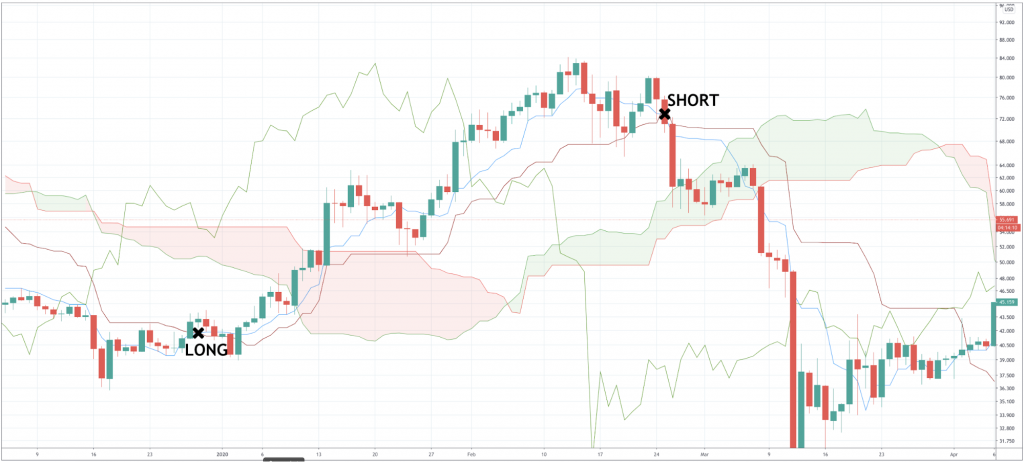 MACD Litecoin Trading Strategies
The MACD is a momentum indicator, but is often disregarded as "lagging." However, Litecoin traders that disregard this tool do so at their own expense.
The MACD crossovers can be ultra reliable signals to short or go long on Litecoin, Bitcoin, or any asset for that matter. Notice that after crossing down, crossing back up was the long signal. Traders can keep profits going by trading back and forth this way.
But because there is some truth to the MACD as a lagging indicator, be certain to consider other market conditions and confirm signals with chart patterns or other signs.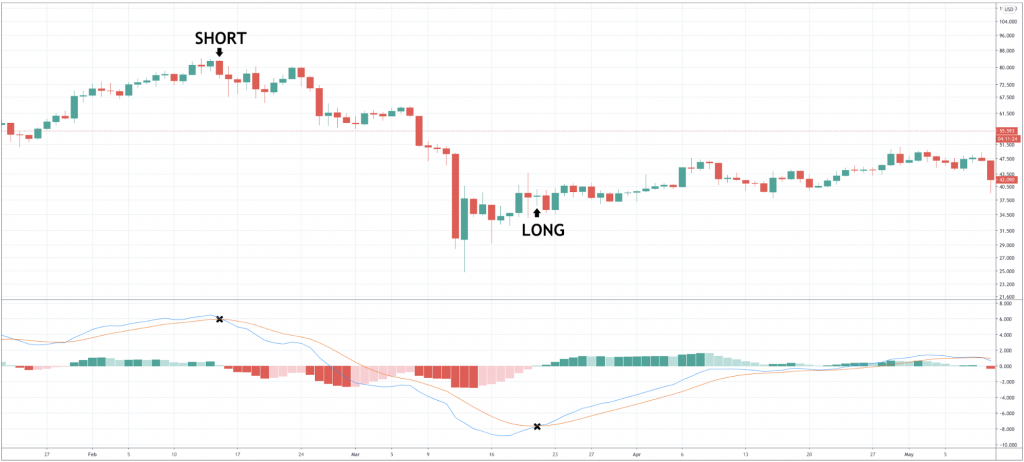 On Balance Volume Litecoin Trading Strategies
OBV is called the smart money indicator for a good reason. It can help spot trend changes before they happen.
Note in the example below, Litecoin broke out from its downtrend in OBV before price did, and then did the same again when the uptrend ended and began to break down. The On-Balance Volume indicator truly proves that volume really does precede price.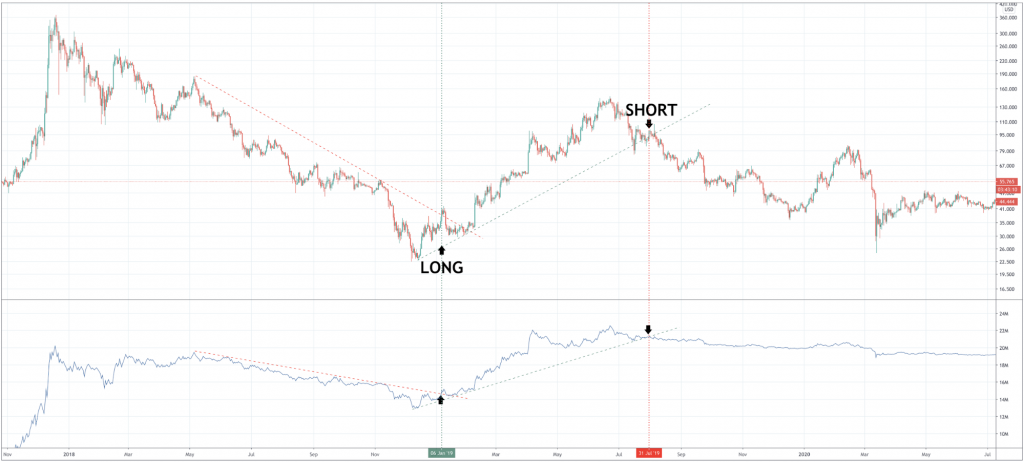 Top Tip For Maximizing Return On Litecoin Trading: Leverage
Trading Litecoin can be profitable enough, given the asset's wild volatility and large price increases and decreases that users can take advantage of using CFD trading on PrimeXBT with long and short positions.
But there is another tool PrimeXBT offers that can grow capital even faster and make the above strategies even more profitable. But beware, this method is only for skilled traders who are capable of managing against risk. The tool is called leverage and is only offered on margin trading platforms. Leverage amplifies price movements by up to 100x, maximizing return and turning small positions into massive ones.
Conclusion: Trade Litecoin Using PrimeXBT For The Best Chance At Success
It is clear that trading Litecoin is a more profitable option than investing in LTC or other cryptocurrencies. Combined with the right platform, the right tools, and a winning trading strategy, Litecoin trading can quickly and effectively grow capital.
There is no better time than now to get registered on PrimeXBT to begin trading Litecoin CFDs and Bitcoin-based derivatives contracts on major stock indices like the Dow and FTSE, forex, commodities, and a slew of cryptocurrencies trading against both USD and BTC.
Whether you are trading Litecoin against USD or via crypto to crypto pairs, there's money to be made by applying the trading strategies outlined within this guide.
FAQ: Frequently Asked Questions
What Is Litecoin?
Litecoin is a cryptocurrency that is built on a modified version of Bitcoin's code. The blockchain and economic structure are very similar and even have the same block reward halving mechanism every four years.
Should I Invest In Litecoin?
Investing in Litecoin has proven profitable in the past, but over the last two years of the bear market prices have mainly been falling. Even if things are turning around, trading Litecoin is the better option, as traders can profit whichever way Litecoin turns and make money both directions.
How To Make Money With Litecoin?
Trading Litecoin is the simple answer. Utilizing technical analysis and careful risk management, traders can profit from markets on platforms like PrimeXBT.
What Is Litecoin's Ticker Symbol?
Litecoin trades under the LTC ticker symbol against USD, BTC, or other fiat currencies and cryptocurrencies.
Where Can I Trade Litecoin?
Litecoin trading is common these days, but the best and safest platform to trade Litecoin is on the award-winning PrimeXBT. Litecoin is available alongside other cryptocurrencies, stock indices, gold, silver, oil, gas, and much more.
Risk Disclaimer:
Investing in or trading gold or other metals can be risky and lead to a complete loss of capital. This guide should not be considered investment advice, and investing in gold CFDs is done at your own risk.
The information provided does not constitute, in any way, a solicitation or inducement to buy or sell cryptocurrencies, derivatives, foreign exchange products, CFDs, securities, and similar products. Comments and analysis reflect the views of different external and internal analysts at any given time and are subject to change at any time. Moreover, they can not constitute a commitment or guarantee on the part of PrimeXBT. The recipient acknowledges and agrees that by their very nature any investment in a financial instrument is of a random nature and therefore any such investment constitutes a risky investment for which the recipient is solely responsible. It is specified that the past performance of a financial product does not prejudge in any way their future performance. The foreign exchange market and derivatives such as CFDs (Contracts for Difference), Non-Deliverable Bitcoin Settled Products and Short-Term Bitcoin Settled Contracts involve a high degree of risk. They require a good level of financial knowledge and experience. PrimeXBT recommends the consultation of a financial professional who would have a perfect knowledge of the financial and patrimonial situation of the recipient of this message and would be able to verify that the financial products mentioned are adapted to the said situation and the financial objectives pursued.