The cryptocurrency market is once again the hottest in finance, but unlike years ago, the proofs-of-concept and early projects that were launching and built back then have since developed into full-fledged products and services, ensuring the fundamentals to support long-term price appreciation.
2020 saw the launch of the Covesting copy trading module on PrimeXBT and the integration of the COV utility token shortly after that. Today, in 2021, both are fully functioning together, providing traders with an experience unlike anything else in the cryptocurrency market.
The below guide is designed to highlight the benefits of the COV token, as well as explain its variety of uses both within and outside of the Covesting copy trading module.
What Is COV Token? The Utility Token Of The Covesting Copy Trading Module
The COV token is an ERC-20 token built on Ethereum smart contracts. It is designed to provide utility via the Covesting copy trading module by unlocking a wealth of exclusive benefits not available by any other means or methods. These benefits are what drive demand for the token and are what makes holding and using the COV token attractive.
Another factor making the COV token so attractive is the fact that it has a low cost of entry compared to Bitcoin and Ethereum, showing just how early it is to get in on the token as more tokens are burned, and the Covesting community expands. You can get COV tokens at KuCoin, Uniswap, and HitBTC currently.

What Is Covesting? The Peer To Peer Copy Trading Experience
Covesting is the copy trading module developed by a Europe-based fintech software firm by the same name. Covesting licenses its copy trading module to B2B partners globally, with the first instance of the Covesting copy trading module living exclusively on PrimeXBT.
Covesting was first released in a public beta and went through several iterations until the full launch arrived in 2020, earning much praise amongst the trading community for its innovative technology.
Although the COV token is extremely valuable in and of itself, an added value is unlocked through Covesting copy trading utility which will be explained in detail in later sections of this guide.
How Do You Use Covesting? What You Need To Know About Covesting Copy Trading
Covesting is a peer-to-peer community platform for traders of all skill levels that connects followers with strategy managers. Regularly successful traders can show off their skills and earn themselves a split of the success fees from followers.
Followers, whether new traders or those seeking to piggyback onto more profitable traders or hedge against themselves, can put capital toward copying the trades of others on Covesting.
A public leaderboard with fully transparent metrics pertaining to profits, losses, risk, and more, along with a five-star rating system, keeps traders honest and the competition high.
Total profits, as well as daily profits and other factors, determine the ranks of which traders rise to the top, while others battle it out for strategy supremacy. Followers earn a profit from the winning trades of those they follow and can follow several strategies at once for a well-diversified portfolio of strategies.
Covesting is a safe way how to get started trading crypto currency online, especially for those with only limited trading or investing experience. Most new to trading usually lose money or give up before they become profitable, making Covesting a way to skip the line and get ahead right away by accessing the trades of those who regularly show success.
The Covesting community is growing rapidly and has a massive telegram channel where the traders among the ranks of top strategies connect with one another, share tips, thoughts about markets, technical analysis charts, and much more.
Covesting is exclusively available on PrimeXBT, an award-winning CFD trading platform offering cryptocurrencies, forex, stock indices, and commodities under one roof. Covesting is just one of many of the platform's many innovative options for traders and advanced trading tools.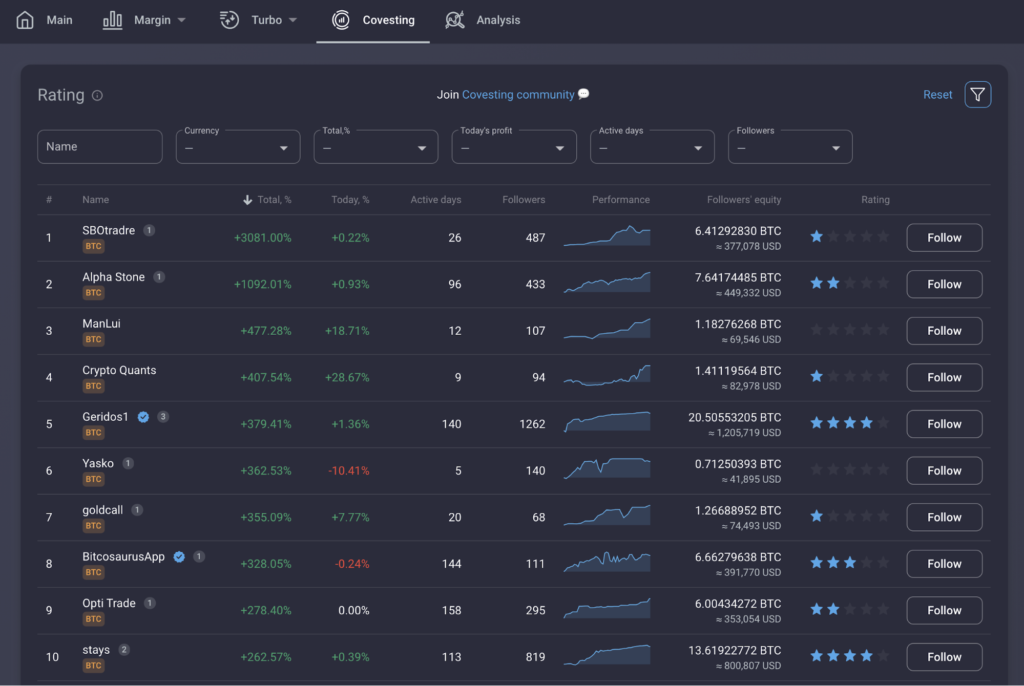 How Does COV Token Work With Covesting? COV Token Utility Explained
COV token implementation has encouraged a more engaged community with exclusive benefits offered to those that hold COV tokens. It is designed to be utilized by strategy managers and followers alike through a dedicated section of the Covesting module COV token dashboard on PrimeXBT.
Strategy managers can reduce their trading fees for one month by up to 25% by paying a fixed amount of COV tokens. Please note that the discounted rates, as well as activation fees, may change from time to time, so check the latest offer information listed within the Covesting module COV token dashboard on PrimeXBT. Trading fee discounts last for periods of roughly 30 days.
Followers can improve the percentage split that they earn from all profitable trades will be increased in favor of followers (by reducing the PrimeXBT platform split). Full details of the current offer will be available in the Covesting module COV token dashboard on PrimeXBT.
Followers can also eliminate a 1% follower entry fee by activating this specific COV token utility.
Covesting also aims to burn up to 50% of the fees generated within the Covesting copy trading module at regularly scheduled intervals. Fees will be calculated after excluding affiliate earnings, fee discounts, and other revenue impacts and made transparent via the public blockchain contract address: 0xada86b1b313d1d5267e3fc0bb303f0a2b66d0ea7
What Else Can You Do With The COV Utility Token?
The COV token isn't just a token that can only be used for the Covesting copy trading module. As the native utility token of the Covesting copy trading module, COV tokens are available for purchase and active trading paired with ETH and BTC. COV tokens are available on KuCoin, Uniswap, and HitBTC.
COV tokens are built on the ERC-20 token standard and can be stored at any Ethereum-based wallet address for safe keeping. This includes the built-in Covesting wallet on PrimeXBT, as well as any web wallet, app, or cold storage wallet that works with Ethereum.
The COV token is currently trading for roughly $1.04 USD, and based on the current supply of 19,477,572 COV, the market cap is over $19 million USD. Thus far, Covesting has burned 522,427.79 COV tokens and plans to burn many more in the future.
The max token supply decreases due to token burns, which potentially can have an impact on price as demand rises.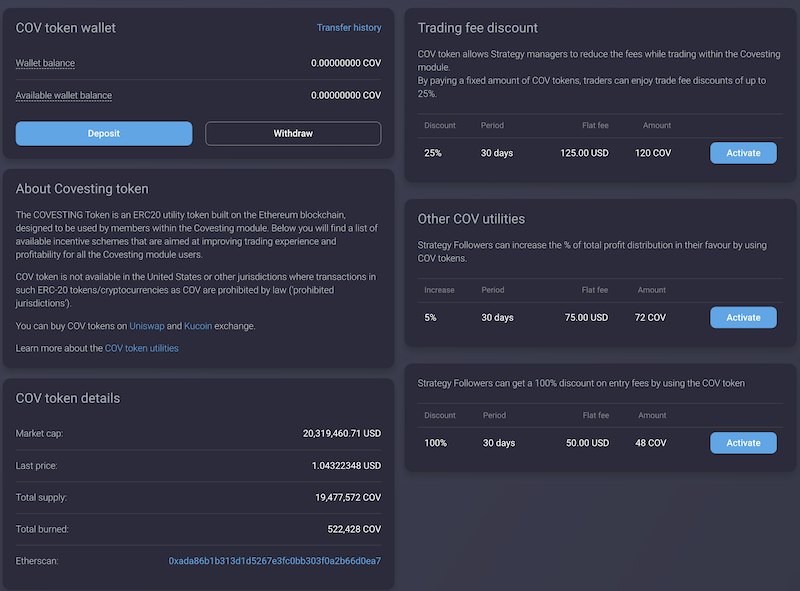 Conclusion: Get The Most Out Of The COV Token With Covesting Copy Trading On PrimeXBT
By using COV, you unlock the tokens' full utility within the Covesting copy trading platform, providing a variety of benefits for both followers and strategy managers.
To get started with Covesting copy trading today, visit PrimeXBT. Registration is quick and easy, and is entirely free aside from a low cost minimum deposit.
The low risk minimum to deposit is designed to allow even novice traders to test the waters and build their trading careers to become top traders and strategy managers themselves. A user blog has tons of educational material to support you on your journey, and live, 24/7 customer service is available to assist with any need around the clock.
A deep social community and footprint globally have propelled the company's reputation into stardom recently, taking home numerous industry awards. The growth in PrimeXBT has led to Covesting seeking the platform as a launch partner for the Covesting module, to which it has exclusive rights currently.
The Covesting module will eventually launch on other platforms, expanding the reach of the COV token and copy trading experience even more so. However, PrimeXBT remains the perfect place for the module, as it offers long and short positions on CFDs for crypto, forex, commodities, stock indices, and much more under one roof.
Sign up for PrimeXBT today, make a deposit, get yourself some COV tokens, and start leveraging the power of the Covesting copy trading module today.
FAQ: Frequently Asked Questions
What is Covesting?
Covesting is a peer-to-peer copy trading experience developed by a fintech developer from Europe going by the same name. Covesting licenses its copy trading technology to B2B partners such as PrimeXBT through a white-label licensing agreement. Covesting, the copy trading platform, connects followers with strategy managers for synergistic profits.
What is COV token?
The COV token is an Ethereum-based ERC-20 token designed to unlock added utility by providing benefits to followers and strategy managers on the Covesting copy trading module. The COV token is a crypto token built on the Ethereum blockchain. It can be bought, sold, traded, stored, and more and makes for an excellent investment if you understand the risks involved with investing in crypto.
Why does it make sense to use Covesting?
Covesting is an ideal solution for newcomers to trading, who don't have the time to learn all there is to know about markets, or for those who want to copy the trades of other successful traders for a fast way to profitability. Those with a high skill level can also benefit by trying their hand and creating a strategy for others to follow on Covesting.
Why does it make sense to own COV?
Owning COV is a great investment, given the incredible utility it unlocks along with its long-term growth potential. Forecasts for COV suggest that the asset has a bright future, and demand for the token along with the Covesting copy trading module is soaring. It can be a profitable solution for anyone interested and a great way to get into markets without spending too much time or money.
How do I get COV tokens?
You can buy COV tokens on a variety of cryptocurrency exchanges, including KuCoin, Uniswap, HitBTC, YoBit, and more. COV tokens are not available to investors inside the United States, however.
How do I store COV tokens?
Storing COV tokens is simple and easy and can be done using any Ethereum wallet that supports ERC-20 tokens like COV. COV tokens can be stored in a hot web wallet, desktop wallet, or offline for cold storage.
Risk Disclaimer
Investing in or trading gold or other metals can be risky and lead to a complete loss of capital. This guide should not be considered investment advice, and investing in gold CFDs is done at your own risk.
The information provided does not constitute, in any way, a solicitation or inducement to buy or sell cryptocurrencies, derivatives, foreign exchange products, CFDs, securities, and similar products. Comments and analysis reflect the views of different external and internal analysts at any given time and are subject to change at any time. Moreover, they can not constitute a commitment or guarantee on the part of PrimeXBT. The recipient acknowledges and agrees that by their very nature any investment in a financial instrument is of a random nature and therefore any such investment constitutes a risky investment for which the recipient is solely responsible. It is specified that the past performance of a financial product does not prejudge in any way their future performance. The foreign exchange market and derivatives such as CFDs (Contracts for Difference), Non-Deliverable Bitcoin Settled Products and Short-Term Bitcoin Settled Contracts involve a high degree of risk. They require a good level of financial knowledge and experience. PrimeXBT recommends the consultation of a financial professional who would have a perfect knowledge of the financial and patrimonial situation of the recipient of this message and would be able to verify that the financial products mentioned are adapted to the said situation and the financial objectives pursued.