The first signs of a break in Bitcoin's low volatility and boring sideways price action may have started today. However, the last week of cryptocurrency market data reflects just how stagnant the price action has been for the usually notoriously volatile cryptocurrency.
Nearly every metric pertaining to Bitcoin is also showing a sideways trend. Any strength in the asset may soon topple due to the asset once again growing correlation with the S&P 500 stock index.
It was the stock market that dragged Bitcoin down to $4,000 on Black Thursday just a few months ago, and another crash in stocks could put an end to the sideways trend.
While Bitcoin may be boring, DeFi is booming, and it is creating a ton of buzz surrounding Ethereum and some hot new small-cap altcoins that have outperformed Bitcoin as of late.
This week's cryptocurrency market report puts a spotlight on Ethereum and DeFi, along with providing a full breakdown on Bitcoin and the rest of the crypto market.
Bitcoin Price Continues To Trade Sideways, When Will The Boredom Break?
Bitcoin price has now spent over forty days trading above support at $9,200. This is one of the most prolonged consolidation phases in Bitcoin over the last several years.
Bollinger Band Width has reached extreme lows not seen since the November 2018 drop. Before that, the low in BB Width marked the start of the last bull market.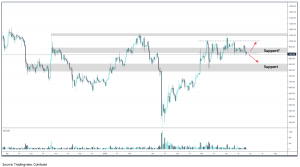 If Bitcoin loses $9,200, a drop to $8,500 to retest resistance turned support is likely. If support can hold, another attempt to break out above $10,000 could soon follow.
Reclaiming $10,000 could cause significant FOMO in the cryptocurrency.
Crypto Metrics Reflect Tight Trading Range With Sideways Trend
The sideways price action can be seen across all significant Bitcoin-related metrics.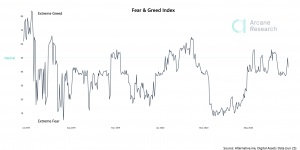 Market sentiment, as measured by the cryptocurrency Fear and Greed Index has also been trending sideways, hovering just under greed and the low end of fear.

Bitcoin trading volume has also had minimal changes over the last several weeks during the tightening trading range.
7-day volatility has also fallen to another yearly low for the normally highly volatile asset class. The latest low has set a record for the lowest point this year.
Open Interest Reaches All-Time High As Traders Prepare For Next Move
The boring price action has caused Open Interest on CME BItcoin derivatives to reach a new all-time high, as traders prepare for the eventual breakout in the trading range. After this long of consolidation, Bitcoin typically moves by 20% or more.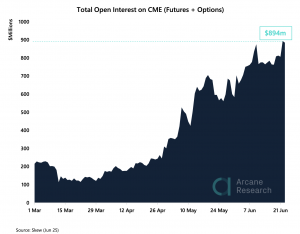 As Open Interest reaches a new high, cases of COVID are climbing in the US, putting pressure on the stock market.
The S&P 500 has pulled back in recent days, and the tight correlation Bitcoin has shown with the popular US index, has proven disastrous thus far.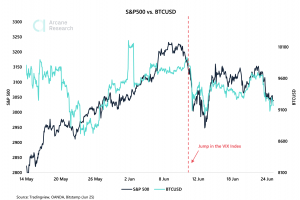 Correlation is climbing, along with the CBOE VIX Index, potentially acting as a warning sign that Bitcoin could soon crash.
DeFi Defying Gravity With Parabolic Growth
Decentralized finance continues to spike in user growth. At the start of the year, there was an initial boom in the movement away from traditional banking, but Black Thursday caused a pullback in not just price, but value locked away in DeFi.
Now, the metric has reached another all-time high. The total USD value locked away in DeFi applications is now over $1.63 million.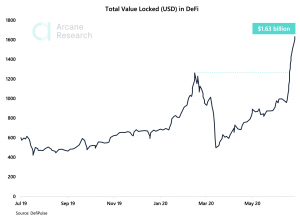 The total amount of Ethereum locked away in DeFi is also reaching new highs. Growth in the sector helped the altcoin soar at the start of the year.
However, newer, small-cap DeFi tokens such as Compound have recently stolen the limelight.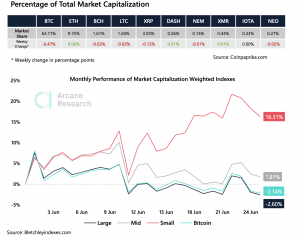 Compound helped bring small-cap altcoins to 16% positive performance for the last week. Compound itself is up 46% week over week.

Compound has also now overtaken Maker in total value locked away in DeFi, in just ten days after the token was released.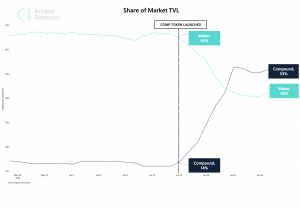 Although DeFi has improved Ethereum by way of use case and sentiment, the altcoin continues to struggle both in terms of USD and against Bitcoin.
Spotlight on Ethereum: Can DeFi Withstand a Scammer Driven Selloff?
Things had been looking positive for Ethereum, with the Grayscale Ethereum Trust ETHE reaching a 949% premium against standard ETH tokens at the start of June.
That premium has now dried up to just 351%. This number is still up significantly over the normal ETH value, but it is not yet clear why.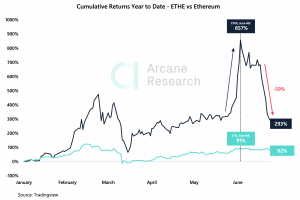 Not only could this Ethereum premium disappear further, but ETH prices could soon tank at the hands of scammers.
PlusToken, the notorious Bitcoin Ponzi scheme is back with a vengeance, and they're taking it out on Ethereum.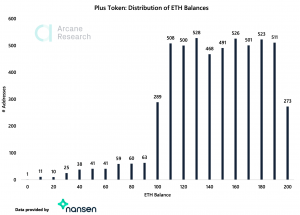 Scammers have mixed nearly 800,000 ETH tokens across a variety of addresses. These ETH tokens could eventually make their way to an exchange once properly mixed and sold at market prices.
This could cause a massive selloff just as initial PlusToken BTC selling helped restart the bear market in Bitcoin last year.
In The News
PayPal and Venmo Rumored To Launch Crypto Service
Payments processing giant PayPal and its subsidiary, Venmo, are rumored to be launching a new service to buy, store, send, and receive cryptocurrencies. Across the two platforms, there are over 300 million users that could spark massive adoption.
US Senate Holds Hearing on Digital Dollar
The United States Senate Banking Committee is holding a virtual hearing this week to discuss the potential tokenization of the dollar, and how to shift the dollar toward the digital age.
Botnet Army Commanded By Bitcoin Blockchain
Believe it or not, an old Trojan can install malware on unsuspecting user's PCs that are commanded by messages hidden within Bitcoin blockchain transactions.
Information provided in PrimeXBT's market report includes data provided by Arcane Research, in addition to other internal market research.
The information provided does not constitute, in any way, a solicitation or inducement to buy or sell cryptocurrencies, derivatives, foreign exchange products, CFDs, securities and similar products. Comments and analysis reflect the views of different external and internal analysts at any given time and are subject to change at any time. Moreover, they can not constitute a commitment or guarantee on the part of PrimeXBT. The recipient acknowledges and agrees that by their very nature any investment in a financial instrument is of a random nature and therefore any such investment constitutes a risky investment for which the recipient is solely responsible. It is specified that the past performance of a financial product does not prejudge in any way their future performance. The foreign exchange market and derivatives such as CFDs (Contracts for Difference), Non-Deliverable Bitcoin Settled Products and Short-Term Bitcoin Settled Contracts involve a high degree of risk. They require a good level of financial knowledge and experience. PrimeXBT recommends the consultation of a financial professional who would have a perfect knowledge of the financial and patrimonial situation of the recipient of this message and would be able to verify that the financial products mentioned are adapted to the said situation and the financial objectives pursued.