PrimeXBT, is a Bitcoin-based trading platform, offering Bitcoin-settled contracts on forex, commodities, stock indices, and various cryptocurrencies.
For those that don't already own Bitcoin or simply want to purchase more to fund their PrimeXBT trading account, we have implemented a new alternative third-party fiat payment gateway solution, CEX Direct.
Buying Bitcoin has never been so simple. Now anyone that doesn't already own BTC, those who are seeking to purchase more to start their trading career with PrimeXBT, or those that simply want to top up their account, can do so in just a few easy steps right through their PrimeXBT account.
By reducing the number of steps and/or wallets and platforms BTC must go through to reach its final destination, there is less room for user error or issues arising from sending to and from one platform to another. It also allows traders to get started trading that much faster.
PrimeXBT has directly integrated the third-party service provider's module into the trading platform itself.
To help direct our clients through the process and provide an example of just how easy it is to use the module to buy Bitcoin and fund your account, we have put together the following helpful 'how-to' guide.
How To Buy Bitcoin on PrimeXBT: A Step-by-Step Guide
To start, log into your PrimeXBT account. Upon visiting the account section, you can access the Deposit page by clicking on Deposit in the left-hand sidebar, or you can click on Deposit to Wallet in the Account Summary page to initiate the deposit process.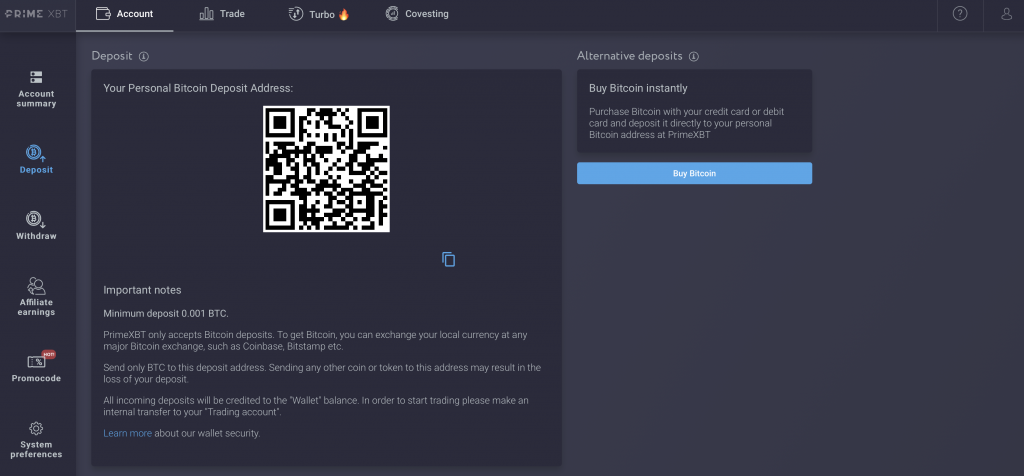 Step 1: Making an Alternative Deposit Using the New Third-Party Module
In the Deposit section, next to your personalized BTC wallet address created by the PrimeXBT platform, in the upper-right-hand corner, there is another section labeled Alternative Deposits.
There, you can click Buy Bitcoin to purchase Bitcoin directly with your credit card or debit card, using a variety of accepted fiat currencies. This Bitcoin will be then automatically transferred to the BTC wallet address in PrimeXBT.
On the next screen, the third-party module will expand and reveal a new window where clients may choose from three selected amounts of Bitcoin – $100, $200, and $500 – or enter a custom amount of Bitcoin to purchase.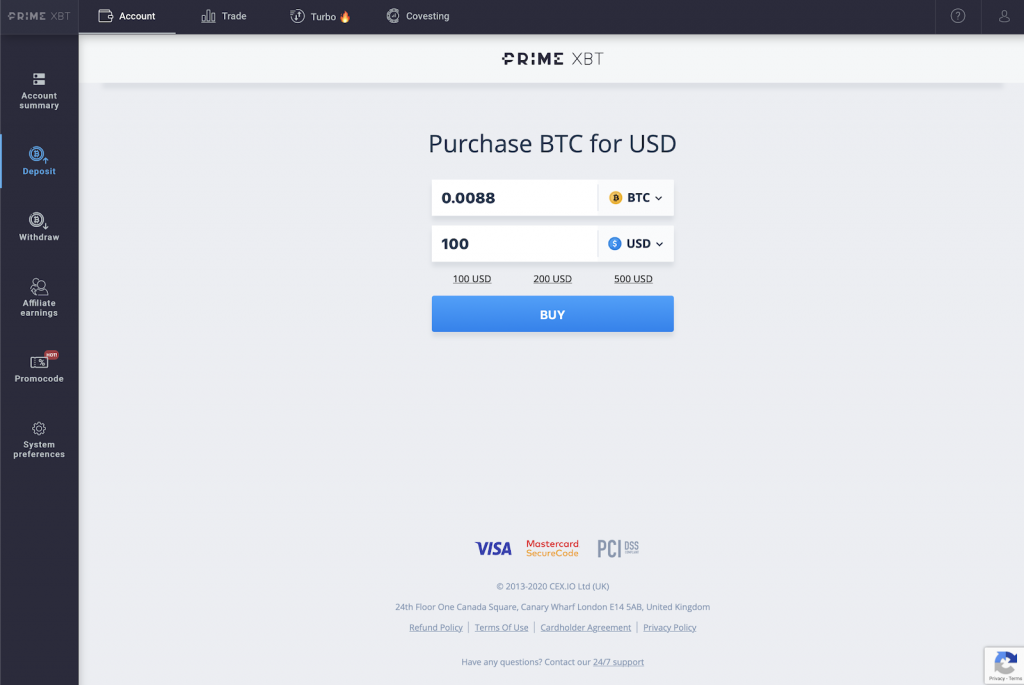 Step 2: Choose How Much Bitcoin To Purchase
Users can enter exactly how much Bitcoin they would like to purchase, or how much fiat currency they would like to spend at any given time. Entering either amount into the fields provided will automatically update the corresponding amount in the opposite currency. Three different fiat currency options are available, including USD, EUR, and GBP.
For example, entering 1 BTC will adjust the fiat value to the current exchange rate for BTCUSD, BTCGBP, or BTCEUR, depending on which currency is chosen. Alternatively, users may enter any amount of USD, GBP, or EUR, and the corresponding amount of BTC will be instantly updated to reflect the current market rate.
Once it is decided how much Bitcoin to purchase, click Buy. On the next screen, you will be prompted to enter your personal email address and the country you are located in.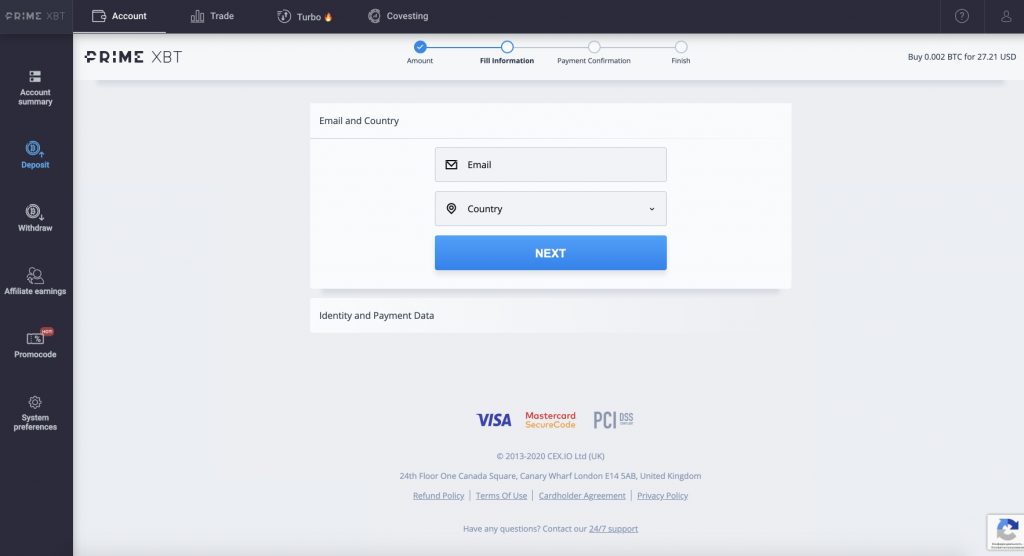 Step 3: Enter Personal Information and Payment Details
The external services provider PrimeXBT has partnered with can only serve certain jurisdictions, so check to be certain your country is included.
After this information is added, it is now time to enter identity and payment information, which will be used to verify your identity and process the transaction on your credit or debit card.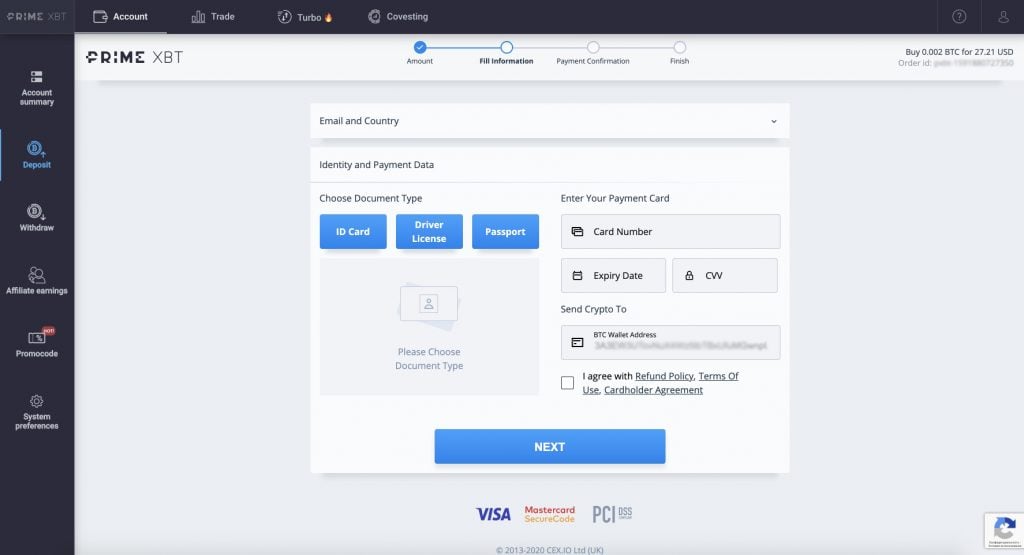 Using the provided tools and prompts, upload a photo, scan, or screenshot of your government-issued photo ID, Driver's License, or Passport to complete the identity verification process.
A selfie photo holding the documentation is also required for additional verification.
In addition to providing identity verification documentation, the credit or debit card information you would like to use must be entered.
Include a valid credit or debit card number, expiration date, and CVV code. The BTC wallet address generated by PrimeXBT will automatically be entered.
The final tasks here include adding a Social Security Number or Tax ID number, agreeing with related policies, terms, and conditions, and then clicking Next.
On the next screen, you will verify the documents provided. Additional steps may be required and the third-party service provider will prompt the user to take action if any documents weren't accepted or additional information needs to be furnished.
In most cases, the verification process takes no more than a few minutes and users can move on right away to the next step: payment confirmation.
Step 4: Confirm Payment Information and Complete Purchase
Another window will appear displaying the credit or debit card information, bank information, and personal details related to the transaction for users to fully review.
After reviewing all details are accurate, a security code will be sent via email to the email address provided at the start of the process.
Entering the code in the next window that appears confirms that all details are accurate and the payment will be processed immediately.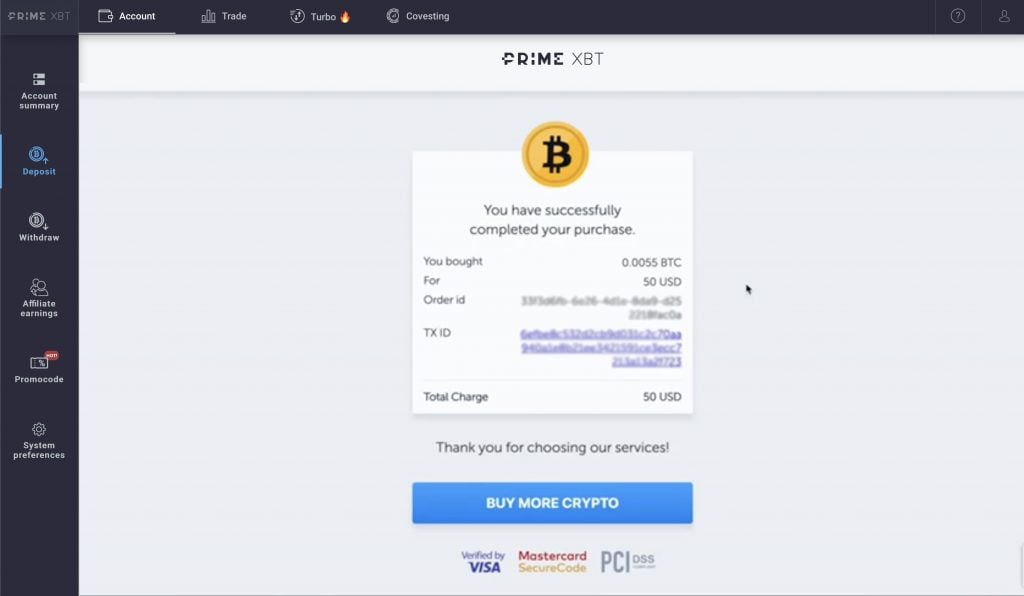 Congratulations! You have successfully purchased Bitcoin and it will be credited to your PrimeXBT wallet.
The only remaining step is to transfer BTC between your Wallet and Trading account and begin trading.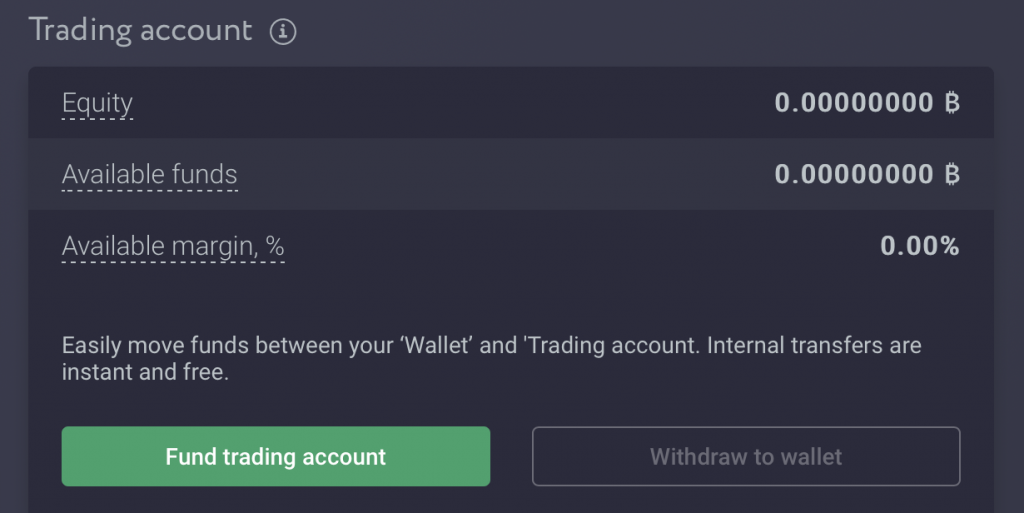 New Fiat Payment Gateway Is Now Available To All PrimeXBT Users
PrimeXBT aims to provide a one-stop-shop for trading. Not only does this include offering traditional assets next to digital assets like Bitcoin, long and short positions, built-in charting tools, and more, it now includes buying Bitcoin directly with a credit or debit card without ever having to leave the PrimeXBT platform for another website.
The next time you need to buy Bitcoin or top up your trading account, consider taking advantage of the services provided by our new external partner and buying Bitcoin directly through PrimeXBT alternative deposit module integrated into our advanced trading platform.
Risk Disclaimer
Investing in or trading gold or other metals can be risky and lead to a complete loss of capital. This guide should not be considered investment advice, and investing in gold CFDs is done at your own risk.
The information provided does not constitute, in any way, a solicitation or inducement to buy or sell cryptocurrencies, derivatives, foreign exchange products, CFDs, securities, and similar products. Comments and analysis reflect the views of different external and internal analysts at any given time and are subject to change at any time. Moreover, they can not constitute a commitment or guarantee on the part of PrimeXBT. The recipient acknowledges and agrees that by their very nature any investment in a financial instrument is of a random nature and therefore any such investment constitutes a risky investment for which the recipient is solely responsible. It is specified that the past performance of a financial product does not prejudge in any way their future performance. The foreign exchange market and derivatives such as CFDs (Contracts for Difference), Non-Deliverable Bitcoin Settled Products and Short-Term Bitcoin Settled Contracts involve a high degree of risk. They require a good level of financial knowledge and experience. PrimeXBT recommends the consultation of a financial professional who would have a perfect knowledge of the financial and patrimonial situation of the recipient of this message and would be able to verify that the financial products mentioned are adapted to the said situation and the financial objectives pursued.