Last week, investor sentiment across most assets turned bearish heading toward the election, but oversold conditions could lead to some short term relief this week.
Meanwhile, Bitcoin has completely decoupled from traditional markets. On the 12th anniversary of the Bitcoin whitepaper, the cryptocurrency set a higher high above $14,000 and closed the highest monthly candle since the peak in 2017.
But even cryptocurrency's momentum heading into this week could take a hit with the election conclusion. Here's what happened last week and what to expect coming into what could be a rocky week ahead.
Bitcoin Celebrates Whitepaper Release With Rally Above $14,000, Higher High Possibly Confirms Uptrend
On October 31, while many celebrated Halloween, Bitcoin was celebrating 12 years since its creator Satoshi Nakamoto released the whitepaper.
Whether it was due to the anniversary or from the ongoing bullish momentum behind Bitcoin, the cryptocurrency soared even higher, reaching a new higher high over 2019's peak and touching over $14,000.
In addition to a higher high and higher low on high timeframes essentially confirming a new uptrend is brewing, this is happening as Bitcoin spends the longest stretch of time above $10,000 and closed the second-highest month candle in the asset's history – just below the monthly close in December 2017.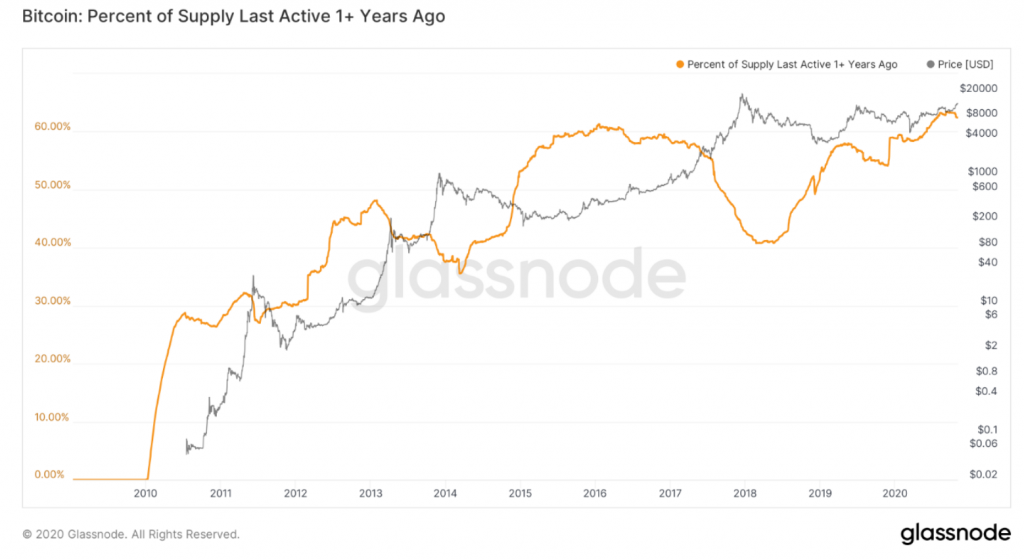 Supply and demand, combined with the aftereffects of Bitcoin's block reward halving, could be behind the bullish momentum. Grayscale Investments was reported to have added another 5,100 BTC last week alone to its sizable institutional holdings. The boost in buying along with a continued shortage of sellers has the cryptocurrency climbing in the face of turmoil across the rest of the world of finance.
A survey from Grayscale claims that over half of American investors are interested in Bitcoin, up 19% from the year before. Several health metrics, such as the number of whale addresses holding 1,000 BTC or more, and the percentage of coins unmoved for a year or more, are reaching all-time highs. The trend suggests that more investors are considering it as a long-term investor and store of value.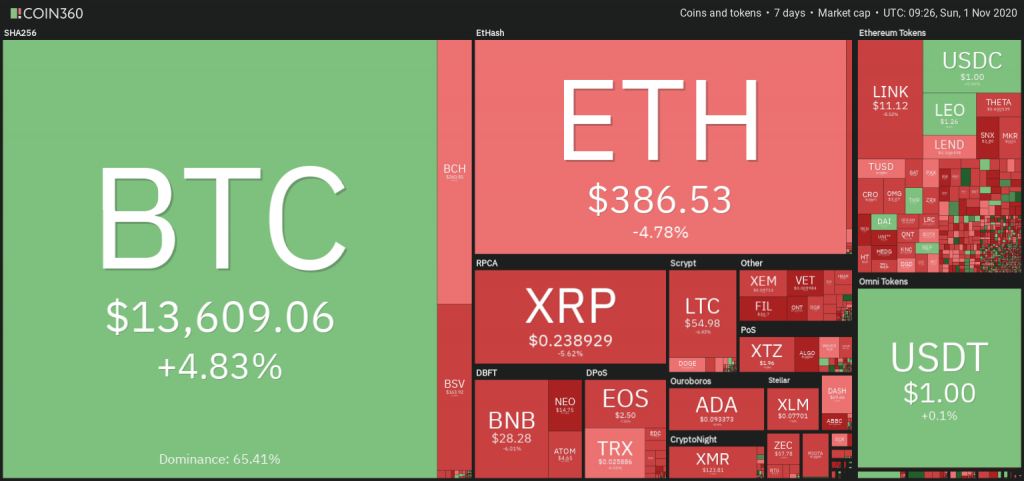 Altcoins Crushed By BTC Dominance, But XRP Whales Are Accumulating
A heatmap of the cryptocurrency market shows how Bitcoin's rally was at the expense of altcoins. The nearly 5% that was sucked out of Ethereum and other top coins fueled Bitcoin's 5% rise. Bitcoin will need to consolidate, and volatility will need to drop before altcoins are able to recover the lost momentum they had.
And while things aren't looking so hot for altcoins currently, data indicates something fishy is going on with XRP. The cryptocurrency commonly referred to as Ripple has seen whale wallets holding 1 million XRP or more growing by over 20%, and even larger sized whales with 10 million XRP or more increasing by 10%.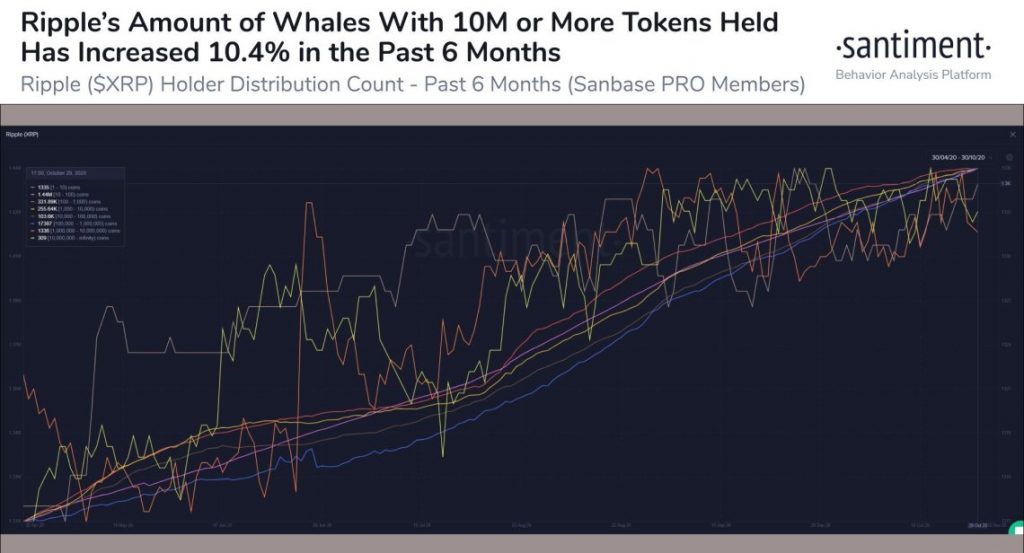 The slow and steady accumulation of high wealth investors could be a sign that smart money is stealthily absorbing the supply without moving the asset's price. Whether or not this translates into an XRP rally remains to be seen, but if it is anything like whales accumulating BTC, a similar rally in Ripple could be near.
Oil Skids 10% Further With Worst Week In Over A Month, USD Strengthens
Oil has had a slippery 2020, more so than most assets. As bad as Black Thursday was for crypto and stocks, oil's fall to negative prices won't soon be forgotten.
Negative sentiment and surplus of supply combined with Europe beginning fresh lockdowns have demand for oil diving yet again. With no near-term positive news, the final quarter of the year for WTI Crude and Brent looks bleak.
An inverse correlation with USD has also put oil in hot water. The dollar strengthening due to investors derisking, along with new COVID quarantines in Europe, have sent both GBP and EUR falling against USD.
Stocks Slump Leading Into Election: Double Top Versus Oversold Conditions
That same risk-off sentiment spilled into the stock market, combined with COVID cases spiking in the US sent major stock indices falling by over 5%. The downside was led by a tech stock selloff following disappointing Q3 results from the likes of Amazon and Apple.
With little upside for investors left, the neckline of a double-top formation has been pierced. However, extremely oversold conditions could lead to a contrarian trade heading into the election this week, and stocks could see a healthy recovery.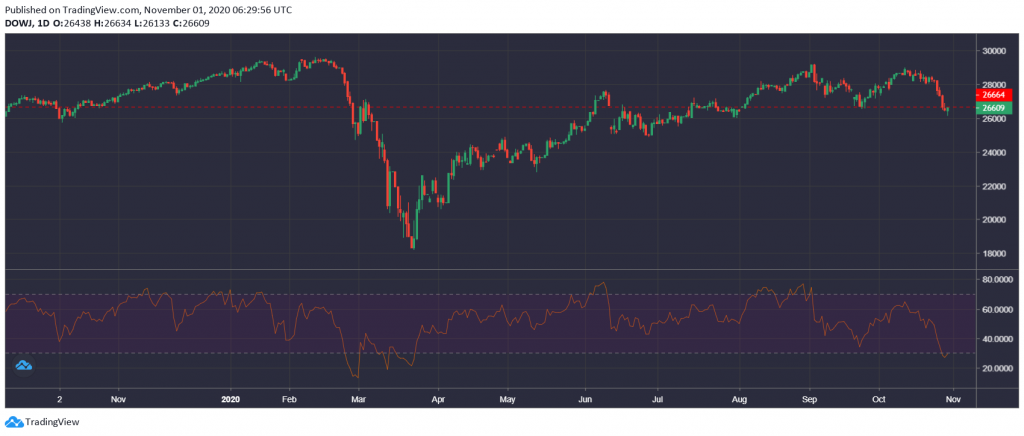 However, the US election conclusion could put in a long-term top in stocks if results are delayed or heavily contested.
Turbulence Ahead As Election-Related Risk Reaches Climax
The US election occurs on November 3, but there are plenty of other risky situations to watch for coming this week. The Reserve Bank of Australia has an interest rate meeting set, where traders can expect a rate cut. Following the election, both the US FOMC and Bank of England have meetings set to discuss interest rates moving forward.
Capping off what is expected to be a highly volatile week, US Non-farm Payroll releases on Friday. But perhaps one of the most critical moments for markets in 2020 is here, and the world will be watching as the election transpires and a new US President is elected into office.
Information provided in PrimeXBT's market report includes information provided by Kim Chua, Lead Market Analyst for PrimeXBT, in addition to charts from various data sources.
About Kim Chua, PrimeXBT Market Analyst: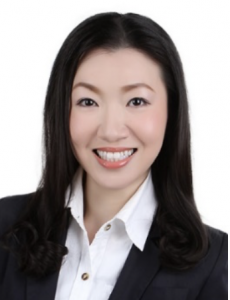 Kim Chua is an institutional trading specialist with a track record of success that extends across leading banks including Deutsche Bank, China Merchants Bank, and more. Chua later launched a hedge fund that consistently achieved triple-digit returns for seven years. Chua is also an educator at heart who developed her own proprietary trading curriculum to pass her knowledge down to a new generation of analysts. Kim Chua actively follows both traditional and cryptocurrency markets closely and is eager to find future investment and trading opportunities as the two vastly different asset classes begin to converge.
The information provided does not constitute, in any way, a solicitation or inducement to buy or sell cryptocurrencies, derivatives, foreign exchange products, CFDs, securities and similar products. Comments and analysis reflect the views of different external and internal analysts at any given time and are subject to change at any time. Moreover, they can not constitute a commitment or guarantee on the part of PrimeXBT. The recipient acknowledges and agrees that by their very nature any investment in a financial instrument is of a random nature and therefore any such investment constitutes a risky investment for which the recipient is solely responsible. It is specified that the past performance of a financial product does not prejudge in any way their future performance. The foreign exchange market and derivatives such as CFDs (Contracts for Difference), Non-Deliverable Bitcoin Settled Products and Short-Term Bitcoin Settled Contracts involve a high degree of risk. They require a good level of financial knowledge and experience. PrimeXBT recommends the consultation of a financial professional who would have a perfect knowledge of the financial and patrimonial situation of the recipient of this message and would be able to verify that the financial products mentioned are adapted to the said situation and the financial objectives pursued.