We are proud to announce that we have partnered with Coinify, a trading infrastructure platform which allows users to buy Bitcoin and other top crypto, in order to make the purchasing of digital assets towards your PrimeXBT trading balance a lot easier, and more streamlined.
Coinify is a secure and compliant trading infrastructure platform that not only brings ease in buying crypto with debit, credit cards and via bank transfers to our users, but also a high degree of regulator compliance. Coinify works alongside national and international regulatory bodies such as the Danish Financial Authority, the Danish Tax Authorities and the Blockchain and Virtual Currencies Working Group under the European Commission which ensures full regulatory standards are met.
Coinify will allow our users to buy Bitcoin and other cryptocurrencies via the fiat on-ramp which is directly tied to the user's trading balance meaning that users can now simply buy Bitcoin with their VISA or Mastercard credit and debit cards, as well as with bank transfers.
We have identified that the trading journey starts with the purchasing of cryptocurrency for many of our users and have strived towards making that more accessible and easy to use. It is our goal to simply and streamline trading right from the start, and these partnerships are just the beginning.
PrimeXBT has plans to aggressively expand the number of partnerships we make with the new year recently dawned as we continue to push to be a more global, and available, platform for our users.
To celebrate this partnership, until the 31st of January, 2021, there will be 0% fees for Bitcoin purchased with cards via Coinify towards your PrimeXBT balance! We hope you can take advantage of this and bypass the usual 4 percent fees that come with buying Bitcoin with a card.
How to Fund Your Account Through Coinify
At PrimeXBT, we allow you to fund your Bitcoin trading account using a debit or credit card through third-party exchange services like Coinify and CEX.io. On your dashboard, you will see a box to click for alternative deposits that lets you buy Bitcoin instantly — simply click on the button that says 'Buy Bitcoin'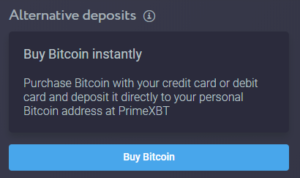 This will bring up the Bitcoin purchase options through the different types of services. Select Coinify and then choose your payment currency followed by your payment method, and then click 'Buy'.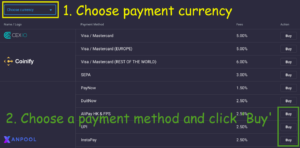 Next, follow the steps below in accordance with the chosen payment method:
1) Select the Amount that you wish to pay with. Click 'BUY NOW':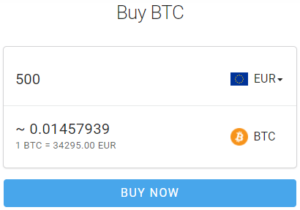 2) Choose an Email and Password for your Coinify account, select your Country and click 'Next':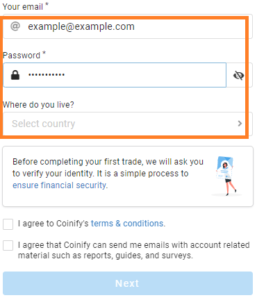 3) Go to your email inbox and Confirm registration of your Coinify account. Now, confirm your payment method: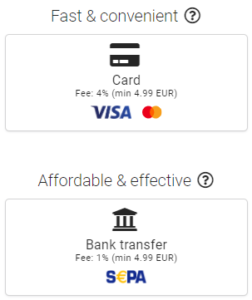 4) Check the Transaction details, then click 'Go To Payment':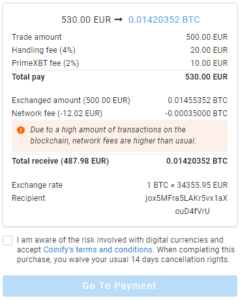 Note: When using the Coinify payment option for the first time, you will be required to pass their KYC procedure (confirm your identity) in order to verify your Coinify account for future purchases.
Simply follow the Verification steps and provide the requested documents: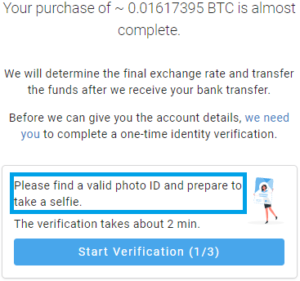 5) Enter your Payment Details (card info) and click 'Pay Now' to confirm the purchase: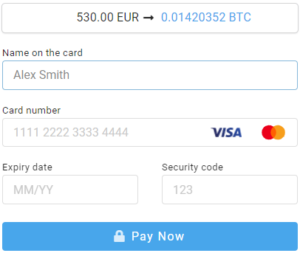 Following these easy steps will allow you to quickly and simply fund your PrimeXBT trading account with Bitcoin and many of the other top cryptos. We hope you can take advantage of our latest partnership as we continue to make trading on PrimeXBT the best and most pleasant experience.