PrimeXBT offers wide range of assets to trade with leverage straight from your BTC-settled account. In order to provide transparency and help our traders better understand the Oil contract pricing we have prepared this guide.
Oil is commonly traded as a Futures Contract – where a buyer and seller agree on a price now and exchange assets for cash at a future date. If the investor is only interested in speculating on the price and never wishes to take delivery of the underlying asset, they must close any positions before the contract's expiration date.
PrimeXBT Oil trading as a spot instrument has many advantages for investors who are only interested in price speculation. We offer a hassle-free trading access to this contract with no need to worry about the expiration and 'rollover' to the next month.
The Spot Oil price is derived as a combination of the first and second nearby month future contract. The spot price for each of these instruments is derived from a weighted average between the 1st and 2nd month Future Contracts (explained in further detail below) and follows the business day convention from New York.
1 contract is equal to 100 barrels (bbl).
This pricing method diminishes the level of volatility when the first nearby futures contract is near expiration, since there is often lower liquidity. Furthermore, rolling your position from the 1st to 2nd nearby month happens in smaller daily increments, instead of paying the full difference when close to expiration.
PRICING OF PRIMEXBT SPOT OIL

| | |
| --- | --- |
| D | The number of Commodity Business Days from, and including, the Previous Expiration Date to, but excluding, the Roll Date. |
| NumDays | The number of Commodity Business Days from, and including, the Previous Expiration Date to, but excluding, the Next Expiration Date |
| Business Day | 18:00 to 17:00 New York |
| Next Expiration Date | The date of expiration of the First Nearby Month |
| Previous Expiration Date | The date of expiration of the Previous Nearby Month that expired Immediately prior to the Roll Date. |
| Roll Date | The second Commodity Business Day after the current Business Day |
| Relevant Price | The price determined in accordance with the following. |
| Commodity Reference Price | The Commodity Reference Price shall be OIL-WTI-NYMEX (West Texas Intermediate light sweet crude oil). |
| Specified Price | The settlement price. |
EXAMPLE OF PRICING
D = 11
NumDays = 20
Relevant price of First Nearby Month = 20
Relevant price of Second Nearby Month = 25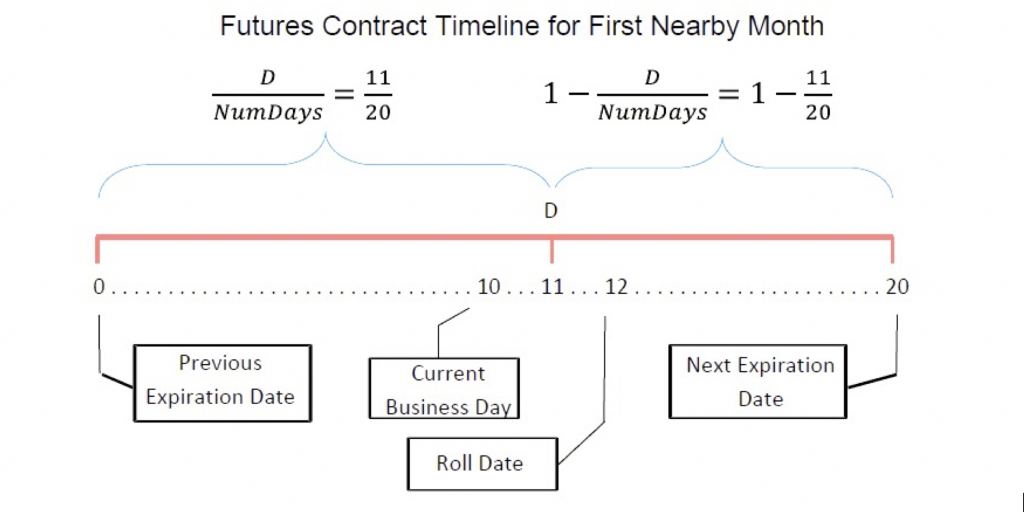 FX Spot Price = (1 – 11/20) * 20 + (11/20 * 25)
= 0.45 * 20 + 0.55 * 25
= 9 + 13.75
= 22.75
FINANCING CHARGES OF SPOT OIL
The Spot Oil is a margined product; therefore, the traded value is financed through an overnight 'financing'charge. If a position is opened and closed within the same trading day, the account will not be subject to overnight financing charges.
More info on fees: https://primexbt.com/fees
Risk Disclaimer:
Investing in or trading gold or other metals can be risky and lead to a complete loss of capital. This guide should not be considered investment advice, and investing in gold CFDs is done at your own risk.
The information provided does not constitute, in any way, a solicitation or inducement to buy or sell cryptocurrencies, derivatives, foreign exchange products, CFDs, securities, and similar products. Comments and analysis reflect the views of different external and internal analysts at any given time and are subject to change at any time. Moreover, they can not constitute a commitment or guarantee on the part of PrimeXBT. The recipient acknowledges and agrees that by their very nature any investment in a financial instrument is of a random nature and therefore any such investment constitutes a risky investment for which the recipient is solely responsible. It is specified that the past performance of a financial product does not prejudge in any way their future performance. The foreign exchange market and derivatives such as CFDs (Contracts for Difference), Non-Deliverable Bitcoin Settled Products and Short-Term Bitcoin Settled Contracts involve a high degree of risk. They require a good level of financial knowledge and experience. PrimeXBT recommends the consultation of a financial professional who would have a perfect knowledge of the financial and patrimonial situation of the recipient of this message and would be able to verify that the financial products mentioned are adapted to the said situation and the financial objectives pursued.