The cryptocurrency industry is growing rapidly, and markets are currently hotter than ever. To further expand our product offering and improve user experience, we are excited to release the PrimeXBT V2.0 upgrade — an improved version of our award-winning, multi-asset trading platform that now includes support of additional currencies as well as an updated, and refreshed UI.
The below guide will walk through the new changes to the PrimeXBT interface and how to access the newly added currency options.
Disclaimer: All data and figures used in the screenshots below are examples for design demonstration purposes only and are not taken from the operational platform directly.
PrimeXBT V2.0 Platform Walkthrough
First and foremost, the most noticeable change to PrimeXBT is the new platform design. The changes were made to accommodate an important upgrade to the PrimeXBT infrastructure: Users are now able to deposit ETH as well as stablecoins USDT and USDC, and use these assets as a collateral for margin trading.
The introduction of ETH, USDT, and USDC is due to growing market demand for these products, as well as to allow for greater flexibility and risk management for all PrimeXBT users. Ethereum has become a respected institutional trading product alongside Bitcoin, and the addition of stablecoins reduces the risk related to BTC-based accounts.
When Bitcoin experienced exceptional volatility, traders were unnecessarily exposed to the risks associated with that volatility. Even if trading had been successful, Bitcoin value falling could result in deposit capital value falling in tandem. Now, thanks to USDT and USDC base currency accounts, this risk is eliminated.
The new currencies will be integrated platform-wide, which means that users will be able to use ETH, USDT, and USDC in addition to BTC as a base account currency for margin funding, trading, PrimeXBT Turbo, Covesting, and more.
Introducing The Home/Main Section
The newly developed Home/Main screen will include all important information on wallets, accounts, and other relevant products in an aggregated and organized manner. From this screen, users can make deposits, process withdrawals, fund margin accounts, and get a bird's-eye view of all their assets and activity within PrimeXBT.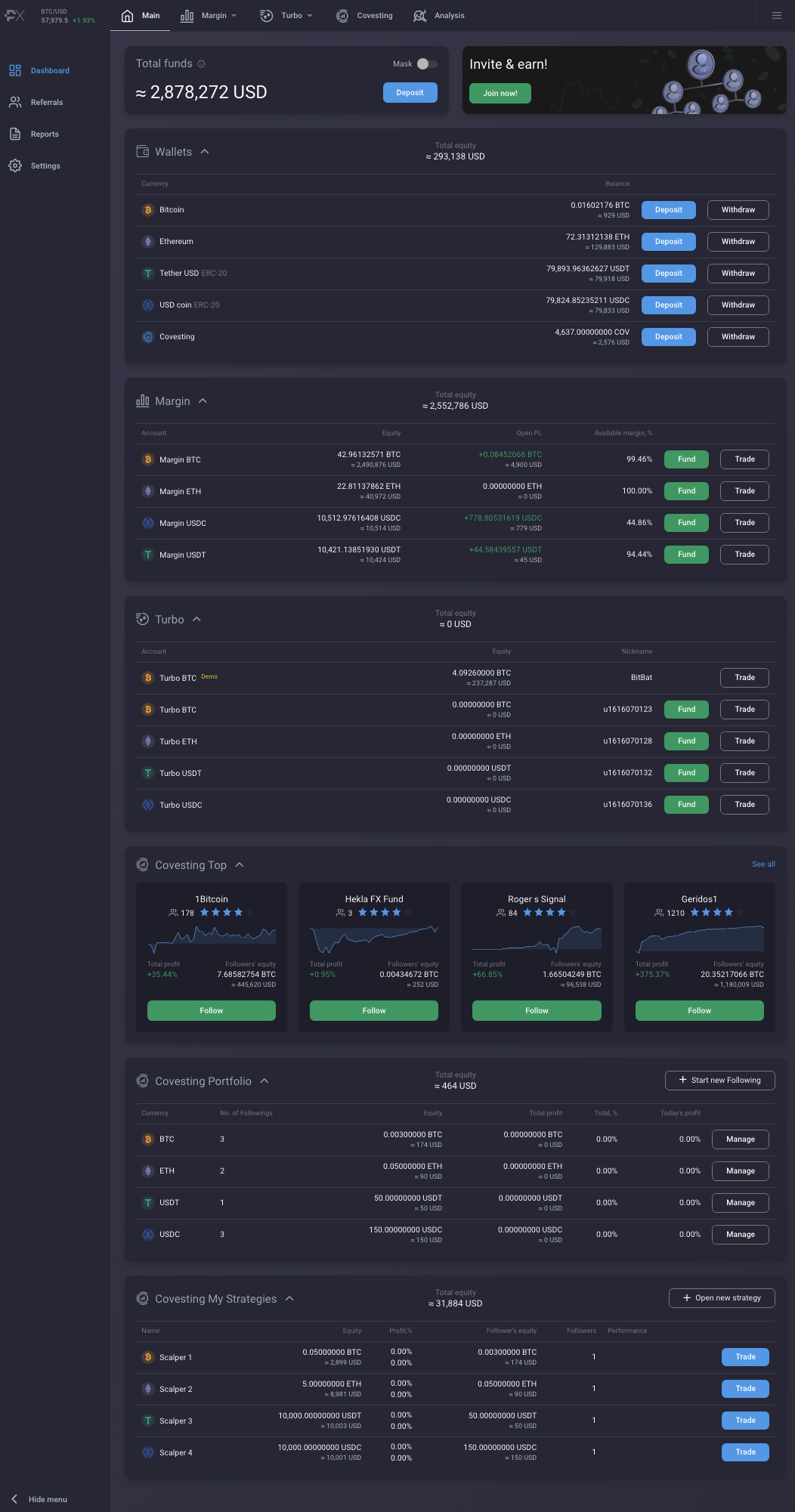 Immediately after launch, all users will be able to deposit and withdraw ETH, USDT, and USDC in addition to BTC and Covesting's COV utility token. After any deposits have been confirmed, users can then create new margin trading accounts in each currency to use for collateral in margin positions on all available markets including cryptocurrencies, stock indices, forex, and commodities listed on PrimeXBT. Users can toggle between each different currency wallet and see any transaction history related to the respective account.
The newly developed architecture allows us to scale the product further and expand the list of currencies supported as margin collateral. We are also considering fiat currencies for future updates, which will allow us to tap into new audiences and trading communities globally.
Upgraded Margin Trading Accounts
Several other sections within the PrimeXBT account menu have been completely redeveloped to support the new currencies and have been given a fresh visual overhaul. As such, margin trading accounts in each currency from now on will be treated as separate, isolated margin accounts. This means that all associated promo codes, for example, will be applied to currency-specific trading accounts, while volume-based discounts will be calculated and applied separately for each individual currency trading account rather than for the whole PrimeXBT account.
The below screenshot shows how users can view all information related to each currency's margin trading account, including available margin, any applied trading fee discounts, unrealized PnL, and much more. From here, it is easy to navigate to the trading platform, explore detailed account statements, make a deposit, or request an internal transfer.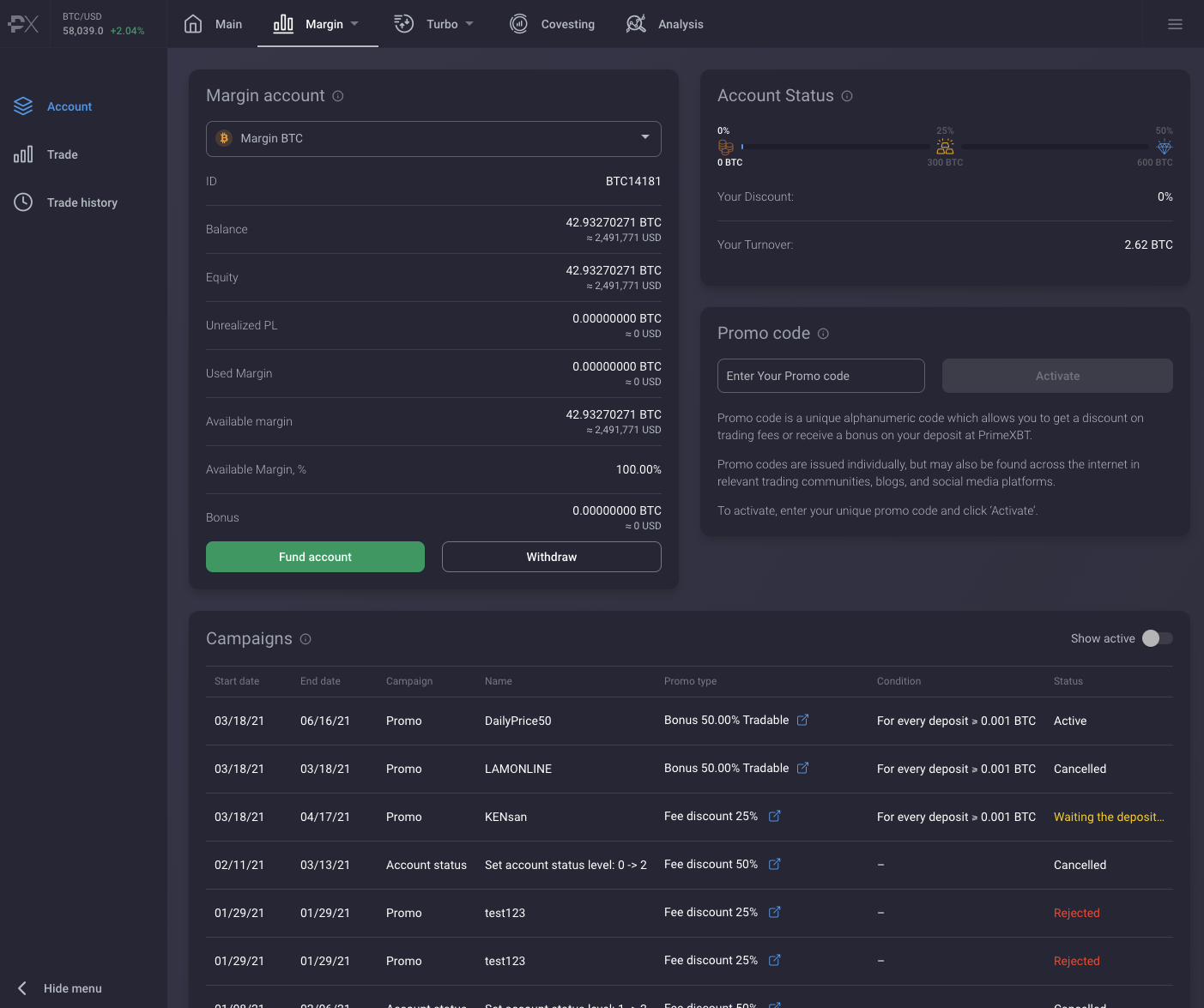 Enhanced Covesting Module
With the new PrimeXBT V2.0 upgrade, Covesting module users are able to create strategies in all newly added currencies. The same applies to all followers — all Covesting users are welcome to take advantage of the greater diversification and benefit from what each base currency has to offer. As you can see from the updated Rating section below, all available strategies will be categorized by their respective base currency.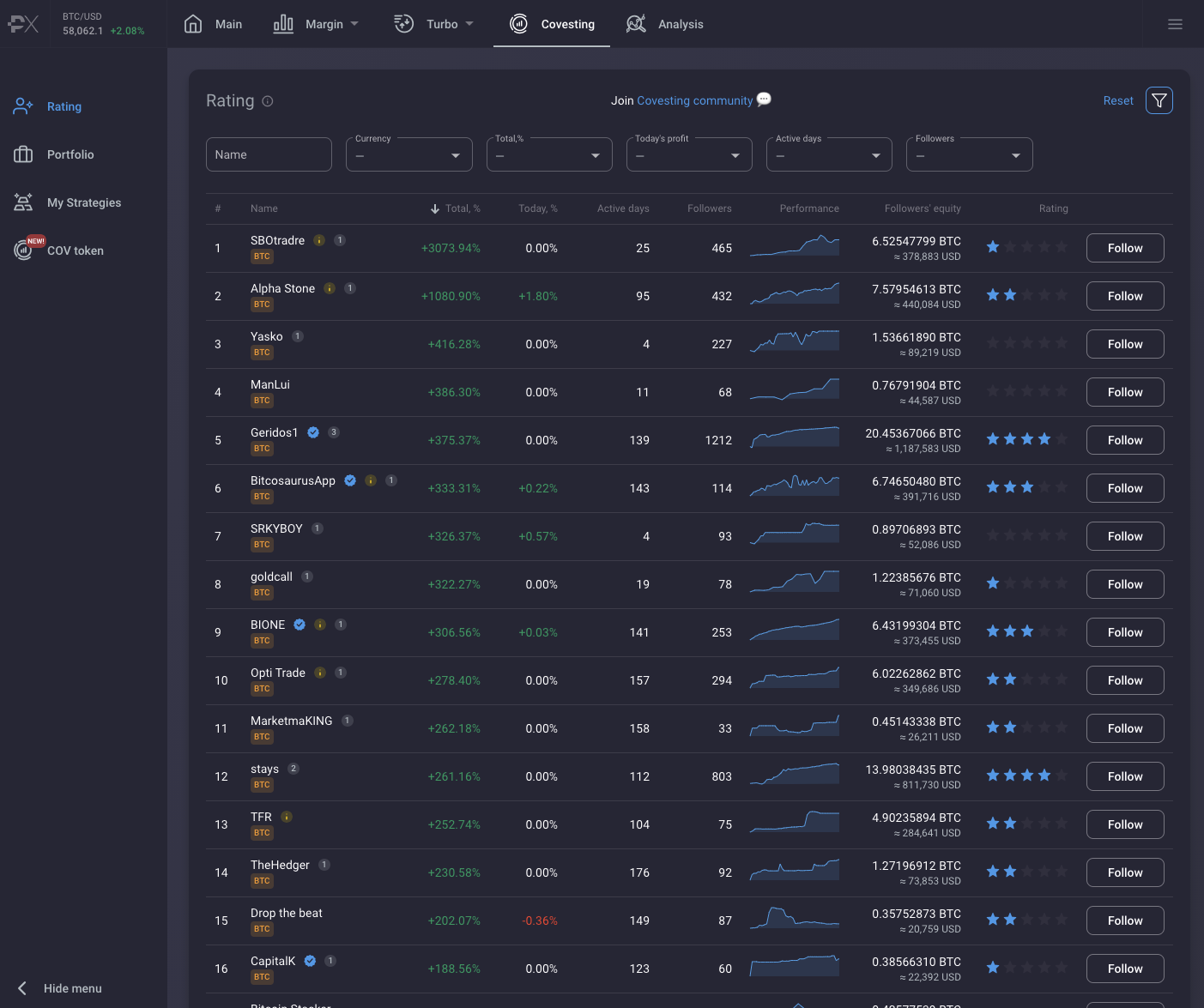 It's important to note that users who deposit USDC, for example, will only be able to follow other USDC denominated strategies. However, this also will allow all platform users to diversify not only risks related to particular strategies but also each strategy's currency-related risks.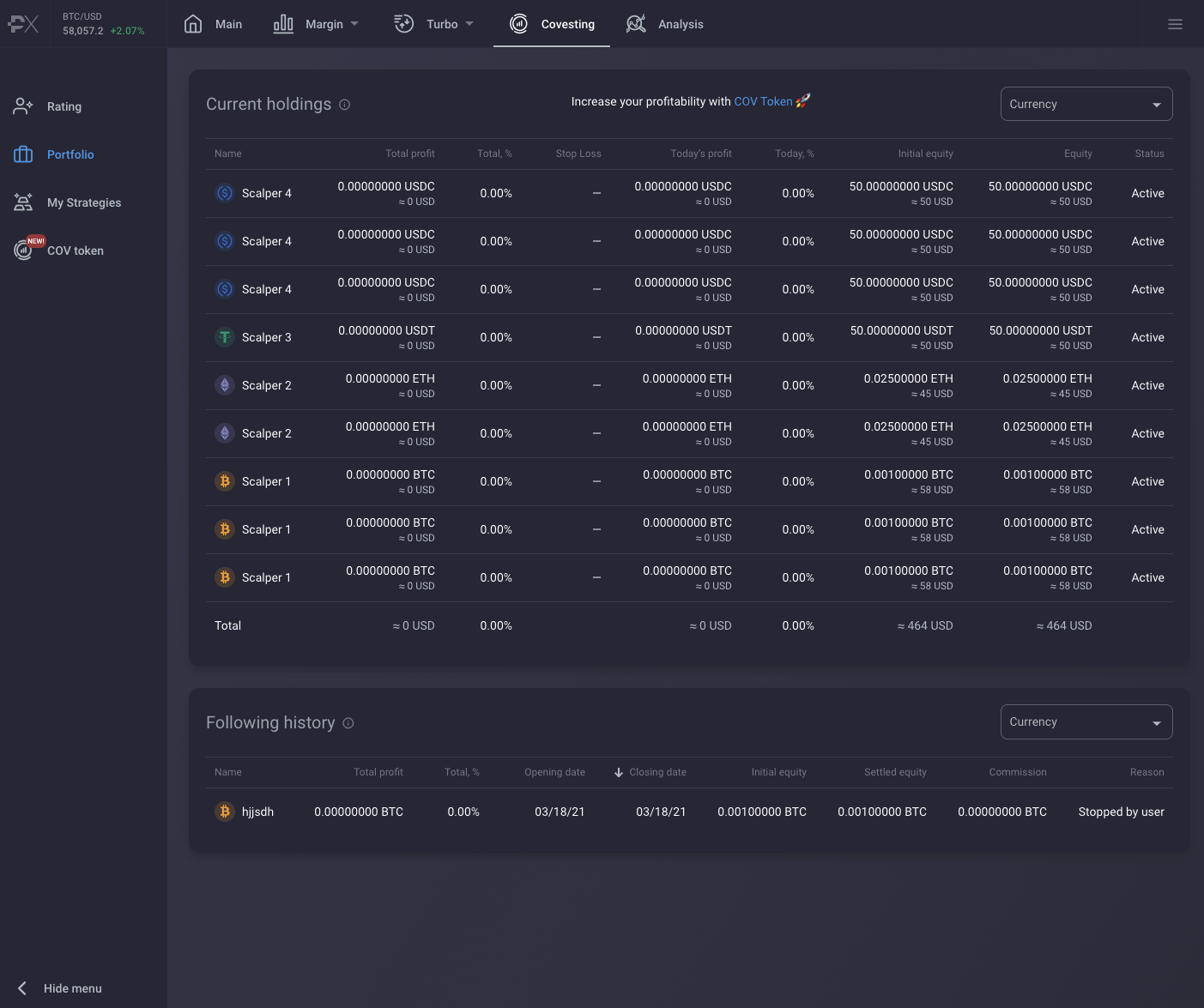 Other Platform Improvements
Even the Referral section for PrimeXBT partners has adapted to the new multi-currency account setup, allowing all referring partners to earn referral revenue in BTC and in ETH, USDT, and USDC, depending on which account currency each referred trader uses.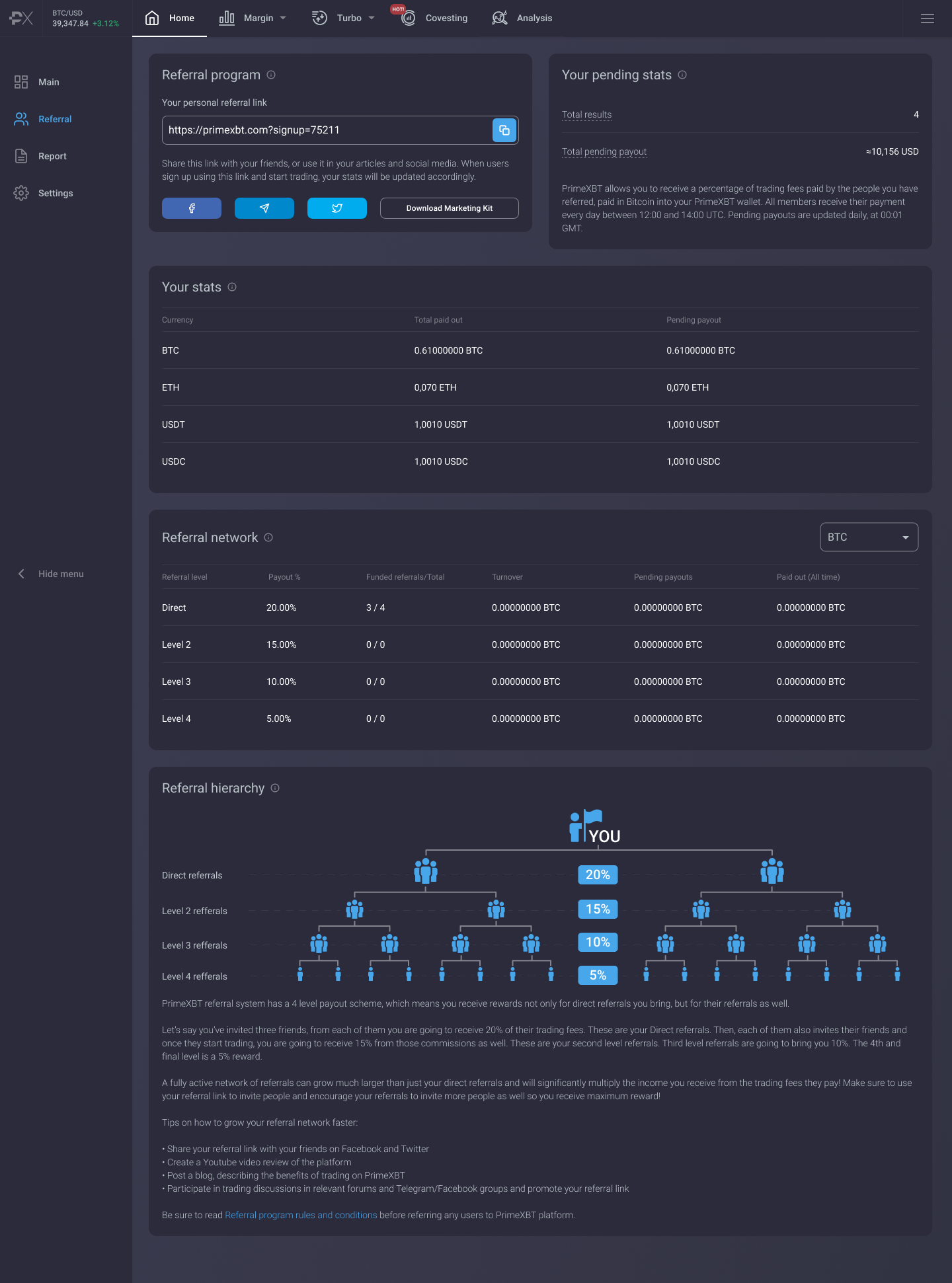 With even more variety in base currencies, PrimeXBT will become instantly more accessible, enabling greater reach and stronger revenue streams from more extensive referral networks.
A brand new Reports section will also be added, providing a detailed account statement with all trading transactions, transfer history, and other account operations. Users can also export and print the account statement of each individual currency account for tax or accounting purposes.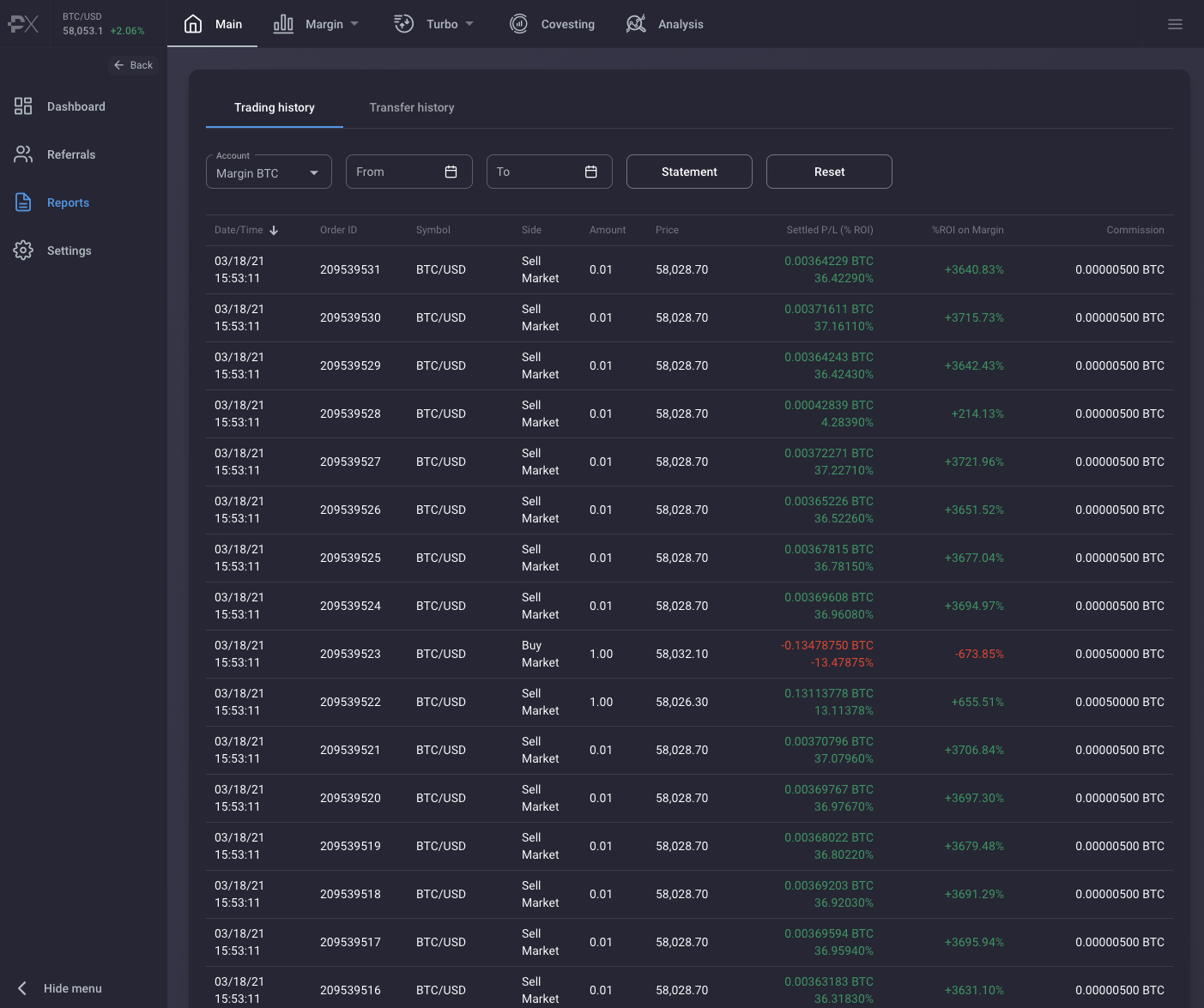 In addition, new underlying trading infrastructure improvements to the PrimeXBT platform backend will support ongoing user growth and ensure the continued uninterrupted and reliable service PrimeXBT is known for.
Building The Future Of Trading
We believe that introducing a multi-currency accounts architecture, will bring new clients to the platform at scale — especially those that prefer to remain market-neutral and rely on stablecoins for a base margin currency. In the future, we plan to further expand the account currencies available to PrimeXBT customers, and potentially include fiat currency in time.
Such an upgrade will also serve as the core for the upcoming new mobile application for iOS and Android, which is expected to be out later this year. In the meantime, we invite all users to visit the platform and check out the brand-new platform design as well as the new multi-currency account setup.
For feedback, comments, questions, or to report any bugs, please contact our customer support staff at [email protected] or through the 24/7 live chat.
Risk Disclaimer
Investing in or trading gold or other metals can be risky and lead to a complete loss of capital. This guide should not be considered investment advice, and investing in gold CFDs is done at your own risk.
The information provided does not constitute, in any way, a solicitation or inducement to buy or sell cryptocurrencies, derivatives, foreign exchange products, CFDs, securities, and similar products. Comments and analysis reflect the views of different external and internal analysts at any given time and are subject to change at any time. Moreover, they can not constitute a commitment or guarantee on the part of PrimeXBT. The recipient acknowledges and agrees that by their very nature any investment in a financial instrument is of a random nature and therefore any such investment constitutes a risky investment for which the recipient is solely responsible. It is specified that the past performance of a financial product does not prejudge in any way their future performance. The foreign exchange market and derivatives such as CFDs (Contracts for Difference), Non-Deliverable Bitcoin Settled Products and Short-Term Bitcoin Settled Contracts involve a high degree of risk. They require a good level of financial knowledge and experience. PrimeXBT recommends the consultation of a financial professional who would have a perfect knowledge of the financial and patrimonial situation of the recipient of this message and would be able to verify that the financial products mentioned are adapted to the said situation and the financial objectives pursued.