Introduction to Stellar Lumens (XLM): Cross-Border Payments For The Unbanked
Stellar Lumens is an altcoin cryptocurrency trading under the symbol XLM. The altcoin became highly popular following the 2017 crypto hype bubble, causing it to enter the top ten cryptocurrencies by market cap and become one of the most trusted crypto assets across the market.
XLM has since lost its place within the top ten, due to having poor performance over the last two years of the cryptocurrency bear market. In recent weeks, however, Stellar Lumens has started to show strong performance once again, giving hope to investors that it will reach one of the many Stellar Lumens price predictions that experts have made over the years.
This guide aims to provide everything from in-depth technical analysis to fundamental analysis to get an idea of Stellar lumens projected growth, as well as offer price predictions from finance industry experts. By the end of the guide, you'll have a clearer outlook on how high can Stellar Lumens go, and if the altcoin called Stellar Lumens is a good investment or not.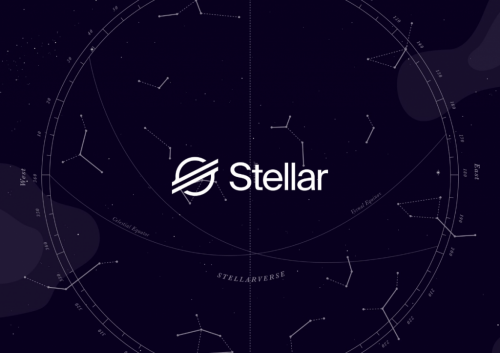 What is Stellar Lumens (XLM) Coin?
Stellar Lumens was first launched in 2014 by Jed McCaleb, a pioneer in the cryptocurrency space, who is also responsible for founding Mt. Gox and was a co-founder of another altcoin, Ripple. His early work in the industry is part of what made the space what it is today.
McCaleb partnered with lawyer Joyce Kim to launch the project. Later they formed The Stellar Foundation in close collaboration with Stripe CEO Patrick Collinson, a not-for-profit organization that supports the development and adoption of the Stellar Lumens payment network.
Collinson and Stripe supported Stellar with over $3 million in seed funding. Stellar Foundation has since received funding from many other partners.
Now, today, Stellar functions as a disruptive solution for cross-border payment, and an option for the unbanked to have access to a store of wealth and means of transfer, all with extremely minimal fees.
Lumens, or XLM, act as the native cryptocurrency asset that powers the Stellar blockchain network.
Stellar is an open-source network for any type of currencies or payments, even dollars or Bitcoin. Stellar acts as a bridge across multiple currencies so they can all function across the same financial network.
Stellar is decentralized and isn't controlled by any third-party, despite the involvement of the Stellar Foundation. has no owner; if anything it's owned by the public. Like Bitcoin and Ethereum, Stellar relies on blockchain to power the network, but the result is a much faster, cheaper solution.
Many confuse XLM to be an XRP fork, and while the assets share many similarities and aim to disrupt similar industries, McCaleb says the codes are different, and the Stellar Foundation's goals are wildly different than that of Ripple's.
Unlike Bitcoin, Stellar lumens aren't mined or awarded by the protocol over time. Instead, 100 billion XLM coins were minted when the Stellar network went live. The Stellar supply was set to grow 1% per year but later this inflation mechanism was removed due to community vote.
Later, the Stellar lumens supply was reduced by half, so roughly 50 billion XLM remain, with no new XLM to ever be created henceforth. The lower supply sent the price surging.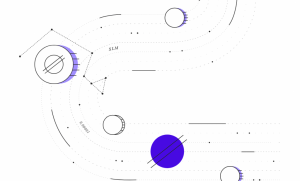 That inflation mechanism was ended by community vote in October 2019. And in November 2019, the overall lumen supply was reduced. Now there are about 50 billion lumens, total, in existence, and no more lumens will ever be created due to the now fixed supply.
Of these 50 billion, 20 billion are bought, traded, and used across the open market, while the Stellar Foundation holds the remainder to use toward promoting Stellar adoption. The Stellar Foundation provides clear and transparent accounting of these funds that anyone interested in seeing can review.
The transparency, support from early crypto pioneers, and a focus on the unbanked make XLM or Stellar lumens a favorite amongst the cryptocurrency community. It gained popularity early on and is still amongst the more popular assets today.
Stellar lumens has partnered with the likes of IBM on their hyperledger project, giving the project much needed credence and validity in the crypto space.
ICOs can be conducted on the Stellar blockchain, and the Kin cryptocurrency token was among the first to do so, however, the popularity of Ethereum for this task makes Stellar lumens less used for this purpose.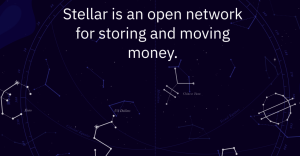 Stellar Lumens Price History And Long Term Price Potential
Like all cryptocurrencies, their value is driven primarily by speculation in their current state.
Although the Stellar lumens trend has been going down, with seemingly no end in sight to investors asking themselves, "why is Stellar Lumens dropping," things appear to be ready to turn around for the altcoin.
Because it offers such disruptive cross border payment technology, the price today will not be the price tomorrow, and all of the positive Stellar lumens news is expected to further drive long term growth in the asset.
The current market price per XLM coin is roughly $0.42. At this price, the Stellar lumens market cap is roughly $9,844,545,288 USD, based on a total supply of 50 billion XLM coins.
The lowest ever price recorded for XLM was $0.002 and 100 sats. In January 2018, however, it reached an all-time high XLM coin price of $0.93. This was also the peak on the BTC trading pair, reaching 6300 satoshis.
XLM was one of the worst-performing altcoins from the top ten by market cap during the recent bear market and crypto winter, resulting in an over 90% fall from all-time high prices set back in 2018.
After the high was set in early 2018, Stellar fell into a bear market and lost much of its value. By the end of the year, it had fallen by over 91% to just $0.09.
2019 wasn't much better for the altcoin, which earned the reputation for being one of the worst performers. It's often these assets that are extremely oversold that perform the best during the next bull market.
The high for 2019 was just $0.16, while the low for the year reached as low as $0.04 per XLM and 470 satoshi. Things started to pick up in early 2020, but the Black Thursday market collapse took XLM to its current record low at $0.03.
Today in 2021, Stellar Lumens is bullish and back at 42 cents per XLM.
However, due to the bright XLM future, Stellar lumens is rising again along with the rest of the crypto market, Bitcoin and Ethereum included. It has yet to revisit its former all-time high like those coins, but should soon in time.
From the bear market bottom of just $0.03 per XLM token, the latest rally has caused crypto investors to again ask why is Stellar Lumens going up, and how high will Stellar Lumens go this time?
Although it is impossible to say exactly how much or how high can Stellar lumens go, or when will Stellar lumens reach such prices, growth projections consist of well over $1 per XLM token, making Stellar lumens value ideal at current prices.
Stellar Lumens Price Predictions by Crypto Experts
A variety of crypto industry experts are offering their insight into Stellar Lumens price predictions and attempting to answer the questions "should I invest in Stellar lumens," and "how high can Stellar lumens go?" Here is our list of XLM price predictions from those whose opinions matter the most.
Crypto Rating
Crypto Rating, an esteemed authority and providing realistic price predictions on various cryptocurrency assets, has given XLM a price forecast of just $0.46 in 2021, and in the next five years expects Stellar to reach a price target of $0.69. Given past performance, these estimates are modest.
The Economy Forecast Agency
The Economy Forecast Agency uses a long-term forecasting valuation model to predict prices of various assets, including cryptocurrencies, projects Stellar lumens growth to reach just $0.64, matching the sentiment of many of the other experts and analysts listed.
CoinSwitch
CoinSwitch, another price prediction authority, points to an estimate of $1 per XLM token, with price action being driven by partnerships with IBM and various governments.
CryptoGround
Cryptoground.com expects the altcoin cryptocurrency to reach a price of $0.74, which is the strongest out of all price predictions for XLM by industry experts.
However, the Stellar lumens potential is a lot stronger than these modest predictions are considering. Not only has Stellar lumens solidified relationships with the Australian government and IBM, but they are also partnering with the likes of BitBond, Franklin Templeton Instruments, Wirex, Nodle, SatoshiPay, and more.
It is among the crypto projects with the most validity and support which is why it was in the top ten assets by market cap for such a long time.

Stellar Lumens Technical Analysis and Long Term Price Prediction
Technical analysis is used to help make rhyme or reason of an asset's long-term projected value and expected growth, not at statistics and data, but by reviewing chart patterns, trend lines, and other signals.
XLM is a relatively new, speculative asset that only has been around since 2016. Due to this, the asset is still in price discovery mode and can make volatile price swings, setting new lows and highs every few years. Thus, we've broken down each Stellar price forecast into separate years consisting 2021, 2022 to 2023, and 2024 to 2025.
Many new all-time highs and lows are expected in between. Here are realistic Stellar lumens price predictions based on technical analysis.
Stellar Lumens Price Prediction 2021
Stellar lumens just flipped long term resistance into support, and is most likely to rise higher. However, the bearish engulfing candle also could suggest that a reversal happens in the short term.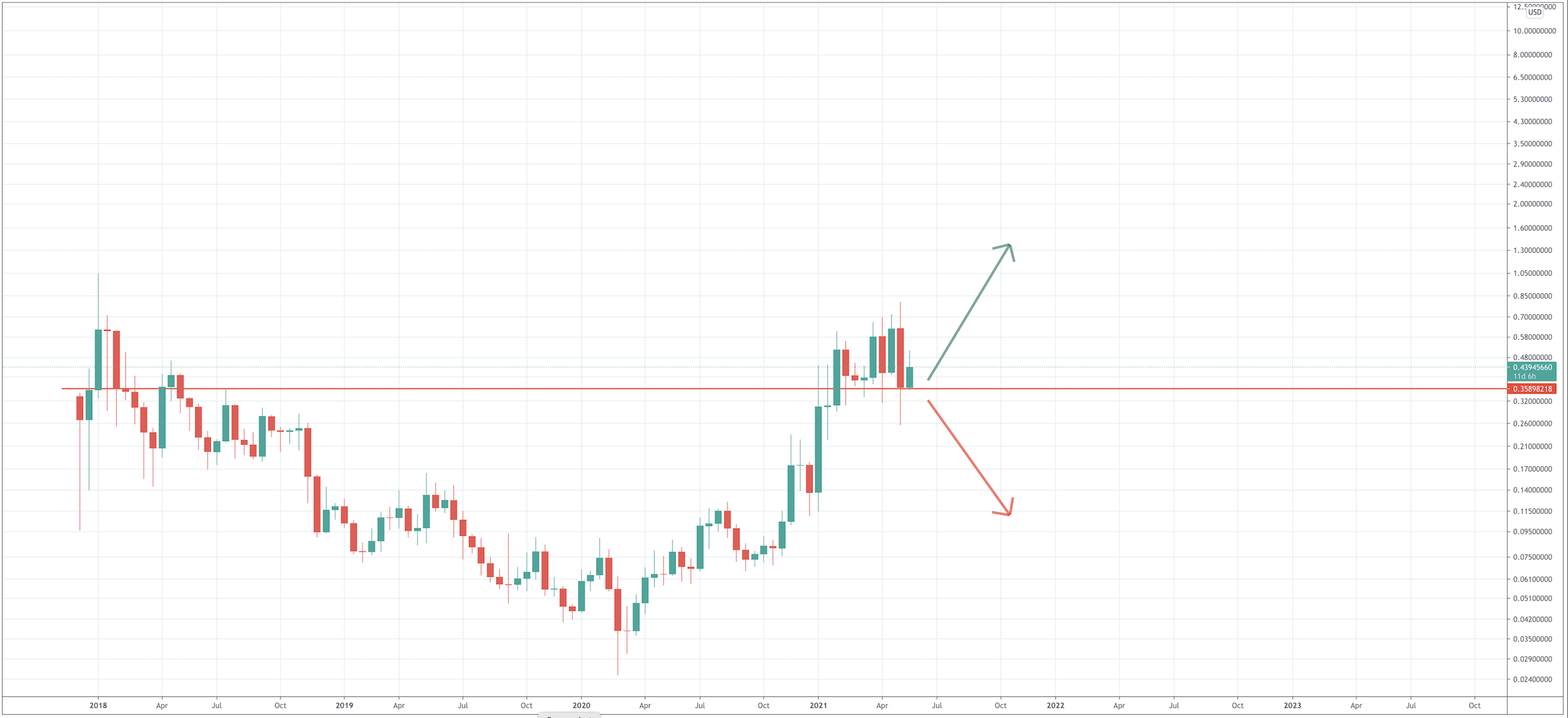 Stellar Lumens Price Prediction 2022 – 2023
If support holds, another wave up would come next. With Steller lumens bearish for so long, once it goes full bull and in price discovery mode, it is anticipated to reach as high as $13 per XLM.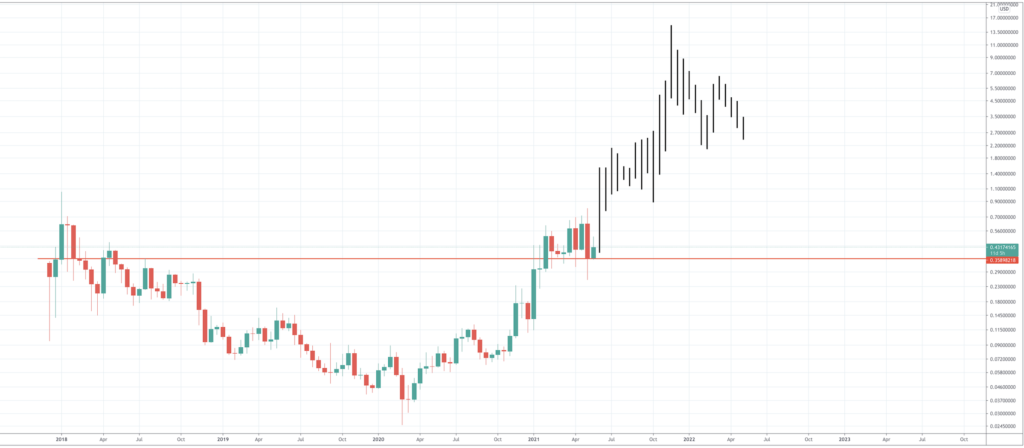 Stellar Lumens Price Prediction 2024 – 2025
Once the fractal target is reached, Stellar could fall into another bear market phase as the rest of the crypto cycle comes to an end.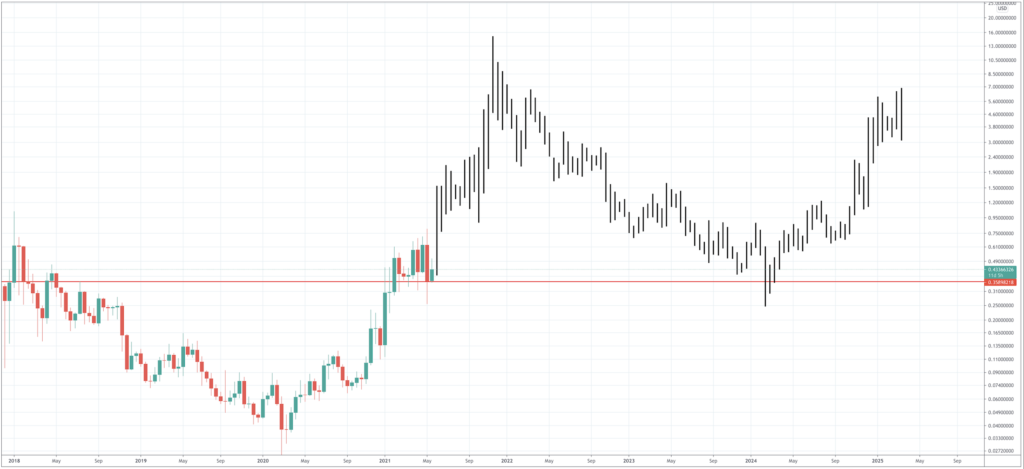 Conclusion
After reading this guide, and performing your own research, you should know for sure the answer to the question "should I buy Stellar lumens and "is Stellar lumens a good investment."
The above Stellar coin forecast reveals powerful information about the long term Stellar lumens growth and potential. Prices range from as low as $0.25 to as high as $13 per XLM coin, proving the asset has long term value.
For more clear cut and easily digestible price prediction information, see the below Stellar lumens long term price prediction table.
| | | |
| --- | --- | --- |
| Year | Potential High | Potential Low |
| 2021 | $0.75 | $0.25 |
| 2022 – 2023 | $13 | $1.19 |
| 2023 – 2025 | $6 | $0.50 |
Stellar lumens is just one of many cryptocurrencies across the market. PrimeXBT offers the trading of cryptocurrencies like XLM at up to 100x leverage.
Leverage lets traders gear their trades by multiplying their capital by a factor of up to 100 times. This also multiplies the profits on the wild price swings these assets experience.
A short trade at 100x leverage on XLMUSD just as it reached an all-time high price of nearly $1, would have resulted in a 9,000% profit if closed around the time it reached its bottom.
PrimeXBT provides all the tools necessary to long or short the market, whichever way trends are turning. The platform also offers forex, stock indices, oil, gas, gold, silver, and more alongside cryptocurrencies, at up to 1000x leverage.
The wide range of trading instruments allows the creation of a well diversified, risk averse, and high performing trading portfolio.
Register for a free account today. Sign-up is fast, simple, and takes less than one minute. No KYC or personal information is required, and helpful tutorials are available for those new to trading.
The information provided does not constitute, in any way, a solicitation or inducement to buy or sell cryptocurrencies, derivatives, foreign exchange products, CFDs, securities and similar products. Comments and analysis reflect the views of different external and internal analysts at any given time and are subject to change at any time. Moreover, they can not constitute a commitment or guarantee on the part of PrimeXBT. The recipient acknowledges and agrees that by their very nature any investment in a financial instrument is of a random nature and therefore any such investment constitutes a risky investment for which the recipient is solely responsible. It is specified that the past performance of a financial product does not prejudge in any way their future performance. The foreign exchange market and derivatives such as CFDs (Contracts for Difference), Non-Deliverable Bitcoin Settled Products and Short-Term Bitcoin Settled Contracts involve a high degree of risk. They require a good level of financial knowledge and experience. PrimeXBT recommends the consultation of a financial professional who would have a perfect knowledge of the financial and patrimonial situation of the recipient of this message and would be able to verify that the financial products mentioned are adapted to the said situation and the financial objectives pursued.