Bitcoin represents a decentralized financial innovation with the potential to supplant traditional fiat currencies worldwide. Due to its immense promise, some projections estimate Bitcoin's value could soar to $1 million. World's largest cryptocurrency, Bitcoin instigated the emergence of a vast industry, giving rise to countless alternative coins inspired by its design. In fact, the crypto market has exploded due to Bitcoin's popularity. As it is the largest market cap in crypto, it is almost always leading the way higher or lower for the cryptocurrency industry.
Not only is Bitcoin the first of its kind, but it has been designed to disrupt and replace paper-based fiat currencies to become the global digital currency used by the entire population, regardless of what country or region they live in.
Because Bitcoin is so powerful and has so much potential, Bitcoin's projected value and estimated growth could be astronomical. Speculation from crypto analysts and industry experts suggests that Bitcoin's long term value could reach over $100,000 to as much as one million dollars per BTC in the future.
But when will Bitcoin reach such prices? After all, we have already seen a Bitcoin bubble pop twice. Unfortunately, crypto investors have had to learn to deal with this volatility. Even Bitcoin prices have been very volatile. This BTC price prediction guide will help investors answer questions like "how high will Bitcoin go" and "what could Bitcoin be worth in 10 years."
Bitcoin Overview
Today (6 June 2023) Bitcoin (BTC/USD) is trading at $26641.1 per BTC, with a market cap of $512461288159 USD. The 24-hour trading volume amounts to $19273762843 USD. BTC to USD price has changed by 3.5% in the last 24 hours. Bitcoin's circulating supply is 19394643 BTC.
What is Bitcoin and Why is Bitcoin Going Up?
Bitcoin was created by the mysterious Satoshi Nakamoto to be the first peer-to-peer electronic cash system. Because Bitcoin is peer-to-peer, it is considered decentralized and doesn't require a controlling third party – such as a bank or government – to confirm or monitor transactions.It does this using blockchain technology, one of the hottest areas of development over the last few years.
Instead, Bitcoin transactions are confirmed by miners who are rewarded with BTC for each block that is verified and added to the blockchain. This reward is what incentivizes miners to continue to confirm transactions and keep the Bitcoin network growing.
Every four years, Bitcoin's block reward is reduced in half, resulting in miners receiving less and less BTC as time goes on. This is referred to by the crypto industry as halving.
Bitcoin's supply is hard-capped at 21 million BTC and combined with each block halving, gives Bitcoin a deflationary aspect and provides the asset with a scarcity similar to gold. In fact, Bitcoin has been commonly referred to as digital gold.
These unique properties are said to make Bitcoin not only a borderless transactional currency, but also a store of value, and even a safe haven asset during times of economic crisis.
Bitcoin was designed by Satoshi Nakamoto in the wake of the 2008 economic crisis, as a way to put power and control back into the hands of users and out of the reach from banks and governments that have long controlled the flow of money.
Together, all of these aspects make Bitcoin an incredible financial technology with the potential to change the world. And as a result, Bitcoin projected growth is expected to be substantial and reflect its true value as a global currency.
The History of Bitcoin Price Action
Bitcoin started off its life virtually worthless, with a value of far less than a penny when the Bitcoin Core client code was released into the wild. Years later, Bitcoin's price was trading at over $1,000 and started to be considered as a serious financial asset with long term potential.
In 2017, Bitcoin potential took the world by storm, as many became rich beyond their wildest dreams once Bitcoin reached its former all-time high of $20,000 per BTC coin. Mainstream media ran BTC news story after story, causing retail investors to rush into buying the asset.
But once 2018 hit, a major Bitcoin trend change occurred, and the price started going down. Due to how volatile Bitcoin is, market price retraced as much as 80% down to $3,000 where it eventually bottomed, leaving many wondering "will Bitcoin go up in value ever again?" The crypto market was a mess, but some believed in the future. The idea of a digital currency just made sense to them, as they understood that almost everything is going digital. Others knew Bitcoin would rise again, and opened long positions at the bear market bottom. This ultimately brought in institutional investors, helping to fuel another crypto bubble. Crypto investors suffered massive losses, only to see the cryptocurrency market skyrocket later. This is typical of the Bitcoin price cycles of "boom and bust."
At the start of 2019, Bitcoin growth returned once again, and a powerful rally took Bitcoin price back out of the bear market lows, and above $10,000 to $14,000 before falling back down to $6,500.
In 2020, the Black Thursday crash took Bitcoin to under $4,000. But the stimulus efforts put forward by the US and other nations to combat the pandemic, inflated the money supply significantly putting Bitcoin in the financial spotlight.
The cryptocurrency went into another uptrend in 2021 and set a new all-time high at $65,000. Bitcoin has since crashed by more than 50% back to the low $30,000 range. Since then, we have seen BTC reach below the $20,000 before bouncing back toward the $25,000 area. To think that the largest coin by market cap can move like this is what attracts so many speculators. It seems as if the Bitcoin price today is acting as if $25,000 is a magnet. Ultimately, Bitcoin is moving back and forth with risk appetite. The Bitcoin price forecast that you follow should take this into account. Crypto investors have been burned in the past trading on "to the moon predictions." The cryptocurrency market is a wild one, so due diligence is necessary.
That being said, even with the collapse of the Silicon Valley Bank in the US, a major lender to crypto exchanges and crypto enthusiasts, Bitcoin has held firm. It should be noted that the crypto enthusiasts that bank at SVB are more of the venture capital kind, meaning that it could have been a disaster for the industry as a whole. Remember, investment advice is something that you should do your own research on as well, as we have seen with that collapse, as well as the FTX debacle.
Technical Analysis-Based Bitcoin Forecast
Bitcoin has seen a lot of noisy trading over the last few years. At one point, the price of BTC reached as high as $67,000, but has since sold off. The "crypto winter" that kicked off late 2021, and into 2022 was brutal. As a result, it has fallen drastically to reach below $20,000 at one point.
Since then, there has been a lot of back and forth trading, as the market tries to pick itself back up. Bitcoin is no stranger to these massive turnarounds, and most longer-term investors believe that this latest breakdown is just more of the same. Whether or not you decide to buy Bitcoin comes down to how much you can deal with when it comes to volatility.
When it comes to the technical analysis, a lot of traders will be looking to the charts for a longer-term outlook of reaching $60,000. It looks as if we have recently tried to bottom a bit, and we are starting to see signs of strength over the last couple of monthly candlesticks. That being said, it does not necessarily mean that the market is ready to take off anytime soon, so a lot of patience will be needed. You can see that the market has been on a bull run as of that, but it still has issues above.
A lot of the headwinds have been due to rising interest rates, as they takes risk out of the system. However, several technical indicators such as the Relative Strength Index are showing that we may be able to gain traction. However, another technical indicator that people will be watching is the 21 EMA, just above. However, if price continues and breaks above the EMA, you would then have at least two bullish signals.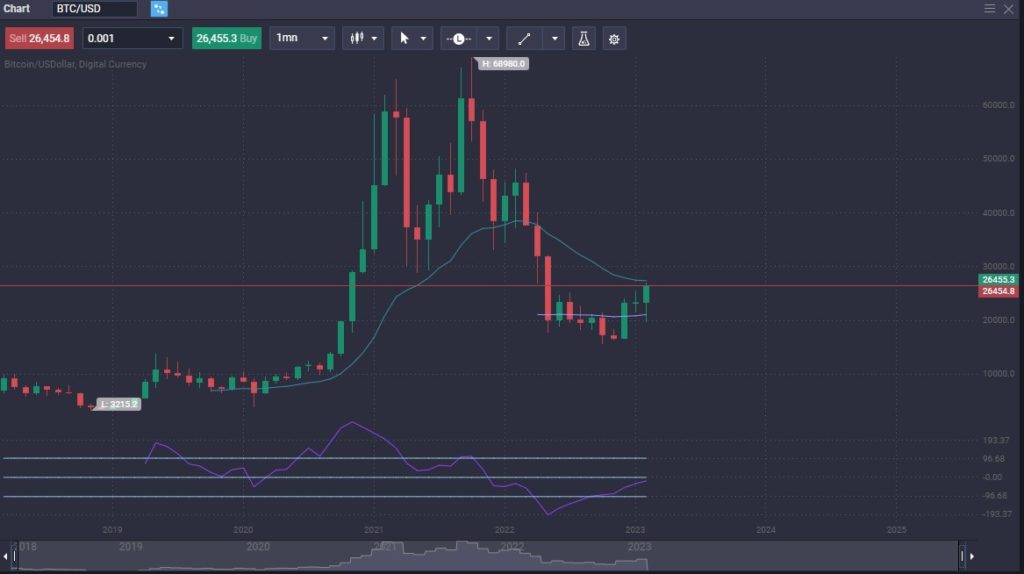 Bitcoin Price Prediction for 2023
Below we look at some market experts and their opinion as to where the price of BTC can go. However, keep in mind that market conditions can change quite rapidly.
The analysts at Cryptonewsz.com are relatively all over the place when it comes to a Bitcoin price prediction for 2023, but in general seem to believe that by the end of the year the market could very well rally. They believe that Bitcoin will dip as low as $18,000, but should see Bitcoin rise to as high as $34,000 by the end of the year. The average price should be somewhere around $25,000. Bitcoin prices continue to move in huge lunges, in other words, they are expecting even more volatility in their BTC price prediction.
The analysts had Bitcoin Wisdom believe that the Bitcoin market will continue to appreciate, although it should be noted that the market continues to be very noisy. They believe that Bitcoin will reach at least $31,000 by the end of the year, with a maximum price just shy of $40,000. This is a BTC price prediction that seems to be in the middle of the pack. The average price is roughly $35,000.
The analysts at Coin Price Forecast believe that Bitcoin will take off later in the year, perhaps reaching as high as $50,000. That being said, it will almost certainly need some type of help from the Federal Reserve, perhaps a loosening of monetary policy which the analyst based their opinion on. That being said, they are one of the most bullish analysts that we found in the short term. The BTC pierce prediction here should be thought of as a 'best case scenario." The average price of BTC here is by far the biggest outlier in our research.
Bitcoin Price Prediction 2024 – 2025
Cryptonewsz.com believes that the Bitcoin markets could continues to see a lot of bullish momentum. The market is expected to see a low price of $30,225, with a potential move to the $51,438 level in 2024. In 2025, the low is expected to be $39,512, with a high of $62,723. The average price in 2024 is roughly $40,000. The average price in 2025 is expected to be near $49,000.
BitcoinWisdom a Bitcoin price prediction that we will continue to rise during both 2024 and 2025, with a minimum price of $53,152.86 for 2024, and then a high price of $66,441. During 2025, they believe that the minimum price for Bitcoin is going to be just over $79,000, while Bitcoin could reach as high as $93,000 that year. The average trading price should be near $80,000.
Coin Price Forecast is very bullish for both 2024 and 2025, as they believe that although there may be more of a plateau in 2024, by the time we get to the end of 2025, they expect that Bitcoin could hit the $54,824 level. The minimum that they have as an estimate for the 2025 level is $50,975 level. The average price is expected to be near $52,000 for 2025.
Long Term Bitcoin Price Prediction for 2030 and beyond
Keep in mind that any Bitcoin price forecast should be taken with a little bit of flexibility, as it is going to be very difficult to foresee a lot of the potential ups and downs that may have an influence on that asset. This is even more so when it comes to cryptocurrency, although it is probably straightforward to suggest that perhaps Bitcoin may have an easier way forward than many other crypto coins. Simply put, Bitcoin's price should continue to lead the way when it comes to crypto.
It almost certainly comes down to adoption more than anything else, as we are still waiting to see Bitcoin used on a larger basis. That being said, there is still quite a bit of interest in Bitcoin, and therefore one would have to assume that buyers will continue to be interested. Because of this, there are a lot of people out there looking for a Bitcoin price prediction, and most believe it to be higher in the future.
Looking out to 2030 is going to be difficult, but it seems that most traders and pundits believe that we are looking at a range between $72,000 and $225,000. This would be a continuation of the action that we have seen every other time a "crypto winter" has taken place. However, it's probably worth noting that they moved to $225,000 is an extreme prediction, with reality probably being much lower. Any BTC price forecast should be looked at through the likelihood of it coming true.
It's also worth noting that as a general rule, once we get past 2025, it seems as if the growth of Bitcoin and the price appreciation is relatively steady. The next couple of years may be difficult, but most experts believe that it is only a matter of time before the smoke clears, and Bitcoin comes out on top again. No matter what your Bitcoin price prediction is, the reality is that overall, people believe it to have value that will increase over time.
Can halving events continue to drive BTC prices higher?
Bitcoin has a limited supply of 21 million tokens, with nearly 19.3 million already in circulation as of March 2, 2023. To slow down the release of new tokens, the cryptocurrency undergoes halving events roughly every four years, reducing the supply and increasing its value.
Historically, BTC has experienced a bull market for 12 to 15 months following each halving event. The past three halvings in 2012, 2016, and 2020 resulted in price surges of 9,915%, 2,949%, and 665%, respectively.
Each halving event appears to have a diminishing effect on BTC's price surge. While halvings still generate excitement in the crypto community, their impact on price may be waning.
The next Bitcoin halving events are set for 2028 and 2032, and their impact on the cryptocurrency's price prediction for 2030 remains to be seen. As with any investment, conducting your own research and investing only what you can afford to lose is essential. That being said, a lot of experts believe that the next Bitcoin halving event should act like the previous ones.
What Is The Future Of BTC? Is Bitcoin a good investment?
Taking into account the numerous price projections and expert forecasts suggesting that Bitcoin could one day supplant all global currencies, it's understandable why many people are optimistic about Bitcoin, and why its value predictions span from several thousand dollars to over $1 million per BTC. This groundbreaking technology has ignited an entire sector focused on revolutionizing traditional finance, with cryptocurrencies already making strides towards widespread adoption and routine usage by the general public.
Nowadays, Bitcoin is widely accepted and can even be purchased at grocery stores via Coinstar machines. It's available through platforms like PayPal and Venmo, and major players like VISA have also begun supporting it. Institutions and corporations are increasingly investing in BTC.
Regardless of the price predictions mentioned in this article, it's never too late to invest in or trade Bitcoin, as its volatility continues to present opportunities.
The below prediction chart outlines some of the minimum and maximum BTC price forecast offered by technical analysts and industry experts in an easy to digest format.
| | | |
| --- | --- | --- |
| Year | Low | High |
| 2023 | $18,188 | $50,000 |
| 2024 | $30,225 | $66,435 |
| 2025 | $39,510 | $93,800 |
| 2026 | $48,100 | $119,000 |
| 2027 | $51,400 | $146,450 |
| 2028 | $61,600 | $172,550 |
| 2029 | $72,600 | $199,600 |
| 2030 | $72,500 | $225,900 |
Give the lows and highs in recent years, as well as the lows and highs predicted by industry analysts and experts, it's easy to see how opening a short or long position using 100x leverage to trade Bitcoin's volatile price swings can be extremely profitable, and even more profitable than investing itself.
Traders can take advantage of such tools provided by trading platforms like PrimeXBT, and open positions with up to 100x leverage on the BTC/USD pair. BTC is also paired with other altcoins such as Ethereum, Litecoin, Ripple, and EOS. PrimeXBT also offers traditional assets such as the most popular forex currencies, commodities, stock indices, and spot contracts for gold and silver.
With Bitcoin about to take off on yet another bull run, the opportunity to profit has never been greater. And with Bitcoin price expected to reach $100,000 to as much as $1 million per BTC, it's never too late to get started trading Bitcoin.
Risk Disclaimer
Investing in or trading gold or other metals can be risky and lead to a complete loss of capital. This guide should not be considered investment advice, and investing in gold CFDs is done at your own risk.
The information provided does not constitute, in any way, a solicitation or inducement to buy or sell cryptocurrencies, derivatives, foreign exchange products, CFDs, securities, and similar products. Comments and analysis reflect the views of different external and internal analysts at any given time and are subject to change at any time. Moreover, they can not constitute a commitment or guarantee on the part of PrimeXBT. The recipient acknowledges and agrees that by their very nature any investment in a financial instrument is of a random nature and therefore any such investment constitutes a risky investment for which the recipient is solely responsible. It is specified that the past performance of a financial product does not prejudge in any way their future performance. The foreign exchange market and derivatives such as CFDs (Contracts for Difference), Non-Deliverable Bitcoin Settled Products and Short-Term Bitcoin Settled Contracts involve a high degree of risk. They require a good level of financial knowledge and experience. PrimeXBT recommends the consultation of a financial professional who would have a perfect knowledge of the financial and patrimonial situation of the recipient of this message and would be able to verify that the financial products mentioned are adapted to the said situation and the financial objectives pursued.