Anyone who has kept their eye on the Bitcoin price may have been asking themselves if it was stuck. The cryptocurrency has set a record for a historically uneventful month thus far as volatility also breaks a few records for its lack of action. The price of the coin has been stuck in the low $9,000s, barely managing to move up or down by more than a few hundred dollars.
This low action has been reflected in low trading interest as well proving that one of Bitcoin;s biggest selling points is its volatility, Open interest for BTC Options have seen a staggering drop — especially at CME, the institutional investment house that has been championing Bitcoin to investors.
Bitcoin may be trading flat, but there is still some action to be had in the altcoin space as the likes of both XRP and Ethereum are showing weekly gains of over five percent. That being said, Bitcoin is also up this week, but it is a mere 1.7 percent gain in the last seven days as the coin started rising a bit these last few days.
This first week of July has been especially kind to mid-capped altcoins as they have seen the biggest gains compared to small cap, large cap, and Bitcoin. This again ties into the low volatility from Bitcoin which was last at this level in April 2019, just before a steep climb took place.
Bitcoin finds itself in a strange place as looking at the technical analysis it is actually hard to tell if the current level is a resistance of a support. The $9,200 – $9,300 mark acted as a support in June, but the coin has struggled to stay above there the past two weeks.
Is Bitcoin Primed For Action?
These past few weeks that have seen historically low volatility and little to no price action from the usually very volatile Bitcoin have many people wondering when the next big move will come — and in which direction this move will go.
The ending weeks in June and the first week of July ended and started at the same place, but there has at last been a bit of a break away in the last day or two with the price of Bitcoin starting to show some life in an upward climb.
The upward swing looks to be correlated with the stock market as it rose and the NASDAQ made it to a new all time high. If this movement has broken the chains, so to speak, for Bitcoin, then there could be some action in the next few days.
Another factor to consider is that the altcoins have also had a good start to the week and started climbing at the same time — but at a much better rate.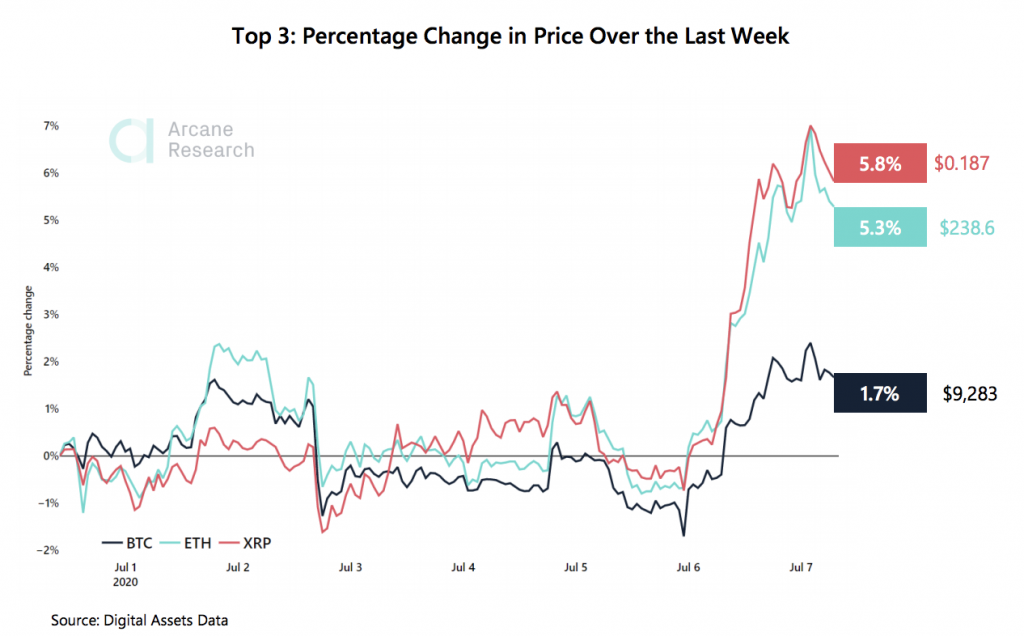 There are some altcoins that have had a really good start to the week, such as VeChain, Kyber Network (which is the one token taking advantage in a surge in DefI) and Cardano (which is booming off the back of a major summit at the moment.
VeChain is up as much as 75 percent over the week, and this also equates to 120 percent gain in the last month as well. That being said, some altcoins have been right down as Compound has fallen 17 percent.

This strong altcoin performance and the specific gains form some of the coins mentioned above are showing that the mid capped coins are on a good footing at the start of July. This comes off of June which was a good month for small cap coins.
Mid cap coins are up 13 percent with the only competitor coming from the large cap coins that have risen 4 percent since the start of the month. Altcoins keep pushing against Bitcoin, especially in this current flat market, and it is also showing in the Bitcoin dominance as that is down nearly a percent as well.
At the same time, the dominance of the other large cap coins is virtually unchanged. This shows that the growth of the Mid Caps is driven by investors reallocating from Bitcoin.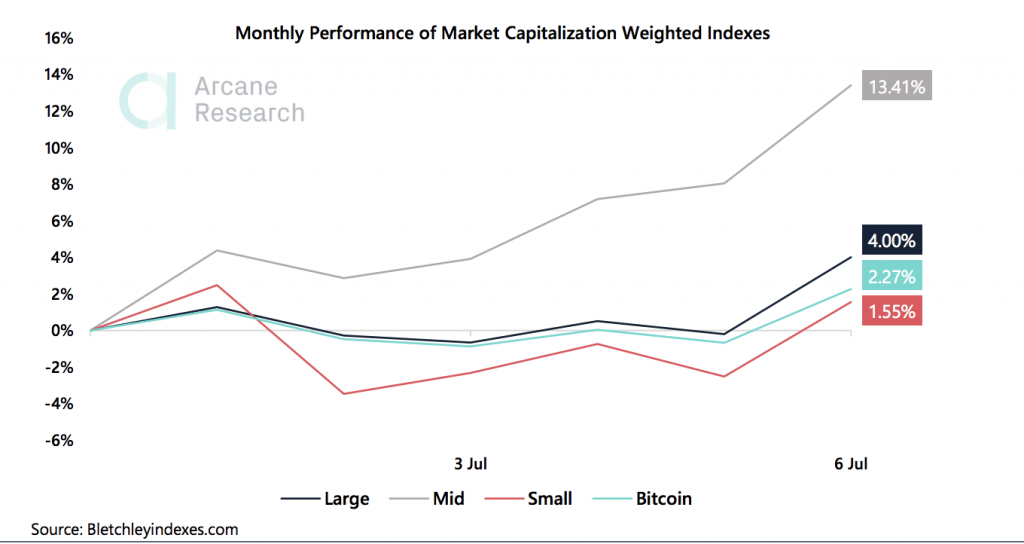 Volatility At 15 -Month Low
The low action in Bitcoin is down directly to the impressive performance of Bitcoin's lack of volatility. This volatility level is now at the same as was last seen in April 2019, but this level was also when the volatility was spiking up from the lowest it had been in the previous 18 months.
The volatility jumped back in April 2019 as the price of Bitcoin shot up $1,000 in a single day. This jump that sent Bitcoin from $4,000 to $5,000 kicked off a rally that saw Bitcoin grow 200 percent in three months.

So, while this low volatility is something to keep an eye on for it could lead to a big move soon, there has also been other factors worth looking at as this has been a historically uneventful month for Bitcoin.
June's price change percentage was just 3.6 percent — this was the lowest seen since February 2018 but that month was as low as 1.5 percent change. February 2018 at least did have the second widest monthly high-low spread recorded in the last 2.5 years. Whereas June 2020 printed the tightest high-low spread seen since October 2018, and the second tightest high-low spread recorded in the last 2.5 years.
However, all these uneventful events still have a feeling of something building and a big price action ready to come.
Even still, with the potential for a big move to come, the trading action this last month and a week have not been positive as the total Bitcoin open interest halved (falling from $1.8 billion to $894 million) after a large contract expiry of June 26th.
This drop in Bitcoin Options interest hit CME especially hard, which indicates it is the less patient and more rational traders of an institutional bias, that are leaving Bitcoin while its volatility holds back. CME's open interest dropped 67% from $439 million to $145 million on the day of the contract expiry.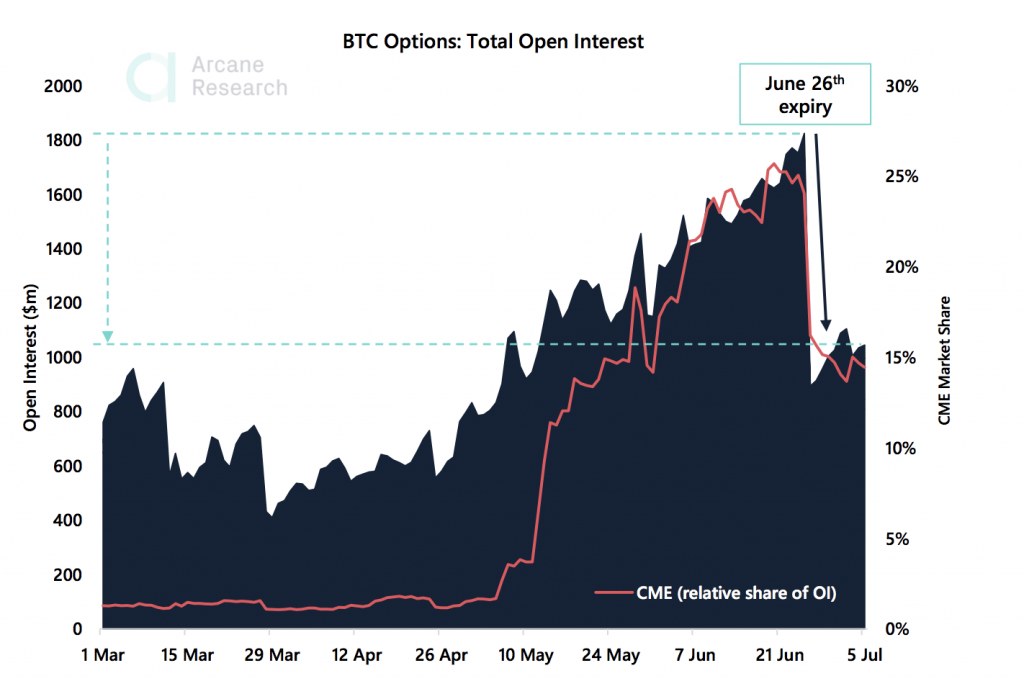 CME was also climbing the ranks in the derivatives trading market as its market share was on the up, butthe drop in open interest caused the relative shares of the total open interest to plummet from 25% of the market to below 15%.
Where Is Bitcoin Heading?
Looking at the Bitcoin chart and the technical analysis, it is hard to determine if this price level is a support station for Bitcoin, or a resistance point. The level of $9,200 to $9,300 saw Bitcoin supported above the top range in June, but in the last two weeks Bitcoin has been struggling to break the $9,300 mark.
However, the recent spike at the start of this week has seen Bitcoin break the level and this could be the start of a new upswing. But, it also means that of Bitcoin dallas below $9,000 there could be a bigger fall.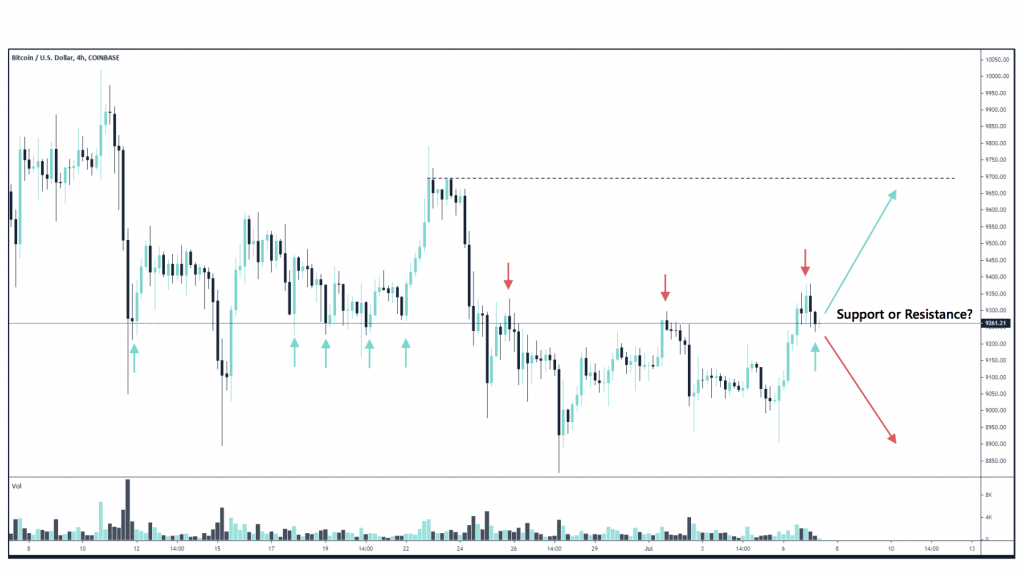 Ethereum Fees Stabilize
This week has also seen the fees for Ethereum ease up after rocketing towards the end of June. Ethereum miners were getting more fees for transactions than the Bitcoin miners and one day there was a huge spike. This happened for over a month.
ETH fees have increased from around $40k daily in the beginning of 2020 to around $500,000. This is most likely related to the growing use of USDT on Ethereum and the increasingly popular DeFi space.
But the fees look to be normalising and dropping back to a level closer to that of Bitcoin's.
In The News
B2C2 Looking at Prime Brokerage As They Make $30 Million Stake Sale to SBI
The growth in interest from Japanese Financial firm SBI in the crypto space took another boost as they poured a $30 million minority stake in the institutional crypto trading platform B2C2.
Moscow Blockchain Polling System Bugs Out to Reveal How People Voted
In a rather big blow for the power of blockchain in the voting realm, a blockchain-based system used in Moscow has seen a bug that can reportedly show where people voted.
Arcane Crypto To Go Public In $33 Million Reverse Takeover
Vertical Ventures have made a deal to see Norway-based crypto company Arcane be listed on NASDAQ First North.
Information provided in PrimeXBT's market report includes data provided by Arcane Research, in addition to other internal market research.
The information provided does not constitute, in any way, a solicitation or inducement to buy or sell cryptocurrencies, derivatives, foreign exchange products, CFDs, securities and similar products. Comments and analysis reflect the views of different external and internal analysts at any given time and are subject to change at any time. Moreover, they can not constitute a commitment or guarantee on the part of PrimeXBT. The recipient acknowledges and agrees that by their very nature any investment in a financial instrument is of a random nature and therefore any such investment constitutes a risky investment for which the recipient is solely responsible. It is specified that the past performance of a financial product does not prejudge in any way their future performance. The foreign exchange market and derivatives such as CFDs (Contracts for Difference), Non-Deliverable Bitcoin Settled Products and Short-Term Bitcoin Settled Contracts involve a high degree of risk. They require a good level of financial knowledge and experience. PrimeXBT recommends the consultation of a financial professional who would have a perfect knowledge of the financial and patrimonial situation of the recipient of this message and would be able to verify that the financial products mentioned are adapted to the said situation and the financial objectives pursued.