The cryptocurrency market started with the birth of Bitcoin, and in just over ten short years, the cryptocurrency market has expanded into thousands of coins, and stands alongside forex, stocks, commodities, and more as a respectable global financial market.
At the center of this universe is the cryptocurrency exchange, also called a crypto trading platform. These platforms are home to investors and traders, seeking to extract as much profit out of these exciting, emerging markets filled with digital assets.
But not all crypto trading platforms are created equally, with some far better and more reliable than others. Some offer unique assets, features, or tools that help to set them apart from the rest of the competition.
In the end, it all comes down to personal preference, however, there are several factors that should go into selecting the best crypto trading platform for you. This guide is aimed at teaching new traders how to find the right trading platform, and even provide some tips for experienced traders to take advantage of the hottest new tools in the industry and broaden their asset availability to build a diverse trading portfolio.
But first, what exactly is a cryptocurrency trading platform, and why would anyone want to use one? Read on to learn all the tricks of the cryptocurrency trade.
What Is A Cryptocurrency Trading Platform?
Simply put, a crypto trading platform is a website, platform, mobile app, or all of the above, that offers investors exposure to buying and selling assets, or opening long or short positions.
Spot exchanges offer basic buy and sell orders for crypto assets like Bitcoin. However, traders are limited to profiting from only when markets are rising. For more advanced and sophisticated traders who want to extract the most out of their trading strategies, there are also crypto derivatives platforms, such as PrimeXBT.
These crypto trading platforms offer more advanced trading tools than spot crypto exchanges, such as long and short positions. These tools can be used to profit regardless of where the market turns, and create hedge positions for the best possible risk management solutions.
Derivatives are offered a number of ways, including options, futures, or CFDs, also called contracts for difference. These contracts allow just about any trading instrument to be created, long and short positions, and leverage to be applied.
Choosing between a spot platform and a derivatives platform is just one of the many factors that go into choosing the best cryptocurrency trading platform. Here's everything else you need to know to make the best possible choice for you.
How To Choose The Best Cryptocurrency Trading Platform
With so much competition, and with Twitter accounts shilling "ref links" all over the place to make a quick buck, it is difficult to know exactly which crypto trading platform is right for you.
And because everyone's needs are different, in the end, only you can decide what is right for you. However, here are the most important factors to consider when reviewing which cryptocurrency trading platforms to consider, and why they are important deciding factors.
Assets and Instruments
First and foremost, anyone considering investing, trading, or putting any capital on the line at an exchange or trade platform should first review the list of assets and/or trading instruments. Assets represent the actual cryptocurrency, token, stock, currency, etc., while instruments are often derivatives contracts such as CFDs. Trading instruments are a bit more exotic as these contracts can have a variety of conditions attached to them.
In addition to ensuring any platform you are considering has the asset and trading instruments you are most interested in, it is also important to consider which assets are listed that you aren't currently interested in. A platform that offers a wide range of trading instruments across forex, commodities, stock indices, and cryptocurrencies are more valuable than those with crypto only. Even if the traders are only interested in crypto at the time, having additional markets available increases overall opportunity and chances for success. Look for a platform that offers a wide variety of assets under one roof and never underestimate the impact portfolio diversification can have on lowering risk and increasing profitability.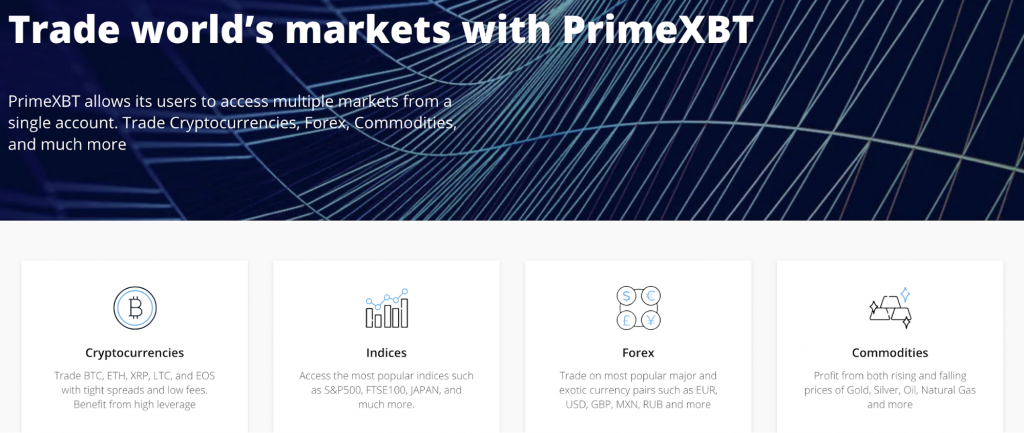 Functionality and Features
After figuring out assets and instruments matter the most to you and which platform has them, you can begin to compare crypto trading tools, basic functionality, and the various features a platform offers. For example, some platforms are spot exchanges that only offer simple buying and selling of assets. Those looking for more profits and want to avoid taking a loss during drawdowns or being forced to sit on the sidelines, can consider a derivatives trading platform.
Derivatives platforms offer advanced crypto trading tools, such as long and short positions, even simultaneously for hedge positions. Because cryptocurrencies are so volatile it is important to have access to such tools to maximize profits during drawdowns and uptrends. By never missing a move, traders can build their capital at a much faster rate. Adding in leverage provided by CFD trading platforms can further amplify returns, but also losses, so risk management becomes even more important.
Risk management tools like stop loss protection or take profit orders are necessary to keep losses to a minimum and profitability high. Platforms that include performance metrics, account statements, and technical analysis software should move to the front of the line. These added tools will come in handy in preparing strategies and learning from mistakes.
Safety and Security
Now that you know which platform has the assets, instruments, tools, and features you want to utilize to trade, next it is critical to ensuring any platform you are choosing has strict security features and is known for general safety.
Bank-grade security must be the backbone of any platform's infrastructure. Look for a platform that has zero past instances of a hack or instrusin of any kind. This is an immediate red flag that should not be ignored. Once a security hole is found, it is difficult to trust that others won't also appear when dealing with capital on the line.
In addition to a track record of safety, several added security features should be included. Two-factor authentication can prevent even an unwanted user that gained access to a username or password from ever taking any funds. Compulsory address whitelisting can also prevent any unauthorized access leading to an account being drained.

Fees and Discounts
Search for a crypto trading platform that is light on fees, or it can quickly eat into profits. Many platforms have competitive fees these days, so it may come down to which platforms or exchanges offer the greatest discount on fees for loyal or active users. Some platforms also offer fee-free promotions, or deposit bonuses occasionally to encourage new user registration and more trading activity.
User Experience and Interface
Any user experience should be simple to use for even novices, but offer enough depth for professionals. There should at least be some layer of customizations and whenever possible a variety of widgets. Performance data should be visible and easily accessible.
Deposits and withdrawals should be a clear and easy process. And whenever possible, find a platform that offers a help center with an extensive knowledge base and tips not only about using the platform, but crypto trading itself.
How a platform looks is in the eyes of the beholder, but it doesn't hurt to have a platform that has a clean and classy visual appeal and makes use of multiple monitors when necessary. Entering and closing trades, or making any adjustments should be clear and simple.
Reputation and Reliability
Seek out a platform that has a track record of success, either through industry awards or community recognition. Word of mouth is a powerful tool, so search online communities and social media for each platform you are considering to see what users are saying.
Be especially careful to consider what users say about the platform during peak market volatility. It is not uncommon to see traders boasting about their platform and their win rates, only to complain about losses when a platform freezes, goes down, or has an order submission error. Also be very certain any platform isn't an outright scam, or a phishing site before signing up. Try to access any platform directly by URL and not through search engines or through other website's links.
Community Presence
How active the platform is in the community itself also says a lot about a platform. Does this platform have active social media accounts? Are they actively engaging with those users, through things like promotions, giveaways, quizzes, and all the things that make social media attractive and fun? If yes, then you know you are in good company.
Only real platforms with a business plan and marketing strategy consider social media and regularly engage with users. Look for platforms that publicly come through on giveaways with real users, as that's a sign things are genuine.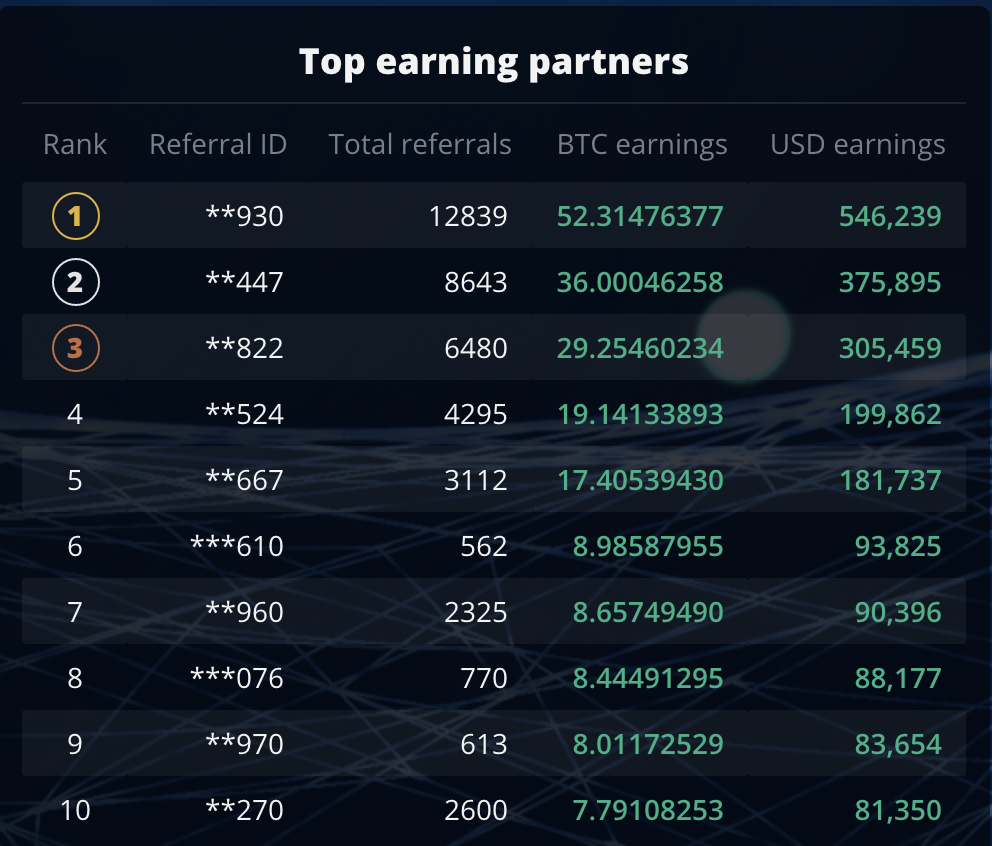 Referral Program
At this point, almost all the most crucial factors are covered. Now, it is time to move onto the bells and whistles of a platform, including things like referral programs and affiliate marketing programs.
Find a platform that offers several of these additional income streams. If you are an active enough member of the crypto trading community, an influencer, or webmaster, many platforms offer even more incentives to join their platform and referral program to start promoting referral links to other users. This can be very lucrative for the most active users who can grow a viral network of referrals.
Competitive Advantages
Beyond standard trading tools or even advanced tools, some platforms offer key competitive advantages that aren't offered on other platforms. This helps some platforms stand out from the competition and shows innovation in the industry. Often, only industry leaders offer such advantages, making choosing the best platform a little bit easier.
Take PrimeXBT, for example. PrimeXBT recently launched the Covesting copy trading platform, connecting skilled traders with new traders through a peer-to-peer profit for all involved trading experience. Successful traders can become strategy managers and build up their rating in a public, transparent system, and use their performance to attract followers.
Strategy managers earn a portion of the success fees on follower equity, while followers earn a cut of the profits by copying the strategy manager's trades.
PrimeXBT also offers something called Turbo, a high-stakes, high-risk way to get positioned in the market during sideways trading, or when you are in the mood to try something different.
Why PrimeXBT Is The Best Cryptocurrency Trading Platform
Now that you have read through all of the most important factors that should go into selecting a platform, take the time to compare all platforms carefully. After any amount of research, it is easy to uncover the best cryptocurrency trading platform that offers everything mentioned above and then some: PrimeXBT.
PrimeXBT is an award-winning Bitcoin margin trading platform, offering CFD trading on instruments like Bitcoin, gold, oil, the S&P 500, forex, and much more. Traders can build a diverse portfolio of long and short positions across any assets, manage risk with stop losses, or set levels to take profit after performing technical analysis with the built in charting tools.
The platform has a strong reputation for reliability and a track record of safety and strong security. The company actively engages its user base on social media, via email, live chat, and often responds to customer demand with new instrument listings based on request.
PrimeXBT is always evolving, recently launching the Covesting copy trading platform to all. Already, users were able to achieve over 1800% ROI. The platform also recently introduced a new way to convert fiat currencies to Bitcoin to fund user accounts to begin trading. Now, users can buy Bitcoin directly on the trade platform to get started even faster.
Minimum deposits are just 0.001 BTC, and registration is free and fast. All tools can be accessed via a robust desktop experience or via free mobile Android and Apple iPhone app from anywhere in the world.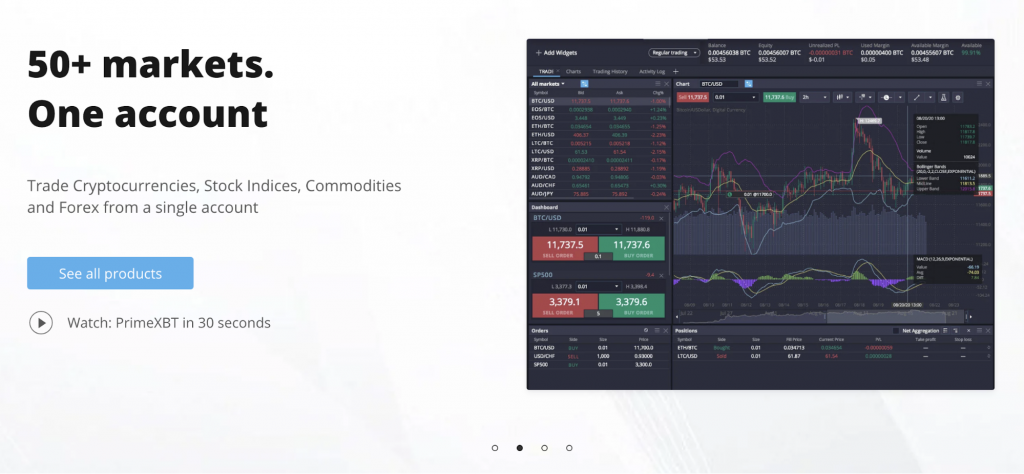 Conclusion: The Best Trading Platform Is PrimeXBT, Register Today
As you can clearly see, getting started on PrimeXBT is simple. From registration to buying your first Bitcoin and funding your trading account can take place in just a few minutes and clicks, and you can begin your new crypto trading career on an advanced, award-winning margin trading platform that offers all of today's hottest instruments all under one roof.
FAQ: Frequently Asked Questions
What Is a Crypto Trading Platform?
A cryptocurrency trading platform is an exchange where buyers and sellers or traders meet to exchange assets or derivatives contracts for a profit. Choosing the right platform is extremely important before depositing any capital anywhere.
Why Would You Want To Use A Crypto Trading Platform?
A crypto trading platform allows traders to use advanced tools to manage positions and get the most profit out of markets. Trading goes beyond normal investing using added tools like leverage or long and short positions to profit whichever way the market turns.
What Are The Most Important Factors That Go Into Choosing a Crypto Trading Platform?
Everyone should consider which assets or instruments, what the tools or features offered are, along with other important factors like safety, security, reputation, customer service, and much more.
How Much Money Do You Need To Sign Up For a Crypto Trading Platform?
Normally, solid, reputable platforms offer no cost for signing up, and very small minimum deposits. For example, PrimeXBT requires just a 0.001 BTC minimum to get started with a completely free trading account. Trading platforms earn money from their customers not at sign up, by taking a small commission or fee on each trade. The best platforms also offer discounts on fees to the most loyal users.
Risk Disclaimer
Investing in or trading gold or other metals can be risky and lead to a complete loss of capital. This guide should not be considered investment advice, and investing in gold CFDs is done at your own risk.
The information provided does not constitute, in any way, a solicitation or inducement to buy or sell cryptocurrencies, derivatives, foreign exchange products, CFDs, securities, and similar products. Comments and analysis reflect the views of different external and internal analysts at any given time and are subject to change at any time. Moreover, they can not constitute a commitment or guarantee on the part of PrimeXBT. The recipient acknowledges and agrees that by their very nature any investment in a financial instrument is of a random nature and therefore any such investment constitutes a risky investment for which the recipient is solely responsible. It is specified that the past performance of a financial product does not prejudge in any way their future performance. The foreign exchange market and derivatives such as CFDs (Contracts for Difference), Non-Deliverable Bitcoin Settled Products and Short-Term Bitcoin Settled Contracts involve a high degree of risk. They require a good level of financial knowledge and experience. PrimeXBT recommends the consultation of a financial professional who would have a perfect knowledge of the financial and patrimonial situation of the recipient of this message and would be able to verify that the financial products mentioned are adapted to the said situation and the financial objectives pursued.