Ethereum projected growth has slowed after a slew of problems in the crypto world, but crypto is starting to behave very much as tech stocks did in the 1990s, as the market is now in the process of flushing out some of the less valuable networks. Back then, some of the world's largest technology companies fell along with less valuable ones, only to stay viable and ultimately household names. The price today certainly will not reflect the price tomorrow. Finally, people will ask, "Should I invest in Ethereum?" Let's find out!
Now that Ethereum has gone through "The Merge," there is a new focus for the network. That being said, coming up with an Ethereum price prediction requires looking at many different moving pieces of data. ETH has seen just as much volatility as the other crypto during the past couple of years, so now the question becomes, "Will the price of Ethereum go up?
Ethereum Overview
Today (4 June 2023) Ethereum (ETH/USD) is trading at $1897.86 per ETH, with a market cap of $228460399160 USD. The 24-hour trading volume amounts to $3506146047 USD. ETH price has changed by 0.3% in the last 24 hours. Ethereum's circulating supply is 120236126 ETH.
Everything to Know About ETH in 2021-2022: ETH price around The Merge
As with any other asset, there are many things to understand when it comes to Ethereum. The Ethereum network continues to be being defined, as new use cases are in the hands of developers, quite often with different backgrounds.
Ethereum has been extraordinarily volatile around an event called "The Merge." This was when the original Ethereum Mainnet merged with the separate proof of stake blockchain called the Beacon Chain. On September 15, 2022, the combination of the actual evidence of work Mainnet and the Beacon Chain occurred.
Switching over to a proof-of-stake concept has eliminated the need for energy-intensive mining. Instead, it enables the network to be secured by staking ETH, the native coin. This will allow more scalability, security, and sustainability. Initially, the Beacon Chain was rolled out separately from Mainnet, but as various steps were completed, they originally merged into one entity.
Ethereum did get a bit of a boost just ahead of the event in anticipation of much more scalability and use-case scenarios in the Ethereum network. However, as the event occurred, the price of Ethereum plunged. While the network will be much more functional, crypto has been rapidly declining.
In the past, Ethereum has risen and fallen along with Bitcoin, as Bitcoin is still the bellwether when it comes to cryptocurrency. That being said, Ethereum has seen growth as explosive as Bitcoin has, but it also has seen prices plunge just as quickly. Another factor in price is new adoption on different networks that run on top of Ethereum. Because of this, Ethereum is often considered a "catchall" for crypto overall.
At the end of 2022, government regulation seems to be coming, which may be precisely what Ethereum needs. Unfortunately, there have been significant issues with fraud in the crypto space, with FTX being the worst case. Because of the FTX fraud, huge venture funds are taking massive losses, and other exchanges are running into trouble. Nonetheless, the network itself has been running smoothly and could find plenty of developers as Solidity, the native programming language, continues to attract more users. In a sense, what happened to Ethereum resulted from other parts of the crypto world, not necessarily anything involving Ethereum itself.
The ETH coin price fly broke above the $4800 level duriin1 but has been downtrend ever since. It's worth noting that it was the Ethereum all-time high, so it's not surprising that the market struggled to stay that elevated. This being said, many traders are wondering if Ethereum will go up anytime soon.
Ethereum Price Predictions by Experts
Ethereum is among the most interesting pieces of technology ever to exist and has garnered the support and interest from some of the best and brightest entrepreneurs of the tech and finance industries. Here's just a sample of some of the industry experts who believe that Ethereum price will go up.
Digital Coin Price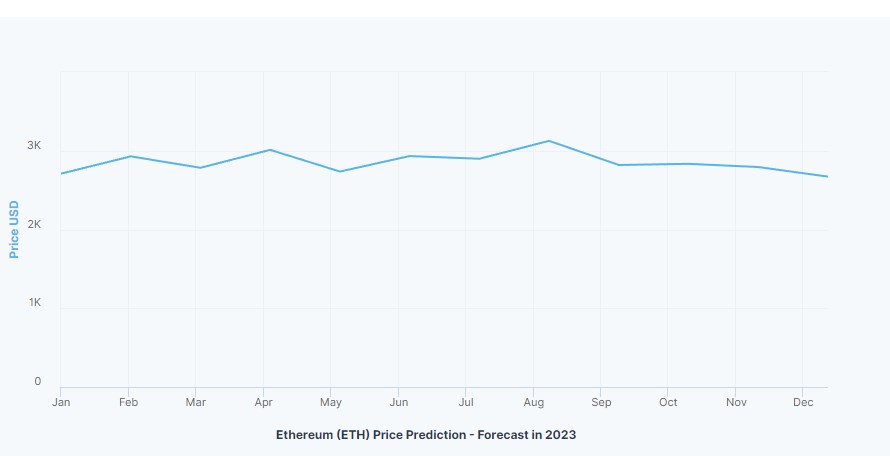 Digital Coin Price's Ethereum forecast says it can reach a high of $2671.45 for 2023. That would be a significant increase from where the market has fallen, roughly doubling the price of Ethereum at the end of 2022. That being said, it is a 100% return from current levels and, therefore, will be a difficult target to hit.
The Digital Coin Price Ethereum forecast calls for the market to be relatively flat through most of 2023 but does have an Ethereum Price Prediction of higher levels in 2024, breaking the $3000 level. Ultimately, predicting how much Ethereum will be worth in the future will be difficult because of a lack of clarity regarding regulation, and of course, demand, according to this website.
The Economy Forecast Agency
The Economy Forecast Agency has a different take on ETH's market price in the future. Ethereum dropping is their base case scenario, with rather dire predictions throughout the next few years. They expect the year 2023 to see Ethereum trend lower, with an ETH price prediction of a yearly low in November of $598. Even more concerning, they do not have Ethereum breaking above $2000 until April 2025, only to turn around and start falling again.
Some of the main reasons for such a pessimistic Ethereum price prediction is that there are still plenty of concerns with the crypto markets and several exchanges. There have been a lot of concerns with decentralized finance operations, many of which have seen a collapse in use. Remember, most DeFi tends to run on Ethereum, making it particularly vulnerable to that part of the crypto ecosystem. NFT markets are essentially dead at the end of 2022, which also tend to run on Ethereum. Because of this, the Ethereum price prediction from The Economy Forecast Agency is one of the most bearish.
Bitnation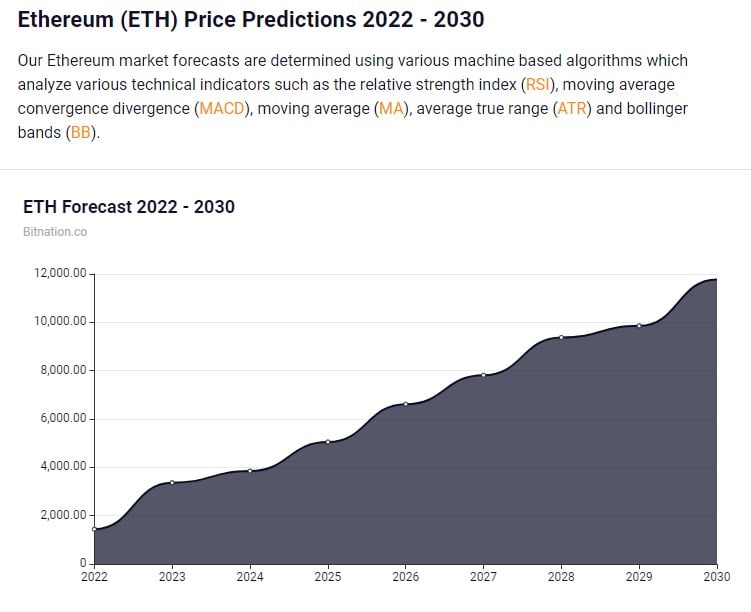 Another analyst that is a bit more positive is the team at Bitnation, which has the Ethereum future prices rising over the next several years, with Ethereum reaching $3364.82 during 2023, rising to $3845 in 2024, and eventually $5047.42 during 2025. Extending to 2023, they still believe that Ethereum will be worth under $12,000 sometime that year.
That being said, it should be noted that for the year 2022, they had a minimum price of $1442.06, which has already been broken below. Nonetheless, analysts still believe that Ethereum will recover over the longer term. It should also be noted that they managed to get the Ethereum price target correct to the upside in 2022 before the market fell.
The following year or two will more likely than not have more to do with adoption and trust and a lot less to do with speculation. We have seen the Ethereum market cap expand quite rapidly and then shrink just as quickly due to such mass speculation. However, many traders have been burnt twice by hanging on through speculative bubbles. The next move higher will more likely than not be more of a steady grind, according to Bitnation.
Walletinvestor
Walletinvestor's ETH future prices pattern looks somewhat flat as it expects crypto winter to last quite some time. Ethereum will be losing some ground based on their prediction, reaching into the $900 range in the middle of 2023. For their analysis, it looks like in the next couple of years; they are; anticipating Ethereum to trade between $900 and $1200. Their prediction is probably best thought of as being neutral.
Ethereum Price Technical Analysis and Price Predictions
Looking at Ethereum, it's probably best to ask, "Is Ethereum a good investment?" The reason for phrasing the question like that is that it's almost impossible to trade Ethereum from a short-term standpoint 2023 will be very volatile. The $1000 level continues to be an area of extreme interest, as it has offered support going back to the middle of 2022. That being said, at one point during the year, the market had risen above $4800 and now looks at $1000 as a potential support level so a lot will be learned if and when we test that area again.
The Rate of Change indicator shows just how much momentum has been taken out of the market, so we will likely see a market that is to determine its next catalyst. As things stand right now, there is neither bullish nor bearish momentum. However, if the market gives up $1000 and breaks down, bearish momentum will almost certainly pick up and could send this market down to the $600 region. On the other hand, if the market stabilizes and retakes the $1500 level, Ethereum technical analysis suggests that the market could reach the $2000 level. Unfortunately, momentum is not on the buyers' side, and it does look like the market may be trying to form a bit of a descending triangle on the weekly chart.
Ethereum Price Prediction 2023
Multiple factors could come into play for Ethereum over the next year. The first one will be whether or not the market can get through all of the scandals of 2022. While the network has been proven effective, it's a matter of trust that people will have to gain back.
Because of this, the Ethereum market could very well be relatively flat during 2023. While it is somewhat likely to find a particular specification, the beginning half of the year could be very harmful. That could be thought of as a chance to accumulate more ETH. Those who believe in the network understand that eventually, Ethereum going up is the result once confidence has returned. Otherwise, Ethereum could find itself left in the background.
Further complicating the year 2023 is going to be the overall economic picture. Central banks worldwide have tight monetary policies, which does not help risk-taking. When risk appetite is low, it's difficult for institutional money to invest in cryptocurrency. However, if central banks start to loosen monetary policy again, you may see more speculation. Overall, we likely know a bit of a dip at the beginning of the year, only to turn around and show signs of strength again. Explosive and parabolic moves are improbable.
Ethereum Price Prediction 2024
2024 could be a crucial year for Ethereum and crypto in general. Quite frankly, the Ethereum projected growth on the network could drive higher prices, but sooner or later, there will have to be that one "killer app" on the network. Quite frankly, there's not much on Ethereum or any other network that you cannot do on traditional networks. Crypto needs to stand out to survive, and there is only a certain amount of time that it will have before people move on.
If the crypto world starts to see more adoption, Ethereum will be one of the first places it happens. After all, it's considered to be the f most crypto itself. Therefore, its unique properties and utility, such as the ability to facilitate smart contracts, should make it attractive for developers. If that's the case, then Ethereum will rise over time. Otherwise, it may go the way of Myspace.
Ethereum Price Forecast 2025-2030
A realistic Ethereum price prediction is best thought of when trying to forecast this far out. After all, we have seen massive swings in crypto, both higher and lower, and one would have to assume that it is still very possible. Trying to predict several years into the future is very difficult because there are so many moving pieces when it comes to Ethereum, to begin with.
It's worth noting that any investment in Ethereum is an investment in the future of the network. It is still highly speculative, and crypto is a small market. A lot of "hot money" came flowing into the ecosystem; for crypto, and of course Ethereum for that matter, price stability will be needed to become an everyday part of people's lives. For example, Ethereum had significant problems before merging regarding gas fees. There were entire strategies based on when to move Ethereum based on network congestion. While that has been addressed, wild swings in the coin's value can be just as detrimental. For crypto to thrive, the last thing you want to see is that the market goes parabolic again.
The next couple of years will be crucial for crypto overall. Quite frankly, after all of the significant fraud uncovered in 2022, it is at a crossroads. It is more likely than not a situation where the market will continue to go higher over the longer term, but it may be very stagnant for a couple of years. The Ethereum future prices are going to be more guesswork than anything else. However, if the network is still viable and there are plenty of developers working on it, one would assume that the value of ETH will eventually increase. However, with theoretically unlimited coins, that might be one of the things that keep Ethereum somewhat reasonably priced. However, as Ethereum has moved over to proof of stake, there are those out there who believe the growth rate will be much slower. Because of this, the idea of staking Ethereum will have to be factored into any pricing.
If Ethereum and crypto, in general, get past the scandals of 2022, it's possible that Ethereum can double in price sometime over the next several years. However, the outlook for Ethereum and crypto, in general, is so murky that you can find price predictions that vary wildly. There is no definitive catalyst for Ethereum to take off and start going higher. Still, if central banks worldwide continue to tighten monetary policy, it does work against risk appetite. Risk appetite falling will also have a lot of negative consequences when it comes to Ethereum, Bitcoin, and crypto in general.
Conclusion: Is Ethereum a Good Investment, and How Much Will ETH Be Worth?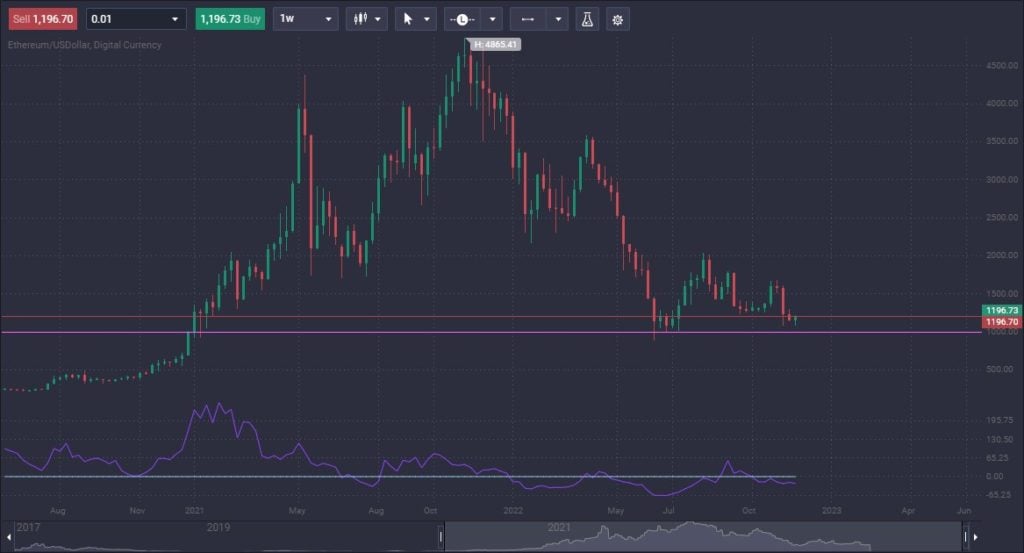 One of the easiest ways to trade Ethereum, or any other crypto asset, is to do it with the CFD min market. The contract-for-difference market allows you to speculate on the price movement only of an asset without actually having to take delivery. In other words, there's no concern about custody, storing in a cold wallet, or transaction fees. You are making a trade based on future price movements. Because of this, PrimeXBT is the premier way to trade Ethereum, as it simplifies the entire process.
In the table below, you can see what some of the experts in the crypto world believe will happen with Ethereum prices over the next several years.
| | | |
| --- | --- | --- |
| Year | Potential High | Potential Low |
| 2023 | $3,277.25 | $1,319.83 |
| 2024 | $4,437.25 | $1,293.30 |
| 2025-2030 | $11,443.43 | $1.290.00 |
Furthermore, trading at PrimeXBT allows traders to not only speculate not only in the Ethereum market but also on falling prices if they believe the market is going to drop. Leverage is also allowed, allowing the trader to control a much more prominent position than they normally would, potentially maximizing profits beyond standard terms.
Disclaimer: These price predictions are based on the data collected from various sources. This should not be considered an investing parameter; users should do their own research before investing.
FAQ: Frequently Asked Questions
How much is Ethereum going to be worth in 2025?
Nobody truly knows how much Ethereum will be worth in 2025, but most analysts believe it will be worth more than it is in 2022. Whether or not it will see another parabolic rise in value is much less likely than it was in the past.
How high will Ethereum go?
Ethereum could continue to rise over time; stability will be needed for the network to be used on a large scale. After all, the costs of using the network significantly factor into adoption. If Ethereum's projected value starts to go too high, traders may benefit, but the network itself will not. Eventually, that weighs upon the trading price. Ethereum news should also be followed as the development of applications on the network continues. That being said, long-term price prediction is challenging under the best circumstances.
What is next for the post-Merge ETH?
Scalability is one of the most significant areas of work in the Ethereum world. Sharding is one of the critical areas of work in the ecosystem, allowing for more speed and scalability.
Should I hold Ethereum?
If you believe in the future of crypto, then holding Ethereum makes quite a bit of sense. After all, many other networks work on top of Ethereum, and estimated growth suggests that it will continue to be the overall trend, perhaps driving adoption, which will make Ethereum increase in value.
Risk Disclaimer
Investing in or trading gold or other metals can be risky and lead to a complete loss of capital. This guide should not be considered investment advice, and investing in gold CFDs is done at your own risk.
The information provided does not constitute, in any way, a solicitation or inducement to buy or sell cryptocurrencies, derivatives, foreign exchange products, CFDs, securities, and similar products. Comments and analysis reflect the views of different external and internal analysts at any given time and are subject to change at any time. Moreover, they can not constitute a commitment or guarantee on the part of PrimeXBT. The recipient acknowledges and agrees that by their very nature any investment in a financial instrument is of a random nature and therefore any such investment constitutes a risky investment for which the recipient is solely responsible. It is specified that the past performance of a financial product does not prejudge in any way their future performance. The foreign exchange market and derivatives such as CFDs (Contracts for Difference), Non-Deliverable Bitcoin Settled Products and Short-Term Bitcoin Settled Contracts involve a high degree of risk. They require a good level of financial knowledge and experience. PrimeXBT recommends the consultation of a financial professional who would have a perfect knowledge of the financial and patrimonial situation of the recipient of this message and would be able to verify that the financial products mentioned are adapted to the said situation and the financial objectives pursued.