If you are holding crypto or involved in the market, you heard about "staking," which is the process of earning interest on your cryptocurrency. Staking is lending Tether to others to make interest. This is a great way to add income to a portfolio to stabilize it and take advantage of times when volatility is extraordinarily low. USDT staking should be a part of everyone's portfolio.
What is a USDT?
Tether, also called by its symbol USDT, is a stablecoin pegged to the US dollar and backed by "100% of Tether's reserves." Tether is owned by iFinex, a Hong Kong-registered company that owns a crypto exchange called BitFinex.
It was initially launched under "RealCoin" in July 2014 but rebranded as "Tether" in November of the same year. It started training in early 2015, based initially on the Bitcoin blockchain. It now supports various blockchains such as TRON, EOS, Algorand, Ethereum, Solana, OMG Network, and Bitcoin Cash, as well as Bitcoin's Omni and Liquidity protocols.
By 2022, Tether had become the third largest cryptocurrency, only after Bitcoin and Ethereum. It is the largest stablecoin, with a market capitalization of nearly $83 billion. Almost 2/3 of exchanges out of Bitcoin are done using Tether as a medium.
How Does Staking Crypto Work?
Staking crypto refers to locking your digital tokens for a certain amount of time to help contribute to the performance and calculations on the native blockchain. As a reward for staking your tokens, you have the opportunity to earn interest.
Some networks allow you to stake via opening a node, which is part of the network that solves calculations to facilitate the network's security and release coins. Some people choose to stake their crypto via a pool. A pool is a large group of people who allow their tokens to be used on a node to earn interest. There are plenty of places where you can do this.
Depending on the network, the barrier to opening up your node may be extraordinarily high. If that's the case, then a pool makes the most sense.
Can You Stake USDT?
You don't participate in USDT staking because it is a proof of work consensus, not a proof of stake. That being said, it is possible to earn a passive income "staking Tether", which is better described as lending it out. This is a way to earn interest, as there is quite a lot of liquidity demand.
Unlike staking other coins, if you cannot earn interest by becoming a "node," some people use the term lending out coins interchangeably with staking. Because of this, you may see this term from time to time. However, it does not act the same way with another coin, such as Ethereum.
What Are the Advantages of Staking USDT?
There are a host of reasons why you would want to stake your Tether, with some of the biggest ones being the following:
Interest rate – One of the most significant advantages to staking Tether is that you can earn interest on your holdings. Remember that Tether is designed to be pegged to the US dollar, which means that your holdings act as a traditional savings account with better returns than a brick-and-mortar bank.
Almost no volatility – As Tether is pegged, there is almost no volatility. In other words, if you get an APY of 5% based on the pool you were involved in, it is the closest thing to a guarantee that crypto can offer.
Proven track record – Unlike many other cryptocurrencies, Tether has a proven track record of showing liquidity and ease of returns.
What Are the Disadvantages of Staking USDT?
While Tether is treated the same as the US dollar, it is not the same as holding the US dollar. There are some inherent risks to not only staking USDT but holding it.
It isn't the same thing as holding US dollars – You should note that holding Tether is not the same as holding US dollars. If there were a run on Tether, there's no guarantee that the company would have enough cash to pay everyone back.
Tether has a history of operating in an opaque manner – Tether initially claimed that the US dollar backed every USDT in its reserves. However, it needed to admit a couple of years ago that they were supported by a mix of cash, cash equivalents, secured loans, corporate bonds, and other investments. Actual cash reserves back only 2.9% of Tether.
Lock-ups – Depending on the situation, you may find that your Tether is locked up for a certain amount of time, so therefore, if you need liquidity, it can be an issue.
How to Stake USDT?
Staking Tether is a relatively straightforward process under most circumstances. While you can go about it multiple ways, it generally involves several basic steps. You should note that it is even more straightforward on the PrimeXBT platform because you can do it directly through the dashboard.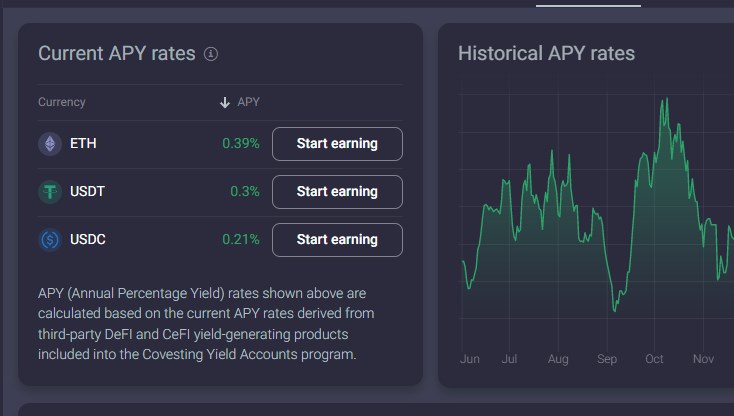 Buy Tether
The first thing you have to do is buy Tether. This is quickly done through most exchanges, or if you are a PrimeXBT customer, you can purchase it through the dashboard.
Choose the investment vehicle
You need to choose how you are going to stake your Tether and then deposit the Tether from your wallet into their wallet. You can stake it easily through the PrimeXBT dashboard without worrying about making several different steps. However, the main takeaway is that it goes from your wallet into an investment pool.
Withdrawal Tether
Your Tether will have a certain amount of time locked up. However, at PrimeXBT, you have plenty of flexibility to choose how long you will be locking up your coins. Once your time expires, you collect your original amount of Tether and any accompanying interest earned.
Is Staking USDT Risk-Free?
Nothing in the financial world is risk-free. Tether will not be any different, but it is much more secure than staking other digital coins, as it is pegged to the US dollar. However, one of the most significant issues you could have is that the coin loses its peg. We have seen this recently, with the crash of Terra (LUNC) after its sibling stablecoin TerraUSD loss is pegged to the US dollar is a recent example of how things can unwind.
Tether did react to the heavy selling pressure in the aftermath of that debacle, and it even temporarily lost its peg to the greenback. However, it did hold up reasonably well, as it only lost about one cent. Furthermore, you would have to be concerned about the holdings of Tether because there's nothing to say that its reserves would hold up. In other words, it's not even necessarily up to the company itself as to whether or not to keep the peg. If some of its holdings were to become worthless, by its very definition, suddenly, it would not have the peg held.
What Are Other Stablecoins to Stake?
The following two biggest stablecoins available for staking would include USD Coin, followed by BinanceUSD. Both can be staked quite easily, and both claim to be fully backed by either cash or short-dated US government treasuries.
Tips for Staking USDT
Remember that you are not technically "staking" Tether. Instead, you are lending it out. Because of this, you need to ensure that a few things are covered.
Liquidity – Make sure that the pool you are lending your Tether to make interest has plenty of liquidity and trust built up behind it.
Lockup periods – Keep in mind that some liquidity pools and lending protocols require you to lock up Tether for a specific time. Ensure you understand how long that is and that you will not need the liquidity.
Use them for stability – You can use them for stability. At times of extreme market volatility, simply "parking your trading capital" into Tether and lending it out to get a stable return is a great way to ride out the storms. Most of the professional trading community will use this in this manner to keep "liquid."
Conclusion
Quite often, traders will hold Tether for one reason or another. Some crypto exchanges do not trade versus the US dollar, so you will sometimes be forced to have that coin. Lending it out, or "staking it," as it is sometimes called, allows you to earn some interest on your holdings. What makes this even more attractive is that the coin is completely "stable," pegged to the US dollar.
However, you must understand that holding US dollars is not the same. There is the possibility that Tether has some type of liquidity or financial problem, as it is backed by a mix of assets that could have issues.
Nonetheless, Tether has shown itself to be reliable so far and is the world's standard for providing a stablecoin for the market and earning passive income. If your portfolio is sitting still, you are not making money. However, if you are earning passive income, you are growing your wealth in a relatively straightforward and stable manner.
FAQ: Frequently Asked Questions
How much do you earn staking USDT?
It will come down to supply and demand, as rates tend to fluctuate daily. With that being said, you need to check rates before staking.
Can you stake USDT?
Most people will stake Tether through a liquidity pool, a group of holders that lend out USDT to other parties and then pay a percentage of the interest for those loans.
What is the best place to stake USDT?
We humbly submit that PrimeXBT is the best place to stake USDT, due to that it is easily available from the dashboard, and you have flexibility with the amount of time you lock your crypto up.
Can you make a profit on Tether?
You do not make a profit on Tether unless you are staking or loaning it out. As a "stablecoin," it's challenging to own enough for the micro fluctuations to make a difference.
Can I earn interest with Tether?
Yes, earning interest with Tether is relatively easy as there are plenty of pools where you can do so. If you are a client of PrimeXBT, you can do so directly from your dashboard.
Is USDT proof-of-stake?
No, Tether is what is known as proof-of-reserves. This means that every dollar worth of Tether is backed by one dollar worth of cash, corporate bonds, secured loans, cash equivalents, and other assets.
Why is USDT high interest?
Tether is high interest because demand constantly exceeds supply. It's a simple "supply/demand" equation like you see with all other markets.
Risk Disclaimer
Investing in or trading gold or other metals can be risky and lead to a complete loss of capital. This guide should not be considered investment advice, and investing in gold CFDs is done at your own risk.
The information provided does not constitute, in any way, a solicitation or inducement to buy or sell cryptocurrencies, derivatives, foreign exchange products, CFDs, securities, and similar products. Comments and analysis reflect the views of different external and internal analysts at any given time and are subject to change at any time. Moreover, they can not constitute a commitment or guarantee on the part of PrimeXBT. The recipient acknowledges and agrees that by their very nature any investment in a financial instrument is of a random nature and therefore any such investment constitutes a risky investment for which the recipient is solely responsible. It is specified that the past performance of a financial product does not prejudge in any way their future performance. The foreign exchange market and derivatives such as CFDs (Contracts for Difference), Non-Deliverable Bitcoin Settled Products and Short-Term Bitcoin Settled Contracts involve a high degree of risk. They require a good level of financial knowledge and experience. PrimeXBT recommends the consultation of a financial professional who would have a perfect knowledge of the financial and patrimonial situation of the recipient of this message and would be able to verify that the financial products mentioned are adapted to the said situation and the financial objectives pursued.