If you want to invest in Dogecoin, this article is for you. There are some advantages to Dogecoin as well as some disadvantages. DOGE has been wildly popular at times and is more likely to fall with the overall attitude of crypto. We will take a look at whether Dogecoin is a good investment.
Dogecoin: Key Points
Dogecoin is a well-known "meme coin" that made many headlines over the last few years. Some people have become overnight success stories buying and selling DOGE, but you must understand what you are trading to profit.
What is Dogecoin, and how does it work?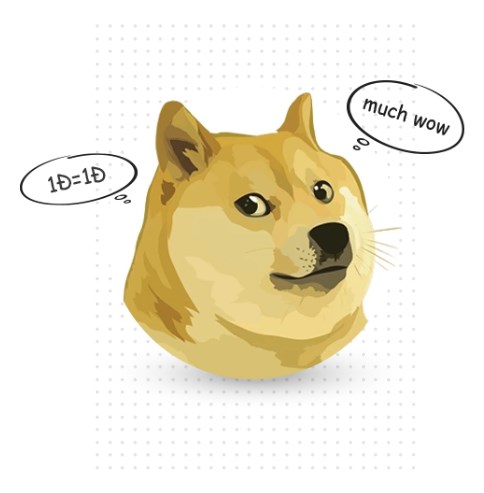 Dogecoin mascot, dogecoin.com
Dogecoin is a proof-of-work cryptocurrency used to make payments in a peer-to-peer network. The coin was initially meant to be a joke because the inventors, Billy Markus and Jackson Palmer, were trying to mimic Bitcoin. They never expected the coin to catch on.
The Dogecoin network allows peer-to-peer transactions to be recorded on the blockchain without any intermediary. This is the same as many other cryptocurrencies.
Dogecoin Roadmap: what's going on with Dogecoin?
Dogerpedia, dogecoin.com
Unlike most other cryptocurrencies, Dogecoin didn't have a roadmap for the longest time. However, the Doge community could drive new iterations and projects. In late 2021, the Dogecoin community was treated to a few new projects to make the ecosystem more viable.
Gigawallet was the first announced project. This will allow merchants, or anyone else, to accept Dogecoin payments in just a few seconds. Libdogecoin is a library in C that developers will be able to use in the development of DOGE-related projects. A complete makeover of the dogecoin.com website has been announced, with "Dogepedia" offering questions and answers for community members.
It is anticipated that there will be more projects down the road. Still, at this point, most projects are about increasing visibility beyond "meme" status and allowing more users to get involved. At this point, Dogecoin has been light as far as momentum is concerned, as the community is still trying to find a reason for adoption.
History of Dogecoin price
Dogecoin has been volatile over the past several years. It has often traded for pennies or less. However, it reached a high of $0.66 at its height. Its price dropped precipitously as the latest crypto bubble popped in late 2021.
The "Holy Grail" is the idea of Dogecoin reaching $1, but that is more likely than not to be a "pipe dream." The fact that Dogecoin is unlimited in the amount that can be mined suggests that more likely than not, the price of DOGE will remain low.
The massive gains that DOGE has enjoyed have been based on social media hype and memes. This is not conducive to a longer-term winner, so even if a real-world use case scenario for DOGE were to emerge, it is best thought of as a speculative asset. In other words, it is simply about making a quick buck under most circumstances.
Who Should Invest in DOGE? Is investing in Dogecoin right for you?
Anyone can invest in DOGE, but it doesn't mean it is right for you. The first thing you will have to do is think about your risk tolerance. After all, there is no guarantee that Dogecoin will ever take off again. The coin may never get back to its previous all-time high. After all, adoption isn't exactly taking off yet, but there are at least attempts to get the coins adopted by more merchants and users overall.
If merchants and users start adopting Dogecoin, it could serve as a "micro-payment" coin. This is the best-case scenario. As the community grows, something more substantial may come of it.
At this point, you are showing a lot of faith in a project that has yet to take off beyond the superficial social media buzz. There is a reason why institutional traders have yet to take on Dogecoin; it can't fill all of the criteria that the "Big Money" looks for. This isn't to say it never will, but it has been a series of "happy accidents" more than anything else up to this point.
Is Dogecoin Safe?
Dogecoin isn't safe. Most crypto is hardly safe. The coin is a "meme coin," meaning social media and the like drive it. It's all about hype when it comes to Dogecoin pricing. Therefore, it is worth noting that the prudent trader will pay attention to Reddit, Twitter, Instagram, and others to grasp how many people are talking about DOGE.
Because of the nature of Dogecoin, it is probably best DOGE allocations to a minimum. However, DOGE has the possibility of exploding in value, therefore making outsized gains. The biggest concern regarding Dogecoin is its minimal use in the real world. It started as a joke, and now that it has caught on, it's as if the community is trying to "cash in" on its popularity. Dogecoin also had the issue that it is one of many seemingly endless cryptos trying to grab your attention. This is a problem for most smaller markets. (Although DOGE is currently 10th in order of market cap.)
Is Dogecoin a good investment for the long term?
There is no way to know whether this is the case. However, Dogecoin has struggled to attract anything other than social media hype. Elon Musk tweeting about DOGE has made it skyrocket from time to time, but this isn't the same thing as adoption – which will be the most critical measure of success for crypto.
The outlook for Dogecoin will rise and fall with the overall crypto market. The biggest concern about being involved in Dogecoin is that it could go to zero. Most people involved in Dogecoin are simply looking to make money, so they rarely "invest" but usually choose to trade it.
How to invest in Dogecoin?
Investing in Dogecoin involves buying it on an exchange and storing it in a wallet that accepts Dogecoin. There are several that are online and cold storage. Depending on the trader's needs, some may choose to store their DOGE on an exchange.
However, if you are looking to DOGE back and forth, the best way is to trade via the "Contract-for-difference" markets. The CFD markets are a derivative market that follows the price of an asset, in this case, DOGE. This market is offered at PrimeXBT, allowing you profit from the price changes of Dogecoin quickly without the hassle of taking custody of the actual coins. Furthermore, you can also use leverage – controlling more DOGE than you usually could – and shorting it, allowing you to profit off declines. This is a significant advantage of trading the CFD market, the ease of profiting in both directions.
The DOGE futures markets are available at various places, allowing the trader to establish a short position as well. Still, they are standardized contracts, meaning they trade in specific increments, which works against the idea of being able to use proper money management.
The Bottom Line: Is DOGE a Good Investment?
DOGE is probably not an investment for most people. This makes trading it at PrimeXBT superior to many other places, as you do not have to store it. You are simply looking to benefit from price fluctuations and profit from them.
If you are looking for a longer-term investment, Dogecoin can be an asset you choose to own, but only if you accept that you could lose your entire investment. DOGE is highly speculative and should not be jumped into with "both feet." Limiting your exposure and only adding as adoption increases is one way to benefit from a potential move higher.
Many people have asked whether DOGE could ever go to $1, and the reality is that it almost certainly will not. This is because there is an unlimited amount of potential Dogecoin possible in the future, so the lack of scarcity will keep its price supressed. Therefore, many people trade DOGE but dump it quickly. The leverage at PrimeXBT allows you to increase potential profits on these moves, making it another market you can benefit from but not necessarily get "married to."
FAQ: Frequently Asked Questions
How many people are invested in dogecoin?
It isn't entirely known, but the top 100 holders have roughly 60% of the total supply as of 2021. As for the total, it is almost impossible to know. For those who are the "whales" and got in early, Dogecoin is a good investment.
Is dogecoin a long-term investment?
It could be. However, many things would have to fall into place for the market to be a long-term one. Most people use Dogecoin as a short-term speculative trade, as the volatility allows for quick moves. However, this isn't to say that money won't be made by those who hold DOGE, just that they will have to stomach much volatility.
How much should I invest in Dogecoin?
Dogecoin is something that you need to be very careful with. This is because it is highly volatile, and moves can be sudden and not always in your favor. By keeping the amount of DOGE in your portfolio small, you can get outsized gains when it is in vogue, but the losses won't be devastating when DOGE moves against you.
Is it worth buying Dogecoin?
The answer to this will heavily depend on your investment style. If you are looking for a scalp or a short-term investment, DOGE sometimes works quite well. The longer-term investor will find that although you can get substantial gains from DOGE, you are better off holding just a tiny portion of DOGE in your portfolio.
Is it too late to buy Dogecoin today?
This will depend on your time horizon. The short-term trader will find the occasional opportunity, but the longer-term trader will look for gains based on the next bullish run for crypto overall. This is something that people are looking for in the future, and when speculation gets wild – DOGE will more likely than not benefit. There is no clear-cut way to know what the future brings, but at this point, DOGE will rise and fall with the overall risk appetite for crypto in general.
Risk Disclaimer
Investing in or trading gold or other metals can be risky and lead to a complete loss of capital. This guide should not be considered investment advice, and investing in gold CFDs is done at your own risk.
The information provided does not constitute, in any way, a solicitation or inducement to buy or sell cryptocurrencies, derivatives, foreign exchange products, CFDs, securities, and similar products. Comments and analysis reflect the views of different external and internal analysts at any given time and are subject to change at any time. Moreover, they can not constitute a commitment or guarantee on the part of PrimeXBT. The recipient acknowledges and agrees that by their very nature any investment in a financial instrument is of a random nature and therefore any such investment constitutes a risky investment for which the recipient is solely responsible. It is specified that the past performance of a financial product does not prejudge in any way their future performance. The foreign exchange market and derivatives such as CFDs (Contracts for Difference), Non-Deliverable Bitcoin Settled Products and Short-Term Bitcoin Settled Contracts involve a high degree of risk. They require a good level of financial knowledge and experience. PrimeXBT recommends the consultation of a financial professional who would have a perfect knowledge of the financial and patrimonial situation of the recipient of this message and would be able to verify that the financial products mentioned are adapted to the said situation and the financial objectives pursued.