Since the end of December, and even a little prior to that, Bitcoin has been on a tear away as its price ticked off major milestones along the way. Crossing the $20,000 barrier seemed to unleash the coin's potential as it rose in price to all time highs of $42,000.
This boost in the price of Bitcoin, has, as was expected, also bolstered most of the cryptocurrency space and allowed for the market cap of the entire ecosystem to reach the $1 trillion mark — another huge milestone in the path to mass legitimacy of the space.
However, this growth in the price of Bitcoin always looked a little unsustainable — despite being brought on by institutional investor interest, and as such, a correction has emerged that sent the price of the coin down around 20 percent. Now starting the week at around $35,000, Bitcoin is still massive, but taking a breather.
Even with all of this considered, the coin has outstripped the stock market and other traditional markets, certainly capturing the attention of those who usually invest more conservatively. The recent drop may sound big, but the fundamentals are still all in place for a continued rally in the near future.
Read the rest of our weekly market research report to find out more about the rising crypto markets; if the stock market can keep up, and what is expected for the rest of this week.
A Good Start To The Year
The year opened with a bang with the cryptocurrency market on fire, as BTC skyrocketed 40% to post a high of $42,000 after breaking $30,000 just 5 days before, with altcoins also lit and chasing after BTC's gain. Even beleaguered XRP rose 50% in a day as the final top coin to post significant gains over the week.
However, the mega-run has been put on a backfoot early this year as the whole crypto market witnessed a huge pullback of around 20%, with BTC falling back towards $33,500.
Stocks opened the year creeping higher after news on the US political front was confirmed.
News that the Democrats took the Senate also saw the stock market rise with US indices rallying higher. The far weaker than expected payrolls report on Friday sent stocks higher, as traders expect new stimulus programs to boost the economy. In fact, there has already been a $3 trillion stimulus package lined up.
Gold and silver fell after long-end US yields started to spike higher, steepening the yield curve.
BTC Smashes Another Big Figure To Break $40,000, Alts Rose In Tandem Last Week
The big event of the past week that has been reported across all financial mediums was the relentless rise in BTC price, in what was a very quick move upwards after the $30,000 handle was broken. The rise wasn't without volatility however, as BTC made several large moves downwards after hitting every new milestone in price, with the 2-way volatility trashing out highly leveraged traders, whether they were long or short.
Sentiment towards cryptocurrency was bolstered after the US Treasury's Office of the Comptroller of Currency (OCC) told national banks that they are allowed to run independent nodes on blockchains, and on top of that, are able to utilise stablecoins.
This move is seen as a validation of the blockchain technology that is behind cryptocurrencies, and especially towards the regulator's acceptance of stablecoins. The already fiery crypto market sprang even higher with this news, taking BTC convincingly above $35,000 mid-week.
However, the fierce rally has been put on a halt with the market retracing equally fiercely at the start of this week, with BTC back below $35,000 and alts bleeding massively. This may be due to profit taking as well as the USD going stronger.
On BTC fundamentals however, demand for stablecoins swelled, with stablecoin reserves at exchanges soaring to an ATH of $3.137 billion, boosting the availability of funds to purchase BTC and other cryptocurrencies.

Institutions continue to see huge influx of capital from sophisticated investors. Bitwise reported that its AUM swelled 5x to over $500 million from $100 million in 2 months. Likewise, SkyBridge Capital who has only opened for subscription on 4 Jan, reportedly already has over $300 million AUM in less than a week.
BTC outflows from institutional-focused crypto exchanges continue to increase even with a rise in price, a sign that more and more BTC are being transferred by institutional investors for long term storage and will not be available for sale.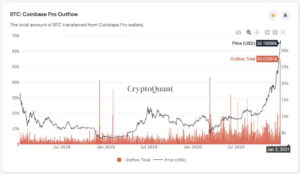 According to data, a total of 87,954 units of BTC have left exchanges in the last 30 days, with 72,727 of those only being withdrawn in the last 7 days. Either there are large new buyers who prefer their BTC kept away from exchanges, or that existing holders who have kept their BTC at exchanges are withdrawing to self-custody now that the price of BTC has gone up. Either way, this means less BTC available for sale which is bullish for the price of BTC.
Even though the price of BTC has gone up quite a fair bit, doubling its price from $20,000 to $40,000 in less than a month, its rising hashrate seems to suggest that more upside may be in the cards as historically, a hashrate increase is always followed by a rise in price.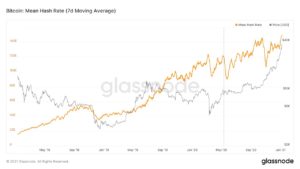 Another metric, Bitcoin's network value to transaction (NVT) ratio still remains firmly bullish.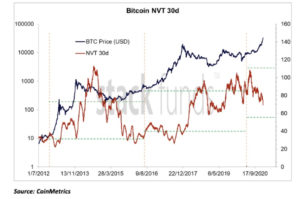 From the above chart, the BTC NVT is trading at the middle 70 level, and has not spiked up yet. This suggests that Bitcoin is not yet in overvalued territory despite the recent price rally, and if anything at all, it signals a beginning of BTC's bull run with more room to grow.
Altcoins Stage Large Moves Reminiscent Of An Altseason, But Is Opening This Week Weaker
Not all the action was on BTC however, other Altcoins fared better. XLM rose 3x from $0.12 to $0.42. ADA doubled from $0.15 to $0.35. Even XRP managed to bounce 50% from $0.20 to a high of $0.35 after an exchange started trading the Spark Airdrop token IOU.
ETH almost doubled its price from $700 to a high of $1290 in the week. DeFi platform tokens also rose an average of 30% over the week, making the rise in BTC price look conservative. With large moves attained, the market capitalisation of the cryptocurrency market finally crossed $1 trillion.
Altcoins however, saw some profit taking late in the week and more so at the start of this week after the magnificent price increase throughout last week. The top 10 coins remain well bid however, with ETH and LTC looking like the most resilient amongst the top coins.
Many experts tout ETH to be the next coin to surpass its ATH and they have good reason to believe so.
Large Volume Of ETH Locked Up With Growing Popularity Signals Higher Prices Ahead
ETH miner balances have fallen to a 3-year low and more ETH are moving out of exchanges, implying that miners are running out of stock of ETH to sell.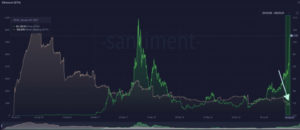 ETH Miner Balance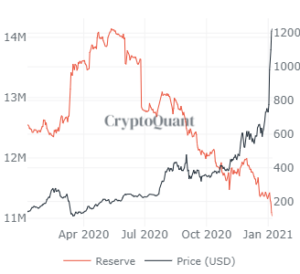 ETH Exchange Balance
Besides these growing numbers of ETH being moved out of circulation, another 6.79 million ETH are locked in DeFi, 2.3 million ETH are deposited in ETH 2.0 deposit contract, and 2.94 million locked with Grayscale, reducing the overhead selling pressure since there is a lot less ETH available for sale.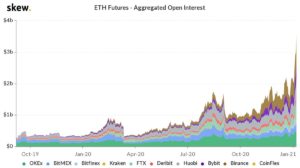 Trading interest in ETH has seen an overwhelming increase, with Open Interest in ETH futures spiking to more than $3 billion and google searches on ETH reaching an ATH on 5 Jan.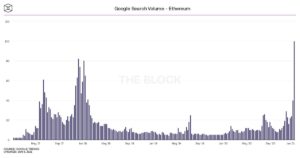 However, this increase in search volume should not be taken as a bearish indication since ETH wasn't as well-known back in 2017. Hence, this increase may not necessarily mean it is overheated because the trading volume of the cryptocurrency market has gone up 400%. The surge may just be a reflection of the increase in overall trading volume in the market.
This just means more people are getting onboard cryptocurrency, which can be seen by the data from ItBit, the exchange that supports PayPal client purchases.
Trading volume from ItBit has continued to surge, hitting yet another ATH as more investors come onboard due the ease of transacting on PayPal.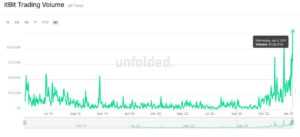 Positive metrics, coupled with an increase in trading volume, should propel the cryptocurrency market to continue to surge higher, notwithstanding large pullbacks along the way to clear off over-leveraged traders, making for a very exciting market.
Information provided in PrimeXBT's market report includes information provided by Kim Chua, Lead Market Analyst for PrimeXBT, in addition to charts from various data sources.
About Kim Chua, PrimeXBT Market Analyst: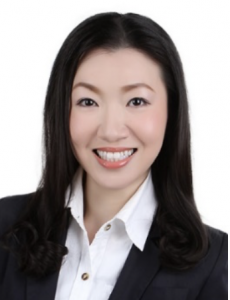 Kim Chua is an institutional trading specialist with a track record of success that extends across leading banks including Deutsche Bank, China Merchants Bank, and more. Chua later launched a hedge fund that consistently achieved triple-digit returns for seven years. Chua is also an educator at heart who developed her own proprietary trading curriculum to pass her knowledge down to a new generation of analysts. Kim Chua actively follows both traditional and cryptocurrency markets closely and is eager to find future investment and trading opportunities as the two vastly different asset classes begin to converge.
The information provided does not constitute, in any way, a solicitation or inducement to buy or sell cryptocurrencies, derivatives, foreign exchange products, CFDs, securities and similar products. Comments and analysis reflect the views of different external and internal analysts at any given time and are subject to change at any time. Moreover, they can not constitute a commitment or guarantee on the part of PrimeXBT. The recipient acknowledges and agrees that by their very nature any investment in a financial instrument is of a random nature and therefore any such investment constitutes a risky investment for which the recipient is solely responsible. It is specified that the past performance of a financial product does not prejudge in any way their future performance. The foreign exchange market and derivatives such as CFDs (Contracts for Difference), Non-Deliverable Bitcoin Settled Products and Short-Term Bitcoin Settled Contracts involve a high degree of risk. They require a good level of financial knowledge and experience. PrimeXBT recommends the consultation of a financial professional who would have a perfect knowledge of the financial and patrimonial situation of the recipient of this message and would be able to verify that the financial products mentioned are adapted to the said situation and the financial objectives pursued.