The last week, leading into this week's market open has been one of the wildest and most memorable rides across all markets since Black Thursday, and it is all thanks to a "blue wave" Biden victory over current US President Donald Trump and news that a COVID vaccine has been proven 90% effective.
What was expected to be a bearish outcome for the stock market prompted most US stock indices to roar to new all-time highs. Even the Dow Jones this time managed to set a new record peak. Positive news on a COVID vaccine also helped propel stocks higher to start the week.
The news also sent shockwaves throughout crypto, prompting Bitcoin intraday volatility to explode. Could Bitcoin follow the stock market and set a new all-time high on the heels of the bullish momentum and a break above $15,000? And what else is this blue wave victory shaking up the rest of the finance world? Read the rest of our weekly market research report to find out.
S&P 500, Nasdaq, And Even The Dow Bring Shock, Awe, And New All-Time Highs
Last week, the stock market closed on a high note after the FOMC revealed a flawed monetary plan for the dollar, removing any concern about an M-shaped top pattern confirming. Over the weekend, however, news broke that Joe Biden had been proclaimed the winner of the US election, leaving investors waiting anxiously for markets to open.
Stock Futures opened Sunday evening in full consolidation, but ahead of the full market open this Monday morning, all three major US stock indices rocketed to set a new all-time high. The Dow Jones Industrial Average, which thus far has failed to set a higher high since prior to the COVID collapse, finally has achieved such a feat.
Bitcoin Breaks Over $15,000, Is A New Record Peak In Store For Crypto Next?
Last week was also a wild week for Bitcoin, rising 20% from a low of around $13,200 to a high of $15,900, falling just shy of reaching $16,000. BTCUSD stopped at the 0.768 Fibonacci retracement level from all-time high to the bottom at $3,200.
The rally is showing no signs at all of abating, fueled by large entities continuing to absorb a sizable amount of the scarce BTC supply. For example, Grayscale alone added another 12.2K BTC during the previous seven days. On just Thursday of last week, they added 8,000 BTC.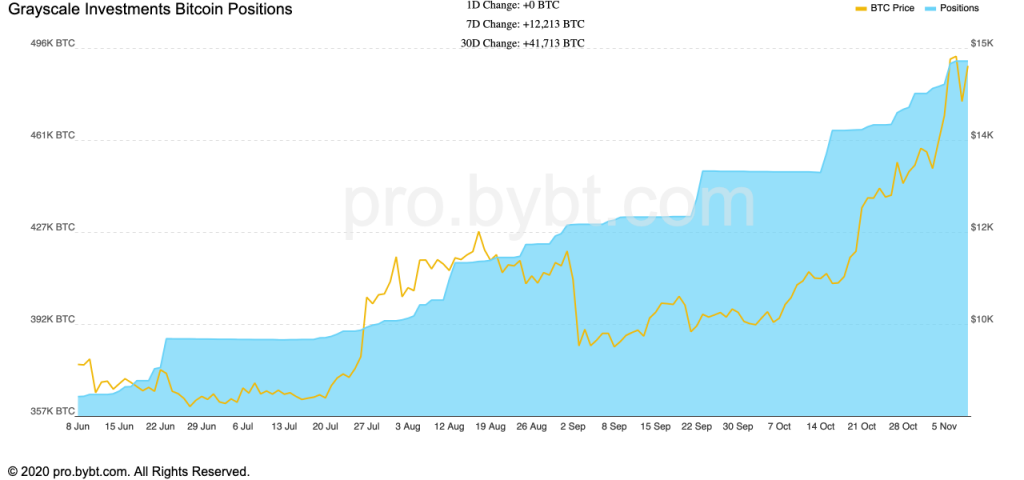 The new supply of BTC from miners is only 27,000 per month. To put the supply versus demand dynamics into perspective, Grayscale purchased 42,000 BTC last month, nearly double the available new supply.
In addition to spot markets flowing, interest in BTC Futures and Options markets is also at historical levels.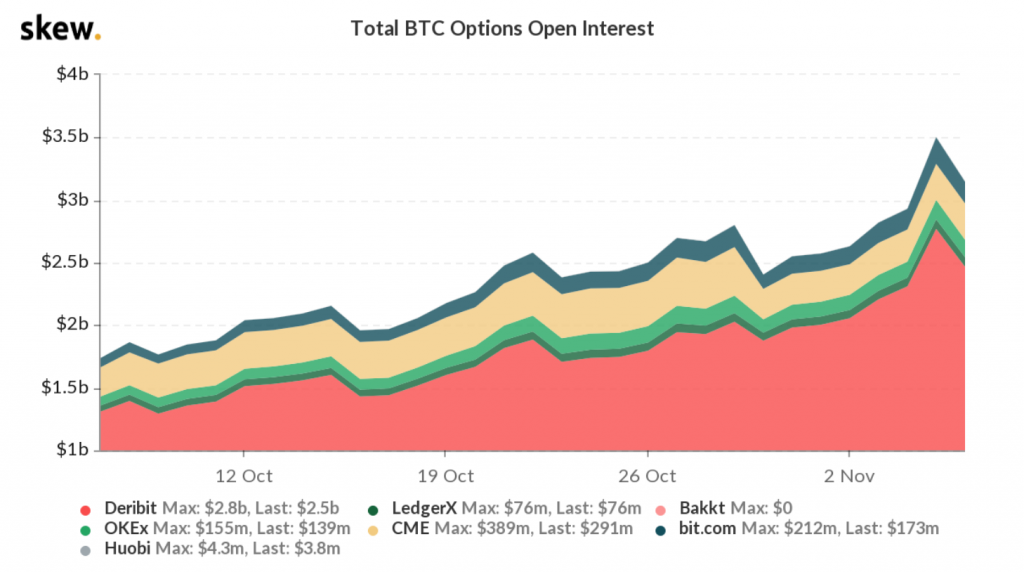 Futures have reached a daily trading volume of $40 billion. In comparison, the Options market revisited all-time high Open Interest at about $3.5 billion, thanks to another $500 billion pouring in since the election.
ETH 2.0 Fuels Altcoin Revival, Tether Printer Mints Another $500M
The initial Bitcoin rally crushed altcoins, however, the latest surge brought the rest of the market with it, signaling strong health across the cryptocurrency industry. This could also indicate fresh funds coming into the market or a reallocation of BTC profits into altcoins.
There was also another $500 million of the fiat-backed stablecoin USDT minted, bringing the total supply to $17 billion in market cap. USDT increases have conceded with Bitcoin rallies, so as more money flows in, crypt investors remain bullish on Bitcoin and altcoins as a result.
But what may have kept altcoins bullish most of all was the news that ETH 2.0 was finally ready to launch in December. The staking contract address was announced, and Ethereum founder Vitalik Buterin took the lead in depositing 3,200 ETH – worth more than $1.5 million at current prices.

Although the news carried Ethereum higher, it suffered as violent pullback as initial deposits required by validators failed to achieve anywhere near what is necessary. Only around 49,000 out of nearly 525,000 ETH are staked in the contract or roughly 9%. The response is not looking particularly bullish.
Global Reserve Currency Weakness Continues, Dollar Lets Gold and Silver Shine
During all the political chaos, USD further weakened, strengthening all assets it trades against. EURUSD, GBPUSD, and AUDUSD all advanced despite each country's central banks signaling that more easing measures would be coming ahead. Oil, gold, and silver also climbed higher as a result.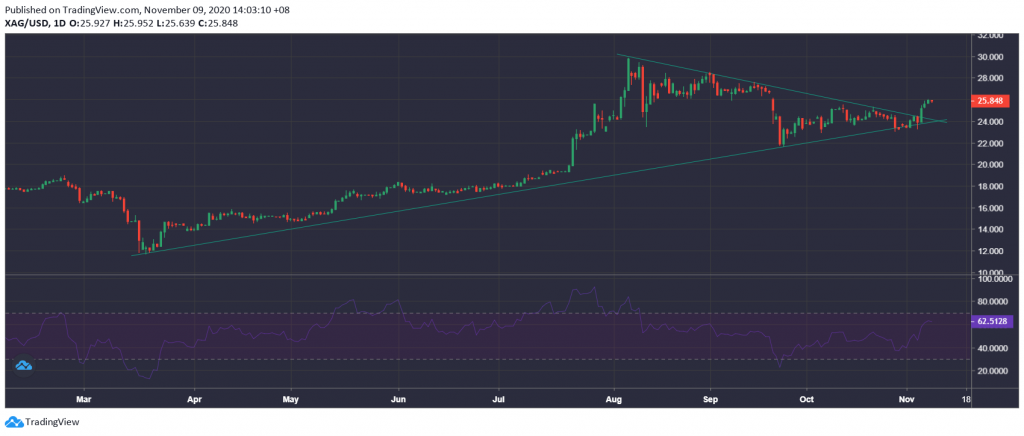 Both gold and silver have been consolidating for months, and have potentially broken up from their respective ranges, and are approaching a retest of highs. Silver especially regained its luster, rising 10% between Thursday and Friday.
Additional widespread quantitative easing across Europe over the coming months could continue to favor gold and silver into 2021.
Information provided in PrimeXBT's market report includes information provided by Kim Chua, Lead Market Analyst for PrimeXBT, in addition to charts from various data sources.
About Kim Chua, PrimeXBT Market Analyst: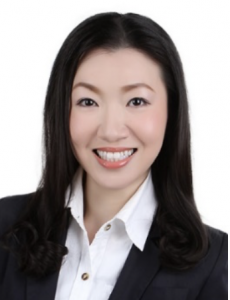 Kim Chua is an institutional trading specialist with a track record of success that extends across leading banks including Deutsche Bank, China Merchants Bank, and more. Chua later launched a hedge fund that consistently achieved triple-digit returns for seven years. Chua is also an educator at heart who developed her own proprietary trading curriculum to pass her knowledge down to a new generation of analysts. Kim Chua actively follows both traditional and cryptocurrency markets closely and is eager to find future investment and trading opportunities as the two vastly different asset classes begin to converge.
The information provided does not constitute, in any way, a solicitation or inducement to buy or sell cryptocurrencies, derivatives, foreign exchange products, CFDs, securities and similar products. Comments and analysis reflect the views of different external and internal analysts at any given time and are subject to change at any time. Moreover, they can not constitute a commitment or guarantee on the part of PrimeXBT. The recipient acknowledges and agrees that by their very nature any investment in a financial instrument is of a random nature and therefore any such investment constitutes a risky investment for which the recipient is solely responsible. It is specified that the past performance of a financial product does not prejudge in any way their future performance. The foreign exchange market and derivatives such as CFDs (Contracts for Difference), Non-Deliverable Bitcoin Settled Products and Short-Term Bitcoin Settled Contracts involve a high degree of risk. They require a good level of financial knowledge and experience. PrimeXBT recommends the consultation of a financial professional who would have a perfect knowledge of the financial and patrimonial situation of the recipient of this message and would be able to verify that the financial products mentioned are adapted to the said situation and the financial objectives pursued.