When you don't have much time or skill, you might want to know the difference between social trading and copy trading. This can help the equity curve of traders and investors that are struggling. Understanding their similarities and differences can make this opportunity more viable for you.
What is Social Trading?
Social trading aggregates financial data by looking at what other traders are doing, possibly copying and comparing their techniques and strategies. Social trading allows traders to trade in line with the help of others, and some even believe that it shortens the learning curve.
Typically, on a social trading platform, traders can interact with others, watch others take trades, and then possibly duplicate their trades and learn what caused the trader to take the position in the first place. Many times, there are forums or information feed that you can follow to help you with your decision-making.
Advantages and Disadvantages of Social Trading
There are a whole host of advantages and disadvantages. It's worth noting that the social trading platform allows those who wish to be followed to announce their positions. You can also think of it as a social media platform, as sometimes they act as such.
While not always the case, the social trading platform is generally free, as retail traders try to help other retail traders. That is one advantage because it's rare that it costs very much to get this information. It can also give you an idea of why people take trades with much more experience than you do.
However, there are many disadvantages. The most obvious one is that not everybody makes money trading. Social trading platforms have a severe problem at times, with people exploding to the top of the leaderboard and then blowing up. While this is possible for any service, the reality is that social trading platforms tend to attract more of a gambler mentality.
At the end of the day, they tend to be less professional but can be helpful to at least measure overall trader sentiment.
What is Copy Trading?
Copy trading is like social trading but is more automatic. The account you own is "attached" to another and copies the exact trades the strategy puts into play. If the trader buys Bitcoin, the copy trader account will as well. If they short the EUR/USD currency pair, your account does the same.
This is done automatically and without interaction from you. This is a way to take advantage of the expertise of others without having to watch the trades in real time. You do not have to worry about whether you see the potential trade; it just happens.
Advantages and Disadvantages of Copy Trading
As with most things, copy trading has pros and cons. The cons are straightforward. They include the lack of control, as you rely on someone else. They also come with costs, as the trader making the decisions will get a percentage, and the platform will typically get as well.
However, it is advantageous for many traders to take advantage of. Think of it this way: A majority percentage of a winning account is much better than a losing account or one you have no time to build up. This is where copy trading shines, the ability to earn regardless of the time you may not have. Also, it is not necessary to have any trading expertise.
Differences Between Social Trading and Copy Trading
The difference between the two kinds of trading is slight yet distinct. Social trading is more about listening to others and their trading ideas and deciding whether you should follow.
Copy trading is something that is done automatically and without any effort on your part.
Social Trading Vs. Copy Trading: Which to Choose?
As we have explained, there are pros and cons to doing either form of trading. However, not everyone will find one or the other to be ideal. Nonetheless, the ideal situation is to follow the proper strategy and to let that strategy work over the longer term. Because of this, copy trading is preferable in the long run because this allows you to step away and take advantage of a strategy that already works without interfering with it.
Finding the proper strategy for your goals is essential. Remember, you trust your money with someone else's strategy, so you should not look for wild equity swings. While considerable gains are significant, large drawdowns are not.
Social Trading Vs. Copy Trading: Comparison Chart
| | | | |
| --- | --- | --- | --- |
| Social Trading Benefits | Copy Trading Benefits | Social Trading Disadvantages | Copy Trading Disadvantages |
| Education | Hands-free | Influencers may be untrustworthy | Uncomfortable to let go of control |
| Socialization with others | Higher probability of success | High maintenance | |
| | Low risk | Building a network takes time. | |
| | Transparent metrics | Some shady practices | |
How to start Copy Trading?
With a PrimeXBT account, it is easy to get started copy trading. You can click on the top bar of your platform, where it says "copy-trading," which will open up the rankings of those who are available to follow. It'll give you quite a bit of information, such as the total return, the last day's return, the active days that the trader has been on the platform, and the followers they have.

Click "Copy-trading" to get to the Covesting leaderboard on your PrimeXBT platform.
By clicking "follow," the platform opens up a membership panel for the Covesting COV membership. You can increase your profit share by purchasing the native COV token. However, it is entirely up to you whether or not you choose to do so. After that, you either deposit or make a certain amount of Bitcoin available for that trader to control. The rest is done automatically, and your profits and payments are automatically configured.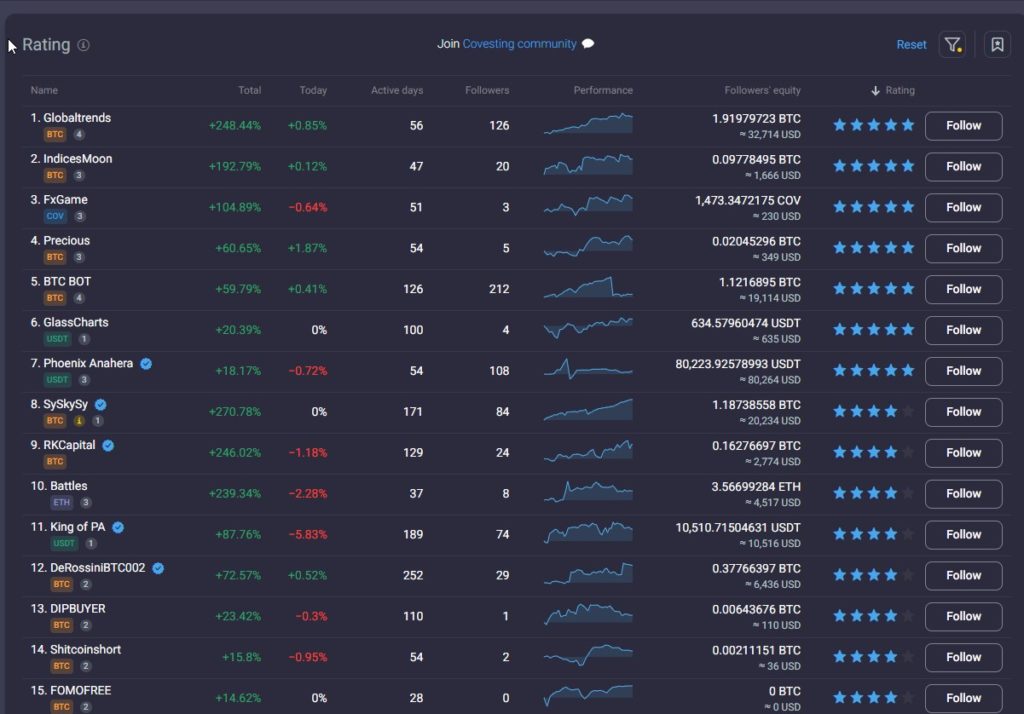 List of available traders to follow with Covesting.
FAQ: Frequently Asked Questions
What is the difference between social trading and copy trading?
Social trading is a form of communication between various traders, allowing you to follow the trades of others, thoughts, and overall holdings they may have. Copy trading is when your account automatically follows the trades of others.
Is copy-trading a good idea?
It can be; it depends on whether or not you have the time to do your analysis, whether or not you do the research to find a proper strategy/trader to follow, and of course, whether or not you have a significant enough account to make splitting the profits worthwhile.
How much money do you need for copy trading?
It will depend on where you trade, but at PrimeXBT, there is a percentage basis that the trader that you are coping gets paid. In other words, you can do so with a smaller account.
Risk Disclaimer
Investing in or trading gold or other metals can be risky and lead to a complete loss of capital. This guide should not be considered investment advice, and investing in gold CFDs is done at your own risk.
The information provided does not constitute, in any way, a solicitation or inducement to buy or sell cryptocurrencies, derivatives, foreign exchange products, CFDs, securities, and similar products. Comments and analysis reflect the views of different external and internal analysts at any given time and are subject to change at any time. Moreover, they can not constitute a commitment or guarantee on the part of PrimeXBT. The recipient acknowledges and agrees that by their very nature any investment in a financial instrument is of a random nature and therefore any such investment constitutes a risky investment for which the recipient is solely responsible. It is specified that the past performance of a financial product does not prejudge in any way their future performance. The foreign exchange market and derivatives such as CFDs (Contracts for Difference), Non-Deliverable Bitcoin Settled Products and Short-Term Bitcoin Settled Contracts involve a high degree of risk. They require a good level of financial knowledge and experience. PrimeXBT recommends the consultation of a financial professional who would have a perfect knowledge of the financial and patrimonial situation of the recipient of this message and would be able to verify that the financial products mentioned are adapted to the said situation and the financial objectives pursued.