When investors are first introduced to cryptocurrencies like Bitcoin, Ethereum, Litecoin, EOS, and other altcoins, there are several tips, phrases, and terms they must be aware of.
For example, it is wise to never invest more than you can comfortably afford to lose, never tell others you own any digital assets, and more. Learning popular terminology is also crucial to understanding the cryptocurrency asset class as a whole, which has coined – no pun intended – its own set of commonly used words, such as "HODL."
HODL is one of the most popularly used words in the cryptocurrency community today but its origins date back almost a decade at this point. Read the in-depth guide below on HODLing Bitcoin to learn all there is to know about where the term came from, and if it is a helpful suggestion for investors to follow.
What Does HODL Mean Crypto? HODL Meaning And Definition Explained
The term HODL originated in the online cryptocurrency community BitcoinTalk in December 2013 following Bitcoin price going down at an extremely rapid rate, when a reportedly drunken user revealed "I am HODLING." The misspelling since then stuck and has only become an increasingly popular term throughout the cryoto industry. But what does HODL mean in crypto?
HODL stands for:
Essentially it means the same thing as regular holding, but with a crypto centric twist. Holding, or HODLing in this case, recommends that a crypto investor avoids selling assets during especially large or scary price corrections.
The reason it has become so popular over time is due to Bitcoin's notorious price volatility. When Bitcoin price crashes, it can get especially violent so investors are encouraged to HODL their rare BTC strong.
It is also recommended to HODL with Bitcoin price rising for easy gains during a powerfully trending bull market, however, the strategy isn't always the most beneficial way to make money during a bear market, as we'll explain later in the guide.
By HODLing crypto, you are primarily exposed to spot BTC or other crypto assets, and own the underlying asset outright. Alternatives to this involve derivatives contracts, such as Futures, CFDs, Options, and more.
With HODLing, you can only make money on the market when it is going up, versus when it is going down. When you want to finally take profit, you can only sell Bitcoin to avoid losing value when the market turns back down. There is no way to make money from when cryptocurrencies crash or go down with HODLing. There are ways to make money from the market in both directions, such as trading, but this is not what HODLing is about.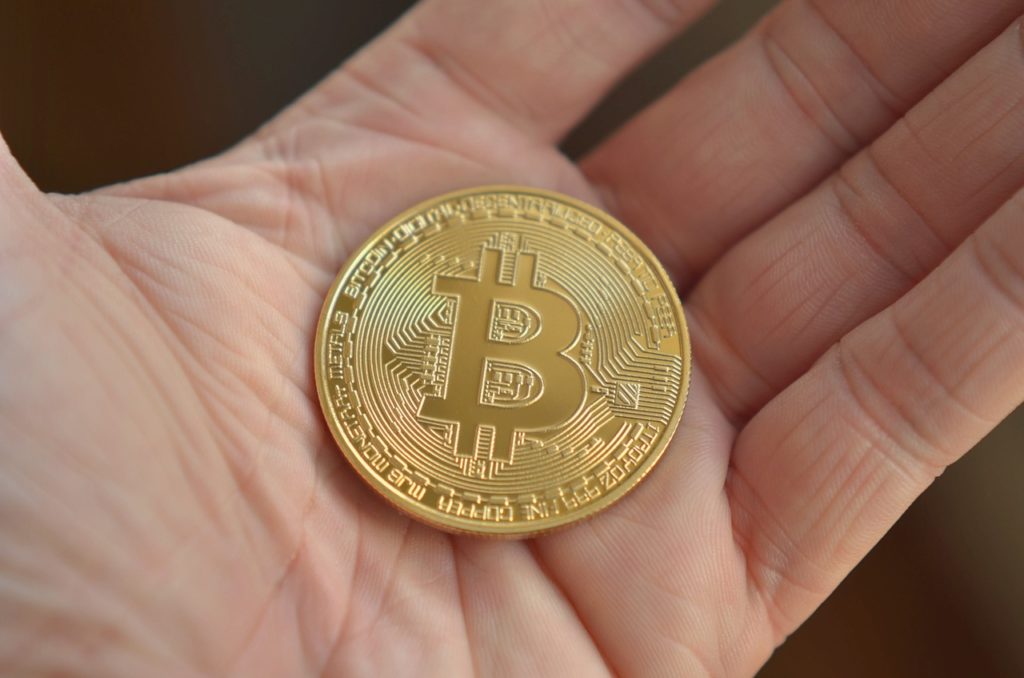 How Do You HODL A Crypto? The Many Ways To HODL Crypto
HODLing Bitcoin for the long term is a very smart investment considering its incredible historical ROI and unprecedented annualized returns, but also given its potential to disrupt the financial industry and fiat money supply.
Before you can HODL a cryptocurrency like Bitcoin or Ethereum, you must first place a buy order on a cryptocurrency exchange or trading platform, exchanging fiat currencies like USD, EUR, and others for crypto.
Consider reading online crypto forums, Twitter, or Reddit for genuine users recommendations on reputable platforms in your specific region. For example, the award-winning margin trading platform PrimeXBT lets users buy BTC in just a few clicks, and much more. Registration is also free and users can store BTC in a secure wallet, trade it, or move it to a wallet of your own.
Once you own crypto, there are a few was of HODLing Bitcoin, including:
"Hot" wallets: Wallets that are connected to the internet in some way.
Web wallets – online wallets accessed through a website interface via URL.
Desktop wallets – downloadable desktop clients that connect to the internet on the user's behalf.
Exchange wallets – the native wallet assigned to each user of a cryptocurrency exchange or trading platform.
Wallet apps – apps from the Apple App Store for iOS or Google Play for Android.
"Cold" storage wallets: USB or bluetooth devices that aren't connected to the internet.
Ledger Nano – A popular crypto wallet that recently experienced a large user information breach.
Trezor – The original cold storage wallet solutions provider with a strong reputation.
KeepKey – A newcomer with lower cost solutions that are proven with user reviews.
Paper wallets – The old school solution that has resulted in thousands of lost BTC.
Unless you are actively using or trading coins, it is recommended to keep the majority of assets in a cold storage wallet for safe keeping or long-term storage, while only keeping what you need for spending or margin in a hot wallet.
Is It Better To Trade Cryptocurrency Or To HODL? Which Is Most Profitable?
There are more ways than one to make money in the crypto market. HODLing is only one strategy, while trading is another potentially more profitable option.
HODLing
As outlined above in the HODL Bitcoin meaning section, HODLing crypto involves buying an asset like Bitcoin or Ethereum, and not selling it during large corrections. Here are the many benefits and pitfalls of HODLing highly volatile digital assets.
In the chart below, HODLing during a bull market can help mostly unskilled investors from being shaken out during violent corrections.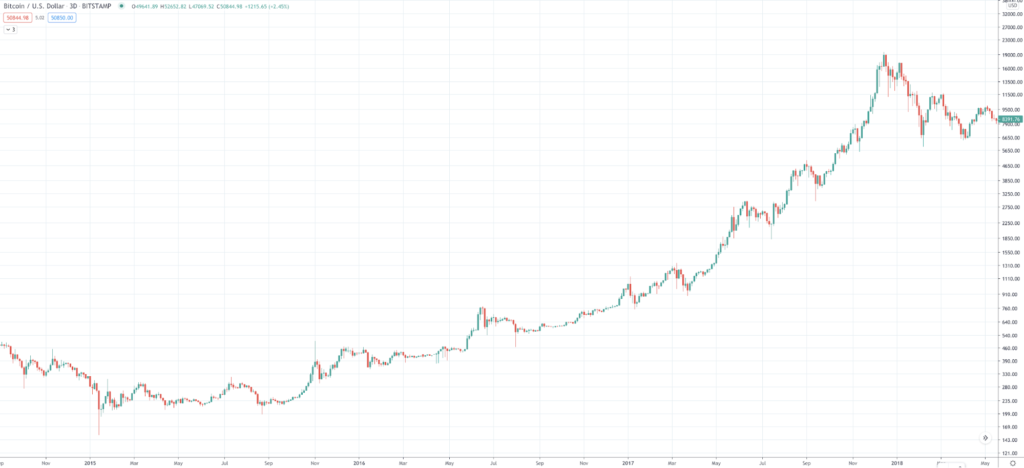 HODLing strong during the few 30% corrections in Bitcoin on the way up always resulted in more upside following. Until it didn't.
As the below chart demonstrates, HODLing through a bear market can be extremely detrimental.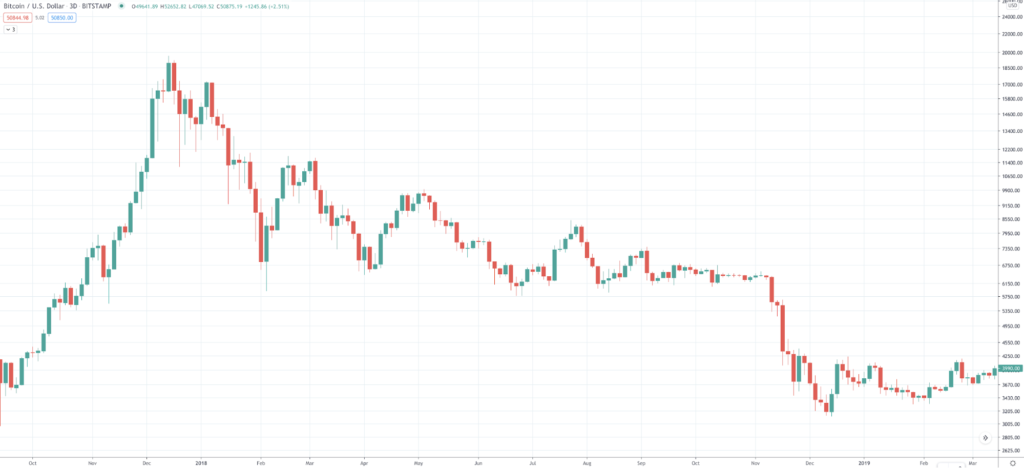 Once HODLing stopped working positively, it resulted in a crushing 80% loss for those that bought the cryptocurrency too close to its peak.
Pros
Simple-to-understand strategy
Avoid getting shaken out
Cons
Can result in significant losses
Doesn't maximize capital potential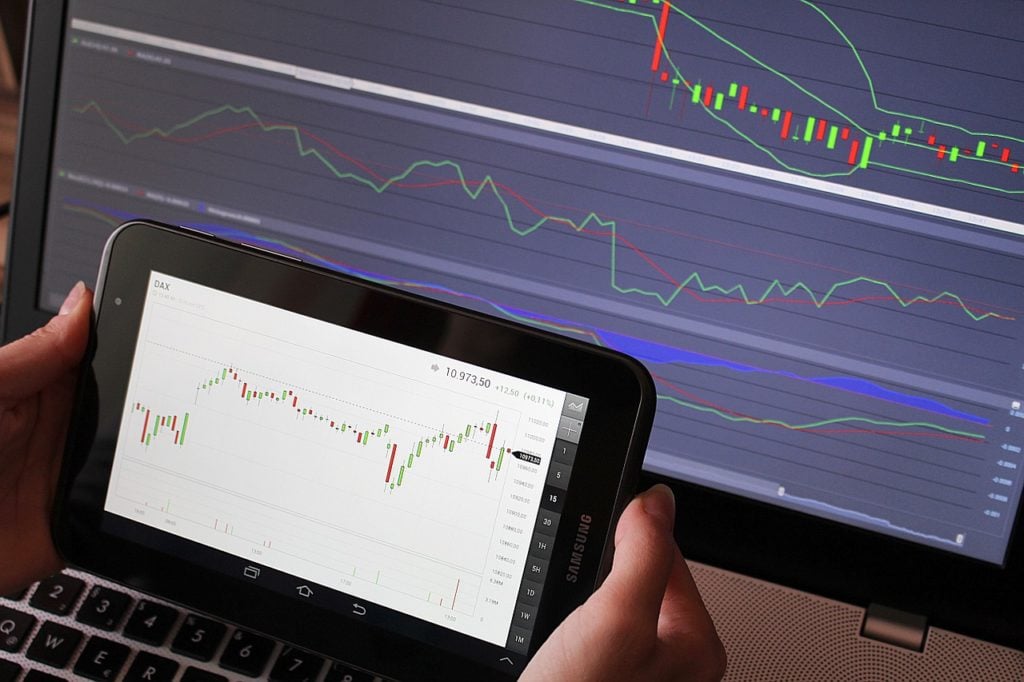 Trading
With trading, investors can buy and sell Bitcoin at their choosing rather than simply HODLing through whatever is to come for price action.
Investors can trade Bitcoin instead when the crypto market begins to turn, rather than stay in a losing position. In fact, traders that use leverage at a margin trading platform like PrimeXBT, can take a position shorting Bitcoin and profit from crypto market downtrends. This fact alone makes trading crypto a potentially more profitable strategy overall for cryptocurrency investing, however, it does require proper risk management and skills to be successful.
Pros
Profit from both uptrends and downtrends.
Avoid losing unrealized profits by holding through downtrends
More profit opportunity overall
Cons
Risk of capital loss is higher than investing alone
Requires some skill or effort to learn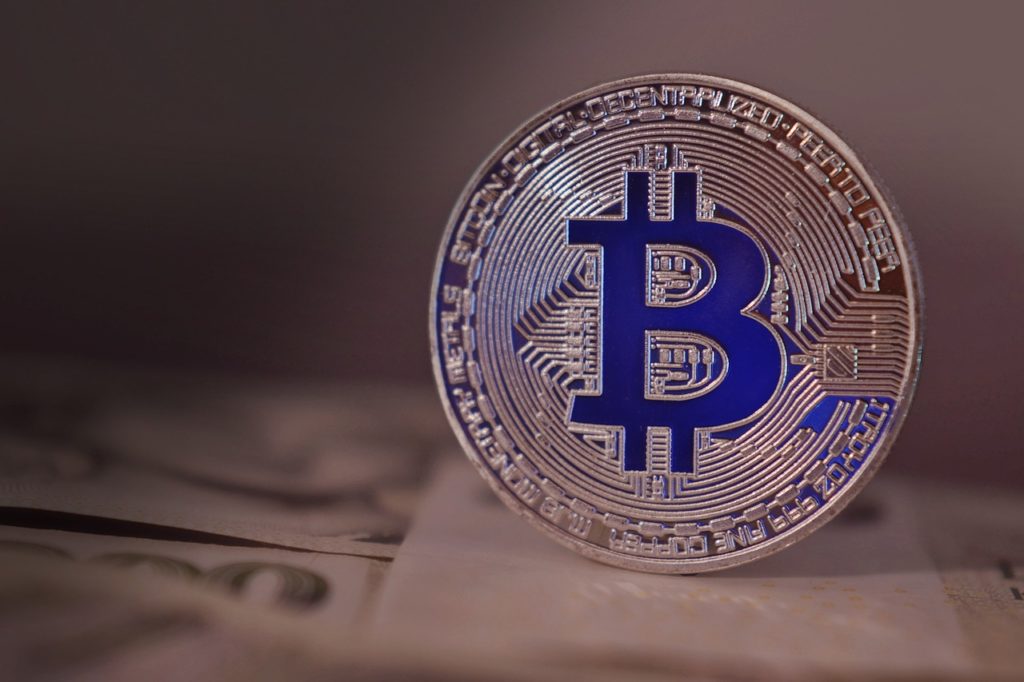 HODLling Conclusion: Why Trading Crypto With PrimeXBT Is The Better Opportunity
HODLing and trading both offer their fair share of pros and cons, benefits and challenges. Finding the right one for you is ideal, but one solution is still better overall than the other for profitability.
During bull markets, especially early on, it is wise to HODL Bitcoin and other cryptocurrencies, but even then trading is more profitable. A long position in Bitcoin or Ethereum, combined with HODLing a spot position of BTC on PrimeXBT, would be significantly more profitable than HODLing spot BTC alone.
Traders on PrimeXBT can then open a hedge short position at key resistance levels, to both avoid closing the highly profitable long trade, and also earn profits from any corrections that result. PrimeXBT lets users open many positions simultaneously, including long and short positions, as long as margin allocation allows.
During bear markets, traders don't need to sit on their hands while they watch their unrealized profits evaporate. Traders can instead increase capital on the way down by shorting Bitcoin or Ethereum, and then taking a long position when the downtrend ends.
Trading can also profit from phases where the market moves sideways, and crypto asset prices simply move very little. By adding leverage to positions, smaller movements can be amplified to become more profitable. HODLing just doesn't offer this option.
PrimeXBT is an award-winning margin trading platform featuring Bitcoin based contracts on stock indices, commodities, forex, and crypto. Using the same platform, users can buy BTC to hold, and use it to trade gold, oil, Bitcoin, Ethereum, or any of the most popular assets all under one roof.
The one stop shop for all things trading also includes a free mobile app for Apple and Android users, a sleek web interface with built-in charting tools from industry-best TradingView, and much more.
The platform even features a cutting edge copy trading module called Covesting, where new traders can become followers, and put their capital behind top strategies and copy their trades. By leveraging the skills of more successful traders, newcomers can learn the rops and earn profits faster than HODLing alone.
PrimeXBT is free for anyone to use, and requires only a few minutes, a few clicks, and a 0.001 BTC deposit to get started. From there, users can buy BTC, fund their trading account, and begin profiting right away.
FAQ: Frequently Asked Questions
What Does HODL Mean In Crypto? 
To HODL in crypto means to "hold on for dear life." The term first appeared as an incorrect misspelling of the word hold, and it has stuck ever since. It has over time become adapted into a trading strategy for cryptocurrencies, where the user doesn't sell the asset regardless of the strength of the correction.
How To You HODL A Crypto? 
HODLing a crypto involves buying a crypto asset like Bitcoin, Ethereum, or Litecoin, and keeping it in a wallet for the long term with the intention of avoiding selling at all costs. Only when profits need to be taken are HODLers encouraged to sell a portion of their coins. But even then, they are always encouraged to still hold at least some spot BTC.
What Is HODL Bitcoin? 
HODL Bitcoin is a term crypto investors often say in support and solidarity of one another to encourage others to avoid selling the crypto asset. The term originated in the BitcoinTalk forum in 2013, before there were many other cryptocurrencies in the crypto market. Therefore, the term HODL is most associated with Bitcoin.
What Crypto Coins Can You HODL? 
Any cryptocurrency that can be moved to a wallet of its own, can in essence be held. Bitcoin, Ethereum, Litecoin, and EOS are some of the more commonly held cryptocurrencies that represent four of the tokens trading on PrimeXBT.
Is It Better To Trade Crypto Or HODL It? 
Trading crypto can be a more profitable strategy than HODLing alone. Both include risks, but only one strategy can also prevent risk and increase profits at the same time. However, trading does take some effort, skills, and strategy to become successful, as well as learning proper risk management.
What Is The Safest Way To HODL Bitcoin or Crypto?
HODLing Bitcoin, as we know, isn't as profitable as trading, but if you must HODL some Bitcoin, which is advised, you can do so safely in a few ways. For one, moving to a cold storage wallet solution is the safest for any long-term HODLing. However, for more flexibility, consider storing some BTC on a reputable crypto exchange, like PrimeXBT, in case a need to trade arises, or another alternative need appears.
Risk Disclaimer
Investing in or trading gold or other metals can be risky and lead to a complete loss of capital. This guide should not be considered investment advice, and investing in gold CFDs is done at your own risk.
The information provided does not constitute, in any way, a solicitation or inducement to buy or sell cryptocurrencies, derivatives, foreign exchange products, CFDs, securities, and similar products. Comments and analysis reflect the views of different external and internal analysts at any given time and are subject to change at any time. Moreover, they can not constitute a commitment or guarantee on the part of PrimeXBT. The recipient acknowledges and agrees that by their very nature any investment in a financial instrument is of a random nature and therefore any such investment constitutes a risky investment for which the recipient is solely responsible. It is specified that the past performance of a financial product does not prejudge in any way their future performance. The foreign exchange market and derivatives such as CFDs (Contracts for Difference), Non-Deliverable Bitcoin Settled Products and Short-Term Bitcoin Settled Contracts involve a high degree of risk. They require a good level of financial knowledge and experience. PrimeXBT recommends the consultation of a financial professional who would have a perfect knowledge of the financial and patrimonial situation of the recipient of this message and would be able to verify that the financial products mentioned are adapted to the said situation and the financial objectives pursued.