Dear community,
As 2020 is coming to an end, we would like to wish you and your loved ones health, prosperity, patience and strength. Believe in your dreams and may the universe help to achieve all the goals in the new 2021!
Passing 2020 was a roller coaster of a year for many of us. Many businesses and industries were affected by Covid-19. Stock indices crashed once the pandemic hit globally in March, and since then the majority of sectors have remained depressed mostly due to travel, and offline retail services consumption.
Meanwhile tech stocks hit new high and Bitcoin surpassed its all time peak. Since the whole world is quickly shifting from offline to online there has been an even bigger drive into the modern day digital era. Technological mega trends are evolving and integrating into our daily lives faster than ever before, and in order to stay ahead we have to remain on the cutting edge of technology, follow, and even get ahead, of these trends.
At PrimeXBT we believe that technology can make people's lives better and we continuously aim to improve our services and product offerings to all our users. From one of a kind multi-asset platform to cutting edge p2p copy trading module, we continue to deliver the products that the modern day investment industry deserves.
To wrap up the year we have prepared a short summary of all developments and achievements that PrimeXBT accomplished throughout 2020.
PrimeXBT Awarded Best Bitcoin Margin Trading Platform
PrimeXBT started the year on a high note by scooping an independent award for 'The best margin trading platform' at the ADVFN 2020 International Financial Awards.
Additionally, PrimeXBT also won three prizes at the Forex Awards. The prizes included 'Best Crypto Trading Platform', 'Best Crypto and Forex Broker', and 'Best Crypto Trading App.'
PrimeXBT Earned Top Honors In Independent Crypto Support Comparison
PrimeXBT also showed its care for customers in direct comparisons against some of the world's biggest exchanges — such as Binance, BitMEX, Bitfinex, and Deribit — when it came to customer support.
PrimeXBT was noted to have the fastest response time out of the five platforms within the independent review, providing an instant response to the customer's inquiry via our 24/7 live support chat.
PrimeXBT Added New Trading Instruments
PrimeXBT firstly added a total of 19 new trading instruments, which included many top stock indices, additional Forex and trading foreign exchange trading pairs, and also lowered the minimum order size across all assets listed on the platform.
Later in the year, we added even more into our Forex offerings as the likes of the Mexican Peso, South African Rand and Thai Baht were made available alongside a few other emerging currencies and trading pairs.
PrimeXBT Turbo Product Launched
PrimeXBT also launched this year the PrimeXBT Turbo platform, a first-of-its-kind trading product for the crypto market that was designed to serve savvy traders with a chance to make quick trades with potential profitability between 60% and 90% in a matter of minutes.
This product allows for users to predict the movement of the price of a certain asset over a duration of 30 seconds, one minute, or five minutes, and to profit when their call is correct.
Warning. This product involves significant risk of capital loss. This service is not suitable and/or appropriate for all clients. Entering into short-term Bitcoin settled contracts could result in a partial or complete loss of your funds, therefore, you should not operate with funds you cannot afford to lose.
Translated PrimeXBT platform Into A Total Of 16 Languages
PrimeXBT also looked to go truly global in order to attend to the needs of all our existing clients in their own languages, as well as to expand the global market and welcome new users to the platform.
Now PrimeXBT is available in the following 16 languages: English, Spanish, French, German, Portugeese, German, Italian, Hindi, Indonesian, Turkish, Thai, Russian, Chinese, Japanese, Bangladesh, Korean and Vietnamese.
Launched Analysis Section With Integrated Tradingview Charts
TradingView is one of the most well known and used charting sites, and we are aware of how popular it is with our own customers and wanted to act to meet the demand. PrimeXBT thus launched a full analysis section with the TradingView Charts integrated.
We continue to understand the importance of the analysis section and will regularly be updating and improving this section in the next year.
Cex.io Partnership Led To Seamless Purchasing of BTC Through Debit and Credit Cards
In order to make the purchasing of BTC even easier for our clients, and to ensure a smooth and seamless princess for depositing, we also teamed up with CEX.io.
Anyone that doesn't already own BTC, and those who are seeking to purchase more to start their trading career with PrimeXBT, or those that simply want to top up their account, can do so in just a few easy steps right through their PrimeXBT account thanks to Cex.io.
Covesting Copy Trading Module Launched
PrimeXBT is also proud of the waves it is making in the industry with the Covesting copy trading module launch, an entirely unique product in the cryptocurrency space, and one that builds on a popular trading method in traditional markets.
We fully launched the Covesting Module in August of this year through a B2B partnership with a Europe-based software development firm by the same name.
The public launch comes nearly four months following the anticipated release of the Covesting beta on PrimeXBT. The platform quickly garnered widespread interest within the trading community and already amassed $millions in followers and strategy managers equity.
Covesting is a one-of-a-kind peer-to-peer copy trading module that connects new traders or inexperienced investors that wouldn't otherwise trade with skilled traders and professional strategy managers from around the global trading community.
Later, in December, Covesting implemented COV token utilities, giving a series of advantages. For example, strategy managers are able to reduce their trading fees, followers can activate a specific COV token utility to eliminate entry fees and more so, the percentage split that followers earn from all profitable trades can be increased in favor of followers.
For holders of the COV token, there are also additional incentives as the Covesting team has also integrated a token burn program that aims to reduce the COV token supply. Burn programs such as this have been known to help increase demand and thus raise the price of the token to the benefit of holders.
PrimeXBT Went Global
This has been a big year for us in terms of going global. We have looked to accommodate as many different traders as we can with language integrations, but currently we have clients from more than 170 countries who all appreciate our easy to use and powerful trading platform.
We have also solidified our position in Latin America by hiring former development executive Libertex Group Latam, Iván Marchena, as Vice President of Operations for Latin America.
We have clients from many countries in the region who have shown an increasing interest on the platform due to the variety of assets and the use case of the Covesting module. Our top countries being México, Argentina and Columbia, explained Marchena.
Since his appointment in August, we have seen that area be our fastest growing market.
Furthermore, our global reach has also seen us team up with YouTube influencers, as moved towards crypto ATMs with a partnership with fintech CoinLogiq to integrate services into 33 cryptocurrency ATMs.
Other partnerships saw us team up with other crypto exchanges, fiat on-ramps, host seminars, webinars, conferences — including Labitconf / Cripto LATIN Fest — and form strategic alliances with local crypto actors, such as regional projects and NGOs.
Even our hiring went global as we looked for affiliate managers in places like Brazil, New Zealand, Malaysia and Argentina. While Australia and South Africa also proved to be a popular market for us in terms of growth.
PrimeXBT Welcomed Analyst Kim Chua And Launched PX Research
This year we made a concerted effort to strengthen our markets research department with the hiring of Kim Chua to provide her expert opinions on all sorts of markets.
Kim Chua is an institutional trading specialist with a track record of success that extends across leading banks including Deutsche Bank, China Merchants Bank, and more. Chua later launched a hedge fund that consistently achieved triple-digit returns for seven years.
Chua is also an educator at heart who developed her own proprietary trading curriculum to pass her knowledge down to a new generation of analysts. Kim Chua actively follows both traditional and cryptocurrency markets closely and is eager to find future investment and trading opportunities as the two vastly different asset classes begin to converge.
Some of her more well received analysis includes a look at the price of XRP ahead of its major pump.
CPA Offers And Partnerships Program Launched
We also improved our CPA affiliate program and partnerships where users were invited to introduce new clients to PrimeXBT and allow them trade to earn a certain profit.
We purposefully bolstered the rewards for our top end CPA partnerships where these users would receive income not only from commissions on margin trading, but also from commissions that the trader is paying on Covesting.
Additionally, there is the Revshare offer which leads to a stable income and the potential to earn 70% of all trading fees paid by your referred users. Or, alternatively, the CPA offer meant users could receive up to $600 per referred qualified trader.
PrimeXBT's Drove To Provide Educational Content
A big drive for us at PrimeXBT this year was around educating and teaching people to be better traders. We made it our aim to host and conduct a number of successful webinars for both novice traders and those who deeply understand the market and are looking for new opportunities for successful transactions.
Here is a list of great webinars that you can go back and watch!
As part of the PrimeXBT Webinar Series, we discussed recent COV utility integration: $COV Utility Integration.
In this PrimeXBT Webinar, the topic of spotting reversals was discussed in order to help traders pick up on the times the market will shift: How to spot reversals.
Another informative PrimeXBT Webinar Series saw the discussion around scalping and many things that not everyone knows about it: 10 Things you didn't know about scalping.
This PrimeXBT Webinar focused around Covesting and how to utilize the $COV token: Covesting $Cov Tool Explained.
PrimeXBT Webinar Series #8 was all about understanding Swing Trading and how beginners could be a part of it: Swing Trading for Beginners.
This Webinar was for Italian users and how they could get better when it came to intraday trading: ITALY Webinar.
For Spanish users, a Webinar that educated about trading in the Covesting module: SPAIN Webinar.
We also published a tutorial series in the community with the Trading Community Platform: 7 Tips for Successful Hands-Free Trading With Covesting on PrimeXBT.
We hosted an entire series on copy-trading and how it can be beneficial to a large scope of traders: Copy-trading series.
Continuous Growth And Ongoing Improvements
Even though 2020 was an incredibly tough year, at PrimeXBT we continued to grow and expand our operations with great success. We added new features, reached new audiences, and added more tools and abilities to our powerful trading platform.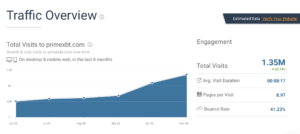 We have noted that our growth has been the direct result of our client-focused approach and the appreciation we have for our clients. Additionally, we have noted that we are far beyond our competitors when it comes to the features and tools we offer all traders.
By offering these features, and ensuring all our clients are happy and enjoy the trading experience, we are able to continually grow and add even more features and advancements — almost every week.
Even in the background, we are always working to improve our platform to improve your trading experience — from minor performance tweaks to behind-the-scenes security updates.
With our passion towards trading and technology PrimeXBT will continue to surprise its users and make waves in the industry in 2021. We have a vision of becoming an ultimate platform and a one-stop solution for beginners and professional traders alike.
Once again, we wish warmth and happiness and see you Next year!
Yours,
PrimeXBT team
Risk Disclaimer:
Investing in or trading gold or other metals can be risky and lead to a complete loss of capital. This guide should not be considered investment advice, and investing in gold CFDs is done at your own risk.
The information provided does not constitute, in any way, a solicitation or inducement to buy or sell cryptocurrencies, derivatives, foreign exchange products, CFDs, securities, and similar products. Comments and analysis reflect the views of different external and internal analysts at any given time and are subject to change at any time. Moreover, they can not constitute a commitment or guarantee on the part of PrimeXBT. The recipient acknowledges and agrees that by their very nature any investment in a financial instrument is of a random nature and therefore any such investment constitutes a risky investment for which the recipient is solely responsible. It is specified that the past performance of a financial product does not prejudge in any way their future performance. The foreign exchange market and derivatives such as CFDs (Contracts for Difference), Non-Deliverable Bitcoin Settled Products and Short-Term Bitcoin Settled Contracts involve a high degree of risk. They require a good level of financial knowledge and experience. PrimeXBT recommends the consultation of a financial professional who would have a perfect knowledge of the financial and patrimonial situation of the recipient of this message and would be able to verify that the financial products mentioned are adapted to the said situation and the financial objectives pursued.