Bitcoin price has absolutely exploded from lows set just one month ago on the dreaded day now known across the world as Black Thursday 2020.
The disastrous day in mid-March caused Bitcoin price to plummet to below $4,000, after trading at over $10,000 just days prior. But although the leading crypto asset by market cap suffered such a catastrophic collapse, it has already recovered by over 150% at the peak, before pulling back slightly.
The bullish price action ahead of Bitcoin's block reward halving has restored confidence across the cryptocurrency market, with trading volume returning and sentiment rising in a major way. However, crypto traders are showing a distrust in some crypto exchanges, notably BitMEX, after the platform was brutalized during the mid-March collapse.
The platform's open interest has reached severe lows, putting the future of the crypto platform in jeopardy. But where is the money going?
Bitcoin Price Grows Nearly 150%, Rises From $3,800 to $9,500 From Black Thursday Bottom
The leading cryptocurrency by market cap has now set a record for its best April performance since 2013, even beating out the massive pump that kicked off the April 2019 rally that took Bitcoin to over $13,000, before a new downtrend began.
The explosive move caused the April monthly candle to close as a bullish engulfing candle, which is often a reversal signal 63% of the time. While this definitely suggests some more upside in the future for bulls, an expert in chart patterns, Thomas Bulkowksi, claims that these signals aren't worth trading, because the downtrend they occur in often continues following a short term reversal.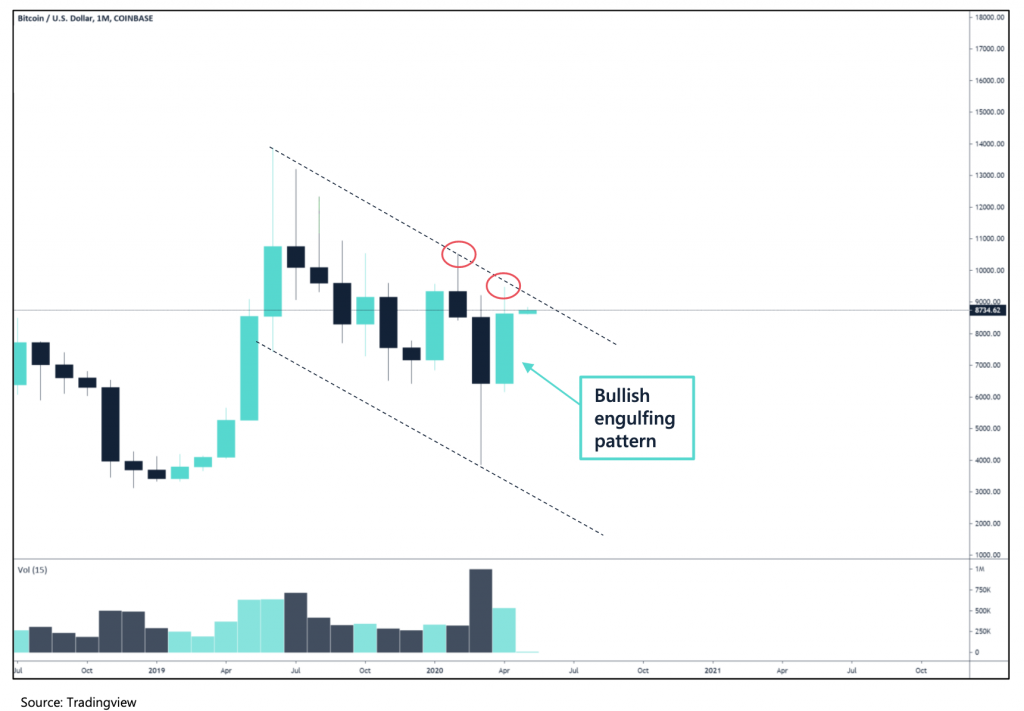 Bitcoin price will need to break cleanly above $10,000 and reclaim $13,000 for a chance at retesting its all-time high of $20,000.
The momentum, however, is there, and with Bitcoin's block reward halving in less than two weeks, the value of the first-ever cryptocurrency could continue to skyrocket.
The conditions are perfect. The halving is here and the Federal government is printing more money than ever to save the economy, creating an environment at which Bitcoin was designed to thrive in.
Only time will tell if Bulkowski's call is correct or not and if the downtrend will continue in the months ahead.
Confidence in Crypto Market Restored Is Beneficial For Small Cap Alts
For now, the Bitcoin rally has restored confidence across the crypto market in a major way. Altcoins have been rocketing alongside the king of crypto, and are showing even more bullish signals than the leading crypto asset itself. Still, Bitcoin continued to outperform XRP and Ethereum, even though they too showed strong rallies during the month.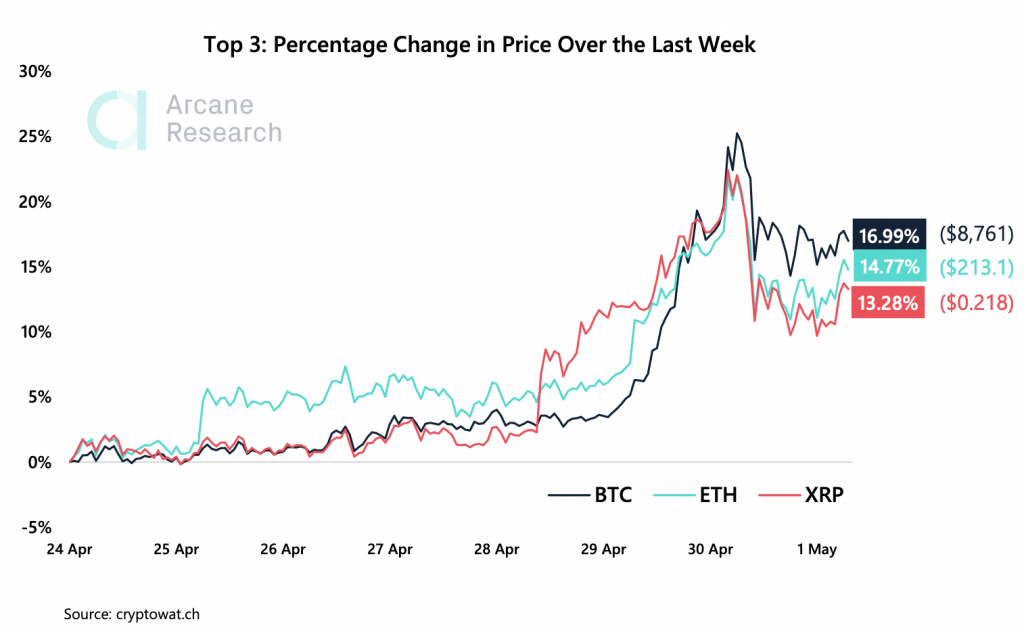 Small-cap altcoins increased the most for April, another signal that confidence in the asset class is improving. These gains were driven by Kyber Network, Lisk, and Digibyte token. Meanwhile, top performers had major setbacks, such as Chainlink, Dash, and UNUS SED LEO.

The return of confidence can be seen in the crypto market Fear and Greed Index, which has finally left extreme fear and set a path back toward greed. In no time at all, the market could reach peak euphoria, simply due to how fast Bitcoin has risen from lows.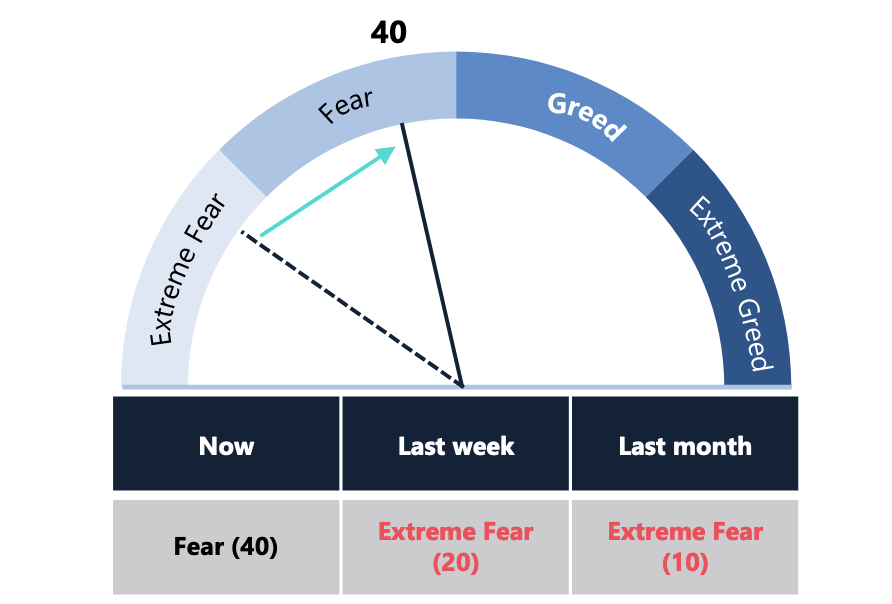 Further depicting a return of confidence, is a massive spike in trading volume across the BTC market. Volatility has also increased after a period of stagnant trading. 7-day volatility is already up 4.8% and climbing.
BitMEX Traders Flee to Other Platforms After Black Thursday Chaos
One area of the crypto space where confidence is fleeting is on the margin trading platform BitMEX. The platform's open interest reached a historical low, following last month's liquidation engine failure that was in part responsible for sending Bitcoin price tanking on Black Thursday.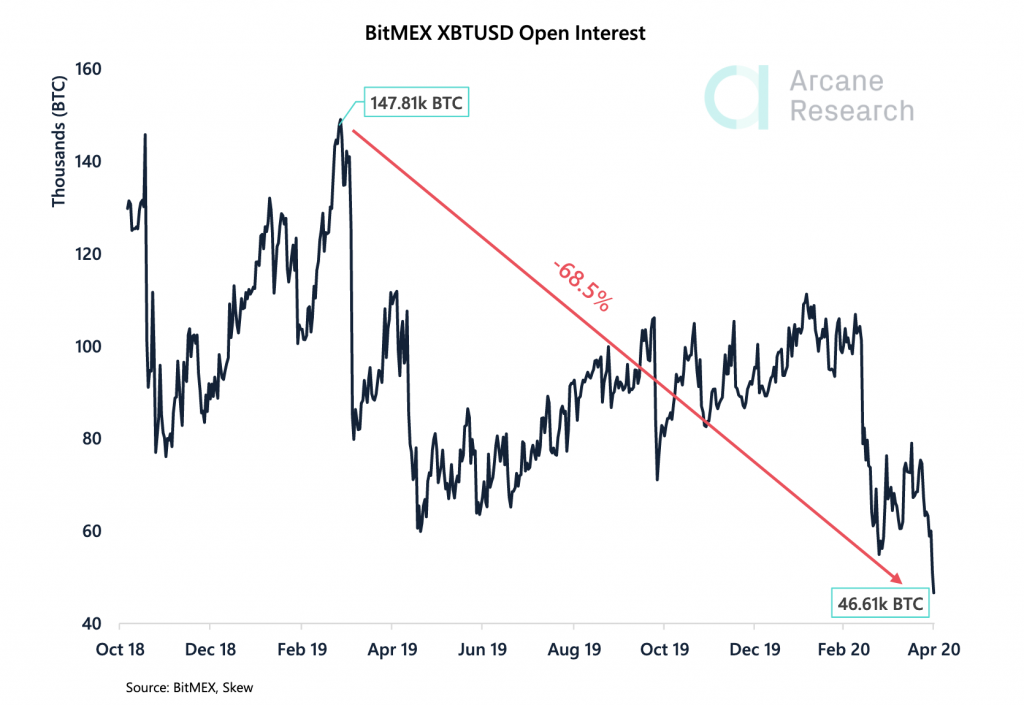 The situation has proven to be a stain on the platform's not-so-squeaky-clean reputation. Due to the situation, on-chain metrics show that more and more crypto investors are moving their Bitcoin off exchanges and into cold storage wallets or web solutions.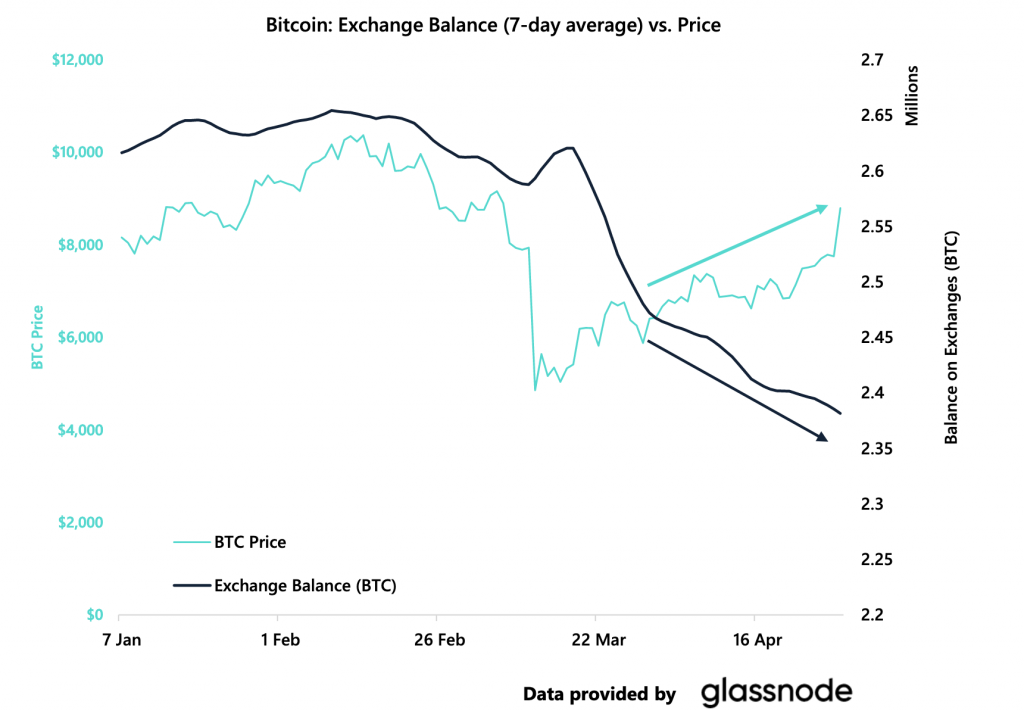 Trust in crypto exchanges is very low following the collapse, with many platform's flash crashing left and right during the chaos. The trading volume is flowing to PrimeXBT, however, with trading volumes spiking to over $1 billion on a regular basis.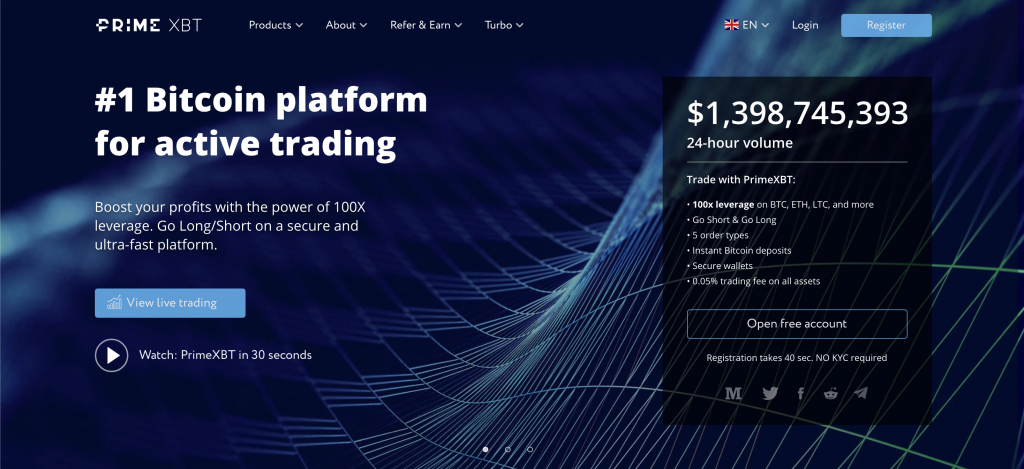 Ethereum Smart Contracts Spike, But Are Found to Be Empty
Ethereum prices have also been climbing throughout 2020, due to the sudden interest in the decentralized finance movement. However, oddly, new data shows that a large portion of Ethereum smart contracts are completely empty, or simply related to the GasToken only.
It's not apparently clear why this would happen, but in March, nearly 60% of all new deployments were GasToken related.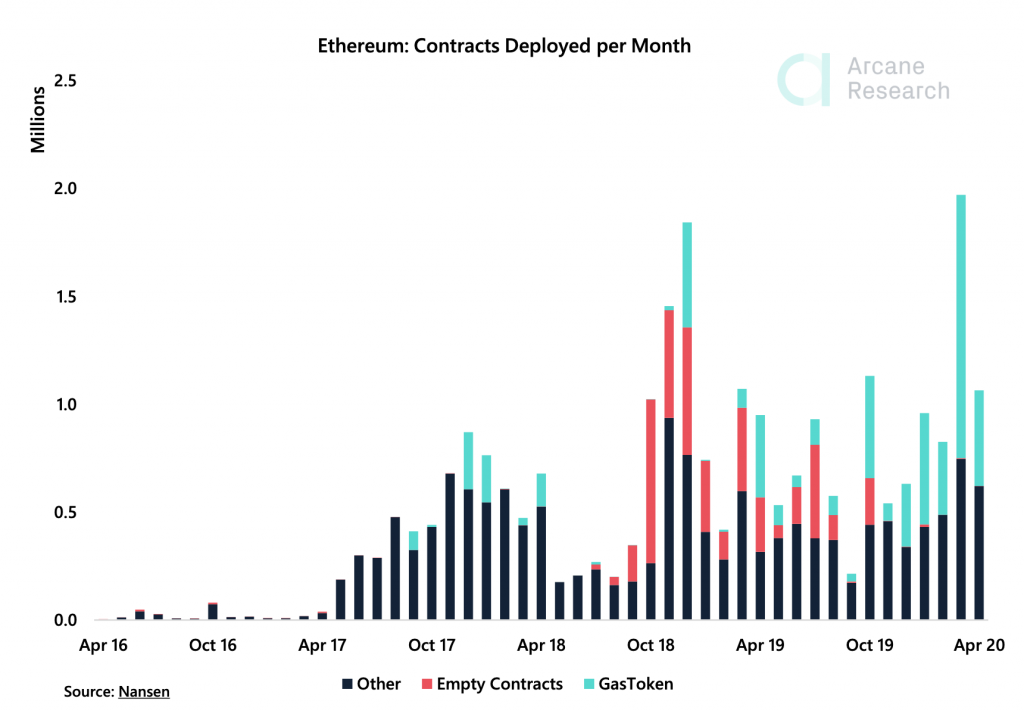 Ethereum contracts spiked as much as 75% higher than the former record in October 2019, however, due to most of it being dummy contracts, the data isn't as meaningful as first expected.
This Week's Biggest News Stories
Andreessen Horowitz Adds Half a Billion in New Crypto Fund
Investment powerhouse Andreessen Horowitz's second crypto fundraised a total of $515 million since fundraising first began.
Bitcoin Halving Search Spike on Google Trends
Search queries for Bitcoin halving on Google Trends have gone parabolic, much like the asset's price this past week.
Bitcoin Adoption In the Unbanked Is Growing in El Salvador
In a region dubbed Bitcoin Beach, the cryptocurrency is allowing the unbanked to continue buying much-needed essentials as the nation's fiat currency fails.
The information provided does not constitute, in any way, a solicitation or inducement to buy or sell cryptocurrencies, derivatives, foreign exchange products, CFDs, securities and similar products. Comments and analysis reflect the views of different external and internal analysts at any given time and are subject to change at any time. Moreover, they can not constitute a commitment or guarantee on the part of PrimeXBT. The recipient acknowledges and agrees that by their very nature any investment in a financial instrument is of a random nature and therefore any such investment constitutes a risky investment for which the recipient is solely responsible. It is specified that the past performance of a financial product does not prejudge in any way their future performance. The foreign exchange market and derivatives such as CFDs (Contracts for Difference), Non-Deliverable Bitcoin Settled Products and Short-Term Bitcoin Settled Contracts involve a high degree of risk. They require a good level of financial knowledge and experience. PrimeXBT recommends the consultation of a financial professional who would have a perfect knowledge of the financial and patrimonial situation of the recipient of this message and would be able to verify that the financial products mentioned are adapted to the said situation and the financial objectives pursued.