Like Bitcoin, Litecoin is a cryptocurrency with enormous long-term projected growth. This helpful Litecoin Price Prediction guide will help investors understand if LTC will rise like Bitcoin and reach prices of $1,000 or more in 2021 and what it will reach beyond 2025.
Intro
Bitcoin was the first-ever cryptocurrency, sparking an entire industry of altcoins created in hopes of improving upon what Bitcoin sought out to achieve. Among the most common improvements altcoins attempt to make over Bitcoin, is improved transaction speeds. Litecoin is the first crypto asset to do so successfully, and it has cemented Litecoin's place in the crypto market and as a financial asset with long-term growth potential.
This Litecoin price prediction guide will help investors make an informed decision if Litecoin is right for them, help them understand if Litecoin will rise as Bitcoin has in the long term, and provide an all-around Litecoin forecast that will help to determine what could Litecoin be worth in 10 years.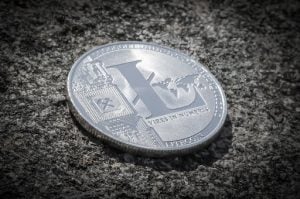 What is Litecoin?
Litecoin is a cryptocurrency designed by former Google and engineer for a crypto exchange, Charlie "Satoshi Lite" Lee. Lee is a controversial figure in the cryptocurrency space, known for selling off his Litecoin holdings at the peak of the last crypto bubble. However, Lee cited the move was done to alleviate a potential conflict of interest.
Lee is still heavily involved in the project and is the Managing Director of the Litecoin Foundation, a team dedicated to pushing Litecoin adoption, increasing its value proposition in the market, and establishing Litecoin growth in the long term.

Litecoin's code is a work of the Bitcoin Core client, and technically similar to Bitcoin. The main difference is a decreased block generation time of just 2.5 minutes, compared to Bitcoin's ten minutes. This speeds up transaction times and its lightweight design is where the name "Lite Coin" came from.
Litecoin gets additional value from being so closely tied to Bitcoin, and is commonly referred to as digital silver to Bitcoin's digital gold narrative. Both assets have a hard-capped supply that gives the assets a scarcity aspect that is similar to precious metals.
According to recent LTC news, Litecoin has been regularly used as a testbed for upcoming second-layer applications that will eventually be applied to Bitcoin, such as Segregated Witness and the Lightning Network.
Litecoin In 2021 And The History of LTC
Litecoin's strongest year in recent history, was 2019 during its halving. The cryptocurrency known as the silver to Bitcoin's as digital gold rose 600% that year, before crashing back down to retest its bear market bottom.
2020 was a brutal year with very little action, causing investors interested in LTC to ask the questions "will Litecoin go up in value," "how high will Litecoin go," and "will Litecoin ever reach 1000 dollars per LTC."
Already in 2021, Litecoin has set its first higher high since its all-time high price record was set in 2017. A higher-high after a higher low is the definition of an uptrend. Since the peak was put in during the beginning of 2021, Litecoin began to pullback but appears to be retesting former resistance turned support. If support can hold the cryptocurrency will confirm a new bull market is here and could see a move similar to what Bitcoin has done in recent months.
Litecoin still remains below its former all-time high and is among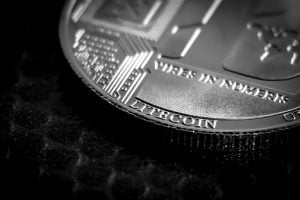 Litecoin Experts Weigh in On Litecoin Projected Growth
The Litecoin forecast is bright, especially considering all of the support the crypto asset has earned from industry experts and big-name investors alike.
GalaxyTrading, Trading Desk And Techincal Analyst Team
GalaxyTrading, not to be confused with Mike Novogratz Galaxy Digital, expects each Litecoin to reach a high of $1,000 this year.
John Kim, The Litecoin Foundation
John Kim is a famous Litecoin investor who liquidated his business and gave it all up to become a crypto evangelist. He focused on promoting Litecoin, so there's certainly some bias involved, but his "limit order" of $3,500 per LTC sheds some light on how far he thinks the altcoin can climb.
Penguin Capital, Crypto Fund And Trader
Penguin Capital joined the conversation with John Kim, revealing that their limit order is set a more conservative level, at or around $2200 per LTC.
Dan Gambardello, Youtuber and Founder of Crypto Capital Venture
Crypto Capital Venture founder Dan Gambardello is exceptionally bullish on cryptocurrencies, but especially Bitcoin and Litecoin. Gambardello launched his own crypto-focused venture capital firm and looks to fund projects throughout the cryptocurrency industry. Not only is the nod of support from Gambardello significant, but he also has compared current price action in Litecoin to 2016's price action, when Litecoin rallied to $300 after consolidating around $4 for some time. This time around, Gambardello believes Litecoin will have a "massive run to $1,000+" in the long-term.
Past Litecoin and LTC Price Predictions That Got It Right
Profit Confidential Analysts, Financial Research Firm
Profit Confidential predicted in mid-2017 before Litecoin went parabolic that the asset would trade at $200 before the year was over. At that point, LTC was trading at just $60 per token. That year, it peaked at over $300 per coin.
Charlie Lee, Litecoin Creator
Charlie Lee, the creator of the cryptocurrency itself made one of the most daring calls of all: he called for his own coin to drop from all-time high prices of $300+ to as low as $20. And he was right! Litecoin eventually bottomed at around $20 per LTC in December 2018. The community was furious with him, but he was ultimately correct in his prediction. He famously warned:
"Buying LTC is extremely risky. I expect us to have a multi-year bear market like the one we just had where LTC dropped 90% in value ($48 to $4). So if you can't handle LTC dropping to $20, don't buy!"
Litecoin Historical Price Data
Litecoin's supply is hard-capped at 84,000,000 LTC, with 66,752,414 LTC in circulation. In 2017 Litecoin reached its all-time high of $417 on Coinbase before falling back down to roughly $20.
Prior to the coin's 2019 halving, Litecoin was trading at $140 per LTC coin, nearly half of its all-time high and an over 600% gain from its bottom price.
Another pullback caused Litecoin to reach $35 in late 2019, but after a higher low, Litecoin future price is only expected to increase from here.
In 2020, Litecoin has rallied and into 2021 the cryptocurrency made an attempt to set a new high. The results are mixed. CoinMarketCap says Litecoin set a new high in May 2021, however, the Coinbase chart shows that Litecoin failed to set a new high and has many talking about a double-top formation.
Despite the corrections and potential top formation, Litecoin has a strong long-term price trajectory and outlook that suggest that Litecoin potential is extremely high.
Today, in 2021, Litecoin is trading at around $160 per LTC, after being rejected from highs.
Litecoin Price Technical Analysis and Price Potential
Technical analysis can be used to help investors and traders come up with a short-term and long-term price prediction for Litecoin, beyond just speculation. Here's a breakdown of LTC price predictions broken down by year from some of the best industry analysts.
Litecoin Price Prediction 2023
Once a new all-time high is set and the reversal begins, another bear market starts. Litecoin could fall back to retest the former bull market peak and current consolidation level as the next bear market bottom.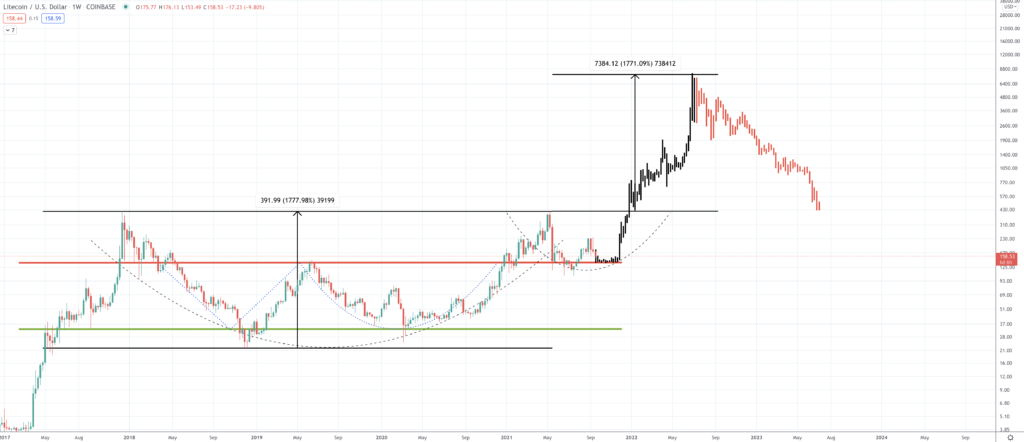 Litecoin Price Prediction 2024 – 2025
After the conclusion of the next bear market with a double or triple bottom structure, Litecoin will be ready to rise again, this time potentially reaching tens of thousands per LTC.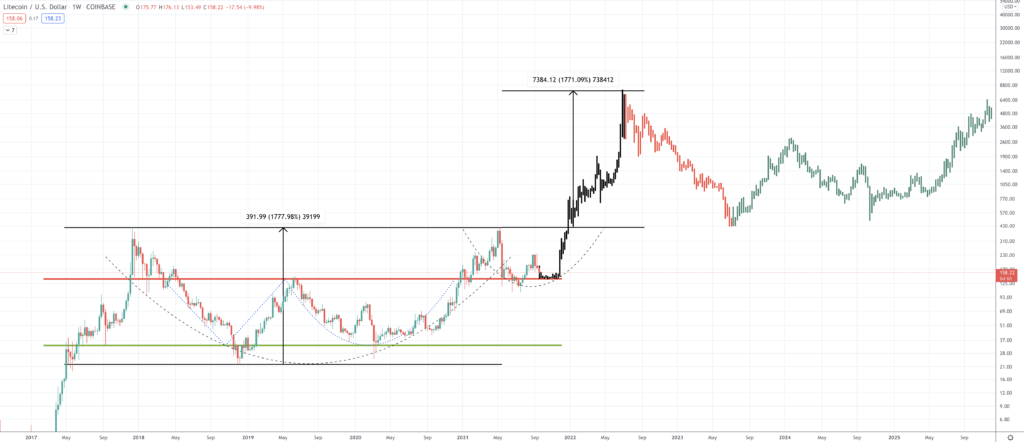 Conclusion: Is Litecoin a Good Investment and How Much Will LTC Be Worth?
Using the analysis from some of the industry's best analysts and traders, LTC projected growth could reach a profitable projection as high as $10,000 in the long-term outlook, which would make it among the best performing assets of all-time, next to Bitcoin.
Litecoin has been struggling to reclaim its previous all-time high, and according to analysis lower prices could be met before some of the biggest price predictions are ever reached. On the lowest end of the scale, analysts see $100 as the absolute bottom for Litecoin in the days ahead.
The below table can be used as a quick reference for the minimum and maximum projections that can be expected for Litecoin from 2019 to 2025. Beyond that, anything is possible depending on how widely cryptocurrencies are adopted and if they begin to replace fiat currencies like the Euro or USD.
| | | |
| --- | --- | --- |
| Year | Potential High | Potential Low |
| 2021 | $750 | $100 |
| 2022 | $2250 | $325 |
| 2023 | $1000 | $200 |
| 2024 – 2025 | $10,000 | $1000 |
Due to how far Litecoin has come, growing from low prices around $3 to as much as $400 at its all-time high peak price, it's clear that Litecoin is a strong performing investment. With the asset's price rising and falling to such extremes, Litecoin is a trader's dream as they can profit from both long and short positions as LTC bounces between peak and trough.
Traders can take advantage of similar tools provided by trading platforms like PrimeXBT, and open positions with up to 100x leverage on either the LTC/USD pair, or the LTC/BTC pair.
PrimeXBT offers Litecoin alongside other popular cryptocurrencies Bitcoin, Ethereum, Ripple, and EOS, as well as traditional assets such as the most popular forex currencies, commodities, stock indices, and spot contracts for gold and silver.
Litecoin has garnered the attention from the likes of many sports leagues, and is the official cryptocurrency sponsor of the UFC, the MMA brand also known as Ultimate Fighting Championship.
Litecoin also has strong support in the development community, and is often used as a testbed for other digital currency projects, due to how much developer activity the crypto asset has, and due to how simple it is to work with.
Litecoin has also consistently stayed in the crypto market top ten by market cap, a feat that not many other altcoins can claim. Litecoin is supported by most country's regulatory entities, as it is among the earliest cryptocurrencies to hit the market. It is also extremely popular with retail investors, traders, and more.
Litecoin's strength in the market shows frequently, as it is the altcoin asset that most commonly leads rallies, and its recent halving helped pull Litecoin, Bitcoin, and the rest of the crypto market out of a bear market and into a bull market.
With so much going on in Litecoin's favor, it is easy to see why analysts and industry experts have made such strong Litecoin price predictions. Using the facts and predictions found in this guide, investors can determine if investing in or trading Litecoin is right for them.
Risk Disclaimer
Investing in or trading gold or other metals can be risky and lead to a complete loss of capital. This guide should not be considered investment advice, and investing in gold CFDs is done at your own risk.
The information provided does not constitute, in any way, a solicitation or inducement to buy or sell cryptocurrencies, derivatives, foreign exchange products, CFDs, securities, and similar products. Comments and analysis reflect the views of different external and internal analysts at any given time and are subject to change at any time. Moreover, they can not constitute a commitment or guarantee on the part of PrimeXBT. The recipient acknowledges and agrees that by their very nature any investment in a financial instrument is of a random nature and therefore any such investment constitutes a risky investment for which the recipient is solely responsible. It is specified that the past performance of a financial product does not prejudge in any way their future performance. The foreign exchange market and derivatives such as CFDs (Contracts for Difference), Non-Deliverable Bitcoin Settled Products and Short-Term Bitcoin Settled Contracts involve a high degree of risk. They require a good level of financial knowledge and experience. PrimeXBT recommends the consultation of a financial professional who would have a perfect knowledge of the financial and patrimonial situation of the recipient of this message and would be able to verify that the financial products mentioned are adapted to the said situation and the financial objectives pursued.