It has been a crazy time in the markets, across the traditional stocks as well as cryptocurrency — and it is not only Bitcoin. The major cryptocurrency has indeed shown some life and has been grabbing headlines as it climbed once again, but it is Ethereum and other altcoins leading the way.
Outside of the cryptocurrency space though, following from the WallStreetBets saga, there is better news for the stock markets and traditional markets — except for Silver which has crashed back down after a strong showing these past few weeks.
The US stock market has rebounded as the WSB saga seems to be dying down, with Gamestop and AMC pulling back, giving retail traders who jumped in late massive losses. As losses incurred, interest in the WSB campaign seems to be dying down, especially since Silver was thrashed badly after attempting to break $30.00, taking the wind out of their sails.
Attention went back to US economic numbers and the stimulus package. Non-farm payrolls in the USA fell below expectations, however, stocks went up because traders viewed the lousy number as an impetus for more stimulus. All 3 major US stocks indices closed the week at ATH.
Silver had a lousy week after WSB's rumoured attempt to cause a Silver short-squeeze prompted buying in Asian trading on Monday, sending its price to rise above $30.00 to a high of $30.15, its highest price in 8 years.
As headlines about it flashed across news media, the price came crashing heavily by the afternoon in Asia, with price falling to below $27.00 by the end of Monday. Price could not even attempt to rebound throughout the week, a sign that many traders are licking wounds after the price crashed. The fall was exacerbated by a strong USD, which led to Gold and Silver which have an inverse relationship with it, to fall further.
Not all is lost with Silver though, as the $26.00 support has held up over the course of the week, which still puts Silver on an uptrend. However, it may need a lot more effort to go above $30.00 as that level has proven to be of strong resistance after trying and failing badly 2 times in the last 6 months.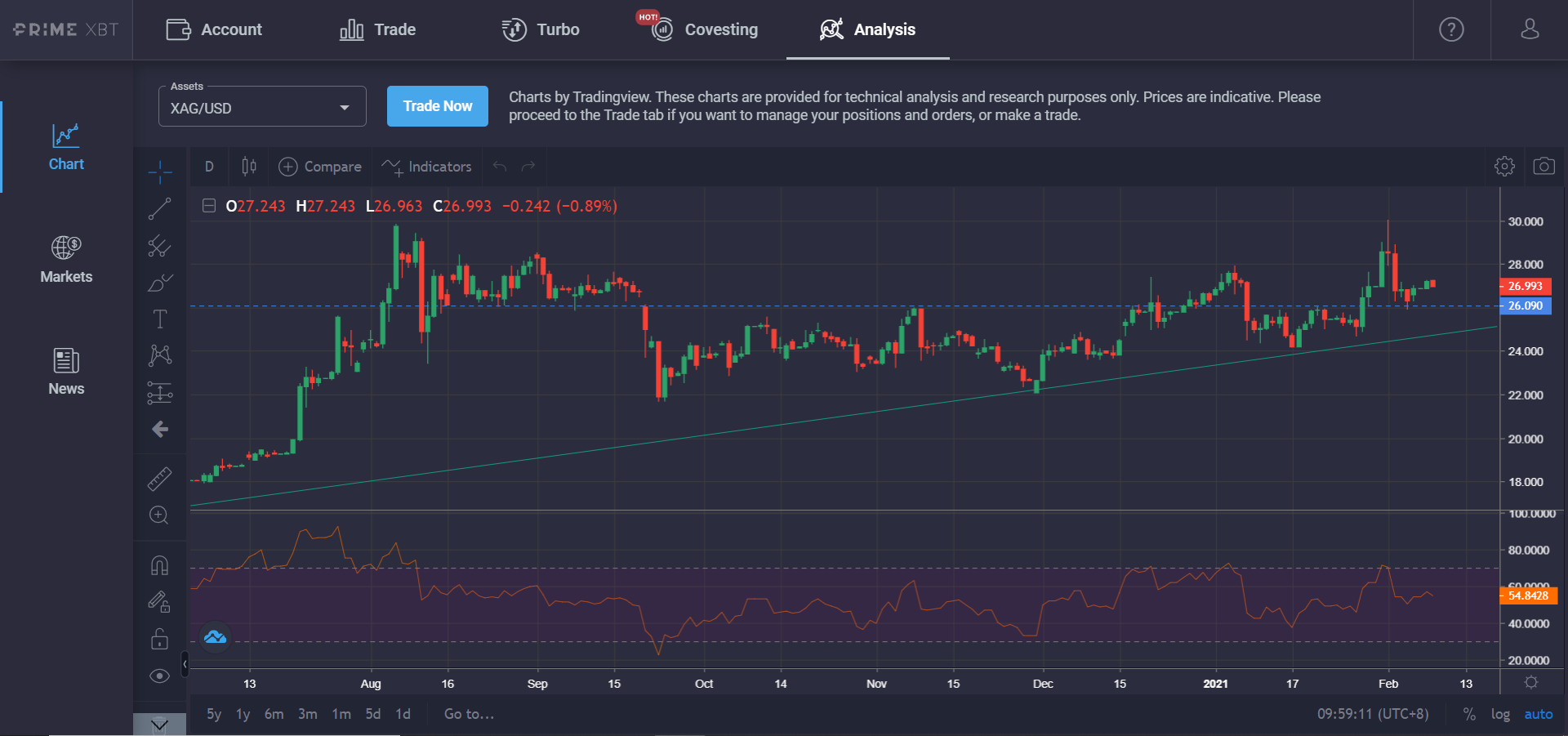 Interestingly, despite a strong USD, the price of BTC and the broad crypto market rose a great deal, with both BTC and ETH carving out new ATHs. This could signal that cryptocurrencies are beginning to be viewed based on their own fundamentals, instead of simply being an anti-dollar asset.
Bitcoin Sets Another New All-Time High After Tesla News
After consolidating for almost a week, the price of BTC finally broke its now-former record of $42,000 for the first time since running into the resistance level earlier this year. The bullish breakout was driven by news of an SEC-filing made by Tesla. The Elon Musk-led automaker bought a grand total of $1.5 billion in Bitcoin, making the company the most recent to join MicroStrategy and Square, Inc, in holding BTC.
Coinbase Pro BTC outflows hit two ATHs within the space of one week, with a total of 30,000 BTC withdrawn from the exchange, suggesting a long-term holder whale has been accumulating BTC and taking it off the exchange. According to industry chatter, the 30,000 BTC was acquired for Tesla.
The purchase comes only weeks after Tesla CEO Elon Musk added the Bitcoin hashtag to his Twitter bio. He's also been responsible for pumping Dogecoin prices recently.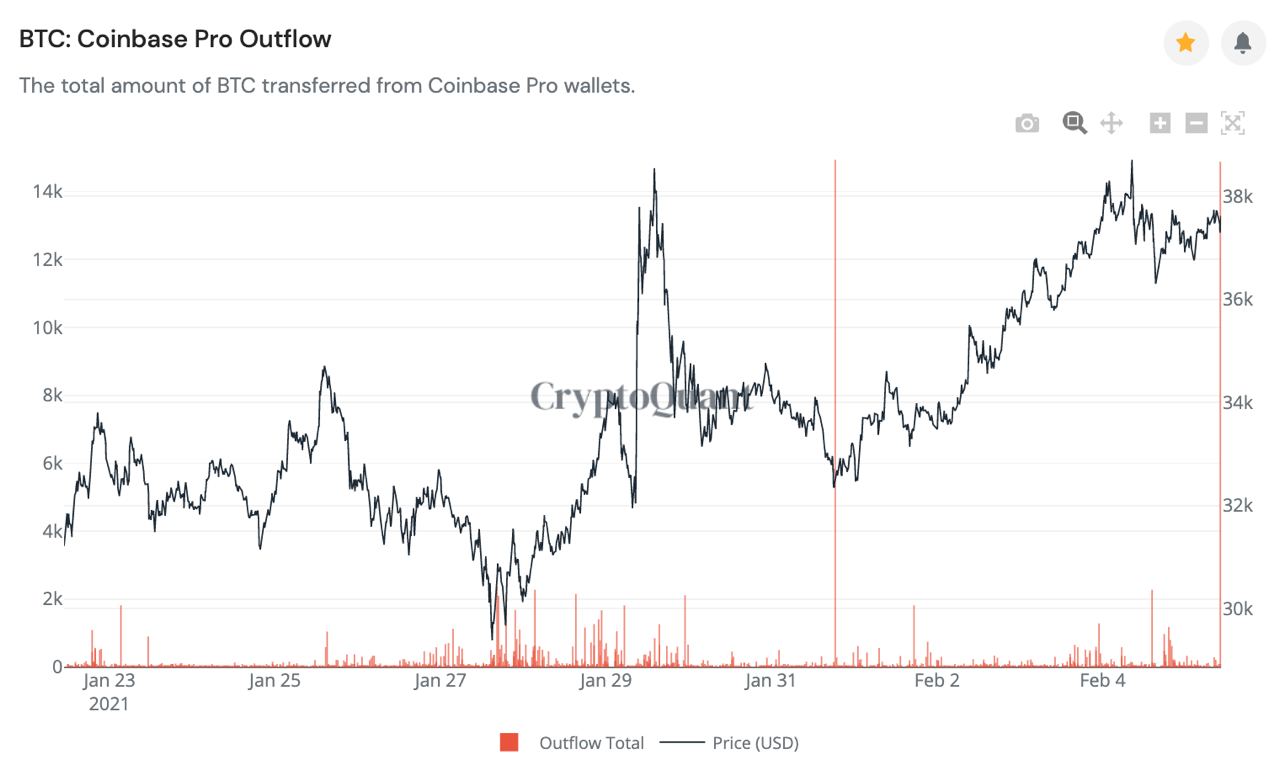 But it isn't just companies buying, it is whales, also. In addition to the Tesla news, the number of addresses with more than 1,000 BTC shot up significantly since the start of the year, further proof that BTC is being acquired and removed from circulation by large whales. According to data, more than 200 new whale entities have appeared on the BTC network since the beginning of the year, a sign that the large corporates and institutions may be starting to accumulate BTC.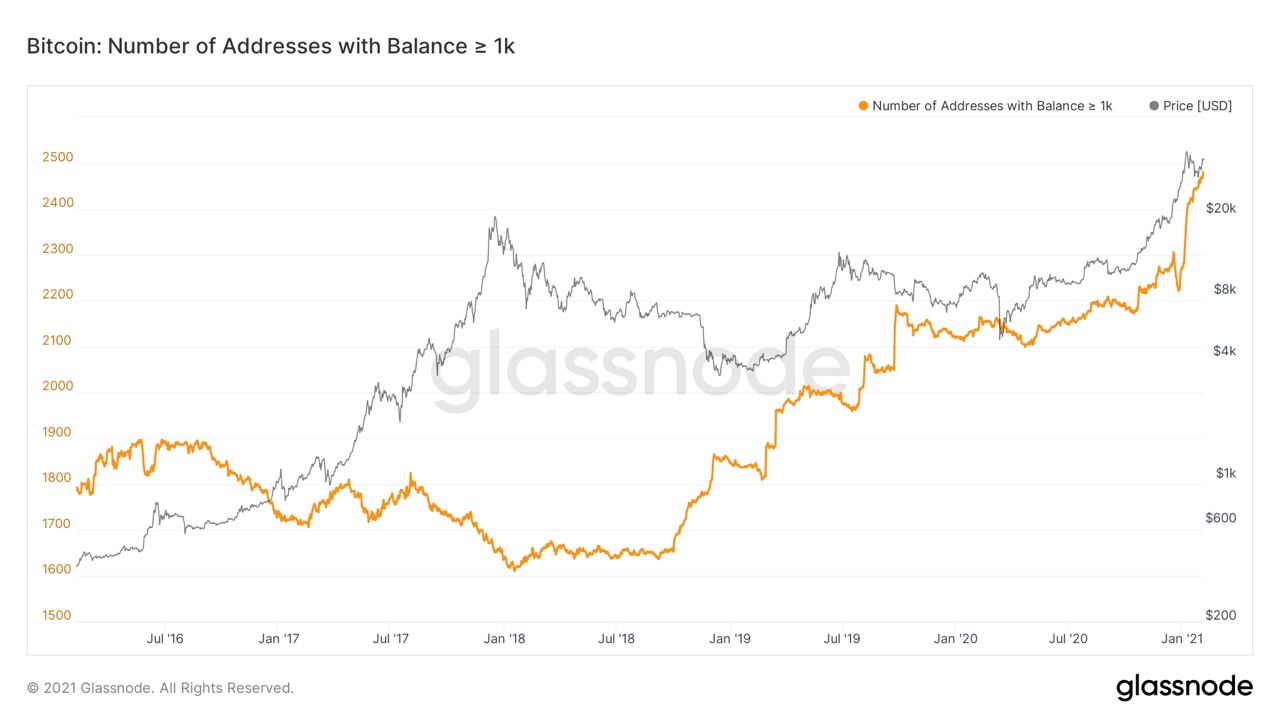 The purchase made by Tesla could have been assisted in part by, MicroStrategy, who already owns a lot of BTC, and recently hosted a BTC Seminar to teach corporates how and why they should buy and hold BTC as their treasury reserve. The online seminar was met with an overwhelming response and saw some 8,100 attendees from 6,900 companies.
Moving forward, we can expect more corporations to join the BTC purchasing fray. Already, a $2.25 billion fund run by Bill Miller has announced that it will be putting around $300m into Grayscale Bitcoin Trust to purchase BTC.
Stablecoins Records 25% Growth Since Start of the Year
Meanwhile, stablecoin reserves at exchanges shot up significantly in the middle of last week, suggesting that a lot of fresh funds were going into the crypto market. The stablecoin market has now grown to $40 billion, up $10.5 billion since January. On-chain value transfer has topped $1 trillion, up from $248 billion in 2019, and is larger than Paypal's $950 billion. USDT continues to be the leader, accounting for 75% of the volume in stablecoin usage, while USDC is catching up, with 15% market share.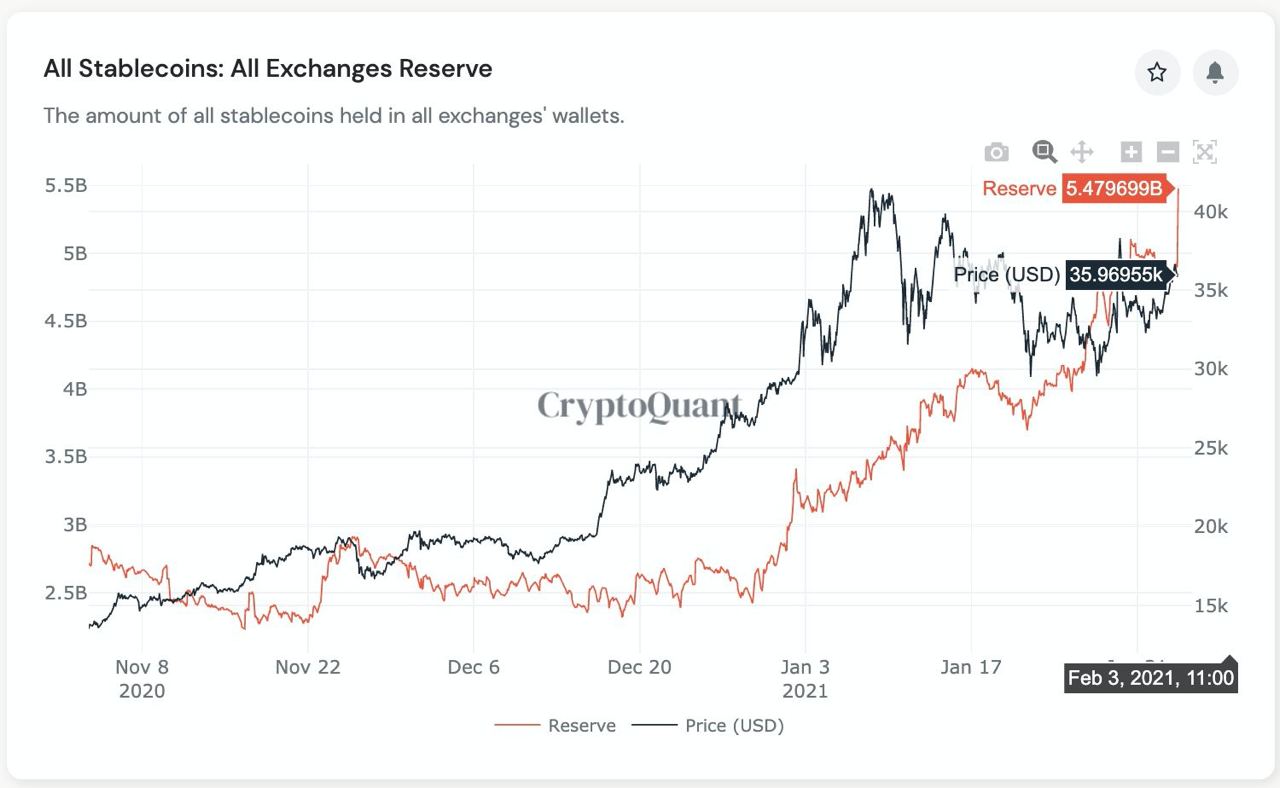 Alt Season is Here with Huge Gains in DeFi Tokens, ETH saw new ATH of $1,760
Not all the stablecoin inflows went to BTC though, as can be seen by gains in the altcoin market. The altcoin market made huge gains over the week, with many altcoins, especially those related to DeFi, doubling or tripling within the week.
ETH also rallied strongly to make another new ATH again, posting a high of $1,760, and looks poised to test $2,000 soon after consolidating over the weekend. While many of the DeFi tokens have since made big retracements, the price of ETH is still holding strong, a sign that demand for ETH at this level is still prevalent and that the ETH price increase may have more longevity, perhaps due to the profile of its buyers, which is getting more institutional.
Grayscale Buys ETH Again
For instance, Grayscale reopened its ETH Trust to investors and bought another 105,590 ETH after halting for 2 months, which was the key in the strong showing in ETH price.
Another bullish push for ETH price could also be coming from CME's Ether futures launch, which has built up a positive expectation despite the CME futures launch for BTC end 2017 saw BTC price falling. Experts say this time is different since 2017 was at the end of a bull run while 2021 is only the beginning of a new bull market.
The various improvements of the ETH protocol, especially with the strong participation in ETH 2.0, are indication that the demand of ETH will continue to strengthen, which will be a positive contributor to its price. However, on the other side of the coin, there are traders who think the CME Futures launch may crash its price just like it did to BTC price back in 2017.
Hence, there are traders taking the short side of the trade, causing the price of ETH to fall below $1,600 on Sunday. It however is still much higher from its breakout price of $1,440. CME Futures has started trading, with ETH opening at around $1,585, dragging its spot price down to a similar level but has since rebounded above $1,600, bringing the spot price up in tandem.
More ETH Getting Locked Up Bodes Well for Price Over Time
Since launching in December 2020, 2.87 million ETH have been sent to ETH 2.0 deposit contract. Another 7.4 million ETH are currently locked in DeFi applications, with more expected to follow as TVL growth on DeFi is on an explosive uptrend.
The rise in DeFi has been the strongest catalyst for the price of ETH yet. According to data, TVL in DeFi has risen to around $34 billion from less than $1 billion barely 6 months ago. With more money printing coming from various countries, even as England last week asked its banks to prepare for a negative interest rate environment, the explosive growth in DeFi is set to continue on an even steeper trajectory this year, which makes ETH a prime beneficiary.
Experts are already setting price targets of between $10,000 to $20,000 for ETH, which is another 10 to 15x price increment from its current level.

With more institutions getting into ETH, and more supply getting removed from circulation to put into staking, and with the new token burning mechanism in its protocol improvement, it seems it is more a matter of when, not if, the price gets there.
About Kim Chua, PrimeXBT Market Analyst: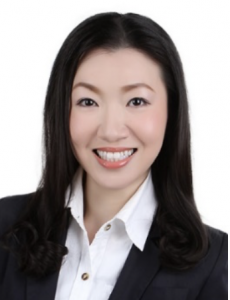 Kim Chua is an institutional trading specialist with a track record of success that extends across leading banks including Deutsche Bank, China Merchants Bank, and more. Chua later launched a hedge fund that consistently achieved triple-digit returns for seven years. Chua is also an educator at heart who developed her own proprietary trading curriculum to pass her knowledge down to a new generation of analysts. Kim Chua actively follows both traditional and cryptocurrency markets closely and is eager to find future investment and trading opportunities as the two vastly different asset classes begin to converge.
The information provided does not constitute, in any way, a solicitation or inducement to buy or sell cryptocurrencies, derivatives, foreign exchange products, CFDs, securities and similar products. Comments and analysis reflect the views of different external and internal analysts at any given time and are subject to change at any time. Moreover, they can not constitute a commitment or guarantee on the part of PrimeXBT. The recipient acknowledges and agrees that by their very nature any investment in a financial instrument is of a random nature and therefore any such investment constitutes a risky investment for which the recipient is solely responsible. It is specified that the past performance of a financial product does not prejudge in any way their future performance. The foreign exchange market and derivatives such as CFDs (Contracts for Difference), Non-Deliverable Bitcoin Settled Products and Short-Term Bitcoin Settled Contracts involve a high degree of risk. They require a good level of financial knowledge and experience. PrimeXBT recommends the consultation of a financial professional who would have a perfect knowledge of the financial and patrimonial situation of the recipient of this message and would be able to verify that the financial products mentioned are adapted to the said situation and the financial objectives pursued.