The cryptocurrency market had a rather good christmas period as the week leading up to the festive holiday saw new records being broken for Bitcoin with other altcoins following suit. Bitcoin has now crossed the $20,000 barrier, and then some — going as high as $28,000 before falling back in a small correction.
However, it is not all good news for every coin as Ripple's XRP has been hit by some major bad news which has a lot of people running scared. The US SEC is looking at the coin as a potential security, which would have a huge impact, and already there are investors leaving and exchanges looking to delist.
On a geopolitical level, there have been some big moves as well in the US and in Europe. The US stimulus bill has gone through which played its part in affecting the Dow, but it will be interesting to watch as there are calls for bigger stimulus bills in the future.
Brexit, in the UK and Europe, has finally gone through and the UK managed to walk away with a deal after it looked like they might not. But, because the deal was reached on Christmas eve, there was very little reachting in the Pound or the UK markets because of the holidays.
This period before the end of the year will be interesting to watch as the crypto market continues to push upwards and the traditional markets slow down. Read the rest of our weekly market research report to find out.
Actioned Packed Holiday Week
It was an action-packed week in the 2nd last week of 2020 as major news in both traditional and crypto markets made headlines. First, it was the passing of the much telegraphed $900 billion US stimulus bill.
Then, on Tuesday, the SEC sent shockwaves across the entire crypto space as it sued Ripple and claimed that XRP is a security. This sent the price of XRP reeling 65% as it fell from around $0.60 to $0.22 in the aftermath.
On Christmas eve came the good news about the UK and EU having reached an agreement regarding Brexit. All these however pales in comparison to BTC as the star of the week made daily new highs post-Christmas to complete a tale of two fortunes between it and XRP within the crypto space.
US And UK Making Deals
The early part of last week saw the $900 billion US stimulus bill finally approved by lawmakers. An attempt by President Trump to obtain a higher stimulus check was unsuccessful, sending the Dow briefly down 1,000 points on Monday.
The stock market recovered however, after there was mention that there will be more relief for COVID affected people and the economy. Optimism about a Brexit deal also kept stocks well bid in the UK and European markets. More stimulus expected to come which also kept the hopes of gold and silver pundits up, with both metals maintaining a wait and see price action, unable to break up from their respective resistance levels, yet not retracting.
On Sunday night, the stimulus bill was signed into force, causing stocks futures and gold price to go higher in early Asia trading on Monday.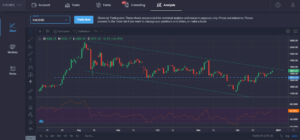 We can see from the gold chart that it is still capped by the downward sloping trendline even though it has managed to make $1855 a level of support now. Perhaps better times will be in store for gold prices in January and February when gift buying for the Lunar New Year starts and with fresh stimulus packages being unleashed after. Until then, the price of gold may continue to consolidate as it tries to trade out of the downtrend resistance.
Brexit Deal Falls On Silent Night
After optimism of a Brexit deal kept UK stocks and the pound higher through-out the week, the final came when it was announced that the UK and EU had reached a Brexit deal on the eve of Christmas. The news however did not send the UK stocks nor the pound higher due to a Christmas shortened trading week and perhaps because it was already priced in.
The GBPUSD met some resistance as it tried to move towards $1.36 and pulled back to close the week at $1.3543. We may see more action this week when more traders return from their Christmas holidays since this news was announced after some traders had already taken time off.
XRP Plunges 65% After Threats Of Legal Action From SEC
The cryptocurrency market however, does not break for holidays and continues to trade during Christmas, even though volume is a tad lower. BTC continued to hover between $22,500 and $24,000 until Christmas Day when it finally broke higher and made daily new highs over the two days after that.
The market capitalisation of BTC has surpassed $500 billion with the weekend moves and looks set on course higher. The same cannot be said of the altcoin market though as altcoins experienced a bloodbath mid-week. Most altcoins bled heavily after Ripple was sued by the SEC.
XRP itself fell 65% in what was the worst selloff witnessed in recent times by any altcoin. On Tuesday, the out-going chief of the SEC, Jay Clayton, filed a lawsuit against Ripple and its 2 founding members for conducting unregistered securities offering in their sale of the XRP token to retail investors. In other words, the SEC alleges that XRP is a security.
This news came like a shockwave to XRP and its price plunged heavily. Fears of the token being delisted struck the fears of many investors and they were quick to panic sell and dumped all the XRP that they had. 3 smaller exchanges as well as Bitstamp, the largest crypto exchange in the USA, have already started to delist the XRP token from their exchanges. Bitwise liquidated all its XRP holdings in its crypto index fund and sold approximately $9.3 million worth of XRP during the selloff.
After going down beyond the buy-zone at around $0.25 however, the price of XRP started rebounding as appointment of a new crypto-friendly SEC chairman to replace Jay Clayton gave investors some consolation. It however failed to manage a sustained climb above $0.30 and has since gone back down to around $0.27 even with the broad crypto market recovering.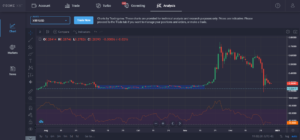 It is worth mentioning though, that Ripple did have an alternative to settle privately with the SEC instead of going to the law courts, but this offer was rejected by founder Brad Garlinghouse, who wanted to proceed with litigation. He thought this would be a good way to clear XRP's status because he was confident that they would win the SEC and that XRP would not be classified as a security by the court.
The SEC lawsuit was like a bolt from the blue and hit the altcoin market hard as contagion fear prevailed. Investors were afraid that other altcoins may become the next target and started disposing of other altcoins. Most altcoins incurred losses of around 20% as the market capitalisation of the altcoin market shrank from $220 billion before the XRP saga to a low of $180 billion.
BTC dominance rose to 70% as a flight to safety within the crypto sphere was seen. Investors began selling altcoins to pile into BTC, which has already been cleared by the SEC of not being a security. As a result, the price of BTC rose even more after this saga and continued charting new highs, rising a whopping 15% over the Christmas weekend.
Bitcoin Unaffected By Altcoin Sell Off As Funds Continue To Flow In
The King of Crypto remains unfazed in spite of the gloom and doom in the altcoin space and moved up vigorously over the Christmas long weekend. Institutions continue to favour BTC, with Grayscale making its largest single day purchase of BTC of 12,319 BTC on Wednesday.
Grayscale continued to add BTC on Thursday and now holds a total of 607,000 BTC in its Bitcoin Trust. All these buying comes after Grayscale closed its fund to new investors, suggesting that the aggressive buying is made by Grayscale's existing clients. Grayscale's AUM has grown from $13 billion a week before to $16.4 billion by the end of last week.
New investors do not need to worry about being shut out the door by Grayscale however, as a new BTC fund has been set up by Skybridge Capital, run by former White House communications director, Anthony Scaramucci. The fund will be open to accredited investors from Jan 4 and has a minimum subscription of $50,000. Scaramucci himself has invested $25 million into it. With more investment funds set to be launched next year, BTC is getting more visibility from mainstream investors.
According to data, BTC mentions in mainstream media has gone up 1000% since January and even exceeded that of gold for the first time in December. With more attention being paid to BTC as a better inflation hedge, we are likely to see more purchases of BTC, making the supply crisis potentially worse next year.
The much-touted institutional FOMO into BTC has gotten the attention of miners, who seem to have stopped their selling activities. The Miners Position Index (MPI) has fallen to less than 2, implying that miners have stopped selling.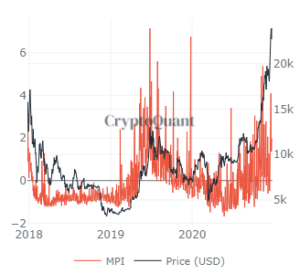 With increasing demand and reducing supply of BTC as even miners have stopped selling, the price of BTC is expected to rise even further in the new year. The positivity of BTC rubbed off on some larger capitalisation altcoins like ETH and LTC and as a whole, the altcoin market recovered about half of their losses made during the SEC selloff by the end of the week.
News of the February launch of ETH Futures by CME received positive reactions by traders and the price of ETH moved passed $700 for the first time since the burst of the bull market in early 2018.
The action this coming week is expected to be similar, although BTC may start to consolidate after its 20% move in the weekend. However, BTC may not pull back in a great deal as it did fall $2,000 briefly after hitting $28,000 but quickly recovered to around $27,000.
Information provided in PrimeXBT's market report includes information provided by Kim Chua, Lead Market Analyst for PrimeXBT, in addition to charts from various data sources.
About Kim Chua, PrimeXBT Market Analyst: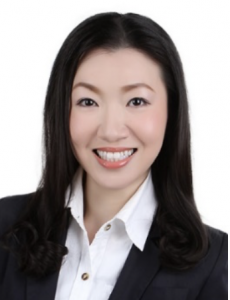 Kim Chua is an institutional trading specialist with a track record of success that extends across leading banks including Deutsche Bank, China Merchants Bank, and more. Chua later launched a hedge fund that consistently achieved triple-digit returns for seven years. Chua is also an educator at heart who developed her own proprietary trading curriculum to pass her knowledge down to a new generation of analysts. Kim Chua actively follows both traditional and cryptocurrency markets closely and is eager to find future investment and trading opportunities as the two vastly different asset classes begin to converge.
The information provided does not constitute, in any way, a solicitation or inducement to buy or sell cryptocurrencies, derivatives, foreign exchange products, CFDs, securities and similar products. Comments and analysis reflect the views of different external and internal analysts at any given time and are subject to change at any time. Moreover, they can not constitute a commitment or guarantee on the part of PrimeXBT. The recipient acknowledges and agrees that by their very nature any investment in a financial instrument is of a random nature and therefore any such investment constitutes a risky investment for which the recipient is solely responsible. It is specified that the past performance of a financial product does not prejudge in any way their future performance. The foreign exchange market and derivatives such as CFDs (Contracts for Difference), Non-Deliverable Bitcoin Settled Products and Short-Term Bitcoin Settled Contracts involve a high degree of risk. They require a good level of financial knowledge and experience. PrimeXBT recommends the consultation of a financial professional who would have a perfect knowledge of the financial and patrimonial situation of the recipient of this message and would be able to verify that the financial products mentioned are adapted to the said situation and the financial objectives pursued.