TRON, the decentralized blockchain platform hoping to build a free, global digital content entertainment system upon the idea of distributed storage, which would allow for easy and cost-effective sharing of digital content, is one of the more ambitious projects in the cryptocurrency space.
It was founded in 2017, in Singapore, under a non-profit organization called the 'Tron Foundation'. At the head of this project is the highly personable, but often controversial, Justin Sun — a former Forbes 30 Under 30 nominee.
Many people wonder what is TRON coin. The TRON project runs off a cryptocurrency called TRX, and this cryptocurrency has garnered a lot of fans, often called the 'TRX army'. This cryptocurrency has had some ups and downs in its history, but in this article we will be examining if the price of TRON, or TRX, go up, in the coming months and years. This realistic TRON price prediction will try to discover if the project's ambition will match the coin's potential.
What Is TRON?
As mentioned, TRON is a decentralized blockchain platform that is aimed at the content and entertainment space. The idea behind TRON is to create a peer-to-peer network to bridge the gap between the content creators and those who are consuming the content by eliminating the middleman.
The hope is that without these content creation middlemen, there will be a lot less costs involved in creating content which pays off for the consumers as well. So, by taking out intermediaries, the content creators can charge lower prices and still earn higher, and thus content consumers can spend less money but consume more.
This platform will be powered by the cryptocurrency TRX, which also helps eliminate middlemen in the financial sector too. The Tron projected value is that it allows for frictionless payments, but will it allow for an increase in the value of TRX through the evolution of the platform?
Open free account
What Moved The Price Of TRON In 2023 And Before?
Tron's trend is going up and has stopped going down, and is now into its third year of existence, but it really started gaining traction in 2020 with a number of interesting occurrences influencing its price. The project is looking to make a big impact across the content space and as such, it is looking to impact the traditional space, as well as move the emerging one.
One of the biggest announcements it made over the last several years was the acquisition of popular torrenting site, BitTorrent. This acquisition saw TRON take a big lead in the company's future plans. This acquisition took place in 2018, but it really put TRON on the map as a real player and helped grow the Tron future.
The price of TRX also reacted to this major tech acquisition, but as is a common theme with TRON it appears, the rumour of good news around the project has a bigger impact on the price of TRX. a few months before the acquisition became official, but during the rumours, the price of TRX reached its second-highest point, just less than it's all time high at the beginning of 2018. The highest TRX has ever been was $0.22 but the news of the BitTorrent acquisition sent it up to $0.09 having dropped to $0.02 previously.
Other impacts that have often moved the price of TRON have mainly featured around good partnerships, or good businesses moves to expand TRON's reach, but they have also heavily focused around the PR that comes from Justin Sun.
The enigmatic head of the company has been known to hype up announcements and many traders keep an eye on his Twitter about big TRON news that is coming to the company and this is usually enough to send the price of TRX climbing on a rumour alone.
A good example of this came when Sun, looking for additional publicity for himself and TRON from the cryptocurrency community, paid millions of dollars to Warren Buffet's charity to have lunch with the famous hedge fund manager to try and turn him onto crypto.
This news again sent the price of TRX up as Sun and TRON looked to have a bigger impact in the overall crypto space, but also looked to make their name known on the traditional scene. This lunch had its own controversies, but because TRON has such a vibrant following, it was still mostly accepted and agreed with as the lunch was postponed, and then eventually happened.
But, one of the bigger partnerships that TRON has made in 2019 must be the link they have made with Samsung and its blockchain KeyStore. Again, Sun made hints on his Twitter that TRON had made another partnership, with a multimillion-dollar company and the excitement grew and TRX price grew with it. When it was announced that TRON was accepted on Samsung's blockchain KeyStore, it further legitimized TRON in the crypto space, as well as the mainstream nascent adoption of blockchain.
TRX has benefitted well from all of these partnerships, and it has become clear that the biggest influence on the price of the token comes from good news surrounding what the company is doing to fulfill its lofty goals, and these announcements are made all the more exciting through Justin Sun.
2020 was also a big year for Tron, as the Tron Foundation continued to make strides on the platform. Tron had its own crypto Twitter emoji, and launched various DeFi projects to compete with Ethereum. Price action began to pick up again in 2020 and into 2021 currently.
In 2021, Tron made an attempt to set a new all-time high but fell short. It is now holding at support and at a critical junction. It is back trading at around $0.09 after rejection at around $0.17.
TRON Price Predictions By Crypto Experts
Of course, with a lot of interest and hype being built around the TRON trend and its TRX token, a number of prominent commentators, as well as well respected crypto news and market outlets have taken their hand at guessing where the next moves will come for the token.
The bottom line is Tron (TRX) price prediction would be hard to say it has an estimated TRON growth for 2021 and beyond. The company is a clear visionary in the field but it has suffered some setbacks and strayed a bit from its founding vision and purpose. The latest TRX price prediction 2021 calls for the cryptocurrency to show minimal gains until the brains behind the organization give a new and exciting reason to buy some TRX tokens.
Wallet Investor
Wallet Investor calls for a five-year forecast of only $0.35, which is roughly double the 2021 high.
The Economy Forecast Agency
The Economy Forecast Agency has a strange take for Tron specifically, with the cryptocurrency reaching a high of 44 cents in 2023, then falling into a bear market. The timing is different than nearly all other analysts, who are targeting new highs this year.
CoinPedia
CoinPedia's high end estimates reach upwards of $0.34 per TRX.
TRON's Technical Analysis
Technical analysis remains the best way to accurately predict price movements that are reasonable and based on technicals only, and not just estimates made by experts based on what their gut tells them.
Here are some price predictions for Tron based on real technical analysis and not just theory.
TRON Price Prediction 2023
Tron tends to explode once resistance is gone, and price discovery resumes. However, when it runs out of steam, another bear market could begin and Tron could spend years recovering again.
TRON Forecast 2024-2025
After another bear phase, in 2024 and 2025 another bull market could break out and take Tron back to all-time high prices.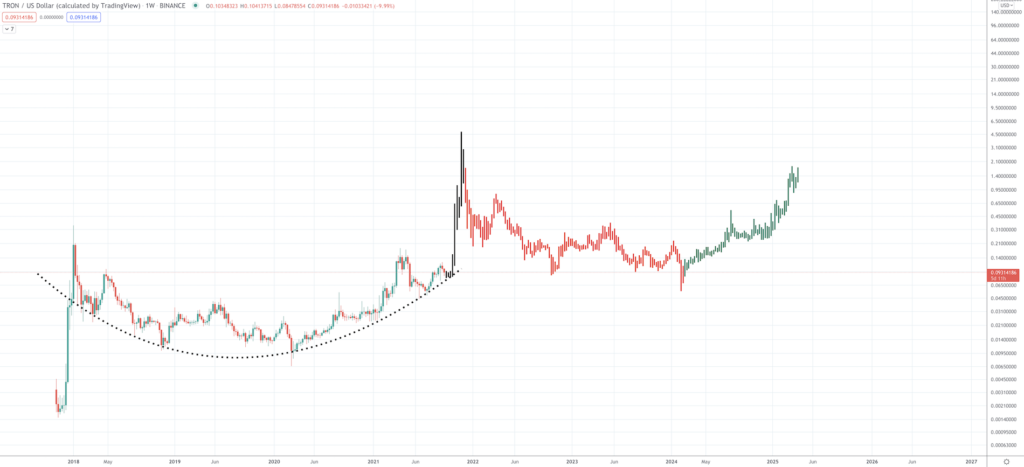 What Is The Future Of TRON ?
The full potential of blockchain technology is yet to be reached or realised, but TRON is one of the few projects that has set its sights on the promise it can offer down the line, and this has an impact on TRON projected growth. The coming months and years will be about making partnerships and growing the brand of TRON in the crypto and traditional tech spaces.
From there, as adoption of blockchain tech rises, and Tron potential is realized in the content creator space, TRON should really come into its own and the price predictions for the TRX coin should get bigger and start to be reached. Determining is TRX a good investment is based on how the project goes
| | | |
| --- | --- | --- |
| Period | Best Case Scenario | Worst Case Scenario |
| 2021 | $4.50 | $0.02 |
| 2022 | $4.50 | $0.25 |
| 2023 | $2.70 | $0.25 |
| 2025 | $10 | $0.70 |
In order to take advantage of this high potential TRX coin growth in the coming years, you may want to check out PrimeXBT, a trading site that allows you access to TRX as well as other forex, commodities, indices, and cryptocurrencies like Bitcoin, Litecoin, Ethereum, Ripple, and EOS. Sign up here.
Risk Disclaimer
Investing in or trading gold or other metals can be risky and lead to a complete loss of capital. This guide should not be considered investment advice, and investing in gold CFDs is done at your own risk.
The information provided does not constitute, in any way, a solicitation or inducement to buy or sell cryptocurrencies, derivatives, foreign exchange products, CFDs, securities, and similar products. Comments and analysis reflect the views of different external and internal analysts at any given time and are subject to change at any time. Moreover, they can not constitute a commitment or guarantee on the part of PrimeXBT. The recipient acknowledges and agrees that by their very nature any investment in a financial instrument is of a random nature and therefore any such investment constitutes a risky investment for which the recipient is solely responsible. It is specified that the past performance of a financial product does not prejudge in any way their future performance. The foreign exchange market and derivatives such as CFDs (Contracts for Difference), Non-Deliverable Bitcoin Settled Products and Short-Term Bitcoin Settled Contracts involve a high degree of risk. They require a good level of financial knowledge and experience. PrimeXBT recommends the consultation of a financial professional who would have a perfect knowledge of the financial and patrimonial situation of the recipient of this message and would be able to verify that the financial products mentioned are adapted to the said situation and the financial objectives pursued.