The TRON platform aims to create a worldwide digital content entertainment system that is free and decentralized, leveraging the concept of distributed storage to facilitate effortless and affordable sharing of digital content. It is among the most ambitious initiatives in the realm of cryptocurrencies. Reading this article, we hope that you will be able to make a more informed TRON prediction.
It was founded in 2017, in Singapore, under a non-profit organization called the 'Tron Foundation'. At the head of this project is the highly personable, but often controversial, Justin Sun — a former Forbes 30 Under 30 nominee.
Many people wonder what is TRON coin. The TRON project runs off a cryptocurrency called TRX, and this cryptocurrency has garnered a lot of fans, often called the 'TRX army'. This cryptocurrency has had some ups and downs in its history, but in this article we will be examining if the price of TRON, or TRX, go up, in the coming months and years. This realistic TRON price prediction will try to discover if the project's ambition will match the coin's potential.
TRON Overview
Today (6 December 2023) TRON (TRX/USD) is trading at $0.10371 per TRX, with a market cap of $9181318068 USD. The 24-hour trading volume amounts to $270124581 USD. TRX price has changed by 0.1% in the last 24 hours. Circulating supply is 88500498345 TRX.
What Is TRON?
As mentioned, TRON is a decentralized blockchain platform that is aimed at the content and entertainment space. The idea behind TRON is to create a peer-to-peer network to bridge the gap between the content creators and those who are consuming the content by eliminating the middleman.
The hope is that without these content creation middlemen, there will be a lot less costs involved in creating content which pays off for the consumers as well. So, by taking out intermediaries, the content creators can charge lower prices and still earn higher, and thus content consumers can spend less money but consume more.
This platform will be powered by the cryptocurrency TRX, which also helps eliminate middlemen in the financial sector too. The Tron projected value is that it allows for frictionless payments, but will it allow for an increase in the value of TRX through the evolution of the platform?
What Moved The Price Of TRON In 2023 And Before?
TRON had been rising in value for some time, but suffered at the hands of "crypto winter" right along with other coins. As it started to gain traction, back in 2020, there were several factors influencing its value. The project is trying to make a big impact across the content space, so it is believed that it could impact the traditional space, as well as moving into the emerging wand of content creation.
The acquisition of the popular torrent insight BitTorrent was a major coup for the company, as it saw TRON take a big lead in the company's future plans. The acquisition took place in 2018, putting TRON on the map as a real player in the crypto markets, and helped grow the future outlook for the company.
Rumors of the acquisition hit the crypto world a few months before it actually happened, and therefore the price of TRON started to really take off. It was during that time that TRX reached its 2nd highest level, which was slightly less than its all-time high at the beginning of 2018. The highest level that TRX has ever seen is $0.22, but that seems like a lifetime ago.
There have been good partnerships with the TRON ecosystem, as larger corporations in Asia started to move into the ecosystem. Justin Sun is a major player in the PR of TRON, as the Inca nomadic head of the company. He has been known to hype up announcements and as a result a lot of traders will pay close attention to what he is doing or saying.
One example was when Sun paid Millions of Dollars to Warren Buffett's charity to have lunch with the famous hedge fund manager to try and turn him into a crypto aficionado. This was a major marketing scheme that pumped the coin, but in the end was only a short-term move.
One of the biggest partnerships that TRON has made occurred in 2019, as they inked a deal with Samsung and its blockchain, KeyStore. Sun made an announcement on his Twitter account that TRON had made another partnership, with a multimillion dollar company and the excitement as well as the price of TRX grew right along with that announcement. When they announced the partnership with Samsung, it legitimized TRON as a mainstream player in the adoption of blockchain technology.
TRON has benefited from these partnerships, but it has also suffered at the hands of the recent "crypto winter." This is when crypto cells off in only the way the crypto can, and therefore TRON will have to wait until traders feel more confident in the crypto space on the whole. Because of this, short-term TRON future predictions are difficult.
TRON Price Predictions By Crypto Experts
What does the future of tron look like? Any TRON price prediction has to keep a lot of different moving pieces in mind. Well, it's worth noting that TRON has a lot of interest in hype around it, and as a result most prominent forecasters in the business have forecasts for this particular market. As forecasters and news outlets have taken a handy guessing where the price of TRON will be, it should be noted that these are just estimates.
TRX, or TRON, is going to be difficult to predict as the growth of crypto has been slower than originally anticipated. The company is clearly a visionary in the field but it has suffered some setbacks as it strayed a bit from its founding vision. Minimal gain is expected to be the norm for the short-term
Wallet Investor
Wallet Investor calls for a five-year forecast of only $0.00385, which is obviously a very dire forecast to say the least. Will TRON rise again? According to Wallet Investor, that's an open question at this point.
The Economy Forecast Agency
The Economy Forecast Agency seemingly is a bit bearish on TRON, with an average price in 2023 of around $0.08, and the following year being slightly lower. In fact, the highest level that the EFZ calls for is $0.118 in the month of March in 2026.
CoinPedia
CoinPedia's TRX price prediction is somewhat bullish, but also muted, as the average price in 2030 is $0.7259. It's TRX price prediction suggests that there is a significant amount of uncertainty when it comes to TRON over the next several years, but in general they believe that crypto should continue to increase in value, and perhaps this is more or less a "knock on effect" call than a straightforward TRON prediction.
TRON's Technical Analysis
Technical analysis can give trader's a "head's up" as to where price is going, as it takes into account momentum, potential resistance and support areas for a market. This can help the prudent trader profit, as it eliminates a lot of impulsive trading.
The following is price prediction via technical analysis for TRON over the next several years:
TRON Price Prediction 2023
Tron has seen a lot of downward pressure over the last several years but has since settled into a relatively well-defined range. As things stand, there's not a lot in the crypto markets to push prices higher, at least not for the smaller markets such as Tron. Because of this, it is very likely that the market will remain range bound for the rest of 2023.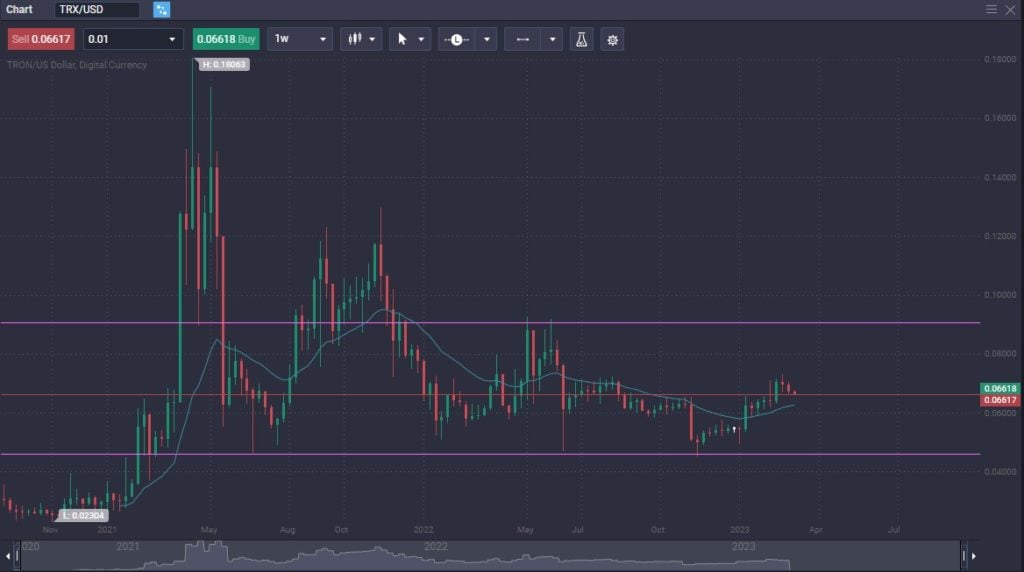 TRON Forecast 2024-2025
At this point, Tron will need to see strength in the crypto markets overall to break out. A TRON price prediction going forward is going to have to pay attention to a couple of major levels. If the market does manage to break above the $0.09 level, it's very likely that Tron will try to make it back to the $0.12 level, perhaps even $0.15. On the other hand, if the market were to drop down below the $0.045 level, Tron could find itself heading toward $0.02 very quickly.
As with anything involving crypto, the future of TRON will greatly be sensitive to not only larger coins such as Bitcoin, but also the overall adoption of the network itself. At this point, a TRON price prediction for 2025 has to be thought of as a bit of a moving target, as TRON price forecasts are so conflicted looking around the crypto space.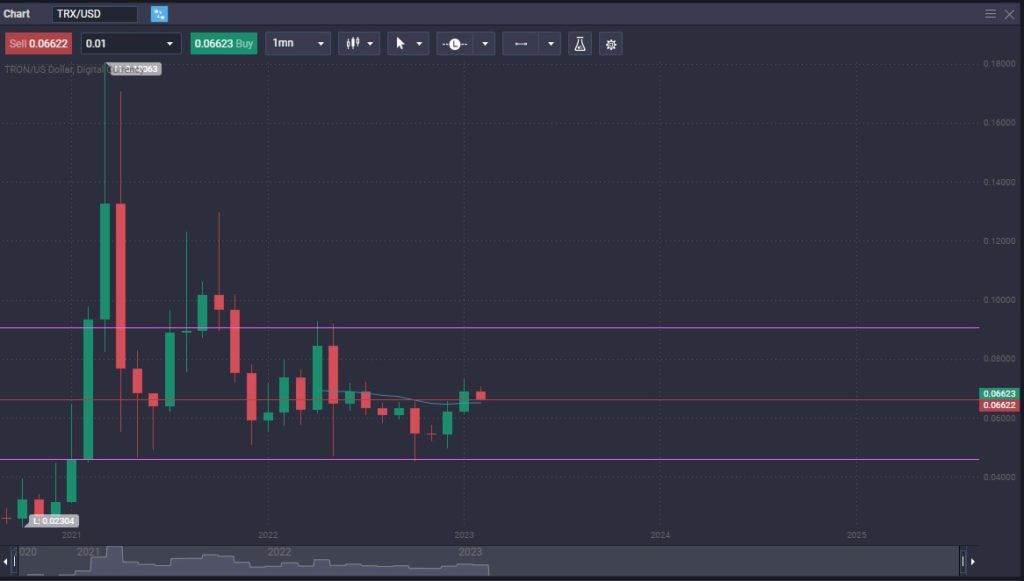 Long Term Litecoin Price Prediction for 2030 and beyond
One of the biggest questions is whether or not TRON will continue to appreciate in value over the longer term, or for that matter whether or not it will survive? Remember, crypto is a very new asset class, so where we go is very difficult to assess.
Most experts believe that TRON may continue to rise in value, but most also recognize that by the time we reach 2030, $0.15 is probably a realistic target. This assumes that adoption of TRON comes into the fold, let alone crypto on the whole. Remember, crypto has not been adopted in major ways quite yet, so any investment in TRON should be thought of as a speculative trade more than anything else. Any TRON price prediction for 2030 is more or less going to be a bit of a guess, even though some are even willing to put a TRON price prediction for 2050, much of this needs to be taken with a grain of salt.
What Is The Future Of TRON? Is TRON a good investment?
While the potential of blockchain technology remains largely untapped, TRON stands out as one of the few projects that is actively pursuing its promises, which has a significant bearing on its projected growth. In the upcoming months and years, TRON will focus on forging partnerships and expanding its brand presence in both the crypto and traditional tech industries. As blockchain technology adoption continues to rise and TRON's potential in the content creator sphere is realized, the platform is expected to flourish, with the TRX coin price projections increasing and eventually being realized. Whether TRX is a sound investment depends on the trajectory of the project.
However, it should be understood that there are a lot of variables that come into play between now and the distant future, so caution is paramount.
| | | |
| --- | --- | --- |
| Year | Best Case Scenario | Worst Case Scenario |
| 2023 | $2.70 | $0.25 |
| 2024 | $6.11 | $0.25 |
| 2025 | $8.11 | $0.08 |
| 2026 | $7.18 | $0.05 |
| 2027 | $9.12 | $0.03 |
| 2028 | $10.11 | $0.05 |
| 2029 | $10.18 | $0.07 |
| 2030 | $11.18 | $11.18 |
If you wish to take advantage of the potential growth of TRX coin in the next several years, one of the simplest ways is through the CFD markets at PrimeXBT. This allows for exposure to price appreciation and fluctuation without the burden of custody. Furthermore, you can trade many other crypto markets in the world-class platform as well. Sign up here.
FAQ: Frequently Asked Questions
How high can TRON go?
At this point it is still far too early to know the answer to this question. TRON future predictions are all over the place, as the adoption of the network is still in question. It should be noted that crypto tends to be very volatile, and TRON is fairly far out on the risk appetite spectrum. However, most analysts believe that it will continue to appreciate once the "crypto winter" disappears.
Can TRON reach $10?
While it is possible that TRON could reach $10, even the most bullish of analysts believe that is at least 5 years away. Keep in mind that TRON will move along with the other crypto markets, meaning that crypto in general needs to do well for TRON to appreciate in value. Any TRON crypto price prediction that suggests we are going to $10 should be looked at with skepticism, at least until we start to see more substantial adoption of the network.
What will be the price of TRX in 2025?
It is impossible to know, as shown by the wide range of estimates. Of the experts that we searched, there is roughly an $8 spread between the highest and lowest price. At this point, any speculation on a TRON future price is going to be a struggle. While it does look overly bullish in general, any TRON price prediction for 2025 needs to be thought of as a potential target, not necessarily something you can count on.
What will be the price of TRON coin in 2030?
Most traders believe that TRON will be worth more in 2030, but just how much more is still up for debate. The majority of analysts believe that it will be at least $5, but nothing is guaranteed as the crypto world moves quite quickly.
What will TRON be worth in 10 years?
All long-term analysis depends on the adoption of cryptocurrency in general. So far, crypto has offered a lot of possibilities, but very few real world applications. The market will need to see crypto being used on a much broader scale in order to see TRON, or any other crypto for that matter, truly appreciate in price. Again, it is believed that TRON will be worth more, but the estimates vary quite widely.
Risk Disclaimer
Investing in or trading gold or other metals can be risky and lead to a complete loss of capital. This guide should not be considered investment advice, and investing in gold CFDs is done at your own risk.
The information provided does not constitute, in any way, a solicitation or inducement to buy or sell cryptocurrencies, derivatives, foreign exchange products, CFDs, securities, and similar products. Comments and analysis reflect the views of different external and internal analysts at any given time and are subject to change at any time. Moreover, they can not constitute a commitment or guarantee on the part of PrimeXBT. The recipient acknowledges and agrees that by their very nature any investment in a financial instrument is of a random nature and therefore any such investment constitutes a risky investment for which the recipient is solely responsible. It is specified that the past performance of a financial product does not prejudge in any way their future performance. The foreign exchange market and derivatives such as CFDs (Contracts for Difference), Non-Deliverable Bitcoin Settled Products and Short-Term Bitcoin Settled Contracts involve a high degree of risk. They require a good level of financial knowledge and experience. PrimeXBT recommends the consultation of a financial professional who would have a perfect knowledge of the financial and patrimonial situation of the recipient of this message and would be able to verify that the financial products mentioned are adapted to the said situation and the financial objectives pursued.