The cryptocurrency industry is a wild world where just about anything goes. New projects are popping up nearly each and every day, with the majority of them set on building upon what Bitcoin started so many years ago.
As the industry has grown, certain coins have emerged that have use cases that vastly differ from Bitcoin, Ethereum, Litecoin, Ripple, EOS, and other top crypto assets. Ravencoin coin is one of those coins, however, not designed to be a payment currency like Bitcoin and has a unique use case of its own.
However, the asset does share several key similarities with Bitcoin, such as there only being 21 billion RVN tokens compared to Bitcoin's 21 million BTC. But just because it shares some similarities with Bitcoin and has carved out its own innovative niche in the cryptocurrency market, that doesn't necessarily mean that it makes an excellent investment.
This guide will offer a look at technical analysis on Ravencoin, provide various realistic Ravencoin price predictions from experts, and attempt to answer the question "will the price of Ravencoin go up" in the future?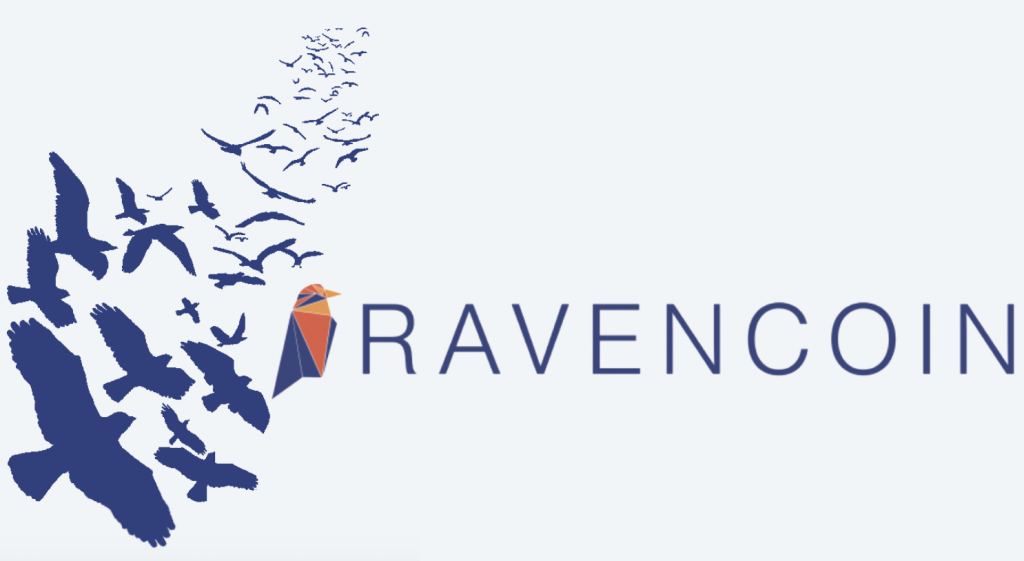 What Is Ravencoin? Learn About Ravencoin Potential Growth
Ravencoin, first and foremost, is a cryptocurrency trading under the RVN ticker symbol. It trades commonly against USD and BTC on cryptocurrency exchanges and cryptocurrency trading platforms. It was launched on January 3rd, 2018, just as the cryptocurrency bear market started.
Ravencoin cryptocurrency is a blockchain designed to allow users to create and transfer digital assets from peer-to-peer. Other blockchains can also transfer assets, but they are slow and not ideal for this purpose because they were not explicitly designed for this task.
Ravencoin can be used to issue asset tokens for anything from real estate and company shares to video game collectibles and community points. Anyone can create new assets using Ravencoin but must burn tokens to do so.
The open-source project doesn't have a well-established team or development foundation and is instead led by other core developers such as The Bitcoin Foundation's Bruce Fenton. However, because of its potential projected value, it has earned financial backing and support from the likes of crypto supporter and Overstock CEO Patrick Byrne.
Ravencoin is a hard fork of the Bitcoin blockchain and uses a similar UTXO model. It has one of the better fork price predictions compared to assets like Bitcoin Cash, Bitcoin SV, and others. It differs in the total maximum Ravencoin supply of 21 billion versus 21 million BTC, a faster block generation time just one-tenth of Bitcoin's, and uses a different mining algorithm to prevent ASIC mining.
Ravencoin's reward issues began at 5,000 RVN coins. Ravencoin wasn't created as part of an initial coin offering and without a pre-mine. Unlike Ripple, Ethereum, and other top projects, RVN tokens aren't held by founders in a pool that looms over the market as potential distribution.
First, to create a new token, an amount of RVN must be burned and a name for the token chosen. At the time tokens are made, the total supply and future issuance can be selected.
Ravencoin Price History: Looking Back At 2019, 2020, To Today In 2021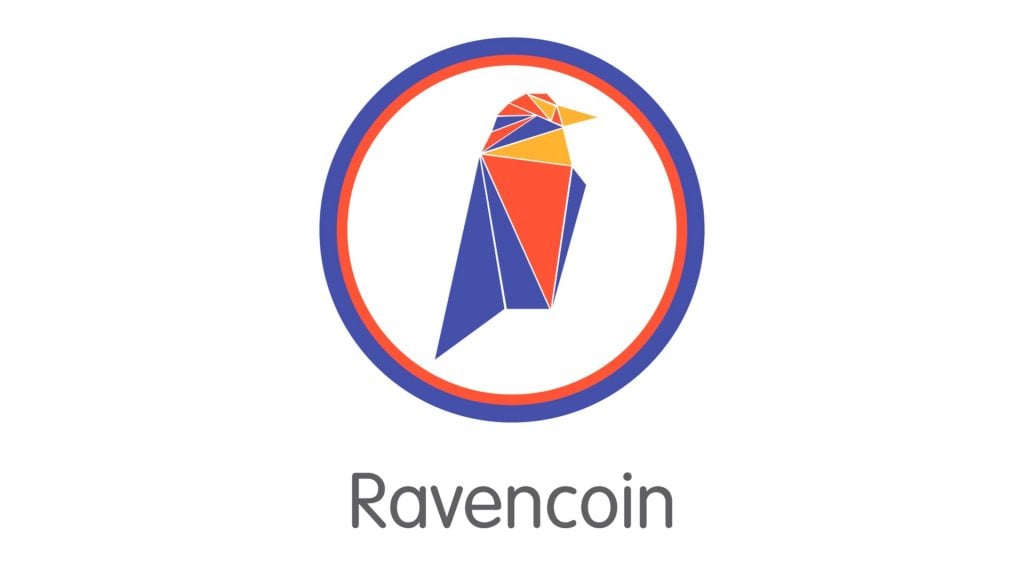 The current price today as of the time of this writing is $0.09, putting the altcoin ranked at 97 in the top ten crypto assets by market cap. The price tomorrow could be anything. However, speculation points to enormous projected growth. The outlook on the asset's long term value is mixed, however, according to prediction charts based on technical analysis.
Ravencoin coin started out its journey in 2018, just as the crypto bubble popped, and the bear market began. Its crypto market price history started off at just over a penny in early 2018 just as CoinMarketCap began aggregating data on RVN token.
At the peak in June 2019, Ravencoin crypto reached a high of $0.073 per RVN token but retraced all the way back down to prior bear market lows in 2020. At the start of 2021, however, Ravencoin is at it again, reaching all the way to $0.23 per RVN.
Thus far, this has been how Ravencoin has behaved. Technical analysis shows that Ravencoin spikes and brings investors enormous gains and returns, however, it nearly retraces the entire move up and winds up back at lows. Will this historical instance ever change, or will Ravencoin keep on falling back to lows and fail ever to gain the momentum it needs to meet the lofty long term price predictions and potential growth projections that many expect it to reach?
Positive Ravencoin news is likely needed to change the Ravencoin trend back toward the positive and become profitable again. Only then can it get back to following its minimum estimated growth experts predict.
Ravencoin Price Predictions And Expert Forecasts

Wallet Investor
Wallet Investors has a bearish stance on Ravencoin potential, offering a RVN price prediction where the asset falls to extreme lows or just $0.001.

Coin Predictor
Cryptocurrency forecasting website Coin Predictor offers a Ravencoin forecast where it falls in the short term. They say a $1,000 investment could fall to as low as $891 in the days ahead if the asset remains so bearish.

Trading Beasts
Another price prediction database, Trading Beasts, claims that the Ravencoin price target will reach as high as $0.03 in 2023, which is very little in terms of ROI over the next three years.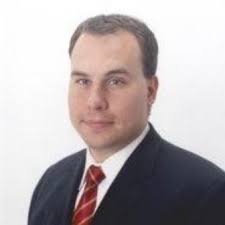 Bruce Fenton, Ravencoin Developer
Bruce Fenton from The Bitcoin Foundation warns that investing in crypto is risky and you could lose all of your money. Fenton is a developer behind the open source project, making his RVN price prediction somewhat surprising.
Patrick Byrne, Overstock CEO
The Overstock CEO sees Ravencoin potential as enormous, and Ravencoin projected growth to be something worth getting behind. Patrick Byrne has invested millions of his own money in supporting the project. Patrick Byrne, a firm crypto supporter, believes that Ravencoin will rise in value in the future.
Ravencoin Sentiment Analysis
Ravencoin coin sentiment is extremely low and bearish, which isn't a good sign for the asset as a long-term investment. Social volume is decreasing, even with the number of news articles surrounding the crypto asset growing.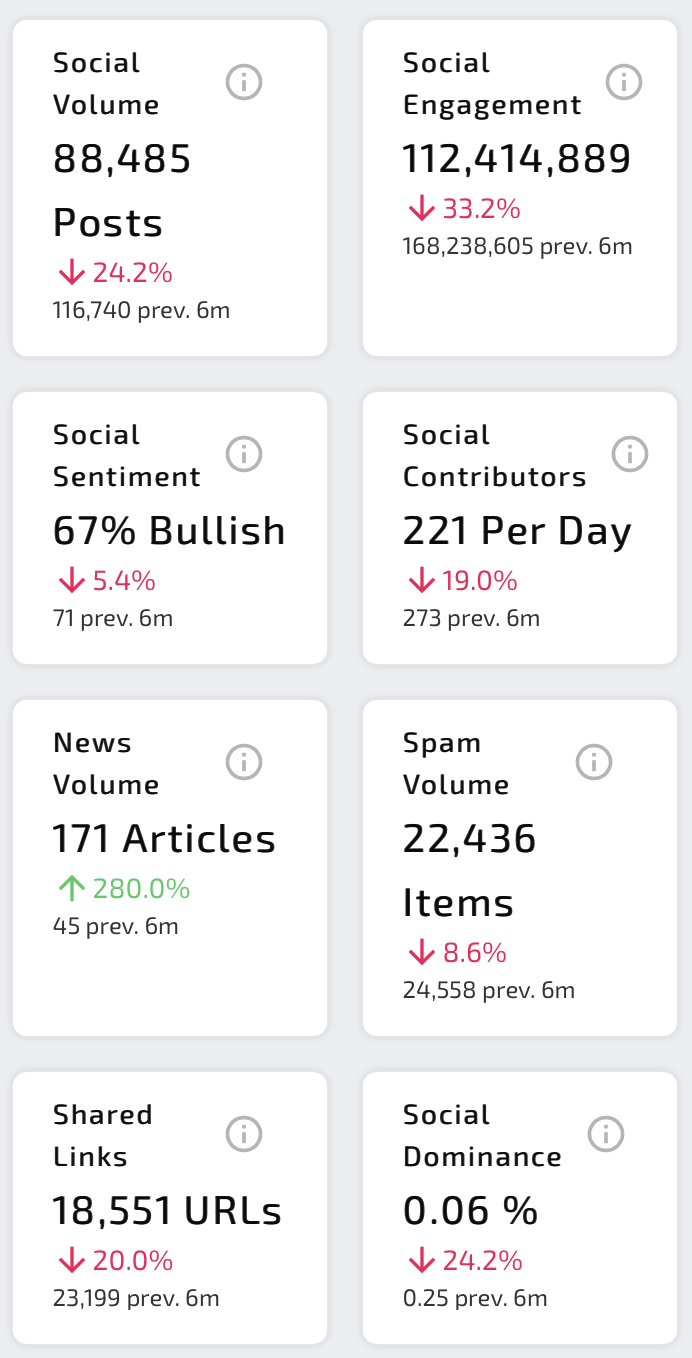 Ravencoin Technical Analysis
With sentiment in the gutter, price predictions mostly predicting downside, what does RVNUSD technical analysis say about what to expect for a Ravencoin price forecast in the future? Is there any critical Ravencoin buy or sell signals to look out for? Let's dig in.
Ravencoin Price Prediction 2021
Ravencoin is poised to make another double-top formation much like it did in 2018, and retrace its move – much like it has done repeatedly in the past.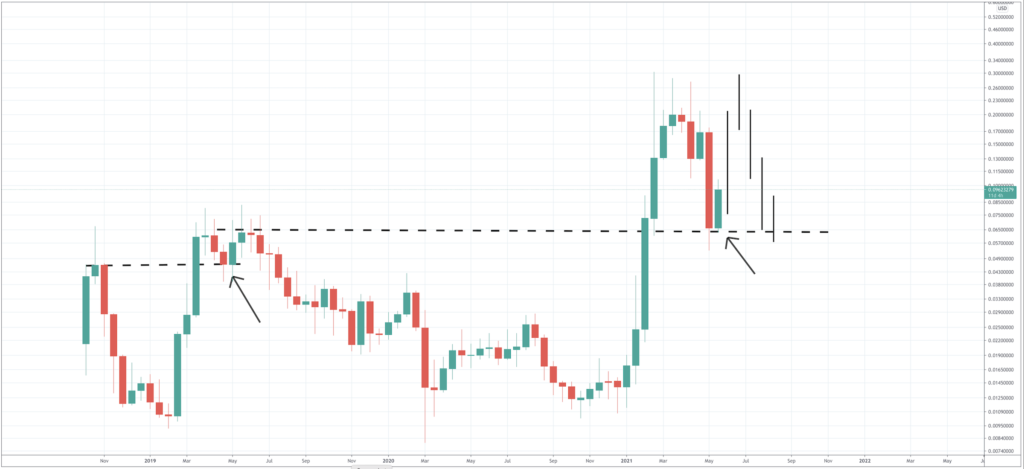 Ravencoin Price Prediction 2022 – 2023
After the double-top confirms, Ravencoin could begin another deep retrace and downtrend, leading to an extended bear market due to the truncated bullish impulse.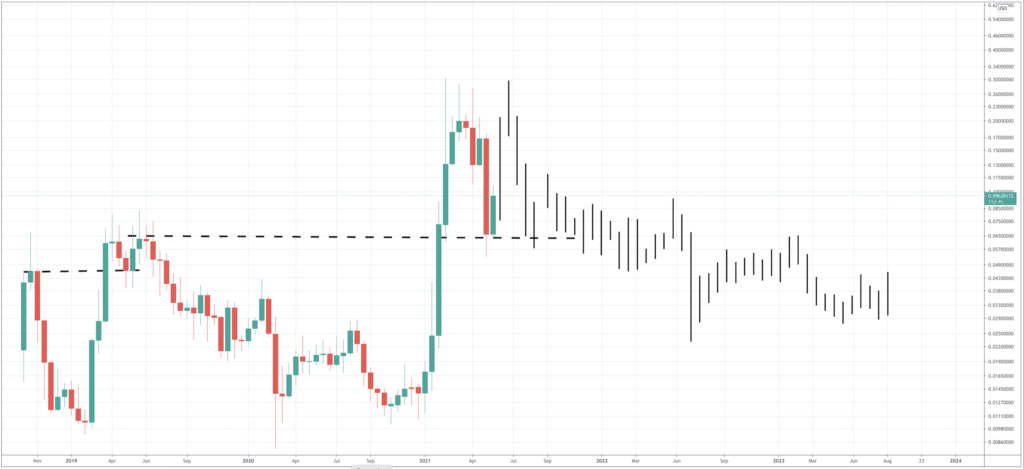 Ravencoin Price Prediction 2024 – 2025
Like anything, however, the market will eventually recover once again, with another major breakout from a downtrend that releases pent-up energy and volatility. At that point, Ravencoin could reach as high as 70 cents.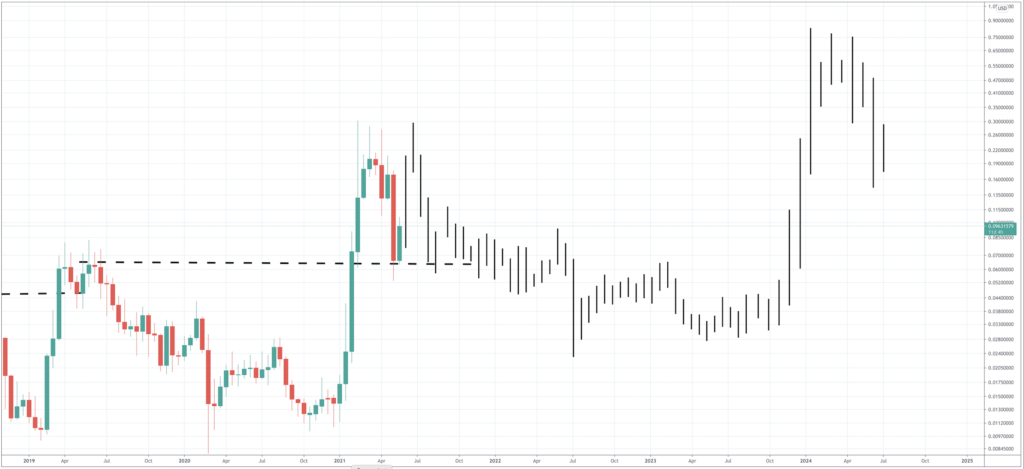 How far Ravencoin ultimately goes is anyone's guess, and with so many bearish predictions, the direction could be down and not up.
Conclusion: What is the Future of Ravencoin?
Ravencoin could rise, or could fall, according to technical analysis and expert price projections and forecasts from some of the crypto industry's best.
With such a broad range of price predictions, the outlook on Ravencoin is extremely mixed. For those considering investing in Ravencoin, other alternative crypto assets may make for a far better ROI thanks to much healthier projected growth. These assets include Bitcoin, Ethereum, Litecoin, EOS, and Ripple – all of the cryptocurrencies available for trading on the award-winning PrimeXBT.
PrimeXBT offers CFDs on crypto assets like the above, alongside stock indices, commodities, forex currencies, and much more. Long and short positions are available along with technical analysis software and tools that can give traders an edge in the market. Registration is free and takes just a few minutes to get started. The platform requires no minimum deposit on margin accounts.
The platform also offers a detailed help center, 24/7 live customer service via chat, a strong social community presence, and so much more. The reliable trading engine ensures orders execute quickly and without any slippage for the best possible entry and most profitable trading experience.
PrimeXBT is also home to Covesting, a new copy trading module where new traders can earn passive income from skilled traders who become strategy managers. There is also a four-level referral program, and several other ways to make money on the platform.
FAQ: Frequently Asked Questions About Ravencoin
What is Ravencoin?
Ravencoin is an altcoin based on a Bitcoin hard fork, but has many differences from the leading cryptocurrency by market cap. Ravencoin lets users issue assets or tokens that represent other collectibles and more.
How Much Will Ravencoin Be Worth in 5 years And How High Will Ravencoin Go?
It's difficult to say with so little price history to go on, and with sentiment and expert predictions mixed, the outlook isn't as good with Ravencoin as other crypto assets.
Will Ravencoin Price Go Up And Is Ravencoin Expected To Rise?
Ravencoin could go up to meet some of the targets provided, especially if the repeating fractal breaks out to the upside. If not, Ravencoin could fall to many of the low targets offered.
Why Is Ravencoin Going Up And Will Ravencoin Go Up In The Future?
Ravencoin is not going up; it has been going down and has been stuck in a downtrend for a year now. It is difficult to say for sure if it will go up in the future unless the asset can break out from the downtrend line.
Should I Buy Ravencoin While It Is Going Down?
If you must invest in Ravencoin, it is best to buy it when it is going down to get the most financial opportunity out of the investment. Just remember to use a stop loss and never invest more than you can afford to lose.
When Will Ravencoin Reach A New Record Future Price Target?
It may never reach a new record, unfortunately. Some projects just don't have the same promise as Bitcoin, Ethereum, and others. This is why Ravencoin has fallen so low in price and in the crypto market list of top crypto assets.
How Much To Invest In Ravencoin?
Maybe nothing. But if you must get started investing in Ravencoin, then start very small and test the waters. Never invest more than you can afford to lose, and remember to employ strict risk management strategies.
Is Ravencoin A Good Investment In 2021?
Not at the moment. Things are looking too bleak for Ravencoin, and a breakout of the downtrend line is needed before it is recommended to invest. It could happen in 2022, and it could happen in 2025, or as far out as 2030. Whenever it happens, it is wise to wait for some positive momentum before taking a position in Ravencoin.
Risk Disclaimer:
The charts, advice, comments, and more should not be taken as investment advice and any predictions are based on speculation and cannot be taken as certain.
The information provided does not constitute, in any way, a solicitation or inducement to buy or sell cryptocurrencies, derivatives, foreign exchange products, CFDs, securities, and similar products. Comments and analysis reflect the views of different external and internal analysts at any given time and are subject to change at any time. Moreover, they can not constitute a commitment or guarantee on the part of PrimeXBT. The recipient acknowledges and agrees that by their very nature any investment in a financial instrument is of a random nature and therefore any such investment constitutes a risky investment for which the recipient is solely responsible. It is specified that the past performance of a financial product does not prejudge in any way their future performance. The foreign exchange market and derivatives such as CFDs (Contracts for Difference), Non-Deliverable Bitcoin Settled Products and Short-Term Bitcoin Settled Contracts involve a high degree of risk. They require a good level of financial knowledge and experience. PrimeXBT recommends the consultation of a financial professional who would have a perfect knowledge of the financial and patrimonial situation of the recipient of this message and would be able to verify that the financial products mentioned are adapted to the said situation and the financial objectives pursued.