Investing in cryptos like Ripple, Bitcoin, or Ethereum can be confusing to start, which makes learning how to trade XRP, the crypto asset to the Ripple payment protocol, is an entirely different story.
It can be done, and it can be done well, but it takes some time, learning, market analysis, skill, strategy, and strict discipline to become successful. If you are interested in learning how to become profitable and make money while trading Ripple, this is the right place for you to be.
XRP's current price is $0.50087. XRP is -0.9% in the last 24 hours, -2.5% in the last 24 hours and 6.8% in the last year
This guide will explain in detail everything you need to know about Ripple on the surface, and deep dive into trading strategies that can yield real results, with real examples in them in action in Ripple markets.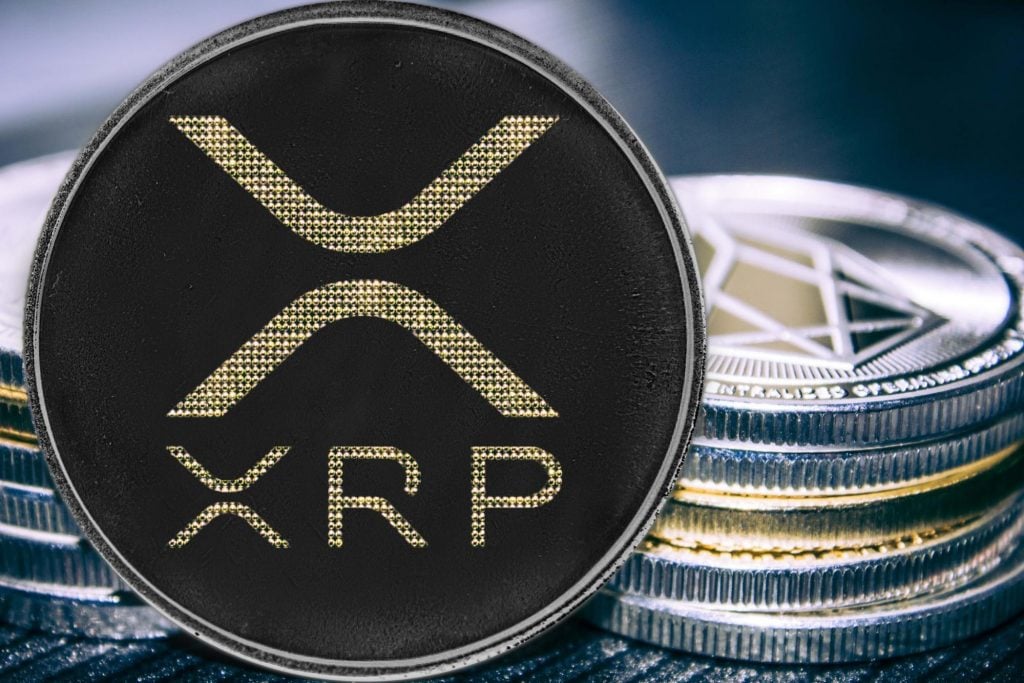 How Does Ripple Work? A Brief Look At The Next Generation Of Cross-Border Payment
XRP is a cryptocurrency similar to Bitcoin in the sense that both are coins that are created using cryptography and can be used to transfer value from person to person, without the need for an intermediary like a bank or third-party.
XRP is the native cryptocurrency token to the Ripple protocol, thus it is often referred to by the name Ripple. Ripple is also the parent company's name that created the protocol and works to onboard banks to begin using the protocol to replace the aging SWIFT wire transfer system.
Ripple and XRP seek to disrupt the cross-border payments industry and take on the likes of big banks, MoneyGram, and Western Union. The company hopes that banks will use Ripple instead of other cross-border payment solutions.
XRP is much faster than Bitcoin, taking seconds compared to Bitcoin's ten minutes or more block confirmation times. It also can be used to exchange more than just XRP, including Bitcoin. Bitcoin can't do this.
HODL or Trade XRP? Which Is Better Solution For Crypto Investors?
Anyone who bought XRP after January 2018 will have had to "HODL" through significant losses and three years of drawdown and negative price sentiment. There were several rallies during this time, but each was sold back down to support.
This price action made XRP one of the worst performers over the last several years, and kept prices at bay.
Had crypto investors traded instead of hodling, they would have made a lot more money or could have prevented losses accrued from hodling through a bear market. For those fed up with
The Different Ways To Trade Ripple And What's Best For You
Ripple trading involves setting orders to buy and sell Ripple on an exchange or crypto market trading platform that offers CFD trading on cryptocurrencies.
Spot Ripple trading involves exchanging fiat currencies for real crypto assets.
In contrast, derivatives such as CFD trading lets traders bet on the future outcome of price movements in Ripple markets.
Steps To Trading Ripple: Getting Started With a Ripple Trading Platform
Getting started trading Ripple is easy and takes just a few simple steps with the award-winning trading platform PrimeXBT.
Open An Account
First, register on PrimeXBT to access a free Bitcoin-based margin trading account. The minimum deposit to a BTC wallet is just 0.001 BTC, or users can buy BTC from the account dashboard to trade Ripple CFDs for profit.
Develop A Trading Plan
One registered and a deposit has been made, users of PrimeXBT can check out the analysis section and conduct detailed Ripple market analysis and consider the technical outlook before placing an order to enter a trade.
Place A Trade And Profit
After support and resistance have been found and the risk to reward ratio confirmed, users can place a limit order to enter a long or short trade at a specific level or set a market order to enter a position immediately.
What Moves Ripple's Price? Factors, FOMO, And Much More
Several factors move the price of Ripple, including supply and demand, its ebb and flow against the dollar and Bitcoin, as well as the cryptocurrency's future usage at banks and in general. In addition, normal market dynamics at play and investors speculating can impact XRP price.
What Are Ripple's Trading Hours? All About The Always On Crypto Market
Ripple is a cryptocurrency, and the crypto market never sleeps. It trades 24 hours a day, seven days per week, 365 days per year, without any exceptions. Unlike stocks and other markets, there are no holidays or weekends.'
It makes investing stressful, but opens the doors for even more opportunities as a trader. It may inspire traders to close positions over the weekends to give themselves a break, but at least the option is there unlike stocks and commodities.
Ripple Trading Strategies
Ripple trading can be challenging for those new to cryptocurrencies; however, many technical analysis indicators can help traders know when trends are about to reverse or if there is still plenty of fuel left in an asset's jets to keep prices climbing higher.
Although XRP and other altcoins are extraordinarily volatile and speculative assets, they respond to technical analysis exceptionally well. Here are some of the most profitable and proven Ripple trading strategies and how to utilize them to extract the most opportunity from markets.
Bollinger Bands Ripple Trading Strategy
Three separate trades were taken after XRP price closed a daily candle after passing through the middle Bollinger Band in the chart below.
The middle line is a moving average, and the two bands are standard deviations of that moving average that expand and contract depending on volatility. The way these bands work is that assets often tag the upper band when passing through the middle-BB from the downside, and vice versa.
This makes passing through the middle-BB an effective and profitable sell or buy signal, or a signal to open a long or short position.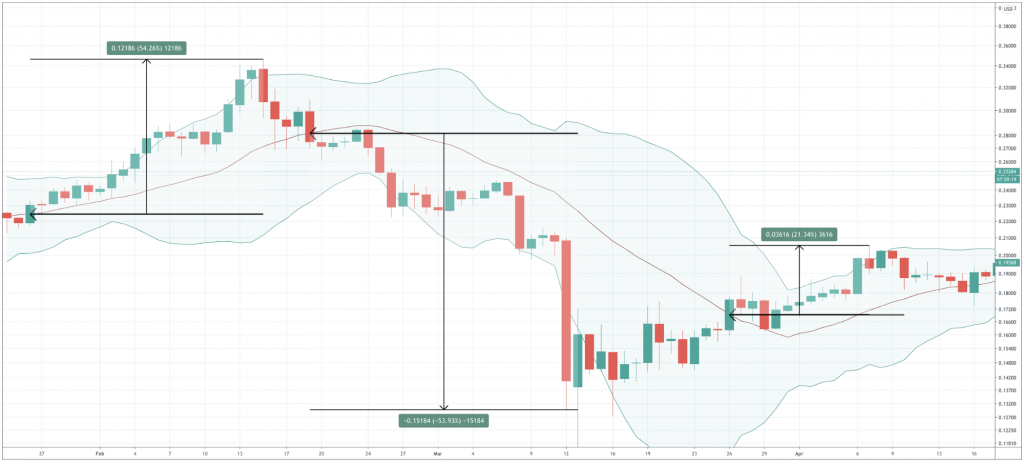 Ichimoku Ripple Trading Strategies
The Ichimoku indicator is referred to as the "at a glance" indicator and gives a full snapshot of everything currently going on in the market, from past, present, and future.
The Ichimoku indicator can be confusing given the variety of span lines and moving parts. Still, it can also be extremely helpful given all of the signals it provides with just one tool enabled.
For example, the cloud is only one aspect of the tool that shows where support or resistance may lie. There are also leading and lagging spans and lines that, when crossed, can provide a bullish or bearish buy or sell signal.
A short taken at the weekly Kumo resistance would have been a profitable trade in the chart below. A long taken once Kumo resistance was breached, then flipped to support marks the start of what should be substantial upside in the weeks ahead.
A bullish twist in the Kumo also suggests future bullish price action in Ripple.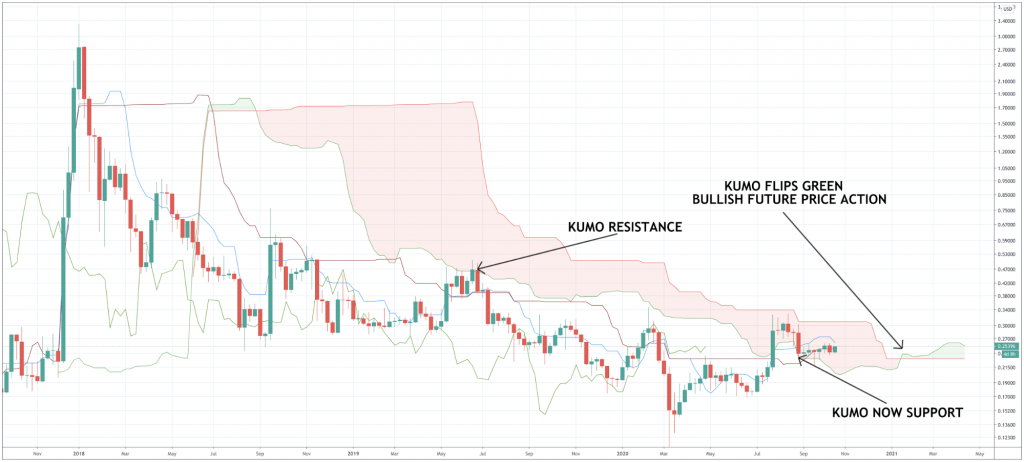 50-Day Moving Average Ripple Trading Strategy
Just like the moving average within the Bollinger Bands, other moving averages at different intervals can act as buy or sell signals or tell traders when to long or short.
Using the 50-day moving average, traders can watch for the price of an asset to pass through the moving average and take a trade at a retest of the moving average that holds.
When the retest doesn't hold, price action usually stays close to the moving average until a side is ultimately chosen. These are no-trade chop situations, and instead, Ripple traders should watch for a clean retest to hold and take off in the other direction to confirm the trade.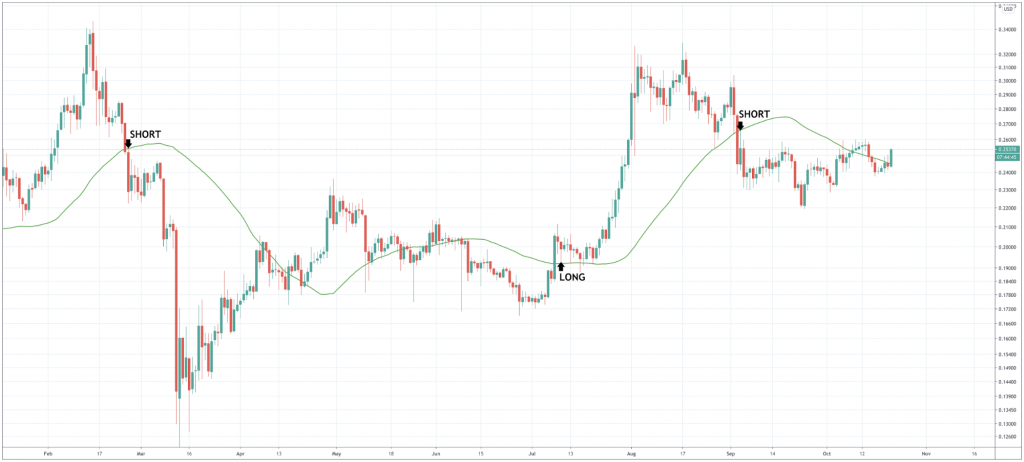 TD Sequential Indicator Ripple Trading Strategy
For those looking to time market tops and bottoms, it isn't recommended. However, there are tools that exist that make this a lot more possible and profitable to get right.
The TD Sequential is a market timing tool developed by Thomas Demark. After a specific sequence of candle closes are met, the indicator will give a count down to a 9 or 13 buy or sell "setup."
These setups are some of the most accurate calls in crypto but aren't always perfect. However, on weekly timeframes, the TD Sequential indicator perfectly called the short at the top of the crypto bubble in 2018, it would have been one of the most profitable shorts ever for those who took it.
13 signals suggest trend exhaustion, and things are about to reverse. Both 13 signals on the XRP weekly chart were a long that resulted in strong upside following. It wasn't a full reversal, but it also wasn't a 9 setup like the top was.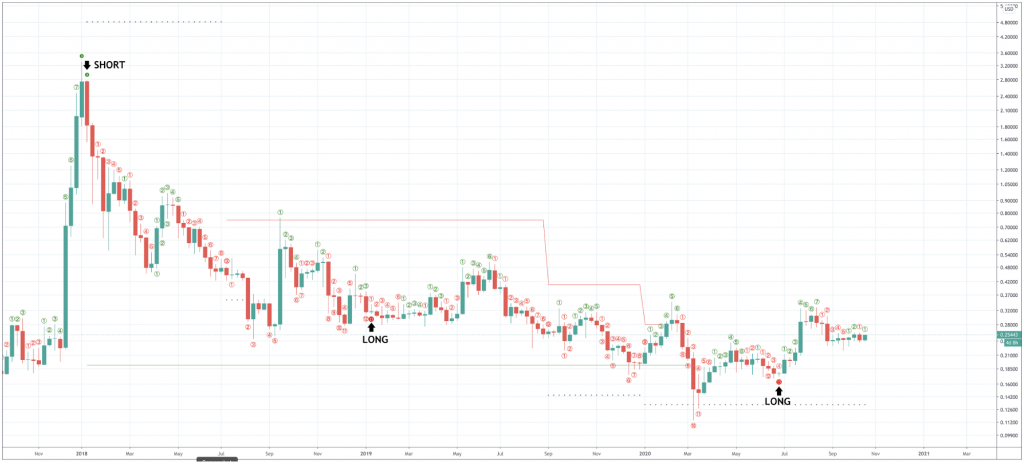 Top Tip For Maximizing Return On Ripple Trading: Leverage
As we explained, traders can rely on spot platforms to swap XRP tokens for cash or other currencies, or they can depend on CFD trading platforms like PrimeXBT.
CFDs are contracts for difference, which allows the broker to add all sorts of different conditions to the contract, such as long or short positions, stop-loss order, and even take profit levels that trigger when profit target is reached.
In addition, CFD brokers can let users trade on margin and apply leverage to positions to maximize return. For example, a 100x leverage position with a 10% move would result in a 1000% return, but risks are also amplified as well as the opportunity. Due to this, leverage isn't for those with a weak stomach or hand.
Traders must learn to keep extra margin available as not to receive a margin call or become liquidated if positions go against them.
Conclusion: Trade Ripple Using PrimeXBT For The Best Chance At Success
Ripple is just one of five crypto assets trading on the award-winning PrimeXBT against Bitcoin or the dollar. PrimeXBT's CFDs let traders take long or short positions, even simultaneously, across stock indices, forex currencies, commodities, and crypto.
Advanced trading tools such as stop-loss and take profit orders can be added to positions at the time they are placed or after, and expert technical analysis software from TradingView is included so that traders don't even have to leave the platform itself to plan their trading strategy, and go from planning to execution that much faster.
The easy to use interface is attractive for experts and novices alike, and the wide variety of services, tools, and assets has traders coming back again and again, and the platform taking home several industry awards.
Using PrimeXBT's tools, users can develop Ripple trading strategies that are profitable and successful while managing against any risk or unwanted drawdown. Registration takes less than a minute and just a few clicks and the platform offers low minimum deposits, so anyone interested can get started with little capital.
Using PrimeXBT's leverage, that little capital can turn into sizable positions in Ripple using CFDs offered by the award-winning platform!
FAQ: Frequently Asked Questions
What Is Ripple? 
Ripple is the fourth-ranked cryptocurrency currently, behind Tether, Ethereum, and Bitcoin. It is used for cross-border payments and is created by a company of the same name. It seeks to disrupt the cross-border payment industry and unseat SWIFT as the bank-preferred solution for sending money across countries.
Should I Invest In Ripple?
Ripple investing can be a chaotic ride. Instead, this guide explains how investors can trade Ripple instead and not succumb to the pitfalls of holding and instead profit from whichever way markets turn.
How To Make Money With Ripple?
As this guide has clearly demonstrated, HODLing Ripple doesn't always result in making money from the investment. Instead, investors can become traders and extract profits from downtrends and uptrends by opening long or short positions on an advanced CFD trading platform like PrimeXBT.
What Is Ripple's Ticker Symbol?
Ripple is actually the name of the company, but the token is regularly called Ripple also. The proper name for the native cryptocurrency token to the Ripple payment protocol is XRP. XRP is also the coin's ticker symbol when trading against USD, BTC, and more.
Where Can I Trade Ripple?
PrimeXBT offers CFDs for Ripple and other cryptocurrencies like Bitcoin, Ethereum, Litecoin, and EOS. The advanced trading platform also provides these digital currencies alongside traditional assets like stock indices, commodities, forex currencies, gold, silver, and much more.
Risk Disclaimer
Investing in or trading gold or other metals can be risky and lead to a complete loss of capital. This guide should not be considered investment advice, and investing in gold CFDs is done at your own risk.
The information provided does not constitute, in any way, a solicitation or inducement to buy or sell cryptocurrencies, derivatives, foreign exchange products, CFDs, securities, and similar products. Comments and analysis reflect the views of different external and internal analysts at any given time and are subject to change at any time. Moreover, they can not constitute a commitment or guarantee on the part of PrimeXBT. The recipient acknowledges and agrees that by their very nature any investment in a financial instrument is of a random nature and therefore any such investment constitutes a risky investment for which the recipient is solely responsible. It is specified that the past performance of a financial product does not prejudge in any way their future performance. The foreign exchange market and derivatives such as CFDs (Contracts for Difference), Non-Deliverable Bitcoin Settled Products and Short-Term Bitcoin Settled Contracts involve a high degree of risk. They require a good level of financial knowledge and experience. PrimeXBT recommends the consultation of a financial professional who would have a perfect knowledge of the financial and patrimonial situation of the recipient of this message and would be able to verify that the financial products mentioned are adapted to the said situation and the financial objectives pursued.