To better understand the similarities and differences between Bitcoin vs. Bitcoin Cash, this table provides an overview of the two blockchains.
| | | |
| --- | --- | --- |
| Feature | Bitcoin | Bitcoin Cash |
| Price | $16,803.14 | $108.54 |
| Date Founded | Jan 2009 | Aug 2017 |
| Ticker | BTC | BCH |
| Market Cap | $323,401,198,384 | $2,089,444,438 |
| Maximum Available Supply | 19,226,643.00 BTC | 19,249,375.00 BCH |
The argument between Bitcoin versus Bitcoin Cash and which to invest in is one that will be fought for years to come, but the proof between the two is in the charts and asset's price history itself. There are also several differences despite them being almost identical in code that makes one more ideal over the other. In the end, ultimately, investors will decide with their money, which is the best.
This guide comparing the cryptocurrencies will explain how to invest in Bitcoin or Bitcoin Cash, how to buy Bitcoin Cash or Bitcoin, how to trade the cryptocurrencies, and much more.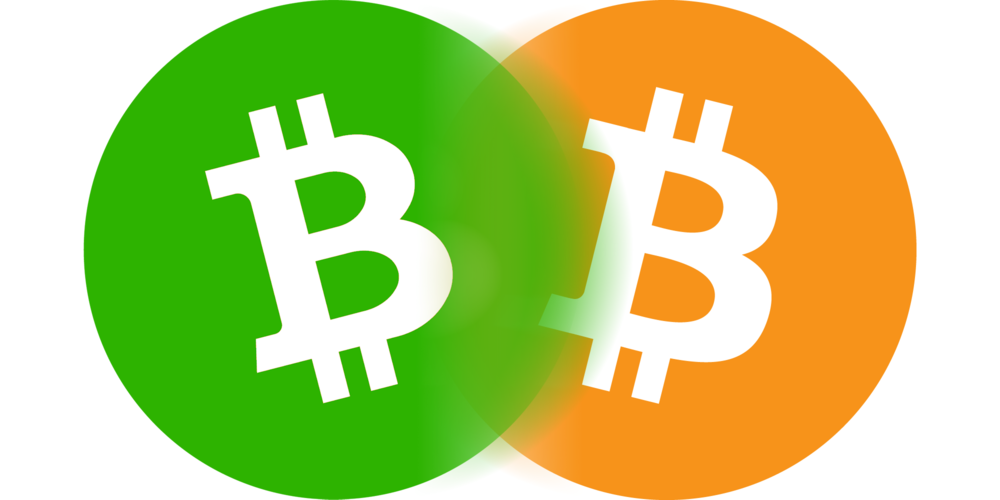 Bitcoin Cash Vs Bitcoin: What Are The Key Differences Between The Two Hard Forks?
Bitcoin and Bitcoin Cash are nearly identical in code and were born on the same original Bitcoin blockchain. Along the way, in 2017, a subset of Bitcoin supporters in disagreement with how to handle block sizing in order to improve Bitcoin's scalability and speed and offered an alternative.
One camp decided to garner enough support in the community to launch a hard fork of Bitcoin called Bitcoin Cash, which the cryptocurrency's supporters claim is the one true Bitcoin the way Satoshi intended it to be. Since Bitcoin Cash was created, the side that sought smaller block sizing split yet again to launch a Bitcoin Cash fork called Bitcoin SV (Satoshi's Vision) that yet again is claimed to be the one true Bitcoin. Now Bitcoin Cash and Bitcoin SV are battling it out, rather than only Bitcoin Cash versus Bitcoin.
Bitcoin Cash, Bitcoin SV, Bitcoin Gold, Bitcoin Diamond, and the dozens of other hard forks that exist only stand to muddy up the cryptocurrency space and make Bitcoin more confusing for all who don't understand the new, budding blockchain technology. It is one of the many reasons slowing Bitcoin and crypto adoption, as new technologies are confusing enough for new users.
Here are the rest of the key differences when comparing the cryptocurrency, which could result in more similarities than deviations.
Concepts And Creation
Bitcoin itself was created by Satoshi Nakamoto, and technically, he also created Bitcoin Cash and any other fork given that it is all the same source code and merely a fork of the original Bitcoin blockchain.
Bitcoin was first launched in 2009, after the Bitcoin.org and whitepaper released in 2008. Bitcoin Cash didn't arrive until 2017, right around when Bitcoin itself reached $20,000. Anyone that owned a full Bitcoin at the time would also get a corresponding BCH coin in their wallet after the hard fork was completed. The allure of free coins caused widespread Bitcoin FOMO, which ultimately led to the top put in around late 2017 when the crypto bubble popped.
Bitcoin Cash was created in an attempt to make Bitcoin faster and address scalability, but it has failed to reach the same level of adoption and market penetration. It also lacks any unique features like other cryptocurrencies do to help it stand out against Bitcoin, for example, Ethereum's smart contracts.
Transactions and Speed
Bitcoin is slow and clunky currently, making it more effective as a store of wealth than a transactional currency technology. Second-layer technology is being developed to help solve these critical issues, but they are still behind compared to several other altcoins.
Bitcoin confirms each block roughly every ten minutes and has a transaction per second capacity of about 5 to 7. Bitcoin Cash blocks are 8MB, rather than Bitcoin's 1MB, increasing the speed of the verification process. Due to this, Bitcoin Cash can process transactions much faster than Bitcoin and with slightly lower transaction fees.
Still not satisfied, Bitcoin Cash supporters hard forked Bitcoin Cash into Bitcoin SV, which further addresses scalability to be an enterprise solution for Bitcoin. However, Bitcoin Cash and even Bitcoin SV have failed to reach the speeds of XRP and other much faster altcoins, giving them even less reason to have made any changes to BTC.
Supply and Distribution
Bitcoin and Bitcoin Cash, being built from the same source code, have the exact same supply and a similar distribution. BCH coins were awarded to anyone who owned BTC at the time the hard fork was done, so the same holders could also have both coins.
Believers of BTC might have ditched their BCH and sold it, considering how low the prices have stayed, which could have changed the distribution slightly.
Both have a fixed supply of just 21 million coins and the same block reward halving mechanism. The supply of BCH could be even smaller, however, due to even more lost coins or those that never bothered to collect them from old wallets.
Use Cases and Target Market
Because both coins are arguably the same Bitcoin by Bitcoin Core code, with only minor changes albeit vastly different adoption metrics, they target the same investor audience and have the same exact use case.
Bitcoin Cash was merely created to speed up Bitcoin, and because it has failed to overtake BTC as the leading version of Bitcoin, it may never be adopted and fall on its face as a cryptocurrency and failed experiment. It even prompted the Bitcoin SV camp to hard fork the cryptocurrency yet again, this time making BSV tokens a hard fork of the BCH blockchain.
BCH Vs BTC: Which Is Better To Invest?
Bitcoin is $15,000 per coin, while Bitcoin Cash is only $250 per BCH coin. Since they both have the same 21 million coin supply, it is very clear which of the two is the better investment.
BTC is the one true Bitcoin declared by the market itself by a vote of capital. Since BCH's launch, it has been falling as an asset since. In the below sections, we're comparing the two cryptocurrency's historical price action and matching up expert price predictions to see which is the best investment once and for all.
Bitcoin Cash Vs Bitcoin: Historical Price Action Reviewed
Bitcoin price started off completely worthless, as in it had no value, and no one knew what to buy it or sell it for. It started off worth less than pennies on the dollar, but today is trading over $15,000 in less than 12 years since its inception.
Bitcoin has an enormous head start on Bitcoin Cash, but because Bitcoin Cash launched in an industry that Bitcoin already created for it, Bitcoin Cash has had it a lot easier as a result. Bitcoin had to claw its way higher and climb to the current levels just to earn respect.
Bitcoin has also been through several bear markets, while Bitcoin Cash has only experienced one. Bitcoin made a strong comeback and went on to new highs, while Bitcoin Cash has yet to prove itself in this way.
Bitcoin Cash was launched solely because Bitcoin exists. Because of this, Bitcoin Cash had a value almost immediately, and it soared to as high of over $4,000, according to CoinMarketCap, after its launch in late 2017 and early 2018. Bitcoin Cash fell to a low of $80 in 2018, when Bitcoin dropped to $3,200. Even then, the difference in the price was substantial.
Bitcoin Cash Vs Bitcoin Price Predictions From Experts Around The Crypto Industry
Bitcoin and Bitcoin Cash have enormous potential. One of them will eventually become the undisputed clear winner of the "which is the true Bitcoin" argument, although that looks to have already been decided and awarded to BTC.
Because of this, experts predict that Bitcoin could reach as high as $400,000, $500,000, and over $1 million per BTC. The predictions come from the likes of Tim Draper, Max Keiser, and several other brilliant macro economists and venture capitalists. Draper was one of the earliest investors in Facebook, Twitter, and Square, Inc.
Square Inc. notably offers BTC purchases via its Cash App, and not BCH, giving you an idea of the type of support BCH has versus BTC.
Square, Inc. also publicly revealed that the company has been buying BTC also, but not BCH. If even companies choose BTC over BCH, which do you believe is the better investment?
Bitcoin Cash price predictions, however, don't even exist!
Bitcoin Cash Vs Bitcoin: The Conclusion About Which Is The Better Crypto Investment
There is no competition when it comes to BTC as the true Bitcoin, and the market has decided this with their dollars and euros exchanged for the leading cryptocurrency by market capitalization on exchanges and trading platforms.
Bitcoin will make a far better investment unless some day Bitcoin Cash becomes the true Bitcoin. In that case, in some ways, Bitcoin is still the best investment; it would just be BCH versus BTC instead. But today, BTC is ahead by significantly more capital and in the price per coin, and it could be far too late for Bitcoin Cash ever to catch up.
Bitcoin Cash even had the red carpet laid out for it by Bitcoin, paving the way to widespread crypto acceptance. Still, BCH couldn't catch on, and the lack of interest is reflected in the ongoing downtrend against BTC, which may never reverse.
Bitcoin Cash Vs Bitcoin: How To Trade Bitcoin With The Awarding Winning PrimeXBT
Yet another way it proves that BTC is the best version of Bitcoin over BCH is because the award-winning PrimeXBT offers Bitcoin-based (BTC) CFDs on stock indices, crypto, commodities, forex, and more, yet omits BCH completely. Contracts are based in BTC, and account wallets are also BTC wallets. PrimeXBT also offers other cryptocurrencies, such as Litecoin, EOS, Ethereum, and Ripple, yet Bitcoin Cash is notably missing from the list.
The lack of acceptance, even on trading platforms like PrimeXBT, shows that Bitcoin is the best investment. But even better than investing, Bitcoin is a trading asset unlike no other.
As the price history above reflects, it has traded from $1,000 to $200, to $20,000, and back to $3,200. Now, it's more than $20,000 and could soon go above a new peak and set another all-time high. The wild volatility and the enormous price swings make for an ideal opportunity for traders who are looking to make more money than with investing alone.
Trading Bitcoin can be extremely profitable when using a successful trading strategy, technical analysis tools, and advanced trading tools from PrimeXBT. Registration is free, takes less than 60 seconds, and lets you access over 50+ trading instruments all under one roof. There is also a free mobile app available for Android and Apple smartphones, so users can manage their positions wherever they go.
FAQ: Frequently Asked Questions
Is Bitcoin Cash The Same As Bitcoin?
Bitcoin Cash shares the same original Bitcoin lineage through its blockchain but was forked to start a new blockchain and cryptocurrency project. Bitcoin Cash uses a larger block size to make transactions faster and the network more scalable. Unfortunately, Bitcoin Cash hasn't been widely adopted and is considered a failed project next to Bitcoin. Still, its place in the top ten cryptocurrencies gives it staying power.
What Is Bitcoin Cash Used For?
Bitcoin Cash is used for all the same reasons at Bitcoin, such as payments, a store of value, and a speculative investment or trading assets. Because of this, and because Bitcoin does it all the better than BCH does, there is almost no reason for it to exist, other than the fact that it was hard forked years ago.
Is Bitcoin Core The Same As Bitcoin?
Yes. Bitcoin Core is just another name for the original Bitcoin. Bitcoin Cash users try to refer to Bitcoin as Bitcoin Core to differentiate it in the market, and due to BCH supporters saying it is the true Bitcoin. Bitcoin Core is the original Bitcoin client released by Satoshi Nakamoto.
What Is A Hard Fork?
A hard fork takes place when a blockchain splits into two paths, and another set of coins are created. Bitcoin Cash is a hard fork of Bitcoin, while Bitcoin SV is a hard fork of Bitcoin Cash. Any open-source cryptocurrency can be forked. Even Litecoin is considered a fork of Bitcoin but didn't carry the Bitcoin name.
Is Bitcoin Or Bitcoin Cash A Better Investment?
Bitcoin is the better investment hands down. Bitcoin Cash simply doesn't have the same level of adoption, acceptance, nor demand. BCH is never at the base of any trading pairs like BTC is, nor does it have anywhere near the level of market cap or price per token.
Is Bitcoin Cash A Good Investment?
Bitcoin Cash still could make a good investment as all cryptocurrencies have potential. However, Bitcoin and other cryptocurrencies are carried by PrimeXBT, such as Ethereum, Litecoin, Ripple, and EOS, make far better investment choices.
Are There Any Other Forms Of Bitcoin?
Just like the supply of BTC, there are only 21 million BCH that will ever exist. There are even less in circulation, which makes BCH just as scarce as Bitcoin. However, supply scarcity only matters when there is a demand for the asset, and there is not much demand for BCH currently. Bitcoin Cash was listed as one of the tokens that PayPal will support, so that could change in the future with more adoption. But even then, Bitcoin is a better investment.
How Many BCH Are There?
Just like the supply of BTC, there are only 21 million BCH that will ever exist. There are even less in circulation, which makes BCH just as scarce as Bitcoin. However, supply scarcity only matters when there is a demand for the asset, and there is not much demand for BCH currently. Bitcoin Cash was listed as one of the tokens that PayPal will support, so that could change in the future with more adoption. But even then, Bitcoin is a better investment.
Risk Disclaimer
Investing in or trading gold or other metals can be risky and lead to a complete loss of capital. This guide should not be considered investment advice, and investing in gold CFDs is done at your own risk.
The information provided does not constitute, in any way, a solicitation or inducement to buy or sell cryptocurrencies, derivatives, foreign exchange products, CFDs, securities, and similar products. Comments and analysis reflect the views of different external and internal analysts at any given time and are subject to change at any time. Moreover, they can not constitute a commitment or guarantee on the part of PrimeXBT. The recipient acknowledges and agrees that by their very nature any investment in a financial instrument is of a random nature and therefore any such investment constitutes a risky investment for which the recipient is solely responsible. It is specified that the past performance of a financial product does not prejudge in any way their future performance. The foreign exchange market and derivatives such as CFDs (Contracts for Difference), Non-Deliverable Bitcoin Settled Products and Short-Term Bitcoin Settled Contracts involve a high degree of risk. They require a good level of financial knowledge and experience. PrimeXBT recommends the consultation of a financial professional who would have a perfect knowledge of the financial and patrimonial situation of the recipient of this message and would be able to verify that the financial products mentioned are adapted to the said situation and the financial objectives pursued.