Investing in cryptocurrencies like Bitcoin, Ethereum, and EOS can be confusing for those new to the emerging asset class and the blockchain technology underpinning crypto-assets. Common questions arise, such as "how much will EOS be worth," "what is the long-term outlook and price projection," "what are the price targets," and "is EOS a good investment." 
This guide will attempt to answer those typical questions heard across the crypto market, by providing traders and investors with detailed information on which they can formulate their own decision and feel comfortable in their investment portfolio. This guide covers all of the important aspects of EOS price predictions, such as fundamental analysis, price analysis, and technical analysis and price targets from the industry's top crypto experts and EOS analysts.
Introduction to EOS
EOS is the native cryptocurrency underpinning the EOS.IO blockchain protocol. EOS.IO is a smart contract platform for decentralized applications and protocol designed as an enterprise solution for scaling computer resources, emulating computer processing hardware, storage, and more. EOS was created, like many top cryptocurrency projects, to solve the speed, flexibility, and scalability issues and high fees in both Bitcoin and Ethereum.
EOS is based on a white paper released in 2017, developed by the Dan Larimer and Brendan Blumer lead Block.One. The EOS initial coin offering launched in June 2017 and concluded in the following June in 2018. The ICO broke records for the largest amount of capital raised in an ICO, pulling in over $4.197 billion.
EOS is among the more controversial crypto tokens across the crypto market, but due to its disruptive technology could have among the largest long-term profit potential. The blockchain technology behind the EOS.IO protocol has the potential to drastically change the future of computer resources and applications and improve upon several businesses and industries. Due to the powerful impact EOS could have, it's long-term value could increase exponentially.
Using fundamental analysis to forecast the long-term outlook of the crypto asset, and providing technical analysis from experts from around the industry, long term price predictions can help an investor decide if EOS is a good investment.
EOS Overview
Today (6 December 2023) EOS (EOS/USD) is trading at $0.745 per EOS, with a market cap of $825632114 USD. 24-hour trading volume is $158090815 USD. EOS price has changed by 0.3% in the last 24h. Circulating supply is 1110451277 EOS.
EOS Forecast and Long Term Outlook
EOS has a total supply of 1,029,909 native EOS tokens. EOS is currently ranked 23 in the top crypto assets by market cap, making it among the top cryptocurrencies in the market with the most positive long term outlook and expected growth.
EOS reached an all-time high value of $22.89 on April 29, 2018, while most other crypto assets had reached their all-time high in December 2017 or January 2018, showing that EOS has shown additional bullish momentum that could help EOS coin reach the price forecast of the experts listed in this guide. However, EOS still remains well below that all-time high.
EOS has been dubbed the "Ethereum Killer" due to the 100,000 transactions per second it hopes to achieve, in comparison with Ethereum's current 15-30 tps. Despite being an "Ethereum Killer" EOS started its life as an Ethereum-based ERC-20 token, but later launched its own mainnet.
One often overlooked fundamental factor is the fact that the EOS cryptocurrency token's lead developer and Block.One CTO is Dan Larimer. Larimer has been called the Bill Gates of blockchain and is the inventor of proof-of-stake and the concept of decentralized autonomous organizations or DAO. He was also integral to the founding of other crypto companies BitShares, Steemit, and Graphene. Larimer's support and involvement suggest that EOS has long-term potential in the market, and this will have an impact on long-term EOS price projections.
EOS Price Analysis and Price Potential
EOS trades across cryptocurrency exchanges such as PrimeXBT under the trading pairs EOS/USD, and EOS/BTC. Technical analysis can be performed on each of these trading pairs, and give unique results. Oftentimes Bitcoin moves correlated to altcoin crypto assets such as EOS, while other times they diverge and move in opposition to one another. This provides analysts with a variety of tools to perform price predictions, find price targets, and more.
The lowest price recorded for EOS was a price of $0.48 per coin, during the early phases of the initial coin offering that resulted in over $4 billion in funds raised. In 2018, EOS launched to much hype and enthusiasm, and EOS reached its all-time high value in April at $22 dollars, but soon after was dragged down by the bearish sell pressure and the negative sentiment the rest of the crypto market and Bitcoin was experiencing at the time.
During 2020, EOS bounced from a low of $2.43 per token, to as high as $3.47 per token. In 2021, EOS pumped back to more than $14 per coin but failed to set a new all-time high.
Factoring the total EOS supply, current prices, and the previous all-time high of $22.89, EOS has strong price potential and the future price outlook can only improve from here.
Gains such as these are unheard of in traditional markets, and that number only represents the ROI if EOS returns to its all-time high. Blockchain technology like EOS is new, emerging, and still has many years to go before it shows its true value and revolutionizes industries. When that happens, EOS true long-term price potential will be revealed, and many speculate that EOS future price will have a price target well above the previous all-time high.
EOS Technical Analysis and Long Term Price Prediction
In addition to fundamental analysis – such as reviewing token supply, the team behind the project, and more – and general price analysis, technical analysis can help predict EOS price trends, and help to find short-term price targets.
EOS Price Prediction 2023
Once the price per EOS peaks out at nearly $180 per coin, the cryptocurrency could see another bear market as part of its ongoing cycles. A bear market could take prices back to confirm the recent level and pivot point.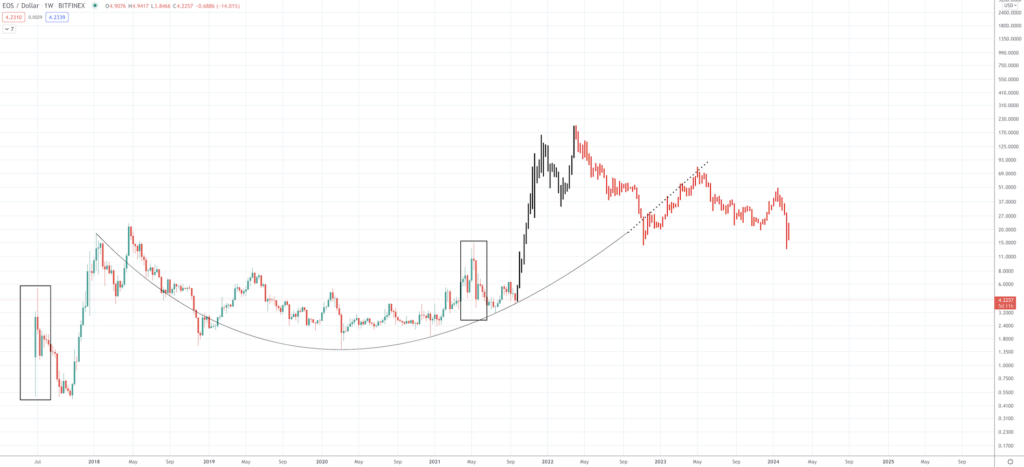 EOS Price Prediction 2024-2025
Once 2024 and 2025 rolls around, it should be back to another bull market for EOS and crypto.
Experts and Investors Weigh In On EOS Potential
To further add validity to the above EOS price analysis, EOS predictions, and below EOS forecast, the comments and involvement from industry experts and investment from venture capitalists can help provide a glimpse into the future of EOS and if the listed EOS predictions are realistic and achievable.
EOS and Block.One have among some of the most influential backers and investors in the crypto market. Even they understand how high EOS can go as an investment and what the long term EOS price potential can bring investors for returns.
Among the big-name investors behind EOS and Block.One, are former Bitmain CEO Jihan Wu and Peter Thiel. Wu said in a statement that "the EOSIO protocol is a great example of blockchain innovation. Its performance and scalability can meet the needs of demanding consumer applications and will pave the way for mainstream blockchain adoption."
Crypto investment firm Galaxy Digital also has made a large investment in the project and the team. Founder Michael Novogratz said that thus far, EOS had "significant outperformance" relative to the rest of his company's portfolio and given the EOS forecast, he and his company will "continue to work closely with Block.one as a key partner across a number of our business lines, including the Galaxy EOS VC Fund, which invests in companies building on the EOS.IO protocol, and remain excited about the EOS.IO protocol."
Lumeous CEO and founder Ali Ayyash claims that "EOS is on its way to become the biggest blockchain ever" and "poised to become the dominant smart contract platform on the blockchain," beating "Ethereum by a factor of ten."
Give how bullish these brilliant minds and powerful investors are on EOS price potential, the question is not will EOS go up, but how high can EOS go?
Is EOS a Good Investment?
The answer to the question "is EOS a good investment" is one only the investor themselves can answer after considering extensive fundamental analysis, price analysis, and technical analysis to ensure all due diligence was performed and the crypto asset was widely researched before investing. This guide serves as a condensed version of the vast amount of research required to select the right asset to invest in and feel comfortable in holdings and portfolio allocations.
Given its potential to disrupt industries, EOS has enormous upside potential in the future and has a place in every investor's portfolio. How much to invest in EOS is up to the risk appetite of the investor and their comfort with the presented research.
Using some of the price targets from the experts outlined above will give potential investors and traders interest in EOS a better idea of the long-term price potential.
| | | |
| --- | --- | --- |
| Year | Potential High | Potential Low |
| 2021 | $180 | $4 |
| 2022 | $180 | $7 |
| 2023 | $60 | $7 |
| 2024-2025 | $250 | $23 |
If EOS is a good investment or not is subjective and entirely up to each individual investor, their taste, the amount of capital they have to invest, and their appetite for risk. This guide summarizes the most important data points across fundamental analysis, price analysis, and technical analysis to provide potential investors with short- and long-term price predictions, and help advise investors on how high the price of EOS can go, and allow individuals to make their own decision.
To begin trading EOS, sign up for PrimeXBT, an award-winning Bitcoin trading platform offering CFDs on oil, gold, stock indices like the S&P 500, forex, and other cryptocurrencies.
Risk Disclaimer
Investing in or trading gold or other metals can be risky and lead to a complete loss of capital. This guide should not be considered investment advice, and investing in gold CFDs is done at your own risk.
The information provided does not constitute, in any way, a solicitation or inducement to buy or sell cryptocurrencies, derivatives, foreign exchange products, CFDs, securities, and similar products. Comments and analysis reflect the views of different external and internal analysts at any given time and are subject to change at any time. Moreover, they can not constitute a commitment or guarantee on the part of PrimeXBT. The recipient acknowledges and agrees that by their very nature any investment in a financial instrument is of a random nature and therefore any such investment constitutes a risky investment for which the recipient is solely responsible. It is specified that the past performance of a financial product does not prejudge in any way their future performance. The foreign exchange market and derivatives such as CFDs (Contracts for Difference), Non-Deliverable Bitcoin Settled Products and Short-Term Bitcoin Settled Contracts involve a high degree of risk. They require a good level of financial knowledge and experience. PrimeXBT recommends the consultation of a financial professional who would have a perfect knowledge of the financial and patrimonial situation of the recipient of this message and would be able to verify that the financial products mentioned are adapted to the said situation and the financial objectives pursued.