Bitcoin was the first cryptocurrency ever to be created, and it today is the number one decentralized digital asset ranked by market capitalization. Right behind it in rank is another altcoin that came long after Bitcoin and is coded to wield several unique features above and beyond what Bitcoin can offer. This altcoin is Ethereum, and today, its importance to the cryptocurrency industry and the future landscape cannot be understated.
While Bitcoin birthed the crypto industry and all assets created after it were designed in its honor, it is often Ethereum that is used to launch an army of next-gen alternative coins, all with the sights set on in seating Bitcoin's throne. Ethereum was behind the ICO boom, the DeFi explosion, and now, a trend where non-fungilbe tokens are being sold by individuals. What come next, could shape the future of finance forever.
But Bitcoin is also building into a new bull run, and investors won't want to miss out on what in the past has led to substantial returns. However, if you had to choose, which asset is best?
This guide comparing the cryptocurrencies will highlight all the critical differences between Ethereum vs Bitcoin and explain, which makes a good investment based on your interests.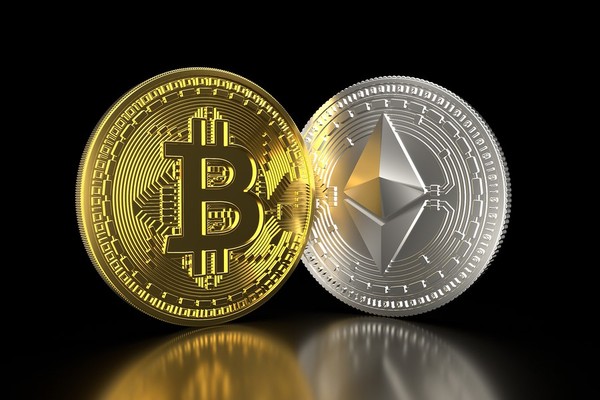 Ethereum Vs Bitcoin: How Do The Two Top Cryptocurrencies Stake Up Against One Another?
Ethereum vs Bitcoin is a showdown that everyone in the crypto industry and greater community watches closely, and the top ranked altcoin is the one cryptocurrency that could someday have a chance of "flippening" Bitcoin, where Ethereum rises to take the number one spot.
It sounds unrealistic due to Bitcoin's first mover advantage, years more worth of adoption, and greater regulatory acceptance; however, after we've explained all of the key differences in Bitcoin and Ethereum and what the two offer in terms of innovation for the future, you will be able to understand why this expectation exists.
Here are several more important differences between BTC and ETH along with their origins, a look into the base technology, and much more.
Concepts And Creation
Bitcoin was created by the mysterious and pseudonymous Satoshi Nakamoto, and it is the first cryptocurrency ever to exist. The cryptocurrency was designed to be the first decentralized form of sound money and allows users to be their own banks without the need for a third party intermediary. Only 21 million BTC will ever exist, making the asset incredibly rare and digitally scarce. Even fewer coins are in circulation, with more coins being released as part of a system called proof-of-work, which incentivizes miners to keep the network secure and in operation in exchange for a block reward of 6.25 BTC. The block reward miners received is reduced every four years by half in an event called the halving. This design mechanic is what is said to cause each Bitcoin bubble and bull market.
Bitcoin shares many key similarities with gold, giving it a digital gold nickname and making it valuable to store value and a safe haven asset. But Bitcoin is slow and clunky compared to other cryptocurrencies and lacks any additional layers at which decentralized finance can be built on. The leading cryptocurrency by market cap also faces challenges in terms of scalability. Bitcoin itself has been forked for this very reason, but it also led to the creation of various altcoins that aim to solve these critical issues and create new financial technologies to power the future.
Ethereum is one of these examples. Its creator, Vitalik Buterin, became enamored with Bitcoin at a young age and sought to improve various aspects of the cryptocurrency. In cooperation with other founders like Joseph Lubin, Buterin launched Ethereum as a platform for smart contracts. These smart contracts can be coded to act as an agreement or contract of any type, mimicking computer code or legal documents like real estate sales agreements or stock sales.
Ethereum can also be used to launch new cryptocurrencies and helped create thousands of new altcoins during the ICO boom of 2017. So while Ethereum may not exist without Bitcoin paving the way for more crypto assets, the crypto industry would be very different looking without Ethereum fostering innovation at every turn.
Transactions and Speed
As mentioned, Bitcoin is slow, with transactions taking as long as ten minutes at minimum, but even days when the network is clogged up. Ethereum has also recently suffered from slow transactions and soaring transaction fees due to the DeFi boom and the asset being used to power ETH-based gas transaction fees.
New tokens being minted at a rapid pace, such as YFI, Uniswap, Aave, and more, have benefitted Ethereum, but it has made next to no difference for Bitcoin.
Bitcoin's slow block confirmation times and high fees make it archaic looking next to Ethereum, but compared to the speeds of XRP or other altcoins, both are slow by crypto standards.
Instead, the value in these assets is in the underlying network and the substantial impact they can have on the world of finance in many ways.
Bitcoin currently has a capacity of roughly seven transactions per second, while Ethereum is expected to reach as much as 100,000 transactions per second during phase 1 of ETH 2.0.
Supply and Distribution
We already know that there will only ever be 21 million BTC, but Ethereum's max supply is up for debate.
It recently became a hot button issue around Bitcoin's halving, when supply became a more important topic. Even Ethereum founders admitted there's no real way to know, however, CoinMarketCap and other price and data aggregators put the total currently in circulation somewhere around 113,073,377 ETH. At five times the supply of Bitcoin, supply is less of a factor compared to the leading cryptocurrency by market cap, but it is still essential to supply and demand dynamics causing valuations in crypto assets top rise more quickly compared to other assets.
Ethereum was distributed through a token pre-sale, and Bitcoin was distributed by mining in the earliest days. Both are considered to be well decentralized, and even the SEC has deemed them to be commodities as a result.
Use Cases and Target Market
Ethereum vs Bitcoin have vastly different use cases and target markets, despite both being attractive to crypto investors. For example, Bitcoin is more of an aspirational store of wealth and payment currency, so users who invest in Bitcoin want to hold it for the long term.
Ethereum, on the other hand, is more often used as gas fees in transactions for other tokens and benefits significantly as a result. As ETH is used to fund transactions at rising costs, DeFi users, for example, must buy up Ethereum to pay for associated fees. Doing so drives up the price of Ethereum.
Ethereum can be seen as an ecosystem and the fuel that powers it, while Bitcoin is a currency in and of its own right. Both have extreme value and potential, both as a technology and investment, but only one can be the best of the best.
Ethereum is also said to one day replace Wall Street's aging back end, and already some bonds and business transactions have been tokenized into smart contracts on the Ethereum blockchain.
ETH Vs BTC: Which Is Better To Invest In?
Because these two crypto assets are vastly different, it is difficult to say exactly which is the best investment. And because the technology of blockchain and crypto is so new and young, there's no telling which of the two assets dominate in the end or if the two can live on harmoniously in the future, both serving completely different purposes.
Instead, we'll review historical price action and offer some future price forecasts to help you decide on your own, which is right for you. When you're done reading you should have strong idea if Bitcoin or Ethereum will make the ideal investment based on your needs.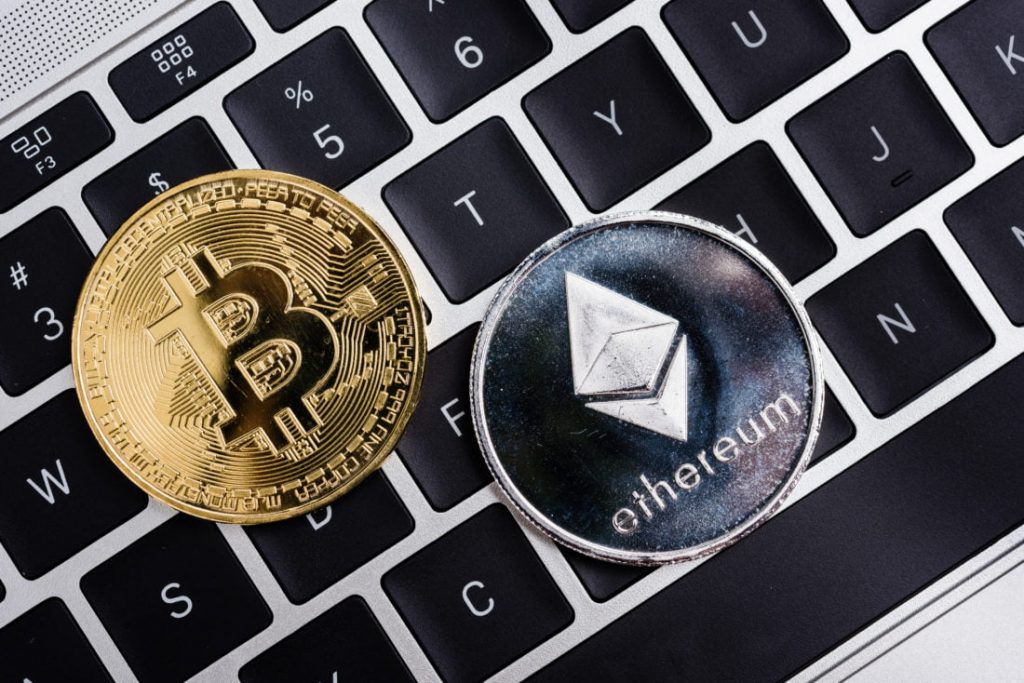 Ethereum Vs Bitcoin: Historical Price Action Reviewed
Both Bitcoin and Ethereum started out their lives at prices that were virtually worthless. Bitcoin experienced its first significant bear market following a peak in 2013 of $1,200. In the next two years, investors accumulated the cryptocurrency in the low $300 to $600 range. Around this time is when Ethereum was first created.
After Bitcoin broke up past $1,200 resistance, a new bull market had begun, and quickly Bitcoin found itself at $20,000 per BTC. Meanwhile, Ethereum started to benefit enormously from the emergence of initial coin offerings – a trend that saw the creation of thousands of new altcoins built on top of the Ethereum blockchain as ERC20 tokens.
The popular crowdfunding and fundraising method let investors get in early to what they expected to be the next Bitcoin. Shortly after the bubble popped in Bitcoin, the SEC began going after ICOs, and Ethereum's value collapsed.
Bitcoin fell to $3,200 and Ethereum to $80 from a high of $1,400 a year earlier. Now, Bitcoin is back above $11,000, and Ethereum set a high of $490 in 2020, representing a 500% return from bear market lows.
Ethereum Vs Bitcoin: Expert Price Predictions
Bitcoin is currently 20 times the price per ETH; however, this wasn't always the case and was closer to just ten times. This suggests that Ethereum could climb a lot faster than Ethereum per coin, but Bitcoin price predictions go a lot higher than Ethereum price predictions.
For example, Bitcoin is forecast to reach as high as $500,000 to $1 million per BTC, while the highest Ethereum projections top out at $35,000, and those are long term valuations.
Bitcoin reaching a $1 trillion market cap would take the asset to roughly $50,000 BTC, while the same market cap in Etheruem would only reach a price of $8800 per ETH. Both are reasonable estimates for each cryptocurrency.
Ethereum Vs Bitcoin: The Conclusion You Need To Read
In 2020, Ethereum has brought investors over 160% return on investment for the year, while Bitcoin has only had a 65% return in the same time period. Signs suggest that this over performance in Ethereum is over for the time being, with Bitcoin set to regain some lost ground against the second ranked cryptocurrency and top altcoin.
Bitcoin and Ethereum rise together as part of the greater crypto tide, but there are times when each outperforms the other. Ethereum's recent boost from DeFi has started to fizzle out, but NFT tokens now have it buzzing again. However, Bitcoin could be ready for a massive explosion and break out into a bull run – which could leave Ethereum behind on its ratio.
Clearly, investing in these two cryptocurrencies can be challenging due to the ratio on cryptocurrency trading pairs. Although they can perform well together, when crypto assets are falling, altcoins like Ethereum tend to drop far more sharply and are more volatile.
The best case scenario for investors is to trade the Bitcoin and Ethereum ratio, along with positions in Bitcoin and Ethereum itself, so that profits can be made whichever way the crypto market turns while taking full advantage of the swing opportunities that take place between Ethereum vs Bitcoin.
PrimeXBT is an award-winning trading platform offering both Bitcoin and Ethereum trading against the USD pair as well as Ripple, EOS, Litecoin, and traditional assets like gold, oil, stocks, and more. PrimeXBT also offers crypto-to-crypto trading pairs, allowing for the most varied trading positions and diverse trading portfolio. Traders can even hedge their Bitcoin holdings with Ethereum or short one on the ratio to profit from the ebb and flow between them.
Using long or short positions, traders can find opportunities in over 50+ trading instruments and utilize built-in technical analysis software, a customizable UI, and much more.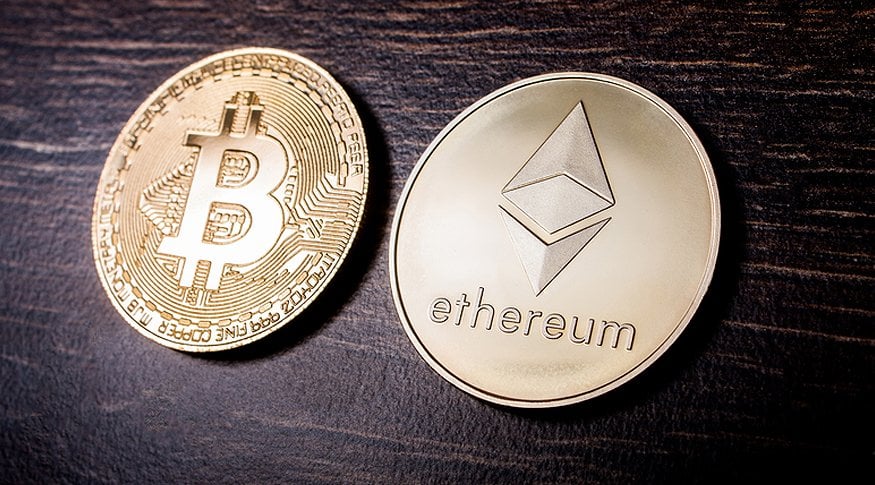 ETH Vs BTC: How To Trade Crypto Pairs With PrimeXBT
To get started using PrimeXBT's tools designed for professionals and novices alike, you must first get registered. The process takes just a few clicks and less than a minute. Accounts require a minimum deposit of only 0.001 BTC and can be turned into a much larger position using leverage.
PrimeXBT offers traders Bitcoin-based CFDs on crypto assets like Bitcoin and Ethereum and crypto-to-crypto pairs like ETH/BTC. This way, PrimeXBT traders who want to trade Bitcoin and Ethereum vs USD can do so, or they can trade Ethereum vs Bitcoin.
To begin, it is recommended to use the analysis section to chart a trading strategy, stop loss, and take profit levels before executing a trade. PrimeXBT's built in technical analysis tools offer several indicators, and the ability to plot lines of support or resistance, and much more.
After building a plan, traders can set a limit order or market order for a long or short trade on Bitcoin or Ethereum, or even Bitcoin vs Ethereum.
Bitcoin Vs Ethereum Vs Litecoin Vs Ripple
Each cryptocurrency asset offers a variety of unique benefits over one another. Use the rest of these guides to learn which cryptocurrency is the best to trade or invest in using PrimeXBT:
Ripple vs Bitcoin
Bitcoin vs Bitcoin Cash
Ethereum vs Ethereum Classic
Litecoin vs Bitcoin
FAQ: Frequently Asked Questions
Will Ethereum Reach The Price of Bitcoin?
Ethereum cannot reach the price of Bitcoin without reaching trillions of dollars in market cap. It is possible, however, it is unlikely given the fact that as Ethereum price grows, so will Bitcoin, making it impossible to catch up with the top cryptocurrency.
Is Ethereum Better Than Bitcoin?
In a sense, it is more flexible than Bitcoin, so some may believe that Ethereum is better than Bitcoin. However, Bitcoin is currently the top ranked cryptocurrency, so it is considered better by a vote of capital. If Ethereum can overtake Bitcoin, then it is possible that Ethereum will be the best, but they also could continue to live on together well, each with their own unique use cases.
Should I Invest In Bitcoin Or Ethereum?
Whether or not you should buy Ethereum or Bitcoin is ultimately up to the individual investor and trader. This guide should have provided you with all you need to make such a decision; however, additional research is always recommended. 
Why Is Bitcoin More Expensive Than Ethereum?
Bitcoin being more expensive than Ethereum is a simple supply versus demand math equation. There is far less Bitcoin in circulation and in maximum supply than there are ETH tokens, which makes the price per Bitcoin rise much faster as capital comes in.
What Is The Difference Between Bitcoin and Ethereum?
The main difference is in the fact that Bitcoin is mainly designed for storing value and moving it as a payment currency; Ethereum is a blockchain ecosystem and supercomputer that developers can use to build all kinds of unique experiences on. For example, Ethereum is central to the DeFi trend, and Bitcoin requires being tokenized and "wrapped" in Ethereum before it can be used in DeFi applications.
Is Ethereum the Next Bitcoin?
No, there will ever only be one Bitcoin, but Ethereum has a place in the market. Some day it could beat Bitcoin as the number one cryptocurrency, but they will always have separate use cases, and therefore Ethereum cannot be the next Bitcoin.
Risk Disclaimer
Investing in or trading gold or other metals can be risky and lead to a complete loss of capital. This guide should not be considered investment advice, and investing in gold CFDs is done at your own risk.
The information provided does not constitute, in any way, a solicitation or inducement to buy or sell cryptocurrencies, derivatives, foreign exchange products, CFDs, securities, and similar products. Comments and analysis reflect the views of different external and internal analysts at any given time and are subject to change at any time. Moreover, they can not constitute a commitment or guarantee on the part of PrimeXBT. The recipient acknowledges and agrees that by their very nature any investment in a financial instrument is of a random nature and therefore any such investment constitutes a risky investment for which the recipient is solely responsible. It is specified that the past performance of a financial product does not prejudge in any way their future performance. The foreign exchange market and derivatives such as CFDs (Contracts for Difference), Non-Deliverable Bitcoin Settled Products and Short-Term Bitcoin Settled Contracts involve a high degree of risk. They require a good level of financial knowledge and experience. PrimeXBT recommends the consultation of a financial professional who would have a perfect knowledge of the financial and patrimonial situation of the recipient of this message and would be able to verify that the financial products mentioned are adapted to the said situation and the financial objectives pursued.