We are excited to announce that we have partnered with Paxful, a leading global peer-to-peer finance platform in order to make the purchasing of Bitcoin and other cryptocurrencies even easier so that you can fund your trading account on PrimeXBT.
Paxful is the leading peer-to-peer cryptocurrency marketplace where buyers and sellers of Bitcoin and the likes are connected. Paxful offers over 300 payment methods available to ensure it is easy to find suitable offers. Along with their escrow system and our dedicated 24/7 customer support, Paxful is extremely secure.
The partnership between PrimeXBT and Paxful will see their web-based Virtual Bitcoin Kiosk will be integrated and directly available on PrimeXBT for new and existing users. This means that our users will be able to be a part of Paxful's peer-to-peer trading network directly on PrimeXBT in order to buy Bitcoin.
The Virtual Bitcoin Kiosk is another tool that will make the purchase of Bitcoin for your PrimeXBT that much easier. It means that you will have the ability to match instantly with sellers that meet the criteria of your Bitcoin trading needs.
From your choice of currency that you want to buy Bitcoin with to how you want to make payment for that Bitcoin, Paxful will facilitate the easiest way to make a peer-to-peer Bitcoin purchase that suits you.
The partnership is intended to enable customers of PrimeXBT a way to access multiple new payment options through the Peer-to-Peer marketplace offered by Paxful. And, for those already using Paxful, these users will gain direct access to our award winning trading platform.
Using Paxful For Deposits On PrimeXBT
If you are looking to deposit Bitcoin into your PrimeXBT account, you will now have the option to select Paxful as a payment option. This payment option will allows you to purchase BTC via various payment methods, such as:
Bank Transfers

Online Wallets

Cash Payments

Debit/Credit Card payments

Digital Currencies

Gift Cards
Follow the Step-by-step guide below to use Paxful in making a deposit on PrimeXBT.
Selecting a Paxful payment method will automatically open a separate tab in your browser
1) Select the Amount and Currency you wish to pay with. Click 'Log in':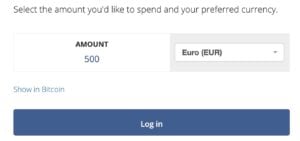 2) Choose an Email for your Paxful account. Click 'Log in':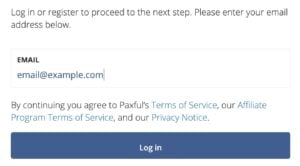 When using Paxful.com payment options for the first time, you may be required to verify additional information, such as your telephone number, ID and/or address, in order to verify your Paxful account for future purchases:
In this case, click 'Verify me' as shown in the screenshot and follow the provided Paxful verification procedures.
3) To continue with the transaction, choose your Payment method and click 'Review offer':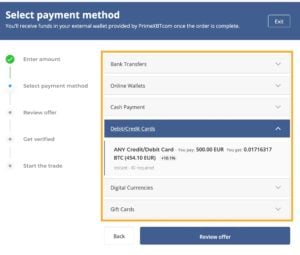 4) Review the details of your offer (transaction) and confirm your purchase: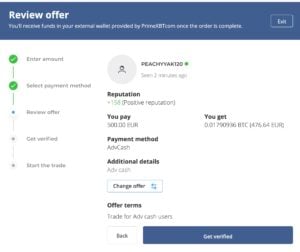 Verify your email and phone number to complete your transaction (if you have already verified your Paxful account, simply confirm your purchase):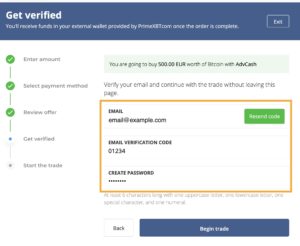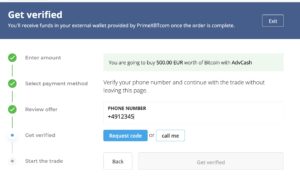 At PrimeXBT, we are focused on making your trading experience as easy and pleasant as possible. In working towards this, we want to offer our users multiple different ways to fund their accounts so that they have no barriers to entry when it comes to trading. Everyone's position is different when it comes to buying Bitcoin, and this is why we have added another great way to purchase cryptocurrency for your PrimeXBT account.