The cryptocurrency market is booming once again, which is causing coins left and right to pump across the market. New terms are popping up such as NFTs, DeFi, and more throughout blockchain technology. Some altcoins are attracting more attention than others for one reason or another, and as such are performing better than other assets.
As the price of these newcomers rise, they climb the ranks of the crypto list of assets ranked by market capitalization. The coveted top ten cryptocurrency by market cap is a list that highlights to investors which coins are worth their capital, which cryptocurrencies could make money the most steadily, and much more.
Still, because of normal market volatility and the speculative and hype driven nature of the emerging digital asset class, the top ten regularly changes. The most recent coin to make it among the ranks of Bitcoin, Ethereum, Litecoin, and others, is Theta token. But is the rise to fame justified, or is this another fly by night coin waiting to crash? Read this guide to find out.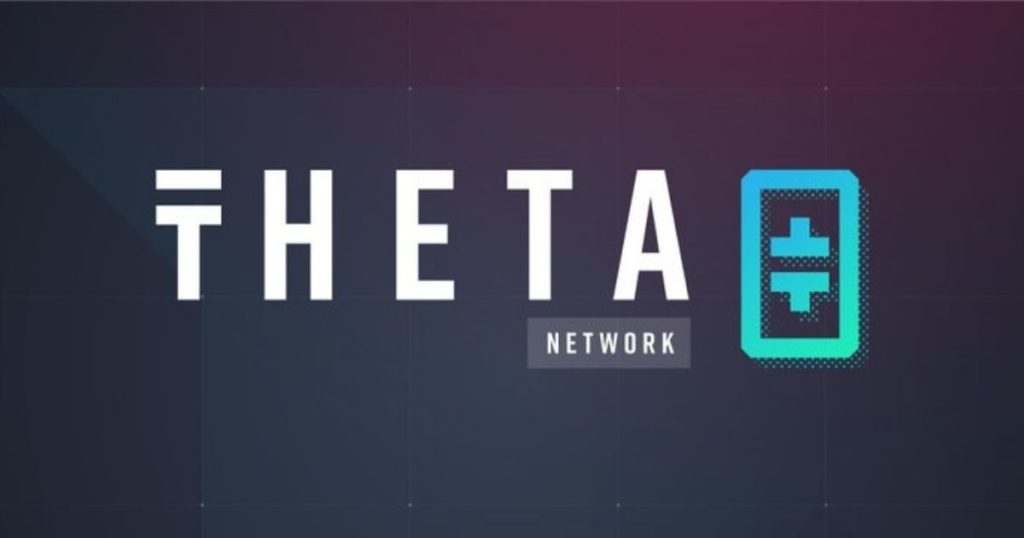 What Is Theta Token? Everything You Need To Know About THETA
Theta token is the native cryptocurrency token underpinning the Theta blockchain network, a protocol to benefit the video streaming industry that has recently been trending across the crypto space, even making its way into the crypto top ten by market cap.
It allows users of the video delivery network to provide excess bandwidth and computing resources and in exchange users receive a reward in more tokens. The parent company behind the technology, Theta Labs, launched the beta version of its decentralized video streaming platform
The service is considered the world's first video streaming Dapp, which is a decentralized application.
How Does The Theta High Efficiency Blockchain Work?
Theta is an interesting concept that seeks to avoid some of the bottlenecks and high costs associated with Ethereum gas today. For example, transaction on the Ethereum blockchain has resulted in ultra high ETH gas fees. But Theta's unique approach does away with this concern, while also providing more value overall.
Theta Blockchain and Consensus Mechanism
Theta network is a high efficiency open source network powered by a proof of stake consensus mechanism. Like Ethereum, Theta network can utilize smart contacts for developers to create Dapps on. Although it does have similar benefits to Ethereum it is not a direct competitor and isn't billed as an "Ethereum Killer" like EOS or Polkadot have been.
Theta Tokens and TFUEL
Theta tokens are the native governance token and trade in the crypto market using the THETA ticker symbol. Theta tokens are used to secure the blockchain network, verify transactions, providing voting benefits and much more.
TFUEL is essentially the Theta network's version of Ethereum gas, but separated into a unique toket to avoid the ongoing issues plaguing Ethereum until scalability is addressed. TFUEL is responsible for interacting with smart contacts on the Theta network, and powers the blockchain ecosystem.
For example, users can earn TFUEL for receiving views and sharing content, as well as completing other required tasks.
Theta.tv
Theta.tv is the website where the decentralized video streaming platform lives and how users can see the Theta network in action, as well as how TFUEL is being used to earn rewards and much more.
The platform is a robust service that's only growing rapidly, complete with a partner channel with featured videos from the likes of NASA and much more. The interface looks to be a bit of a cross between Twitch and YouTube, and is just as easy to use.
The Theta.tv decentralized video streaming platform comes preinstalled on all new Samsung Galaxy S20 smartphones.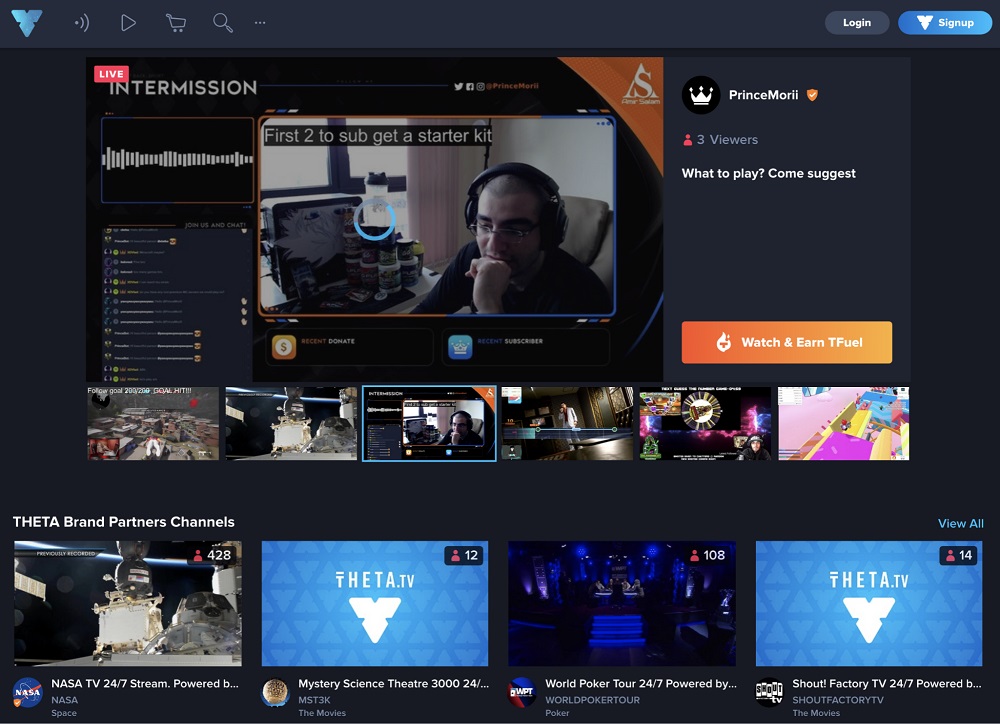 Theta Enters Crypto Market Top Ten By Market Cap: Is It Justified?
Theta token entering the top ten cryptocurrencies by market cap is a controversial move, but only because it seemingly came out of nowhere to climb so high. There's no denying there's a shock factor involved with seeing a coin come into such fame relatively overnight, but Theta token might actually command such high valuations and a place among the top ten.
Everyone wants their favorite coin to be in the top ten, but Theta token is one of the rare coins with a working product that it powers. Theta is also highly complex, more in the vein of Ethereum where it powers an entire ecosystem rather than just a coin with few applications yet incredible value like Bitcoin.
If Theta does deserve this ranking or not, it is up for the market to decide, and the price and market cap will be the ultimate judge on if it can hold onto its spot. Theta will have to compete with the likes of Bitcoin, Ethereum, Litecoin, EOS, Ripple, and other major coins to survive.
What Problems Does Theta Solve For Crypto Users?
Streaming services first appeared to be an important and money saving trend for video content and entertainment services. It allowed cable users to "cut the cord" and find a la carte options instead. It also encouraged new types of content, such as binge-watching series.
But over time, monopolies have taken over streaming, too, and it is only a matter of time until these platforms become as expensive and common as cable once was. Theta network addresses the growing control and influences companies like Disney, Verizon, and more have over streaming services, and aims to keep costs down for users by reducing operating costs for providers. Reducing the cost to stream and increasing bandwidth both benefits the brand and the end user.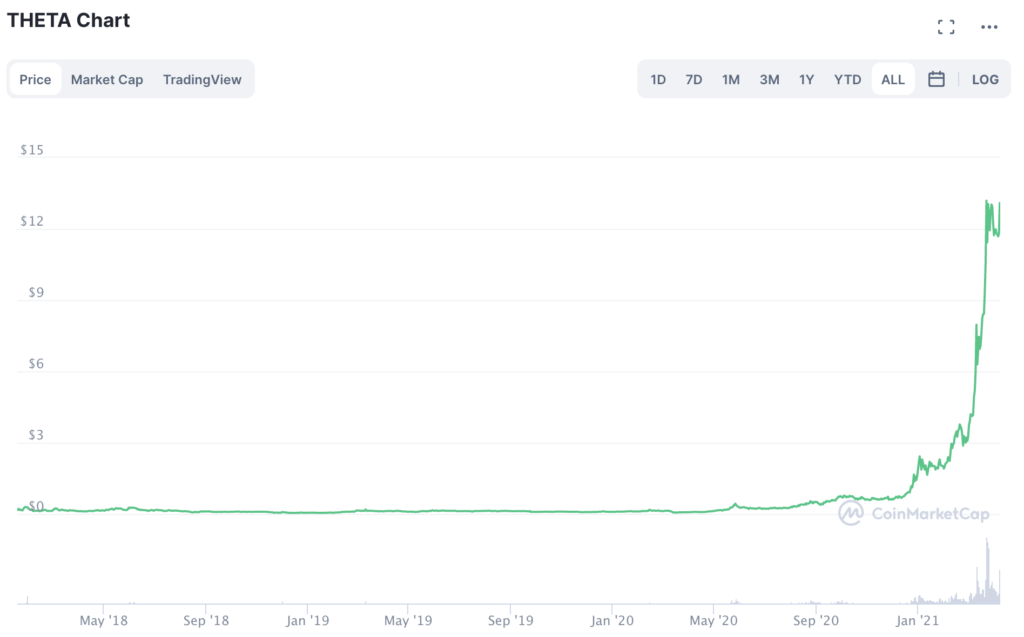 Current Theta Price Action And Recent Crypto Market Price History
The recent price action across the past quarter in the crypto market has been nothing short of amazing for Theta. The token has surged by a staggering 561% and could keep on going with all the hype it currently has.
Here's what month over month gains looked like for Q1 2021:
| | | | |
| --- | --- | --- | --- |
| Theta Token | January | February | March |
| Price Open | $1.87 | $1.91 | $3.14 |
| Price Close | $1.91 | $3.14 | $12.37 |
| % Gain | 2.50% | 64% | 291% |
After a quarter of growth like that, there's no surprise the token took over the top ten and has been the talk of the crypto industry.
Should I Invest In Theta? Reasons You Should Or Shouldn't Consider The Cryptocurrency
Theta token is clearly one of the hottest trending tokens in the virtual currency market right now, but after a massive price movement, oftentimes a correction comes. At the same time, trends can continue much longer than investors can expect.
Streaming video isn't going away, and the blockchain platform has only just begun to roll out in beta phase and could blossom into a thriving decentralized ecosystem. Here are some factors to help guide you in deciding if investing in Theta token is right for you.
The Growth Of The Multi-Billion Dollar Global Video Streaming Market
The video streaming industry is a rapidly growing sector dominated heavily by heavyweights like Netflix, Hulu, Amazon Prime Video, YouTube, Twitch, and others, decentralized platforms are gaining steam.
The sector is projected to grow at a compound annual growth rate of roughly 20% from 2020 to 2027, and Theta has the potential to disrupt the current slate of businesses monopolizing the space currently.
Theta blockchain works to reduce content delivery network (CDN) costs related with streaming services, and can serve the existing giants with their technology, streamlining both costs and operations significantly.
The Many Benefits Of The High Efficiency Blockchain And Trending Token
Theta is used to divert throughput to the videos demanding the most bandwidth, which are also the highest performing videos in terms of traffic and viewership. Theta tokens must be held by companies to utilize the services provided by the blockchain protocol, while a separate currency for gas powers the network itself through a fee-based system.
Companies like the ones mentioned above can yield greater profit margins through cost reductions, making integrating Theta lucrative and appealing outside of investing alone.
High Profile Partnerships
Theta's partnerships are one of the shining beacons that make it so attractive. Google powers the cloud infrastructure of Theta, and Google users can operate nodes on the network. Theta.tv is on all Samsung Galaxy S20 smartphones. There's also a partnership with Nervos, and dozens of content partnerships already growing with brands like NASA.
Current Price Technical Analysis And Long Term Theta Price Predictions
There is no denying that Theta token has been bullish and shows so much promise, it is likely to be a strong contender in the top ten by market cap for years to come. But after such a powerful move, THETAUSD looks to be overheated on monthly timeframes.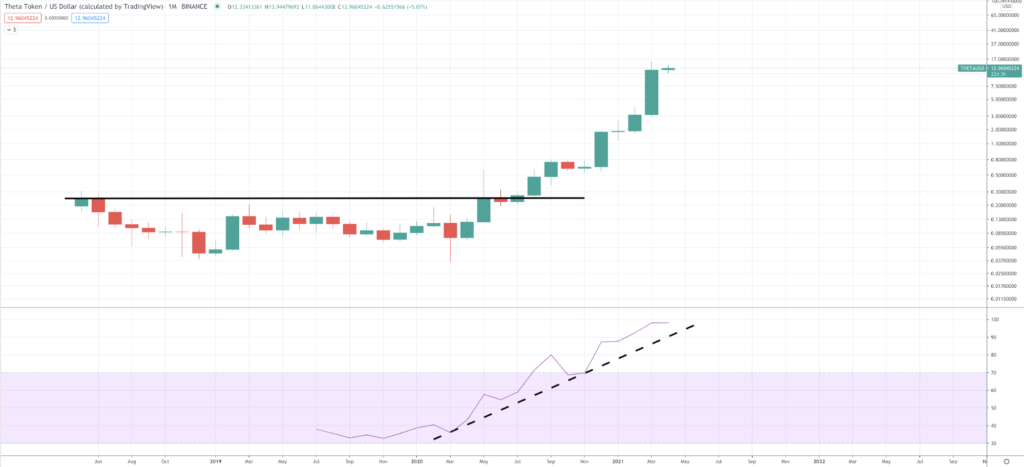 The monthly chart shows a massive breakout for horizontal resistance, resulting in the 500+ percent move higher. The altcoin however, has tapped the highest readings on the RSI that are possible, reaching extreme overbought conditions.
There's always a chance that trending coins can remain overbought for much longer than anyone expects, but there are other bearish factors on the weekly timeframe also.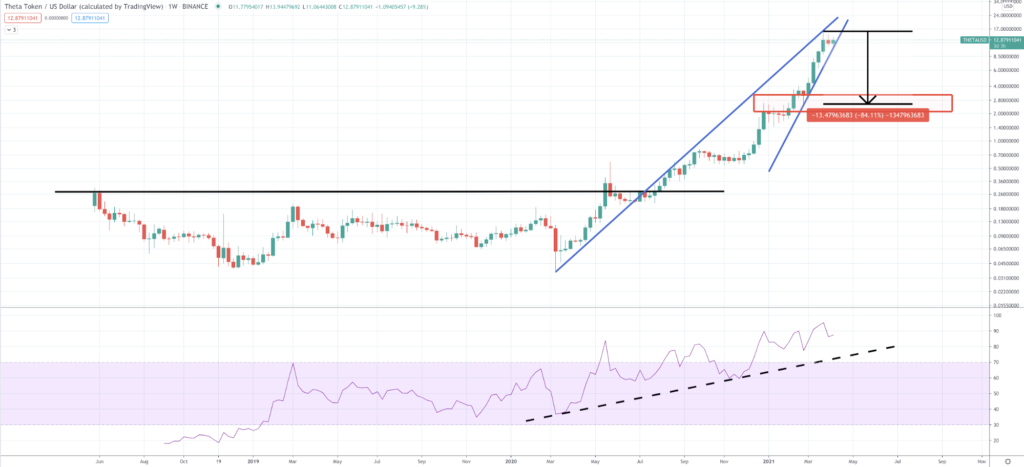 Theta token holders might not like the idea of lower prices, but investors who missed the first rally might get a second chance to refuel with Theta tokens around $2.
The price per THETA has risen over 500% in just three months. If the bearish wedge above sends the coin down through the rising RSI trendline, a much larger correction will occur.
When parabolic assets finally drop, they can decline as much as 80% or more as Bitcoin has shown. When Bitcoin's parabolic broke down in 2017, it crashed by exactly 84%, which we've used as an estimate on the chart above.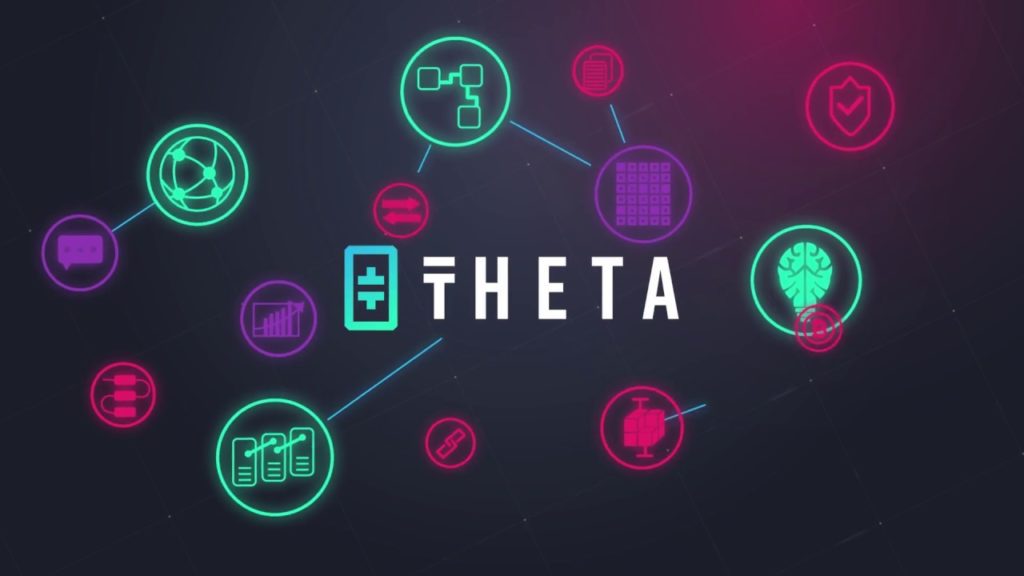 Summing Up It All Up: Invest In Theta Token Today, Or Get Into Crypto Another Way?
Because Theta token is currently so overbought, perhaps the right strategy is to get into crypto another way for the time being.
One way is to consider the award winning cryptocurrency exchange, PrimeXBT. The trading platform lets users fund margin accounts using BTC, ETH, USDC, and USDT to trade CFDs on crypto, commodities, forex, and stock indices, all under one roof through a secure cryptocurrency wallet.
For those that don't own any BTC to start trading today, PrimeXBT also lets users buy Bitcoin with a credit card or debit card to get started. Registration is free and there's no minimum deposit to get started.
FAQ: Frequently Asked Questions
Is Theta token a good investment in 2021?
Thus far in 2021 it has been a good investment and should continue to be. However, after such strong performance, it could be worth trading CFDs with another platform instead, and watching to wait how Theta token performs in the near term.
Will Theta token continue going up?
When assets go parabolic and take off like Theta has, they can keep going up for a very long time. However, they can also correct and crash at any moment, causing at least an 80% drop when parabolic advances are violated.
Why is Theta coin so high?
Theta coin is so high currently because of the ongoing crypto bull run around Bitcoin and Ethereum. New coins with tons of promise will perform extremely well, but due to how new they are, price discovery can be painful. This means that volatility could send prices crashing just as fast as they climbed. It also means things can keep on roaring higher. It is too hard to say in a speculative asset class like virtual currencies.
How many Theta coins are there?
There are a staggering one billion THETA circulating, which is also the max supply. The token was designed to be used by a large audience, so it isn't as scarce as Bitcoin or other crypto assets.
How much is Theta cryptocurrency worth currently?
Theta cryptocurrency is currently worth around $13 per coin, after trading well below $2 for most of its price history. After such a dramatic surge, it could be worth looking for other opportunities for the time being.
Risk Disclaimer
Investing in or trading gold or other metals can be risky and lead to a complete loss of capital. This guide should not be considered investment advice, and investing in gold CFDs is done at your own risk.
The information provided does not constitute, in any way, a solicitation or inducement to buy or sell cryptocurrencies, derivatives, foreign exchange products, CFDs, securities, and similar products. Comments and analysis reflect the views of different external and internal analysts at any given time and are subject to change at any time. Moreover, they can not constitute a commitment or guarantee on the part of PrimeXBT. The recipient acknowledges and agrees that by their very nature any investment in a financial instrument is of a random nature and therefore any such investment constitutes a risky investment for which the recipient is solely responsible. It is specified that the past performance of a financial product does not prejudge in any way their future performance. The foreign exchange market and derivatives such as CFDs (Contracts for Difference), Non-Deliverable Bitcoin Settled Products and Short-Term Bitcoin Settled Contracts involve a high degree of risk. They require a good level of financial knowledge and experience. PrimeXBT recommends the consultation of a financial professional who would have a perfect knowledge of the financial and patrimonial situation of the recipient of this message and would be able to verify that the financial products mentioned are adapted to the said situation and the financial objectives pursued.