The cryptocurrency market is filled with innovation and ambition, where projects aim not just to be platforms for developers to build on, but full-scale ecosystems that can power wide scale enterprises globally.
Where Ethereum focuses more on the development community and individuals, EOS is designed from the ground up to serve businesses and be an enterprise-focused blockchain protocol and supercomputer system.
Read this guide to understand the key fundamental and technical factors that drive EOS demand and value. We'll also explain if EOS crypto is a good investment, and how to invest in EOS if you do decide to take the plunge.
What Is EOS? All About EOS Coin And the EOSIO Blockchain Protocol
EOS is a blockchain-based supercomputer and decentralized operation system that allows blockchain developers and businesses to build scalable decentralized applications called dApps. Developers simply need to hold EOS tokens in order to access the powerful tools the protocol offers.
Token holders that don't need access to the tools can instead rent out their bandwidth to others on the network. EOSIO utilizes a delegated proof-of-stake consensus mechanism and a role-based permissions concept, allowing for greater overall flexibility when making fast, high-level decisions.
EOS sets itself apart from other blockchain protocols by requiring no fees to send or receive EOS tokens. The EOSIO protocol rewards network operators with new EOS tokens replacing traditional fee-based mechanisms with this unique inflationary system.
EOS claims to process thousands of transactions per second, while Ethereum can handle only 15. This and the lack of fees would completely solve the ETH gas fee issues plaguing crypto right now.
The EOSIO protocol is highly configurable, developer friendly, and compliance focused, according to the project's website. Like Ethereum, EOS can host smart contracts. It also looks to achieve replacing key components of a supercomputer through the blockchain.
The EOS whitepaper was first published in 2017. Following that, the Block.One dev team launched one of the largest and highest profile ICOs in history. The year-long ICO raised more than $4 billion in investment. Today, the project is worth $11 billion according to the growing market cap.
It was created by crypto industry pioneer Dan Larimer, and Brendan Blumer serves as Block.One's CEO.
EOS Investing: What Is It? Is There A Better Way?
EOS investing is both an exciting yet risky asset class compared to stocks or forex currencies, for example. The high volatility asset class is known to create wealth in a matter of months, but then also wipe out all gains associated with the rallies.
Investing in EOS or other crypto assets involves buying these assets and holding them for the long-term. As those who bought too late into the last bull market learned the hard way, EOS and other altcoins tanked as much as 90%, causing enormous losses and change in sentiment that resulted in a long bear market.
Crypto is back on top now, so people are back to investing, but there is still a better way to get exposure to EOS. By instead using a cryptocurrency trading platform like PrimeXBT, investors can tap into deep liquidity on CFDs across crypto, forex, commodities, stock indices, and more.
Rather than only being able to buy and hold or sell an asset, you can instead use PrimeXBT to trade crypto CFDs using tactics like longing or shorting.
This way when EOS is rising, you can make money, and when things turn around and crypto is crashing again, you can also still make money. There is risk involved with this type of trading, however, platforms like PrimeXBT provide risk management tools such as stop loss orders and built-in charting tools to give traders an edge when looking into EOS positions.
We'll provide examples below as to why this is the preferred method for EOS investing.
Is EOS A Good Investment? How it It Performed In 2020
EOS is known for pumping as much as 4,000% during the last bull market. That's why everyone is so interested in knowing if EOS is a good investment.
When EOS reached its peak, however, it fell a full 93% erasing most of the gains of early investors. However, EOS stayed relatively stable over the last several years, forming a strong bottom pattern.
Most of 2020 was spent in accumulation mode, with smart money investors loading up on EOS and other crypto assets which we are now seeing the effect of. Most of 2020 was spent at prices of $3 and lower.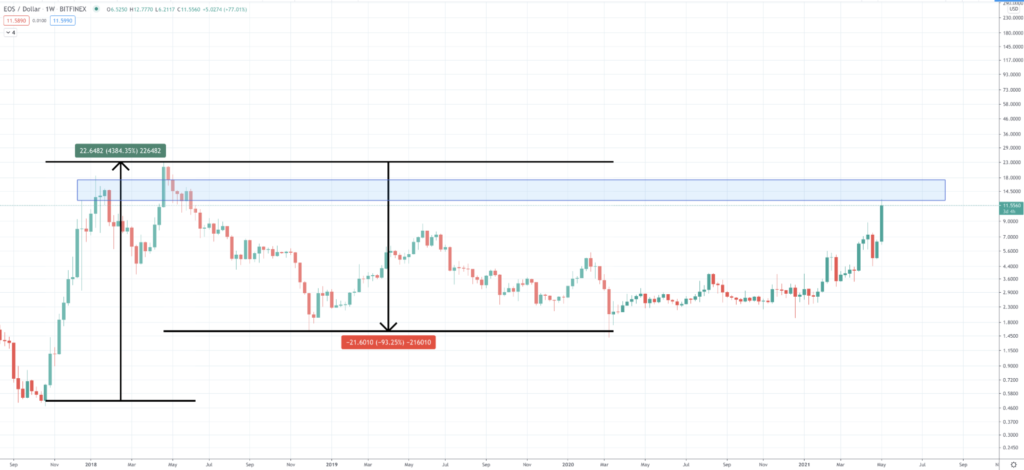 Investing In EOS In 2021? Is It A Good Idea?
Today, EOS is back at $11 and aiming to take another shot at setting a new all-time high. If EOS price can get through the resistance level highlighted in the chart, a retest of its all-time high is next.
And just like Bitcoin, Ethereum, and other cryptocurrencies that have reached their former all-time high, they don't often stop rallying once the new highs are set. That's because assets can enter price discovery mode, where there's no real resistance to stop more price increase ahead.
This makes EOS a relatively solid investment choice technically due to the market structure of the coin, however, because bull markets move so fast and furious, and end with such a devastating bang when the bear market arrives, it is somewhat dangerous to invest in EOS, and trading is a much more appropriate option considering the timing of the market cycle. By trading instead, you can be ready with a long order for if EOS reaches one of those insane EOS price predictions, but also be able to short EOS if things turn around and another bear market begins.
Remember, markets are cyclical, and sentiment shifts quickly in crypto. People are experiencing enormous gains right now and could be blind to when things turn bearish.
How To Invest In EOS? Cryptocurrency Trading Strategies Explained
Investing in EOS requires time and care to get positions right. Anyone who bought EOS in early to mid 2019, ended up having another two years to wait before any returns began. Others would have lost money depending on when they got into crypto and started investing in EOS.
Getting in early is the key to the most gains when investing. For those that missed the early chance to accumulate crypto, there's still a chance to catch up with CFD trading.
Using CFD trading and PrimeXBT's built-in charting software, traders can look for when the RSI reaches oversold levels on high timeframes and begin taking a position. Because the MACD is a lagging indicator, using the tool for taking early positions will not be effective.
Late positions might be safer and more effective in terms of ROI, but that's not what the goal is here.
If trading instead, a well-timed long position in EOS can make up for lost time, as leverage causes gains to stack up at a faster rate. Losses are also amplified, so proper risk management is necessary to be effective and profitable regularly.
Shorting EOS at the top of a rally that results in a bear market could also lead to life-changing wealth, which is why EOS trading is a far better method than EOS investing alone. If looking for a short, instead consider watching for overbought levels on the RSI – the opposite of a long strategy.
Several other technical indicators can also be used to take positions strategically when getting exposure to EOS crypto. These include the Ichimoku, Bollinger Bands, and much more. For example, buying EOS when it passes through the middle-band is a sound strategy that is proven effective.
Timing is everything in crypto, especially for investing in highly volatile altcoins like EOS. Trading them, takes the sting out of any losses and turns them into the chance for gains instead. Investing in EOS instead can't offer that.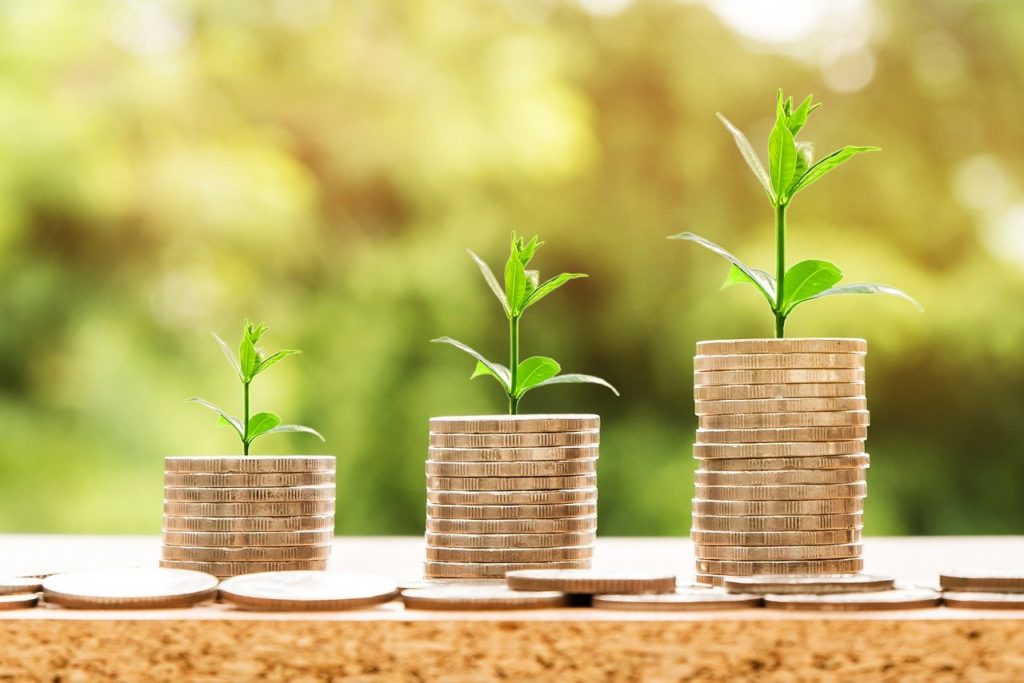 The Pros And Cons Of EOS Crypto
EOS is a polarizing cryptocurrency – people either love it or hate it. Those that support it understand the long-term ambitions the project and its founders have. Those that dislike the coin, point to a lack of news or excitement around the project, although some updates are said to be coming that will make a big splash in crypto.
Here are some of the pros and cons about EOS that could make or break your decision to get involved in it.
Pros
Highly scalable
No fees
Backed by Block.One
One of the most successful ICOs in history
Is approaching its former all-time high
In a bull market
Cons
Is losing to Ethereum
Very quiet on the project update front
Has fallen out of popularity in recent years
Highly volatile and loses 93% of gains
Hasn't been as bullish as other crypto assets
Could turn bearish again at any moment
It is up to you, the investor, to weigh the pros out against the cons, and along with all the rest of the information included in this guide, to make your decision if EOS is right for you.
How Much To Invest In EOS?
EOS like most cryptocurrencies are divisible, so as little as $1 can be invested in EOS or other cryptocurrencies at a time. Like with any investment, gains compound so the more money invested the better the return. But remember to never invest more money than you can comfortably afford to lose. If you can't sleep at night or are stressed, you have too much money on the line and should take some off the table.
When trading, there is no minimum investment on PrimeXBT, so that's another way to get into EOS trading easily and at very little cost whatsoever. Simply make a deposit of any of the support cryptocurrencies on the platform, and access a variety of CFDs for trading.
Conclusion: Investing In EOS Token, Or Trade EOS CFDs On PrimeXBT?
This guide went into great detail about everything that EOS has to offer, and the timing and strategies associated with investing in EOS. Considering the timing and volatility associated with the crypto market, investing now could lead to losses if things turn bearish soon.
That's why trading EOS with CFDs on PrimeXBT is the better option. If things continue upward from here for EOS, then a long position will allow traders to ride the trend higher and to incredible profits.
If the trend does change, anyone on PrimeXBT instead will have all the tools necessary to short the market, and profit from the next major EOS downtrend. With EOS investing alone, you can easily lose as much as 93% of all gains, depending on when you buy the EOS if you didn't get a chance to get lucky and buy the bottom.
PrimeXBT offers both long and short positions, built-in charting software, and all kinds of risk management tools. Traders can build a diverse portfolio by gaining exposure to up to 50 different trading instruments and markets, ranging from crypto to forex, commodities to stock indices, and much more.
PrimeXBT is the one-stop-shop of crypto that also offers traditional assets, all under one roof. Get registered today and make your first, no-minimum deposit.
FAQ: Frequently Asked Questions
What Does EOS Crypto Stand For?
EOS actually doesn't have an officially defined meaning behind it, however, the OS could represent "operating system." EOS calls itself a decentralized operating system, so the description would make sense.
Is EOS Better Than Ethereum?
EOS currently has nowhere near the same amount of activity or demand compared to Ethereum, so no it is not better than Ethereum. Still, EOS has promise and is a highly volatile crypto asset for trading.
Does EOS Have A Future?
EOS does have a bright future so long as Block.One and the development community continue to support the project, and they are. There are no plans to ditch EOS and they are working hard to bring new updates to the market.
Can EOS Go To $1,000?
Anything is possible in cryptocurrencies. EOS is currently trading at $11 per EOS token, and to rise to $1,000 per EOS is only an 8,500% gain. It might sound crazy to say "only" to an 8,500% ROI, but something like Dogecoin is up more than 40,000% in 2021 alone.
Is Day Trading Crypto Profitable?
As you can plainly see by the above figures, day trading crypto like EOS and Ethereum are profitable when using a platform with the tools necessary to get the job done like PrimeXBT. Long and short positions, as well as risk management tools keep traders at the top of their game.
Risk Disclaimer
Investing in or trading gold or other metals can be risky and lead to a complete loss of capital. This guide should not be considered investment advice, and investing in gold CFDs is done at your own risk.
The information provided does not constitute, in any way, a solicitation or inducement to buy or sell cryptocurrencies, derivatives, foreign exchange products, CFDs, securities, and similar products. Comments and analysis reflect the views of different external and internal analysts at any given time and are subject to change at any time. Moreover, they can not constitute a commitment or guarantee on the part of PrimeXBT. The recipient acknowledges and agrees that by their very nature any investment in a financial instrument is of a random nature and therefore any such investment constitutes a risky investment for which the recipient is solely responsible. It is specified that the past performance of a financial product does not prejudge in any way their future performance. The foreign exchange market and derivatives such as CFDs (Contracts for Difference), Non-Deliverable Bitcoin Settled Products and Short-Term Bitcoin Settled Contracts involve a high degree of risk. They require a good level of financial knowledge and experience. PrimeXBT recommends the consultation of a financial professional who would have a perfect knowledge of the financial and patrimonial situation of the recipient of this message and would be able to verify that the financial products mentioned are adapted to the said situation and the financial objectives pursued.