Dash is one coin that has established itself as a mainstay in the cryptocurrency space and has been around for many years, and going through a few different uses and iterations. Dash coin have become popular and often sought after by investors because it holds a lot of promise and potential as a viable digital currency. But, a lot of the interest in the coin depends on the Dash price prediction.
Because Dash has been primarily focused on overcoming some of the bigger issues in the cryptocurrency space that investors feel thus far, such as scaling, speed and cost of transactions, and ease of use, it is a coin that could have a very bright future.
Unlike Bitcoin, it is not a coin intended to be likened to a digital gold, but the way it is being used in struggling economies as an alternative currency, and its effectiveness to be used at speed with little cost, means that the next two to 10 years could be massive for Dash. So, will the price of Dash go up? Let's find out!
What Is Dash?
Dash has been around since 2014 in one form or another but people still often ask what is Dash cryptocurrency? It was originally called XCoin and came to be when founder Evan Duffield, unhappy with the transaction speed of Bitcoin, decided to found his own coin, with the intention of having faster transaction speeds and more privacy.
Dash is actually a hard fork of Litecoin — and Litecoin forked from Bitcoin originally. The coin has a hard cap of 18 million Dash coins, which is a lower supply than Bitcoin; already a good sign for further price rise.
But, unlike Bitcoin, the average block mining time on the Dash blockchain is 2.5 minutes, around four times faster than Bitcoin which takes about 10 minutes per block. This means that Dash transactions are much faster than Bitcoin, something which makes it desirable for everyday usage.
Some of the more technical key features of the blockchain include Masternodes, which make up a second tier network, and exist on top of the first tier which consists of normal network miners. There is also PrivateSend, a system that helps to maintain fungibility by swapping coins between users as a way to break the traceability of coins making the network safer, as a transaction cannot be traced and the coin's history cannot be accessed.
Finally, the feature that sets Dash apart is InstantSend that allows for transactions with Dash to be almost instant.
Dash's Price History From 2019, 2020 And Before
The Dash trend, like many different cryptocurrency alt coins, has had a wild ride since 2017 to now. Having been around since 2014, it has a longer than most price history, but it is really only from 2017 and the massive price spike, as well as the way it reacted in 2019, that can paint a picture for its price forecast going forward.
In 2017, the Dash coin price increased by 8,000% leaving many asking how high Dash will go. Dash was trading at $12 in August 2016. In 2017, there was a big jump in the Dash price as it reached as high as $109 at the start of 2017. But, that was not the end of it as the coin spiked to an incredible $1,500 per coin at the height of the 2017 crypto market rush.
Of course, this level was not sustainable and the price of the coin fell rapidly through the 2018 bear market, falling to as low as $65 a full year later. The 2018 bear market was rough for most coins and Dash was no exception as the price of this token bottomed out at around $40.
But, towards the end of 2019 and the start of 2020, there was some renewed hope as the coin then climbed back above the $100 mark. Now, each Dash coin trades at more than $200 again in early 2021. It even reached as high as $450 but has failed to reach its former all-time high like many other crypto assets.
Dash, as a coin that is looking to be a functioning cryptocurrency rather than a store of value, is a coin that is greatly affected by the evolution of digital payment. Digital payment, though blockchain tokens, is something taking the world by storm at the moment as banks and even governments look into it.
So, with Dash pushing to be a viable alternative to normal online payments, especially in places like Venezuela, these are factors to keep an eye on when determining how the price of Dash will fall and rise in the future, and why Dash is going up.
Expert Forecasts For Dash In 2021, And Beyond
There is a lot that goes into affecting the price of cryptocurrency, and Dash is no different. The coin may not be set as much of a digital asset as Bitcoin, but it's own functionality as a digital currency is what makes its market move and its value increase or decrease.
It is not easy to predict the price movement of something like Dash, but based on a number of factors that make its market move, prominent crypto enthusiasts, traders and even websites have taken to putting forward predictions for the coming years.
Trading Beasts

"No one can, however, predict prices of cryptocurrencies with total certainty, thus it is crucial to understand that the following DASH price predictions serve merely as a suggestion of possible price development and are not intended to be used as investment advice."
Trading Beasts sees Dash staying well below its former all-time high for years to come.
"The Dash price is forecasted to reach $190.194 by the beginning of September 2021. The expected maximum price is $240.169, minimum price $163.315. The Dash price prediction for the end of the month is $192.135
"
Coinswitch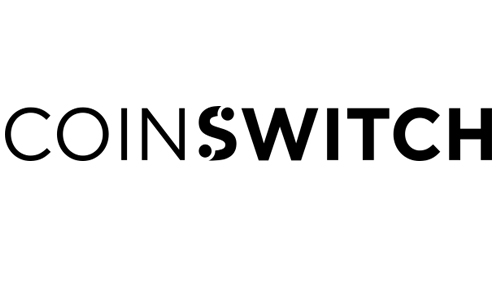 "DASH provides the users with high security as it has over 4500 servers which are hosted all over the world, that enables you to conduct the transaction instantly, from anywhere around the world. This feature gave DASH an edge over other cryptocurrencies."
"The launch of DASH evolution has made a huge difference, which is a mobile app designed to be user-friendly and has a scalable digital currency platform perfectly suitable for mass adoption. This will allow any user to set up an account on the blockchain, then eventually add contacts and pay them by name, even make one-click purchases through websites or mobile apps."
"This is literally a big "evolution" and advancement for the DASH community because of which DASH won't get affected like other cryptocurrencies. This development enables it to climb up the ladder, which is why we believe DASH might reach around $950 by the end of this year."
Technical Analysis
Technical analysis is the best way to predict the outcome of price action in the coming years based on the actual chart itself, not just what some expert thinks. Here are some expectations based on pure technicals alone.
Learn more about Technical Analysis
Price Forecast 2021
Dash reached former bear market resistance and retraced back to confirm an Adam and Eve double bottom pattern right at a parabolic curve support. Dash could consolidate below resistance for the rest of the year.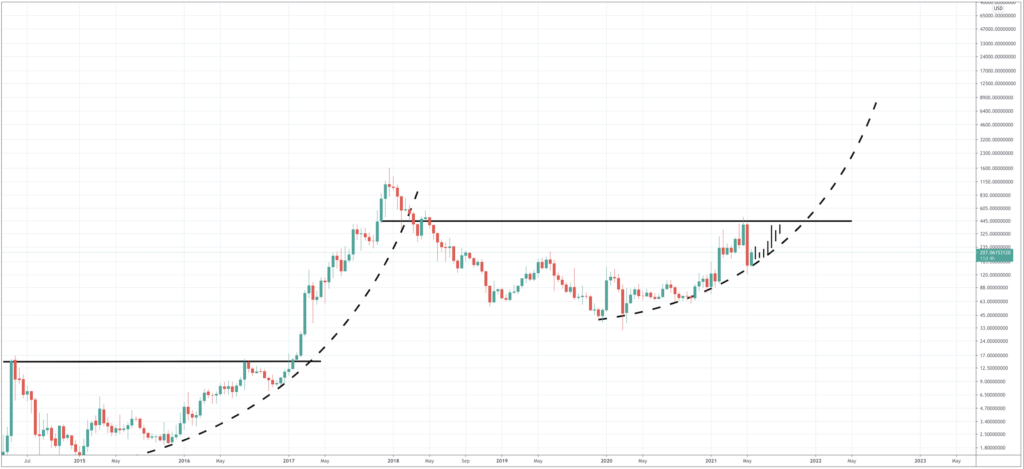 Price Forecast 2022 – 2023
Following the consolidation Dash could finally take out its former all-time high and confirm a new bull market rise and breakout. Prices could reach as high as $17,000 per DASH.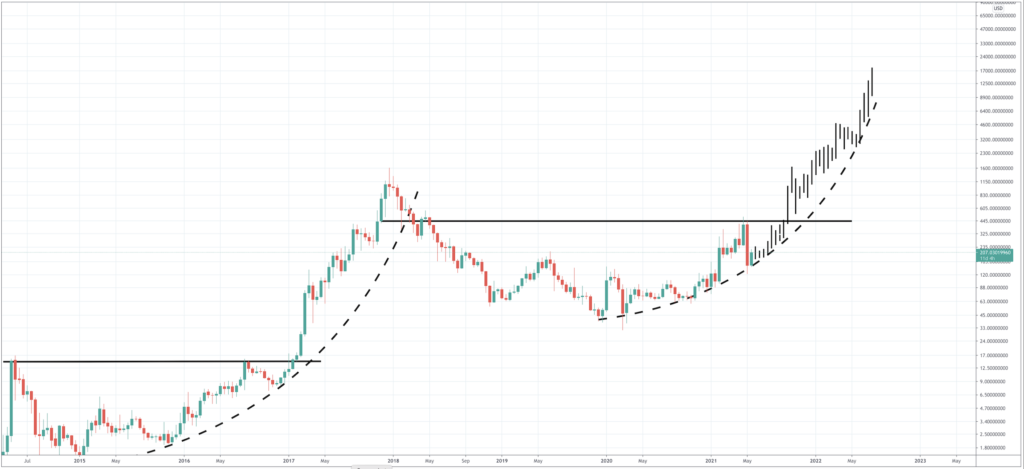 Price Forecast 2024 – 2025
Price predictions at this stage are hard to get right and very approximate
After the parabolic curve is broken, a new bear market will begin, taking DASH back to around current 2021 highs at around $450.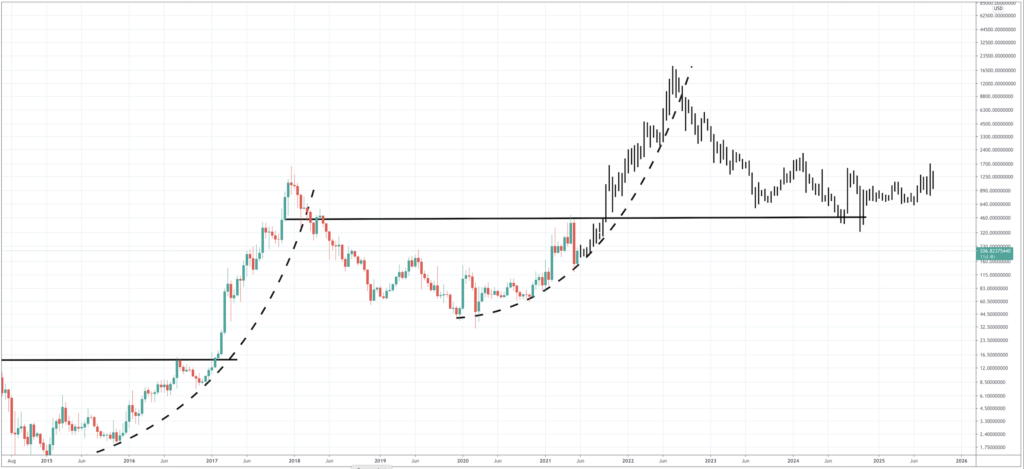 Conclusion
Dash is one of the more well known and well established coins in the cryptocurrency space. It has a long and vibrant history and has gone through a lot of changes, keeping its dynamic nature. This is what makes Dash one of the more trusted coins to invest in and answers the question of should I buy Dash.
Its recent performance in the markets has not covered it in much glory as the focus on crypto investing has certainly pivoted towards the coins that are more of an asset, like Bitcoin. But, as the market matures and the forecast for the future of this space continues to evolve, the need for viable and functional digital currencies will be further appreciated.
There are a number of big price predictions for Dash in the coming years. Some are not as impressive as others, but even the large and optimistic ones seem rooted in possibility. The fact that Dash can act like Bitcoin was intended to — as a digital cash system — that is both fast and cheap means that it has a high chance of disrupting the payments space in the next five to 10 years.
If this disruption is realized, then the future of Dash's price, and its value as a coin, is certainly on the up.
| | | |
| --- | --- | --- |
| Year | Low | High |
| 2021 | $200 | $550 |
| 2022 | $750 | $17,000 |
| 2023 | $2,700 | $12,000 |
| 2025 | $4,000 | $15,000 |
With such broad, but mostly positive predictions over the next five years for Dash, it seems as if it is a good time to start trading and investing in the coin. However, to take advantage of a potential price climb, and the chance to trade on this coin, the right platform should be sought.
PrimeXBT is one such platform that has become popular with cryptocurrency newbies as well as veteran traders as it offers a user-friendly, but powerful platform. It is well known for its high degree of security and has won a fair share of awards for the service it provides.
If you would like to get started trading Dash, you can sign up for PrimeXBT here in less than five minutes with very little data needing to be provided.
FAQ
Does Dash Have A Future?
Dash is one of those special cryptocurrencies that has a very bright future even though its primary use case is not as well needed at the moment. Cryptocurrency has become about coins that accumulate value and not function as a digital currency, but as payment evolves there is going to be a greater need, and a brighter future, for Dash.
Will Dash Price Go Up?
Because Dash is such a well established and viable cryptocurrency, it is considered a coin that is here to stay. That being said, the cryptocurrency space is still in its infancy and if Dash sticks around for the next five years it would be expected that the price would rise.
Is Dash A Good Investment In 2021?
Dash has been recovering in 2021 but nothing like before and has yet to revisit its all-time high like other cryptocurrencies. It is a coin that has lost some of its relevance as other cryptocurrencies take center stage. The likes of Bitcoin, as a store of value, and Ethereum and EOS with their smart contracts, are good investments in 2021. Other coins, like Ripple and Litecoin are also much better investments for 2021.
Is Dash Crypto Dead?
Dash has certainly died down in its push to be a top cryptocurrency as it has fallen to the 20th spot and below in terms of market cap. But it is still going and still has a use case, so it would not be right to say that Dash is dead, it is probably more dormant.
Is Dash A Fork of Bitcoin?
Dash is technically a fork of Litecoin, but Litecoin is a fork of Bitcoin so there are ties between Dash and the original Bitcoin blockchain but it is more closely linked to Litecoin.
Disclaimer: The data provided in this article is collected and collaborated from a number of different sources and should not be taken as investing advice. It is much safer and smarter for any user looking to invest in cryptocurrency to do their own research and to understand the risk associated with it