If you have spent time trading or reading about cryptocurrencies, you may have asked yourself, "Should I invest in Cardano?" Cardano is an exciting project that has captured the attention of traders around the world. Before you put money to work, there are some things that you need to know.
Cardano: Key Points
First, you will need to understand some of the critical points for Cardano. The crypto markets are full of potentially rewarding opportunities, but to do well over the longer term, it is wise that you understand some of the following information. That being said, you should also know that the cryptocurrency world is young, and there is a bit of a moving target when trying to determine what comes next.
What is Cardano, and how does it work?
Cardano is a blockchain platform that processes transactions using the native cryptocurrency ADA. The platform can handle various types of transactions currently, but the vision of Cardano is to become the "Internet of Blockchains." This would include the idea of the ecosystem being able to allow seamless interchangeability between different blockchains.
It is also a peer-reviewed blockchain with heavy academic input. Cardano is considerably more stable than many competitors and tends to move more slowly and deliberately as far as advances are concerned. Traders have complained about this, but at the end of the day, it makes for a much more stable and reliable network, meaning that once all of its implementations are in place, Cardano could be a leader quite easily. If you invest in Cardano, you are voting with your wallet about the ecosystem's future and whether it will be viable.
Cardano Roadmap: what's going on with Cardano?
Cardano divides its development into five eras: Byron, Shelley, Goguen, Basho, and Voltaire. Each of these eras is centered around a set of functionalities that the blockchain will see introduced. All these eras are designed and developed in parallel but are released sequentially.
In the Byron era, beginning in 2015, Cardano was created from the ground up using research and peer review. The Ouroboros protocol was used to form the consensus protocol. The main of the era was the ability to buy and sell ADA and saw the delivery of the Daedalus wallet, the official IOHK wallet.
The next era was known as the Shelley era, and its big jump was toward decentralization. The market then was starting to be run more by the community via delegation and incentive schemes. The reward system to drive stake pools and community adoption started as well. By the end of the era, Cardano was over 50 times more decentralized than many other large blockchain networks.
Goguen featured the addition of smart contracts. This allowed for the ability to run decentralized applications (DApps) on Cardano's network. This allowed users from both technical and non-technical backgrounds to execute and create functional intelligent contracts. Plutus is a purpose-built clever contract development language and execution platform using Haskell's available programming language.
Basho is an ear that was more about optimization and improving the scalability of the network itself. While previous development eras focused on decentralization and functionality, the Basho era is about making the network more efficient, using side chains as a sharding mechanism.
Voltaire will provide the final pieces for Cardano to become a self-sustaining system. The Voltaire era will allow voting on projects by the community by leveraging the existing staking and delegation process that started back in the Shelley era. Voltaire has more coming, but the developers haven't released all details.
History of Cardano price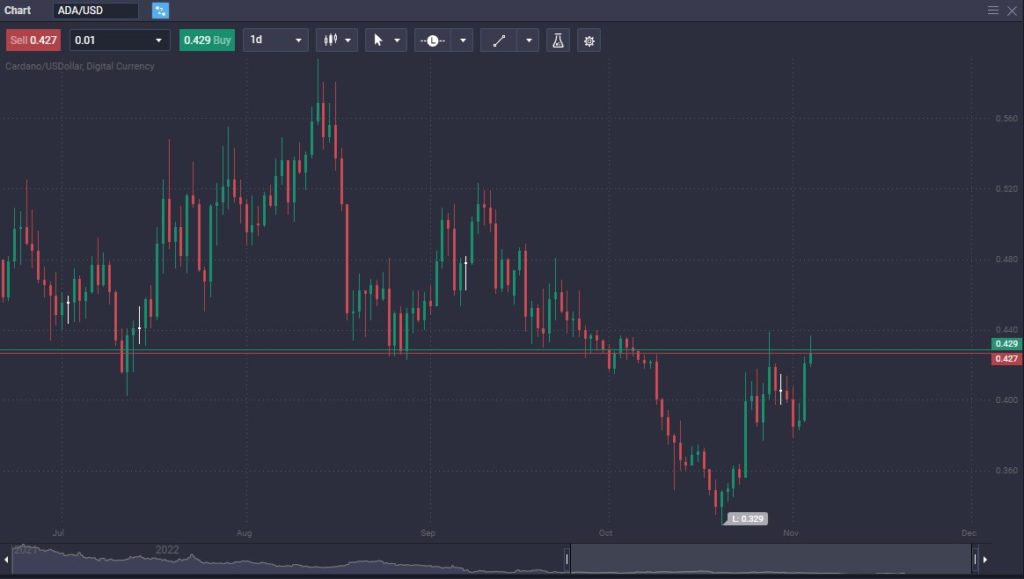 Cardano chart on the PrimeXBT platform
Cardano's price has been quite volatile, along with the rest of the crypto world. As you can see in the chart below, Cardano did very little for quite some time, as we went sideways for ages. However, during the latest cryptocurrency bullish market, Cardano rallied to the $3.15 level before turning around and collapsing. While this is somewhat scary, the reality is that we have seen crypto lose across the board.
By the middle of 2022, Cardano had dropped down to the $0.40 level. Whether or not it rallies again remains to be seen but being one of the biggest cryptocurrencies in the world certainly helps the possibility of it happening.
However, the market will continue to be influenced by not only the individual actions of the blockchain founders themselves but also the overall attitude of the crypto markets. Also, as Cardano has gotten bigger, it has attracted more institutional money as well, which by its very nature is typically very risk-averse. Because of this, it is likely going to have to wait for the rest of the world to catch up with it.
Is Cardano Safe?
Generally, it is safe. However, it is also a cryptocurrency; therefore, you should understand that there is much volatility when investing. However, it isn't as volatile as many of its counterparts and has much interest in it, so this tends to lend a bit of stability to this market. It probably is worth noting that Cardano is one of the top ten cryptocurrencies by market cap in the world, so this means that liquidity is abundant.
Remember that Cardano typically moves in the same general direction as Bitcoin and Ethereum, the two largest cryptocurrency markets. Because of this, it is not immune to outside influence from the crypto world.
Who Should Invest in ADA? Is investing in Cardano right for you?
The question of who should buy Cardano or invest in it is pretty open. If you are a crypto investor trying to spread your risk profile to diversify, then Cardano makes quite a bit of sense. After all, it is one of the top 10 cryptocurrencies in the world. Cardano trading can be an essential part of a more extensive portfolio because the future is unknown as to who will be the winners and losers in the crypto world.
That being said, nobody should go "all in" into one particular cryptocurrency, just as it's not very wise to go "all in" on a specific stock. Furthermore, it's vital that you understand that any investment is going to be based on whether or not you can afford to lose that investment.
Is Cardano a good investment for the long term?
While there is no way to know with 100% certainty, Cardano is generally a good cryptocurrency investment. After all, it has a long roadmap, and much development is happening behind the scenes. However, the reality is that crypto is still very young, and therefore it's impossible to know the future. That being said, it is one of the top 10 cryptocurrencies in the world, so it does make a certain amount of sense that it has a more substantial potential than most others to survive.
How to invest in Cardano?
There are different ways to invest in Cardano, and part of how you go about it will come down to whether or not you plan on hanging onto the position for the long term or simply looking to take advantage of price fluctuations. The easiest way to take advantage of the market price fluctuations will be to trade the CFD market or contract-for-difference. This type of trading that PrimeXBT offers allows you to take advantage of price movement without taking actual custody of the crypto itself.
This is much quicker; therefore, you can get in and out of the market without worrying about wallets. Furthermore, it's easier to bet on the price falling in Cardano using the CFD market instead of bothering with futures markets or the like. The spot market can only be bought, and you also have no shot at leverage. Leverage in the CFD market means you can make much more significant gains than typical holdings.
The Bottom Line: Is ADA a Good Investment?
To buy Cardano is to show a certain amount of faith in the future, not only in Cardano but crypto in general. After all, it is one of the top 10 currencies in the world, and it does make a certain amount of sense that we would see Cardano take off during the next crypto bull market.
According to many experts, Cardano is worth buying, but you must also understand that it is highly levered to the rest of crypto. As of 2022, cryptocurrency has entered yet another "crypto winter." The Cardano supply is limited to 45 billion tokens, so that does help bring in the idea of scarcity, but at this point, crypto itself is in trouble. However, as more adoption occurs in the Cardano blockchain and other blockchain ecosystems, it should float right along with another crypto if history is any indication.
If you want to profit from crypto moves, PrimeXBT will continue to be your best option because you do not have to worry about wallets or custody. You can profit off falling prices just as quickly as you do rising prices because of the CFD market offered. There is also leverage, which allows you to trade in much larger position sizes than the underlying cash in your account offers.
Many traders will not only speculate in the CFD market but also hold the coins in a wallet. This is a way to have a longer-term investment and take advantage of shorter-term price fluctuations. Beyond that, those who hold Cardano in a wallet can also short Cardano in the CFD market to absorb the losses, hedging from potential market volatility.
FAQ: Frequently Asked Questions
Is Cardano still a good investment? 
While there is no natural way to know this, the reality is that the Cardano ecosystem is still very vibrant. Because of this and the possibility of broader adoption in Africa and beyond, Cardano could have a bright future.
Does Cardano have a future?
Yes, from all signs. The Cardano ecosystem directly competes with Ethereum. The ability to use intelligent contracts means that Cardano may be flexible enough to make it viable in the future. Beyond that, Cardano has an energetic team at Input Output Hong Kong, which continues to push the boundaries of Cardano.
Will Cardano increase in value?
There is no way to know this, but as there is more adoption, there should, in theory, be more demand for the coin. That being said, it does make a certain amount of sense that Cardano will be one of the winners in the future, as it is peer-reviewed and so widely followed. Beyond that, Cardano has made inroads into various emerging market economies, suggesting that it has a little bit of a different roadmap than Ethereum, as it is trying to serve the underbanked, which is a massive slice of the world's population.
Risk Disclaimer
Investing in or trading gold or other metals can be risky and lead to a complete loss of capital. This guide should not be considered investment advice, and investing in gold CFDs is done at your own risk.
The information provided does not constitute, in any way, a solicitation or inducement to buy or sell cryptocurrencies, derivatives, foreign exchange products, CFDs, securities, and similar products. Comments and analysis reflect the views of different external and internal analysts at any given time and are subject to change at any time. Moreover, they can not constitute a commitment or guarantee on the part of PrimeXBT. The recipient acknowledges and agrees that by their very nature any investment in a financial instrument is of a random nature and therefore any such investment constitutes a risky investment for which the recipient is solely responsible. It is specified that the past performance of a financial product does not prejudge in any way their future performance. The foreign exchange market and derivatives such as CFDs (Contracts for Difference), Non-Deliverable Bitcoin Settled Products and Short-Term Bitcoin Settled Contracts involve a high degree of risk. They require a good level of financial knowledge and experience. PrimeXBT recommends the consultation of a financial professional who would have a perfect knowledge of the financial and patrimonial situation of the recipient of this message and would be able to verify that the financial products mentioned are adapted to the said situation and the financial objectives pursued.