PrimeXBT is excited to introduce brand-new CFD trading instruments for Aluminum, Copper, Lead, Zinc, and Nickel, adding these industrial base metals to our existing lineup of over 100 trading instruments.
This unrivaled lineup includes precious metals like gold and silver, commodities such as oil and natural gas, popular cryptocurrencies, forex currency pairs, and major stock indexes from around the world.
The anticipated launch date for these new instruments is April 24, 2023. Check out the full details about the launch of these new base metals and how they can complement an existing portfolio and provide profitable new trading opportunities.
New base metal instruments: Detailed overview
Beginning on April 24, 2023, PrimeXBT traders will get five new trading instruments to try.
Here is additional information about each underlying asset, what drives the dynamics of supply and demand behind them, and the economic and industrial importance of each:
Aluminum (XAL)
Aluminum is a lightweight, corrosion-resistant metal widely used in the automotive, aerospace, construction, and packaging industries. Its high strength-to-weight ratio and excellent thermal and electrical conductivity make it a popular choice for various applications.
Trading Hours: 01:00 Mon – 19:00 Fri GMT/BST (except 19:00 – 01:00 GMT/BST daily)
Copper (XCU)
Copper is also known for its excellent electrical and thermal conductivity, making it a key material in electrical wiring, electronics, and telecommunications. Plumbing, roofing, and various industrial applications regularly require copper.
Trading Hours: 01:00 Mon – 19:00 Fri GMT/BST (except 19:00 – 01:00 GMT/BST daily)
Lead (XPB)
Lead is a dense, malleable metal primarily used to produce batteries, particularly for vehicles. Other applications include radiation shielding, weights, and ammunition.
Trading Hours: 01:00 Mon – 19:00 Fri GMT/BST (except 19:00 – 01:00 GMT/BST daily)
Nickel (XNI)
Nickel is a versatile metal with excellent corrosion resistance, making it a popular component in stainless steel and various alloys. It is used in a wide range of industries, including automotive, aerospace, electronics, and energy production.
Trading Hours: 08:00 Mon – 19:00 Fri GMT/BST (except 19:00 – 08:00 GMT/BST daily)
Zinc (XZN)
Zinc is primarily used as a protective coating for steel to prevent corrosion and in the production of brass, bronze, and various other alloys. Manufacturing of batteries, roofing materials, and die-cast components also requires zinc.
Trading Hours: 01:00 Mon – 19:00 Fri GMT/BST (except 19:00 – 01:00 GMT/BST daily)
With the addition of Aluminum (XAL), Copper (XCU), Lead (XPB), Nickel (XNI), and Zinc (XZN) to our platform, PrimeXBT users will have the opportunity to explore new trading opportunities and strategies.

For detailed information about the trading limits for each asset make sure to review our special Help Center article.
Why these metals are a great addition to your portfolio
Including base metals in your trading portfolio can provide endless new profit opportunities and help you diversify your investments. The demand for these metals is closely tied to global economic growth, which means they can serve as indicators of the overall health of the global economy. Additionally, they can act as a hedge against inflation and market volatility, providing a measure of stability and potential long-term growth.
Now, with PrimeXBT, you can trade these metals using popular cryptocurrencies like BTC, ETH, USDT, and USDC, making it even more convenient and accessible for traders potentially interested in these markets. This incredible flexibility allows you to take advantage of your existing crypto holdings without liquidating your assets at less favorable prices.
Each instrument can be traded with long or short positions on leverage, which means you can benefit from price movements in either direction. Leveraged trading allows you to control more significant positions with less capital, thus amplifying your potential gains.
The new lineup of base metals will be added starting on April 24, 2023. PrimeXBT's commitment to offering a wide range of trading instruments and innovative features has made it an award-winning, go-to platform for traders worldwide.
Trade aluminum, copper, lead, zinc, and nickel at PrimeXBT, get a deposit bonus
Adding Aluminum, Copper, Lead, Zinc, and Nickel further solidifies our position as a leading trading platform, providing even more opportunities for our users to capitalize on market movements and build a diversified trading portfolio.
To encourage traders to try these new trading opportunities, we have prepared some useful promo codes.
Heavy Metal Bonus for Existing Users
We are excited to announce a limited-time offer for our valued customers to coincide with the launch of new base metals. From now until April 30, if you make a deposit of $500 or more and use the promo code "HeavyMetals," you will receive an additional 7% bonus on top of your deposit.
Simply enter the code and activate extra funds to use on our platform. The bonus is valid for 14 days from the activation date of the promo code. Don't miss out on this exclusive opportunity to try the new base metal pairs!
Improved Welcome Bonus For New Users
Furthermore, we are introducing an all-new and improved Welcome Bonus starting on April 26, exclusively for new users joining our platform. If you register with us and make a deposit of $500 or more within 48 hours of registration, you will receive an additional $100 bonus. Please note that the bonus is only valid for 14 days from activation, so make sure to use it within that time frame.
New Promo Code Location
Please note: The dashboard for activating promo codes at PrimeXBT has been moved to a new convenient location.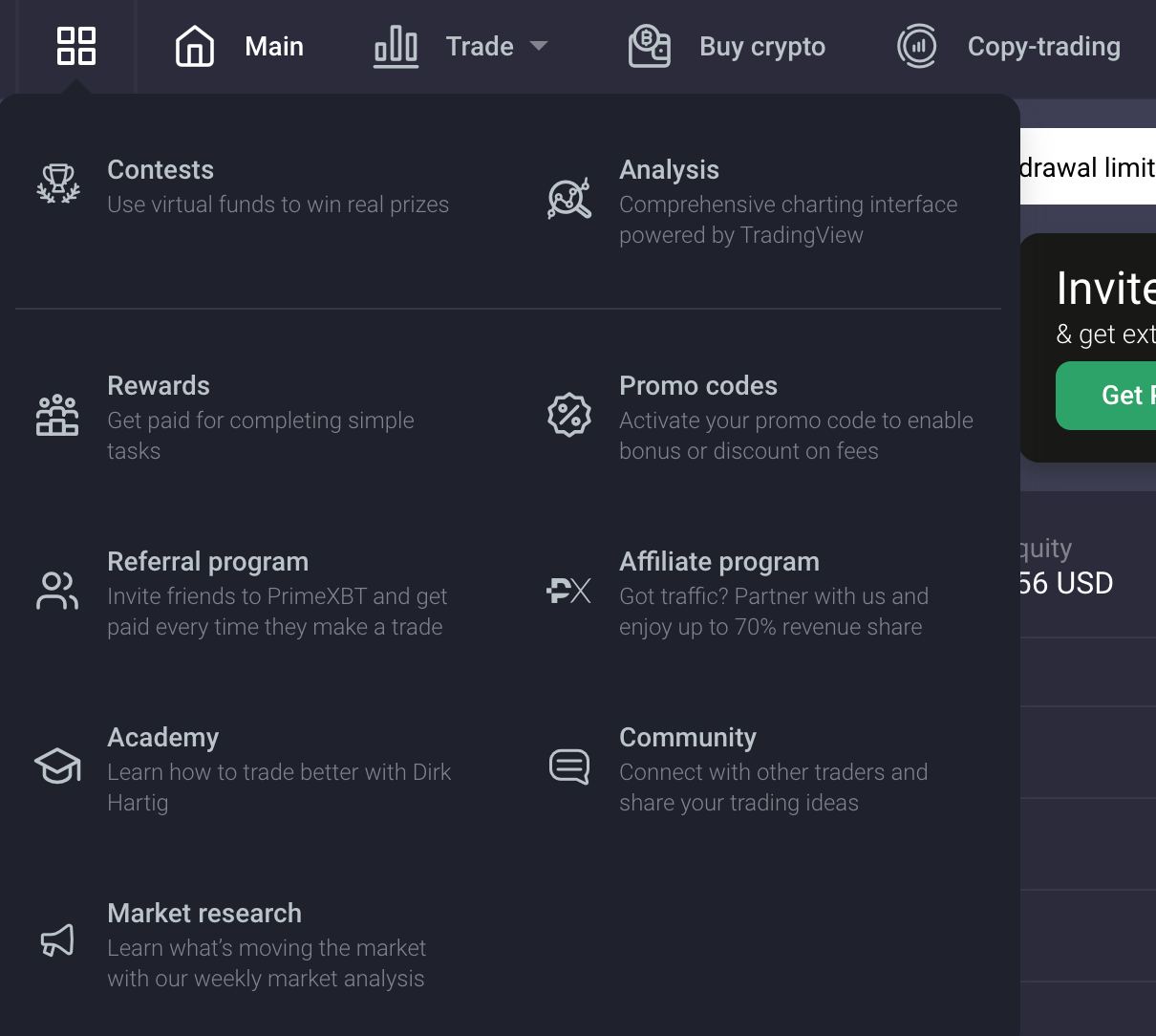 We strive to make our platform as user-friendly as possible, and we believe this new location will make it easier for our users to access and activate their promo codes. If you have any questions or need further assistance, please don't hesitate to contact our customer support team.
For more information on how to activate promo codes, please visit the PrimeXBT Help Center.
Risk Disclaimer
Investing in or trading gold or other metals can be risky and lead to a complete loss of capital. This guide should not be considered investment advice, and investing in gold CFDs is done at your own risk.
The information provided does not constitute, in any way, a solicitation or inducement to buy or sell cryptocurrencies, derivatives, foreign exchange products, CFDs, securities, and similar products. Comments and analysis reflect the views of different external and internal analysts at any given time and are subject to change at any time. Moreover, they can not constitute a commitment or guarantee on the part of PrimeXBT. The recipient acknowledges and agrees that by their very nature any investment in a financial instrument is of a random nature and therefore any such investment constitutes a risky investment for which the recipient is solely responsible. It is specified that the past performance of a financial product does not prejudge in any way their future performance. The foreign exchange market and derivatives such as CFDs (Contracts for Difference), Non-Deliverable Bitcoin Settled Products and Short-Term Bitcoin Settled Contracts involve a high degree of risk. They require a good level of financial knowledge and experience. PrimeXBT recommends the consultation of a financial professional who would have a perfect knowledge of the financial and patrimonial situation of the recipient of this message and would be able to verify that the financial products mentioned are adapted to the said situation and the financial objectives pursued.