Bitcoin Cash is one of the most widely known forks of the original Bitcoin blockchain there is. The cryptocurrency came about from a frustration in the way Bitcoin was heading as the major coin was deviating from the path outlined by Satoshi Nakamoto to be a digital cash.
Bitcoin Cash was created to work more like a currency than a store of value and sparked off a tremendous debate between those who believed Bitcoin was right, and those who believed Bitcoin needed to transact faster and cheaper.
A so-called civil war started brewing around this point with proponents of Bitcoin cash denouncing Bitcoin and labeling it as no longer the true Bitcoin. Bitcoin Cash then forked and was born in August of 2017 and started off well but has a tumultuous time since then.
Bitcoin Cash however, even though it is supposed to be a more functional currency, is a popular coin to invest in by cryptocurrency fans. The price of the coin has the classic volatility known in the space, and many people are predicting its future to be better and to offer higher prices in the coming months, and years.
Cryptocurrencies are starting to permeate the narrative around the changing space of transactions and payments. Many feel that the future belongs to digital payments, and cryptocurrencies are being looked at by companies and even Central Banks. For this reason, Bitcoin Cash offers a great potential for future investors.
With the Bitcoin price prediction coming into the conversation more and more often commentators are putting up some very interesting predictions for the coming years. So, will the price of bitcoin cash go up? Let's find out!
What is Bitcoin Cash?
As mentioned above, Bitcoin Cash is one of the bigger and more well-known Bitcoin forks, but it is also not the oldest. Having been created just before Bitcoin reached its former all time high of $20,000 at the end of 2017, Bitcoin Cash increased the size of the blocks in the chain in order to allow more transactions to be completed, and at a faster speed.
Interestingly, the cryptocurrency underwent another fork in November 2018 and split into Bitcoin Cash ABC and Bitcoin Cash SV (Satoshi Vision). This indicates the desire to keep evolving Bitcoin and cryptocurrency in general, but BCH's reason for forking was mainly due to the 1MB block size limitation for bitcoin. Transactions queued up, waiting for confirmation, because blocks could not handle the increase in size for transactions.
In order to battle this, Bitcoin Cash proposed increasing the size of blocks to between 8 MB and 32 MB, thereby enabling processing of more transactions per block. The average number of transactions per block on Bitcoin is between 1,000 and 1,500. The number of transactions on Bitcoin Cash's blockchain during a stress test in Sep 2018 surged to 25,000 per block.
Roger Ver is the man who has driven this fork and has been pushing the idea that it was the original creator of Bitcoin, Satoshi Nakamoto, to have a digital currency that was functional under pressure. According to Ver and Bitcoin Cash believers, the change in Bitcoin's block size will enable Bitcoin's use as a medium for daily transactions and help it compete with multinational credit card processing organizations, such as Visa, which charge high fees to process transactions across borders.
Bitcoin Cash Price History 2017 through 2020 to Today
Bitcoin Cash, for most of its history held onto the top ten coins by market cap, but just recently lost it. The coin does not trade anywhere near the price of Bitcoin — even at its highest price it managed to only reach $3,643 and this was just days after Bitcoin topped $20,000.
Bitcoin Cash had a wild ride in terms of its price swings and volatility through its first year, but towards the end of 2018 and through until now the price has been less volatile but also mostly in a downward trend. Bitcoin Cash began its price history around $573 in August of 2017 and within two months it had reached its all time high.
Following that $3,000+ high, Bitcoin Cash dropped to a low price of $77 per BCH, and by the end of 2020 had recovered slightly to around $350. Today it is once again trading at $780 but still far from where it was around its launch.
Bitcoin Cash Price Predictions by Experts
Because Bitcoin Cash has a lot of potential in a world that is looking more towards a place where digital payments and cryptocurrencies as the next era, the prediction of how the price of the coin will rise is important and worth examining.
The price predictions also vary a lot as there are some that truly believe Bitcoin Cash is the real Bitcoin and should be elevated as such, but then there are also those who think it is a wasted cryptocurrency and not as effective as it is made out to be.
DigitalCoinPrice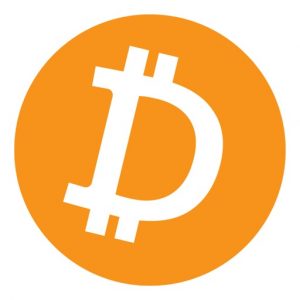 DigitalCoinPrice has a positive forecast for the future price of Bitcoin Cash. In 2021, it will fluctuate around $1000. By the year 2025 the cryptocurrency will still only be at $2250 according to the site, so still below its highest price ever.
LongForcast
"LongForecast follows a negative prediction for BCH. In 2021, the currency will continue falling and by the end of the year it will cost only $130. Basically, Bitcoin Cash will decrease until 2022 and only then the situation will begin to improve."
"By the end of 2022, the price of the coin will be about $61. In May 2023, BCH will begin to grow and will reach $150 in December. Currently, Bitcoin Cash has one of the lowest prices throughout its history. In general, BCH is expected to grow in the long run. The maximum growth could be after the launch of the Avalanche update."
Technical Analysis
Technical analysis is the finance industry-standard way of predicting probabilities and outcomes based on technical signals, and patterns steeped in statistical outcomes. Because of this, they can offer some of the most accurate and compelling price forecasts for Bitcoin Cash and other crypto coins.
Bitcoin Cash Price Prediction 2021
Bitcoin Cash is a spin-off of the Bitcoin blockchain, and its price patterns are now exhibiting historic Bitcoin price action. Bitcoin Cash, on the BCHUSD trading pair is forming a long-term ascending triangle, which is a bullish price pattern.
Bitcoin Cash is moving very slowly compared to other cryptocurrencies and especially Bitcoin. A retest of the ascending triangle just held, suggesting the breakout should be due soon. The target is a retest of former highs.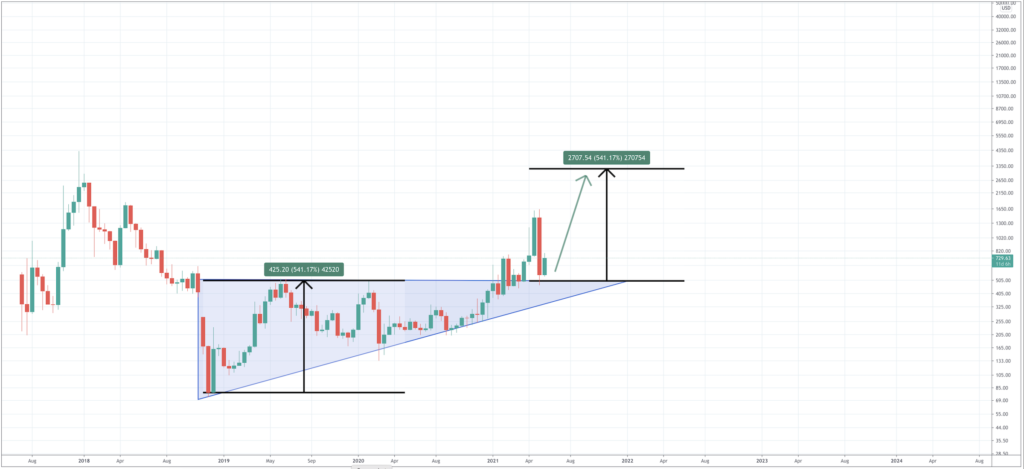 Bitcoin Cash Price Prediction 2022 – 2023
After the breakout, it will be time to short Bitcoin Cash again, after reaching a high of as much as $20,000 per coin by the end of 2022. At a supply similar to Bitcoin's, why wouldn't BCH also reach such a number with a new bull run?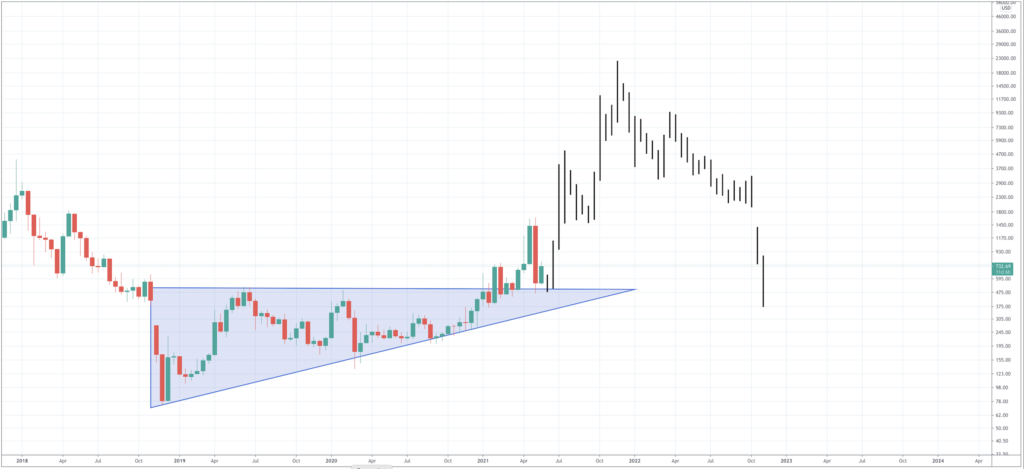 Bitcoin Cash Price Forecast 2024-2025
Forecasting the price of any asset this far ahead of time is entirely an approximate and is difficult to get totally accurate.
Once the fully extended target of the ascending triangle is hit, it is likely back to another bear market in late 2023 and 2024.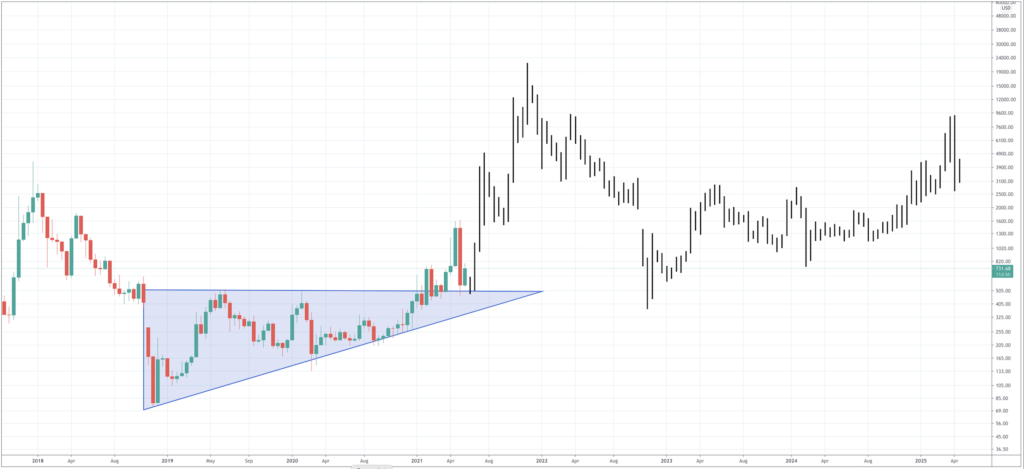 What is the Future of Bitcoin Cash?
| | |
| --- | --- |
| Year | Price |
| 2021 | $500 – $2,000 |
| 2022 | $2,000 – $20,000 |
| 2023 | $2,500 – $14,000 |
| 2025 | $5,000 – $12,000 |
The future of Bitcoin Cash is an interesting one as the coin was created to be the next version of Bitcoin and looked to address its shortcomings as a currency. However, the way in which Bitcoin has evolved has made it more popular as an asset rather than a currency.
In saying that, the desire to have cryptocurrencies act more like functional currencies is growing. Bitcoin Cash has the name and history of Bitcoin and can be looked as the next version of the coin after it forked.
However, the way in which Bitcoin Cash has operated since August 2017 has been full of controversy. Many people do not appreciate how the focus has not been made about advancing the coin but rather about denigrating Bitcoin.
In saying that, Bitcoin Cash does offer a great opportunity for investors and traders to make money because of its volatile nature and potential to come more into the discussion as the years go on and the need for a more functional Bitcoin.
In order to take advantage of Bitcoin Cash and start investing and trading in cryptocurrency, it is worth looking for a platform that suits. One of the more rounded and easy to use platforms that offers the chance to trade and invest in cryptocurrency is PrimeXBT. This platform has won awards for its simple user interface as well as its bank grade security. Sign up here.
Disclaimer: The data provided in this article is collected and collaborated from a number of different sources and should not be taken as investing advice. It is much safer and smarter for any user looking to invest in cryptocurrency to do their own research and to understand the risk associated with it